How to Transfer Contacts between Samsung and iPhone 6/5S/5
As it is known to all that Samsung and iPhone is running on different operating system, and Samsung mobile phone always be regarded as the biggest competitor of iPhone on the market. So we always find that people switch their mobile phone from Samsung Galaxy Note 3 to iPhone 5, or from iPhone 5 to Samsung Galaxy S4 frequently.
Thus, it is inevitable that you may have lots of data need to be transferred from the old phone to the new one, especially the contacts list, right? Then the problem is coming here - how to copy data, especially contacts list between two different operating system like Samsung Galaxy and iPhone?
First of all, you may want to know the difference between this two devices, right? So here, we have made a simple table sheet to compare the most popular Samsung Galaxy S3/4/5 with iPhone 5/5S.
Comparison of Samsung and iPhone:
Comparison
Samsung Galaxy S3
Samsung Galaxy S4
Samsung Galaxy S5
iPhone 5
iPhone 5S
Dimensions
136.6 x 70.6 x 8.6 mm
136.6 x 69.8 x 7.9 mm
142 x 72.5 x 8.1mm
123.8 x 58.6 x 7.6 mm
123.8 × 58.6 × 7.6mm
Weight
133g
130g
112g
112g
145g
Color
White, black, red, blue and more
White, black
White, black, blue and gold
White, black
Gray, silver and gold
Processor
Quad core
Quad core
Snapdragon 801,32-bit, quad core, 2.5GHz
Dual core, A6
Apple A7, 64-bit, dual core, 1.3GHz
OS
Android 4.0.0
Android 4.2.2
Android 4.2.2
iOS 6
iOS 7
Memory
RAM: 1GB
Storage: 16GB/64GB;
RAM: 2GB
Storage: 16GB/64GB;
RAM: 2GB
Storage: 16GB/32GB;
RAM: 1GB
Storage: 16GB/32GB/64GB;
RAM: 1GB
Storage: 16GB/32GB/64GB;
Camera
Rear: 8 megapixels
Front: 1.9 megapixels
Rear: 13 megapixels
Front: 2 megapixels
Rear: 16 megapixels
Front: 1.2 megapixels
Rear: 8 megapixels
Front: 1.2 megapixels
Rear: 8 megapixels
Front: 2 megapixels
WIFI
YES
YES
YES
YES
YES
Battery
2100mAh
2600mAh
2800mAh
1400mAh
1570mAh
Management Tool
Samsung Kies
Samsung Kies
Samsung Kies
iTunes
iTunes
In most situations, we can't simply say which one is better than another. And this is also not the focus in this page. We can see that Samsung and iPhone have their own management tool, but this kinds of program can't help you move data between two different operating system.
So if you're encountered the question of transferring data like contacts, call logs, SMS, etc. between Samsung and iPhone, then you can take a free trial on this Mobile Phone Data Transfer program. With it, you can transfer all your needed contacts list like phone number, email address, etc. from Samsung Galaxy to iPhone or from iPhone to Samsung Galaxy easily.
Guide to Transfer Contacts from Samsung to iPhone 6 Plus/6/5S/5/4S
To begin with, there are something you need to check:
- Samsung and iPhone, USB cable;
- Desktop computer;
- Phone Transfer have been installed on your computer. You can click the below icon to download the powerful software as you like.
1st - Now, let's start the transferring process right now. After launching the program on your computer, you can see an interface like below. Here, you can directly select "Phone to Phone Transfer" mode as your choice.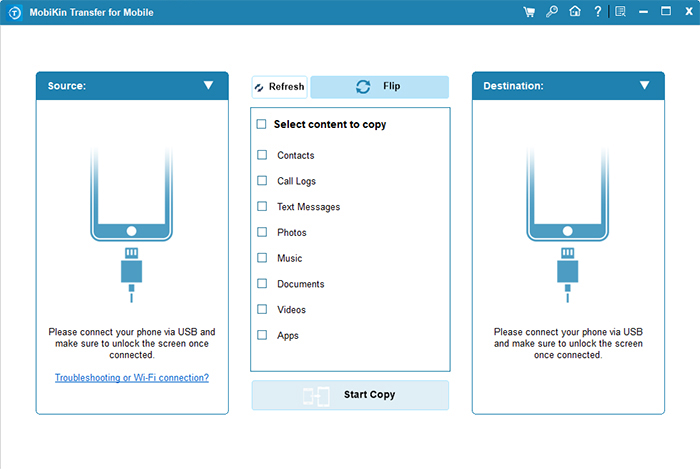 2nd - Link the Samsung and iPhone device to your computer via its USB cable. Then the program will detect the connected device and show them in the program's source and destination area respectively. If the phone in the wrong area, you can click "Flip" button to change them quickly.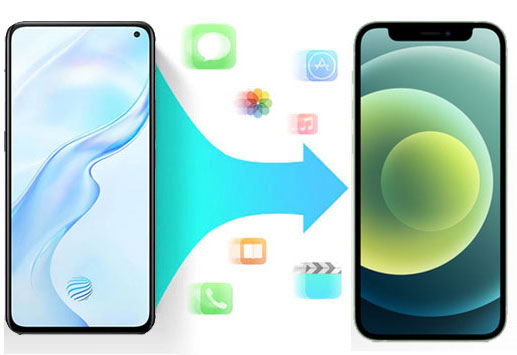 3rd - Select the data you like to transfer and then click "Start Transfer" button begin the process. And you can check it in the program as follow.
Related Articles:
Transfer Photos from iPhone to iPhone Easily