4 Methods to Transfer Contacts from Android to Nokia [Simple Clicks]
Nokia has revolutionized the cell phone industry. In its heyday, it had a 72.8% share of the global cell phone market. Today its aura is fading dramatically, but there are still some loyal Nokia fans who want to experience the latest Nokia smartphones. After getting your hands on it, saving contacts from your old Android phone on your new phone is cliched.
OK, this article is about how to transfer contacts from Android to Nokia. We will present you with the 4 easy ways to accomplish this task, including an exemplary approach.
Method 1: How to Transfer Contacts from Android to Nokia via Transfer for Mobile
Transferring your contacts from Android to Nokia becomes remarkably simple with MobiKin Transfer for Mobile (Windows and Mac), which seamlessly works with two data cables to connect your phones to the computer. With this professional transfer tool, you can rest assured as it has undergone extensive testing and certification to minimize the risk of transfer failures.
Moreover, this product offers the convenience of transferring not only your contacts but also various other types of data with just a single click.
MobiKin Transfer for Mobile can help you:
Swiftly transfer contacts from Android to Nokia in seconds.
Effortlessly transfer data from Android to Android, Android to iPhone, iPhone to Android, and iPhone to iPhone.
Seamlessly migrate contacts, SMS, call logs, music, videos, photos, apps, and other data types.
Free trial, free customer support, and a 90-day money-back guarantee.
Work well with almost all Android and Apple devices, including Nokia G22, Nokia XR201, Nokia XR20, Nokia 222, Nokia 3310, Nokia Flip 2720, Nokia 5.3, Nokia 7.21, Nokia 8.3 5G1, Nokia 6.22, Nokia G212, Nokia X302, Samsung, Huawei, HTC, LG, vivo, iPhone, iPad, iPod touch, etc.
It won't divulge your privacy.
How to move contacts from Android to Nokia using Transfer for Mobile?
Step 1. Link devices and launch the program
Download and install the Transfer for Mobile program on your computer. Launch the program to display its initial interface. Subsequently, connect both Android phones to the computer using USB cables.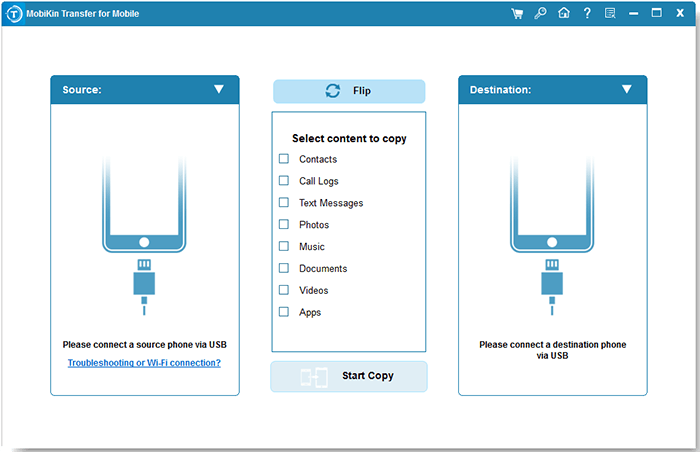 Step 2. Check the positions of both phones
Follow the prompts to let the tool detect the devices and display them on the interface, with the source and destination devices on the right and left sides, respectively. If they are incorrectly placed, click on the "Flip" button to switch their positions.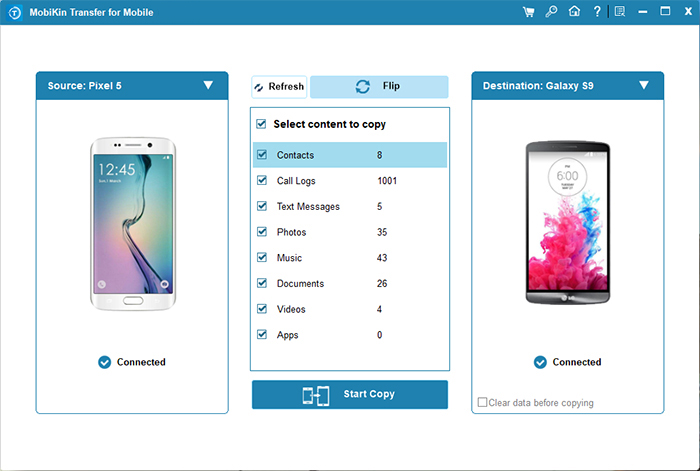 Step 3. Transfer contacts from Android to Nokia
Tick the checkbox next to the "Contacts" option to select it for transfer. Finally, click on the "Start Copy" button to initiate the transfer task and move the phone numbers and associated info from Android to Nokia.
You Might Also Enjoy:
Method 2: How to Copy Contacts from Android to Nokia via Google Account
Using your Google account offers a hassle-free way to transfer contacts between Android phones. It also enables easy syncing of apps, photos, and more. Note that the process may vary slightly depending on the Android version and device. Learn how to migrate contacts from Android to Nokia with a Google account:
Navigate to "Settings" on your old Android phone, then select "Accounts" and tap on "Add Account".
Choose "Google" and follow the prompts to sign in with your Gmail account. If you don't have an account yet, create one before proceeding.
On your old Android phone, go to "Settings", select "Accounts", and tap on "Google".
Enable the "Sync Contacts" option to back up Android contacts to Google.

On your Nokia phone, add the same Google account by going to "Settings", selecting "Accounts", and tapping on "Add Account".
Next, go to "Settings", select "Accounts," and tap "Google".
From the list of Google backups, choose "Contacts" and click "Sync Now" to sync contacts from Gmail to Android/Nokia.
Method 3: How to Send Contacts from Android to Nokia by Bluetooth
If you prefer not to transfer your entire address book to Nokia from Android, you can utilize Bluetooth, the straightforward method, to transfer individual contacts across. However, Bluetooth may have limitations, such as slower transfer speeds and compatibility issues with certain devices.
How to sync contacts from Android to Nokia over Bluetooth?
Enable Bluetooth on both devices by accessing the Bluetooth settings.
On the Nokia device, initiate a search for nearby devices and pair it with the Android phone from the Bluetooth settings menu.
On the sending phone, open the main menu, navigate to the Contacts app, and select the specific contact you wish to send.
Tap on the options menu and choose the "Share" icon.

Pick Bluetooth and choose your Nokia phone from the available device list. Then, tap on "Send".
Extended Reading:
Method 4: How to Export Contacts from Android to Nokia with SIM Card
If you do not intend to set up a Google account on your new phone or are worried about the less efficient transfer using Bluetooth, you have the option to use the traditional method of storing your contacts on your SIM card.
Important: Before proceeding with the contact transfer using the SIM card method, ensure that the SIM card from your previous phone is compatible and fits correctly into your new Nokia phone. Next, all you need to do is get the two phones physically close together and pair them.
How to transfer contacts from Android to Nokia with a SIM card?
On the source Android phone, access the "Main Menu" and open the Contacts app.
Look for the "Move Contacts" option and select it. You will be prompted to choose the contacts to be copied.
Choose the desired contacts and tap "Move".
Select the location where you want to move the contacts and tap "Move to SIM Card" to transfer contacts to SIM card.
Gently remove the SIM card and insert it into the target Android phone.
Open the Contacts app on the Nokia phone.
Access the "Settings" or "Manage Contacts" option.
Select "Import/Export" and then tap "Import from SIM card".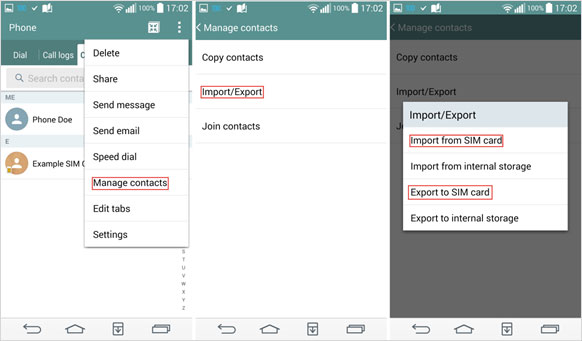 In Conclusion
Transferring contacts from Android to Nokia is made simple with the four methods explored in this post. However, for the quickest and most secure transfer using USB cables, we set store by MobiKin Transfer for Mobile. This powerful software streamlines the transmission, providing you with peace of mind and efficient results. So, start your contact transfer journey with confidence by utilizing this smart tool now.
Related Articles:
Guide to Transfer Data from Nokia to iPhone 14/13/12/11/X/8/7
How to Edit Contacts on Android with the Best Android Contacts Manager?
[Beginners Guide] How to Fix Contacts Not Syncing to Mac in 13 Hot Tips?
How to Recover Deleted WhatsApp Contacts on Android with/without Backup?
8 Best Contact Recovery Software/Apps for Android [Few People Know]