How to Transfer Data from OnePlus to Samsung [5 Easy Ways]
Samsung phones, compared with OnePlus gadgets, firmly take up the overwhelming superiority of the mobile market with its innovations in appearance, sophisticated tech, and cool ringtones, etc. When you get a brand new Samsung, setting up it can be a real pain. Thereby, you guys may choose to transfer data from OnePlus to Samsung. Well actually, for fear of privacy being exposed, many people may be cautious in their choices of solutions.
OK, to fix out this concern, we'll let you know 2 great OnePlus transfer programs without giving away your privacy. And other 3 tools will also be listed for your reference.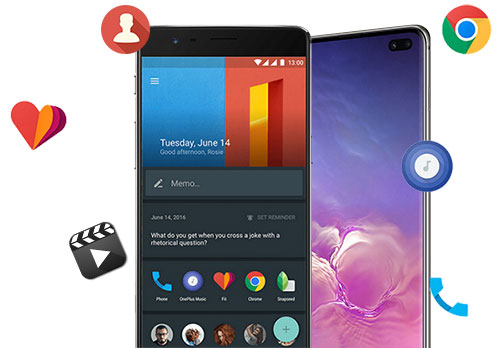 Way 1: How to Transfer Data from OnePlus to Samsung with Transfer for Mobile
Slip into a whole new Samsung mobile, it's necessary to make the data transfer a seamless procedure. MobiKin Transfer for Mobile (Win and Mac) is a good helper for phone data migration, for it is superior to most of its counterparts in terms of technical parameters, and is favored by of millions of people throughout the globe. Plus, this utility program enables you to decide whether to clear data on target Android phone or not before file migration.
Key Features of Transfer for Mobile:
Enable you to transfer contacts, SMS, call logs, pictures, songs, videos, and others between two Android devices in one click.
Also give you the freedom to move files from Android to iOS, from iOS to Android, and between iOS devices.
It is absolutely safe, ads-free and easy to use. No need to worry about privacy disclosure issues.
Fully compatible with a variety of Android and iOS devices, such as OnePlus 8/7/6/5/4/3, 8T/7T/6T/5T/4T/3T, and Samsung Galaxy S20/S10/S9/S8/S7/S6/S5, Galaxy Note 10/Note 9/Note 8, Galaxy Tab 4/3/2, and so on.
Let's see how to transfer data from OnePlus to Samsung Galaxy/Note/Tab, etc. with Transfer for Mobile:
Step 1. Download, install and open the software
Launch this program after the download and installation. Then the initial interface will prompt you to have both OnePlus and Samsung plugged into computer through USB cables.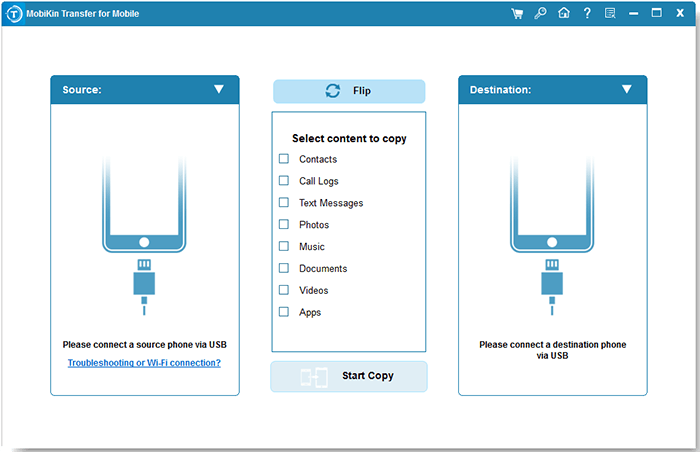 Note: Here, you may need to enable USB debugging on Android phones.
Step 2. Let the program recognize the devices
After connecting the devices to computer, you should get the phones recognized by the tool, following the on-screen prompts. And you'll get the main interface as below afterwards.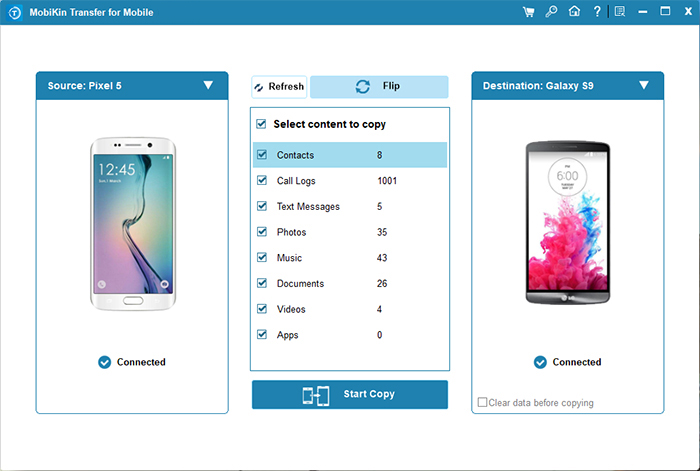 Step 3. Transfer data from OnePlus to Samsung
You can see the different files listed on the screen now. Here, choose your desired data type(s), and then tap the "Start Copy" button to let the data transfer begin. Later, the notification will pop up, which marks the end of the task.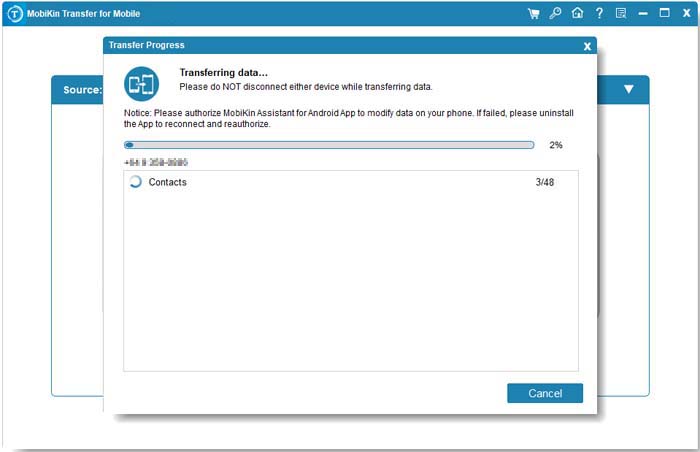 Related Posts:
Way 2: How Do I Transfer Data from OnePlus to Samsung via Android Backup and Restore
To move the data across, you can also pick another easy to use and reliable program naming MobiKin Backup Manager for Android. It gives you the ability to copy files from one Android phone to your computer, and then restore them from the computer to another. This Android Backup and Restore utility is capable of making the secure transfer a breeze without any difficulty, and can be connected in a wired or wireless way.

How do I transfer data from OnePlus to Samsung via Android Backup and Restore software?
Step 1. Download, install and start Android Backup and Restore program on computer. Then connect OnePlus to computer via a USB cable. Next, follow the direction on the interface to let the tool identify your OnePlus. After that, click "Backup" to continue.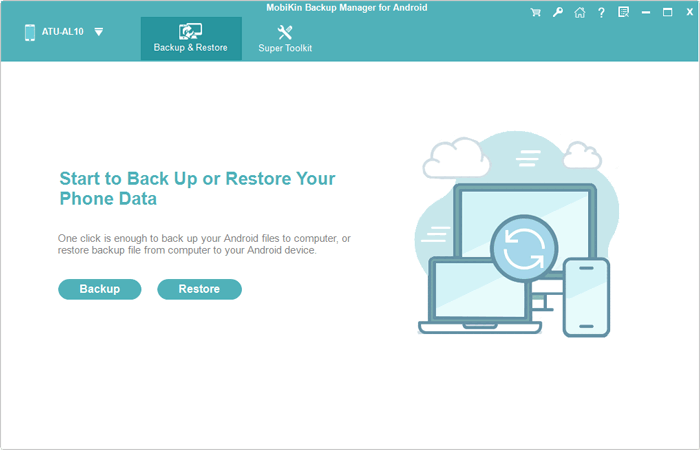 Note: You can also click here to learn about how to connect your phones via WiFi.
Step 2. You'll then see all the supported types of data on the incoming screen. Next, mark your wanted files and click on "Browser" to specify a folder or create a location on computer to store them.
Step 3. Simply tap the "Back Up" button at the bottom right to transfer all the chosen data from OnePlus phone to computer. Once it's done, unplug the cable from this OnePlus phone and computer.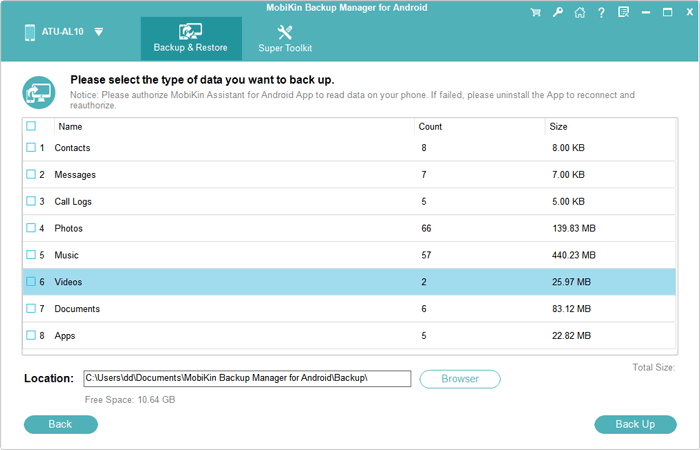 Step 4. Link Samsung to the same computer via a suitable USB cord. Then follow the first step to get it connected. After that, click the "Restore" button from the main screen, and opt for the data from the backup records. Finally, press "Restore" to put them to the linked Samsung phone.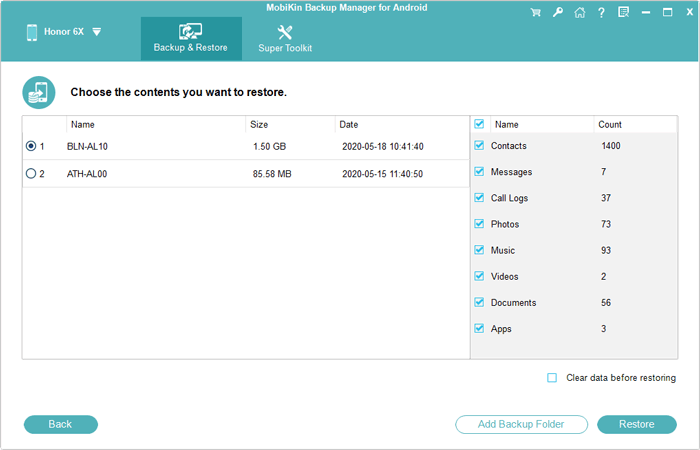 Way 3: How to Transfer Data from OnePlus to Samsung Using Samsung Smart Switch
Samsung Smart Switch, an official tool from Samsung Inc, allowing you to transfer data to the new Samsung from Apple, Blackberry, Nokia, or some other Android phones. It plays functions on phone's contacts, calendars, memos, messages, call logs, pictures and videos, etc. However, you may suffer from Samsung Smart Switch not working issues at times while using it.
How can I transfer data from OnePlus to Samsung via Samsung Smart Switch:
Step 1. Enable the WiFi feature on both OnePlus and Samsung phone. Then download Smart Switch app from Play Store, and install it on two devices.
Step 2. Open the app on both phones and place the devices close to each other. Now, click "WiFi" from both screens. Then mark OnePlus as "Sending device" and Samsung as "Receiving device". Subsequently, tap "Samsung Device" as the receiving one from OnePlus phone.
Step 3. Then tap "CONNECT" to generate a connection between two devices. Or manually connect them by confirming a PIN code.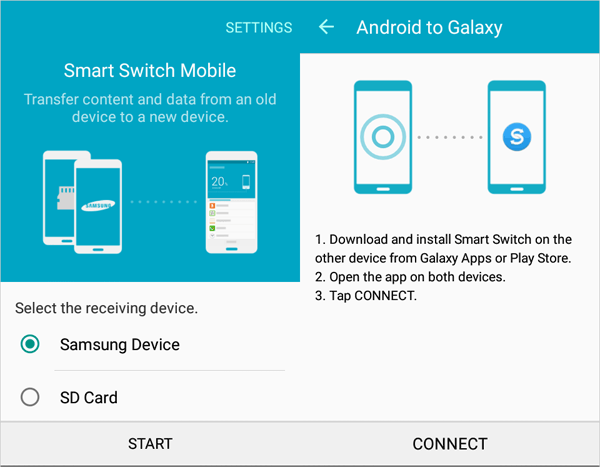 Step 4. After the successful connection, choose the type of the files you need from OnePlus phone, and click "Transfer" button. At last, accept the transfer request on Samsung device to receive the incoming data.
You May Also Like:
Way 4: How to Copy Data from OnePlus to Samsung Galaxy via Bluetooth
With the assistance of Bluetooth, you are free to move data like contacts, audio, videos, music, pictures, compressed files, etc. between Android devices. Before the transfer, you should pair phones in line with the prompts on phones' screen. However, it is not a safe and efficient approach.
How do I transfer data from OnePlus to Samsung via Bluetooth?
Step 1. On both OnePlus and Samsung phone, head over to "Settings" to enable Bluetooth feature. Then follow the simple instruction to pair two devices via Bluetooth before data migration.
Step 2. Choose the files you'd like to move from OnePlus phone. For instance, if you need to transfer videos to Samsung phone, just opt for the specific files. And then touch "Share" at the bottom left.
Step 3. Select "Bluetooth" from the next page, and choose Samsung phone as the receiving device to share with. Finally, confirm the action to transfer data from OnePlus to Samsung.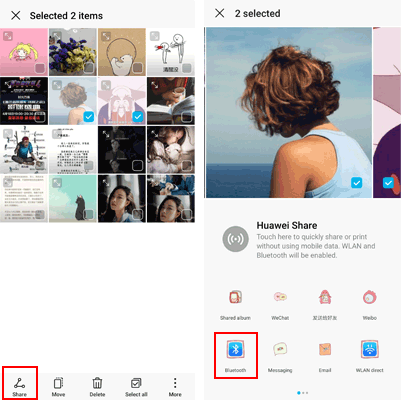 Way 5: How to Transfer Data from OnePlus to Samsung Galaxy via Google Backup
If you've signed up for an Google account, then you can sync OnePlus data to Google cloud storage by logging in to the account. And then type in the same account on Samsung phone to access and restore data to Samsung.
How can I copy data from OnePlus to Samsung Galaxy S/Note via Google Backup:
Step 1. Back up OnePlus data to Google servers
Unlock your OnePlus device, and go to "Settings" > "Backup & Reset" to turn on the switch of "Backup my data"/"Back Up Now". Your app data, WiFi passwords, settings, etc. will be synced to Google servers then.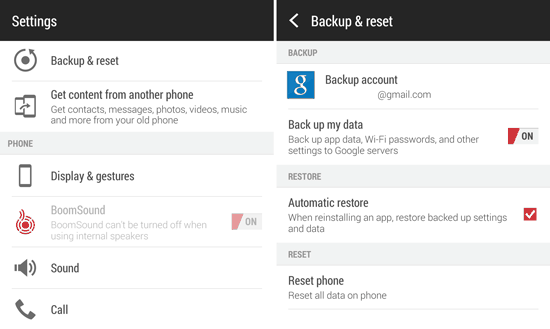 Step 2. Restore files to Samsung phone
Open your Samsung phone, enter the same Google account you've used on OnePlus phone. Next, you'll access the data on Google Drive. Now, you can restore data from backup records to Samsung phone freely.
Summary
You know, it makes great sense to transfer data between two phones. And for the most part, many people are willing to do that in a safe and effective way. In this regard, it is suggested that you go for a solution with end-to-end connection for OnePlus to Samsung file transfer, which ensures worry-free outcomes, since it is not exposed to the Internet. Besides, it is advised to wipe the phone completely if you intend to sell or donate your old OnePlus mobile after the data transfer.
At last, welcome to share this post with your friends via Facebook, Twitter, IG, etc. if you find it helpful.
Related Articles:
AT&T Mobile Transfer Not Working? Overview, Fixes, & Alternative
Motorola Migrate Is Retired? Here Are 5 Best Motorola Migrate Alternatives for You
How to Transfer Apps from Samsung to Samsung [4 Simple Methods]
[Overview] Top 9 Samsung Smart Switch Alternatives and Similar Apps
Can You Unlock a Stolen iPhone? Yes But Not Recommended