How to Transfer Data from Samsung to OPPO with 5 Methods
Featuring fast charging, customized photographing modes, and excellent sound effect, OPPO has made its way to one of the most cost-effective mobile brands. These characteristics, to some extent, also give it a great competitive edge, even compared with Samsung. And they too have aroused lots of Samsung users to put their old Samsung aside. Well, when you pick up a sleek OPPO mobile, it's inevitable that you wish to transfer data from Samsung to OPPO. But, how can we do that now?
OK, here are 5 popular Samsung to Oppo transferring solutions for you to refer to, and just scroll down for a whole lot more please.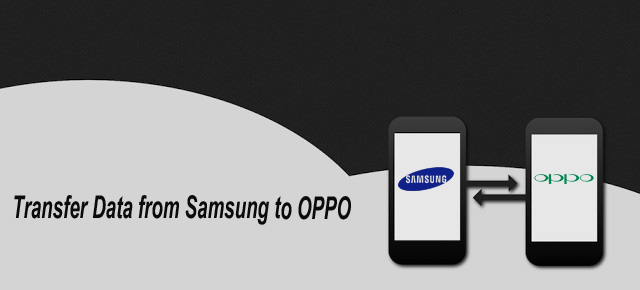 #1: How to Transfer Data from Samsung to OPPO - Transfer for Mobile
Are you satisfied with your new OPPO now? Wonder what the prevalent transfer method is? OK, here, I'd like to introduce a program that both Android and Apple users are fond of. It is MobiKin Transfer for Mobile (with both Win and Mac version). As one of the most popular approaches, it enables you to make the data moving task between any two mobiles easier with a single click.
Major highlights of MobiKin Transfer for Mobile:
Migrate practically all the phone stuff, such as contacts, call logs, text messages, pictures, videos, documents, apps and music between Samsung and Oppo devices.
Be capable of moving data between two Android devices, two iOS devices, and also transfer from Android to iPhone/iPad/iPod, and vice versa.
Easy to operate and transfer data between any devices in a swift manner.
Run smoothly on almost all the Windows and Mac computer.
Get along well with a variety of Android and iOS devices, covering Samsung Galaxy S20/S10/S10+/S10e/S9/S8/S7/S6/S5, Galaxy Note 10/9/8/7/6/5/4, OPPO Reno 4/Reno 3/Reno 2, Find X2/X, R17 (Pro)/R15 (Pro)/R13/R11/R9, A9/A8/A7/A6/A5, OPPO F11/F9/F7, etc.
So cool, isn't it? Just download the suitable version of the program to give it a go now.
Be curious about how to transfer data from Samsung to OPPO A73/R9s/R15 Pro/F11 with Transfer for Mobile, just check the following steps please:
Step 1. Attach phones to computer and open the tool
After the download and installation, please start the software. The primary screen will then cue you to link the devices to computer, just do that using two applicable USB cords.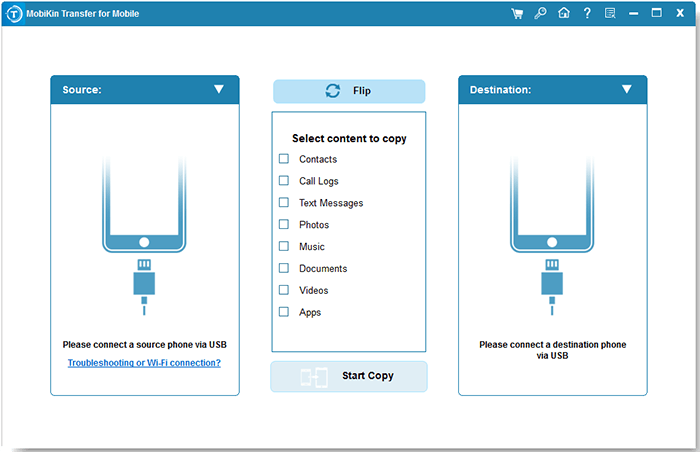 Step 2. Enable USB debugging on both devices
To get your Samsung and Oppo phones recognized by the program, you may need to enable USB debugging on the two phones respectively. After the connection is built, you'll get the main interface as below. Ensure the destination phone is OPPO, if not, tap "Flip" to correct the position.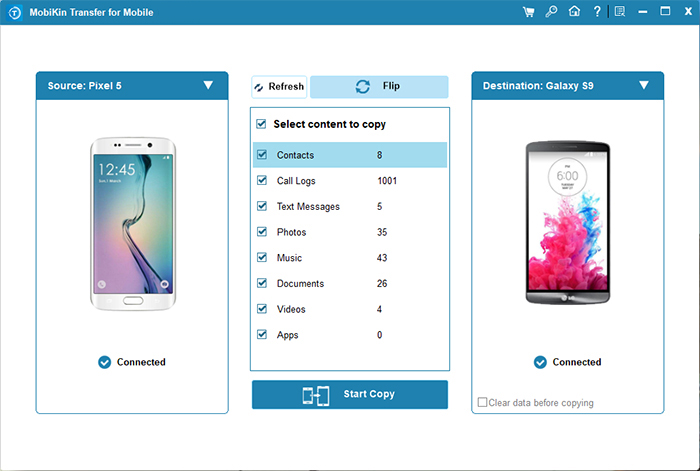 Step 3. Handpick your desired data to copy
Tick on your wanted data types from the middle of the panel and tap on "Start Copy" to move your selected data over from Samsung phone to OPPO phone. There will be a progress bar on the interface to remind you of the transmission.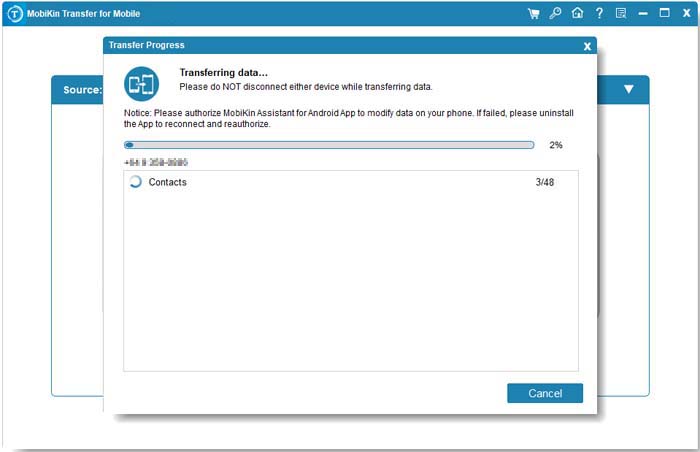 The transfer process will take some time resting with the size of the data you are moving. So stay patient and do not disconnect your phones until the transfer task is over.
#2: How to Transfer Files from Samsung to OPPO - Clone Phone App
Many Samsung users may wonder: can Smart Switch transfer from Samsung to OPPO? The answer is absolutely no, for the file recipient isn't Samsung. For OPPO users, there is a similar official tool - Clone Phone app. And also, as long as the data receiver is your OPPO phone, it can serve your purpose to transfer data to OPPO from other devices.
How do I transfer data from Samsung to OPPO with Clone Phone app?
Step 1. Unlock your OPPO, and head to the "Menu" to find "Clone Phone". Run it and choose "This is the new Phone" > "Import from an Android Phone". After that, a QR code is thus created.
Step 2. Download the "Clone Phone" on Samsung phone by clicking https://i.clonephone.coloros.com/download, which is also mentioned on the direction of the app interface. Once done, install and launch it on your Samsung.
Step 3. Tap on "Start cloning" button to activate the QR scanner, now just scan the QR code on the OPPO mobile, and both devices will recognize each other soon.
Step 4. The transferable data will be displayed on the interface then, simply choose the desired files for transfer. Next, click "Start Cloning", and have your OPPO accepted the chosen data from Samsung.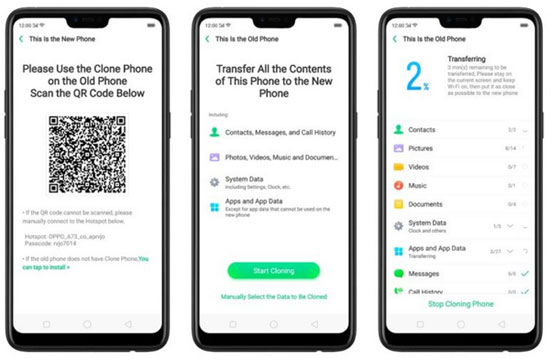 Note: Sometimes, the QR code cannot be scanned. If so, please try: run this app on both phones to tap "Connect" and then a notice - "Personal Hotspot Activated" will show you. Just click it and find the name of hotspot from the WiFi setting to connect to the hotspot manually. At last, type in the password (below the "Hotspot") to transfer Samsung files wirelessly.
You May Also Like:
#3: How to Copy Data from Samsung to OPPO - Bluetooth
Bluetooth is yet another way to send data from Samsung to OPPO. To start with, you need to pair two phones via Bluetooth. Although the Bluetooth versions of mobiles after 2011 are well compatible with each other, the data transfer procedure is slow, especially for large video and photo files.
Now, let's take the contact migration as an example to talk about the transfer process from Samsung to OPPO.
How do I transfer contacts from Samsung to OPPO using Bluetooth?
Step 1. Enable the Bluetooth feature on both your Samsung and OPPO phones. Then stay on the screen to make your target phone discovered by the source one.
Step 2. Now, you should find the OPPO visible in the list available on the device list of your Samsung. Touch the OPPO icon to pair the two devices.
Step 3. After that, go to the "Contacts" app from Samsung to select your needed contacts for transfer. Then choose "Send contacts". Subsequently, tap "Send contacts by Bluetooth" > choose the paired OPPO as the recipient. Then accept the transfer request on OPPO.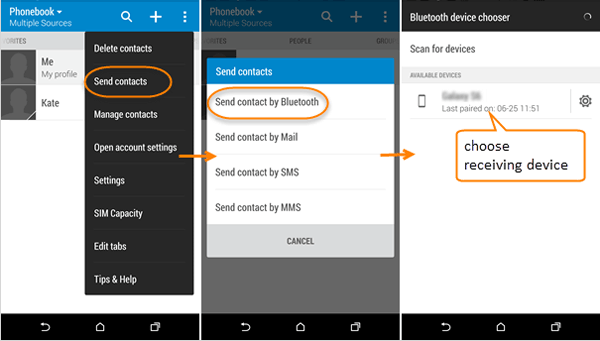 #4: How to Migrate Data from Samsung to OPPO - USB Cable Only
It is not that complicated to serve your purpose to move data from Samsung to OPPO with USB cables. You just need to connect phones to computer, and then copy and paste files from the DICM folder of Samsung to the corresponding location of OPPO. However, this means only works for multimedia files.
How do I transfer data from Samsung to OPPO via a USB cable only:
Step 1. Attach your Samsung to computer via a USB cable. Then swipe down from the top screen and you'll see "Use the USB for". Just select "Media Transfer Protocol (MTP)".
Step 2. Soon the computer will identify your Samsung. Now go to "This PC"/"My Computer" to access the Samsung media files by clicking the Samsung icon, and open the DCIM folder. Next, copy the files you need from the folder of the Samsung device and paste them to computer.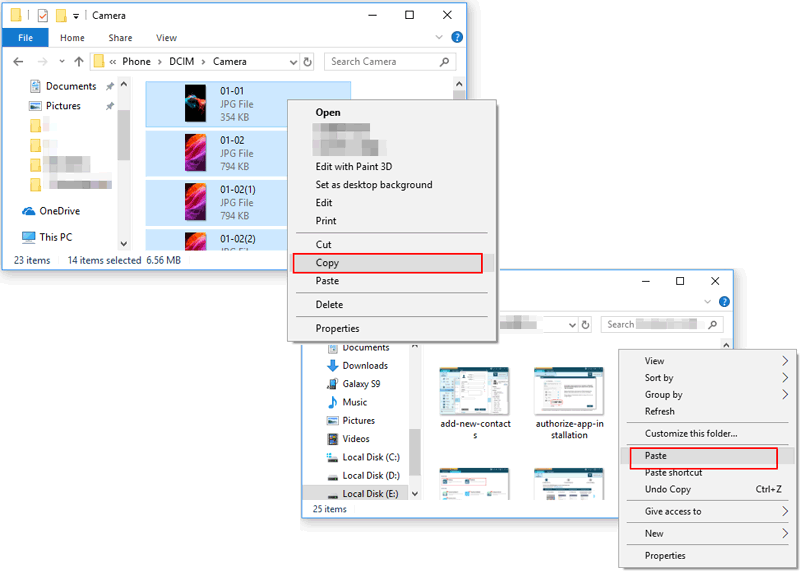 Step 3. Once done, unplug the Samsung, and link the OPPO to computer instead. Then choose the same connection mode to get OPPO connected to computer. Then open the folder that stores the transferred files from computer. And you now only need to drag and drop them to the relevant folder of your OPPO.
More Related:
#5: How Can I Transfer Data from Samsung to OPPO - Google Account
Firstly, you should sync Samsung contacts, apps, system settings and media files, etc. with Google account. After that, you need access the backup records on OPPO, and restore what you need accordingly. Again, if you have multiple Google accounts, ensure you use the same Google account on both your Samsung and OPPO.
How can I transfer data from Samsung to OPPO with Google account?
Step 1. On your Samsung phone, head over to "Settings" > "Accounts" (for some phones, you should choose "Accounts & sync" or "Users & accounts" here.)
Step 2. Tap "Add account" and enter your Google account from the pop-up list. Next, tap "Sync now" or "Account sync" to sync Samsung data via the account.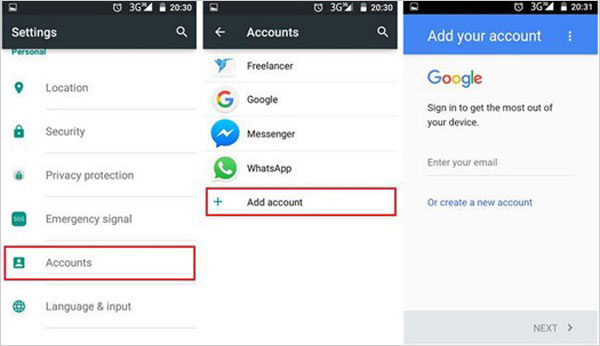 Step 3. Unlock the OPPO phone, and head to "Settings" > "Accounts & sync" to go for Google and enter the same Google account. Then the backup list will show you on the screen. Just select your desired data to restore them to your OPPO phone.
In a Nutshell
It will be alright to make a smart option now from the above methods, when you need to transfer data from Samsung to OPPO, etc. Hope you pick the one that suits you the best. Plus, please add your query in the comment area if you're confused in any way.
Finally, as a digression that may give you a hand, here are top 2 OPPO series that netizens rated as the most willing to opt for: OPPO Reno (famous for its outstanding fast charging feature & fashionable appearance), and followed by OPPO Find (known for its remarkable running memory & self-timer VFX).
Related Articles:
How to Transfer Files from Oppo A5/A9/R11/R15/R17 to PC & Mac?
How to Transfer Photos from iPhone to Samsung?
Effective Ways to Transfer iCloud Backup to Samsung S20
How to Transfer Music from Android to iPhone In Minutes?
Top 5 Ways on How to Transfer Contacts from iPhone to Android