Transfer Music/Songs from iPad to New iPad in 6 Reliable Methods [2023]
As a data type in iPad, music is one of the essential items that we want to share after upgrading a new iPad. If you're to stream your sweet music from an iPad to a new Pad you just bought or a friend's device, you may want to do it with iTunes or Apple Music. Yet, how to deal with non-purchased music?
This article is geared to telling you how to transfer music from iPad to new iPad in six feasible means. You can select the most satisfactory one to move all types of your songs over. Now, let's dig into the simple ways.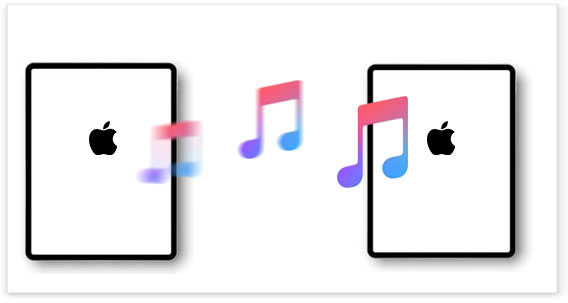 #1: How to Transfer Music from iPad to New iPad via iOS Transfer
Is there any intelligent software that can transfer and manage all free and purchased songs on iOS devices? Well, iOS Transfer could be the exact one worth having. This tool is smart enough to transfer files among iOS, computers, and iTunes after the easy connection.
Further, it is also an outstanding photo/music manager and contact assistant. For instance, it can help add ringtones to an iPhone/iPad from a computer, edit ID3 to edit the album cover, artist, genre, and convert music format automatically to work for iOS, etc.
More features about iOS Transfer:
Transfer all kinds of songs from iPad to new iPad without iTunes.
Copy files from iOS devices to computer/iTunes, and vice versa.
Help process data like Music, Photos, Movies, Ringtones, TV shows, Podcasts, Audiobooks, Playlists, etc.
Sync without overwriting previous content on the target iDevice.
Manage iPhone/iPad/iPod music and other files easily.
Work for almost any iDevices, containing iPad Pro, iPad Air, iPad 4, iPad mini, the new iPad, iPad 2, and full generations of iPhones and iPods.
Well protect your personal info.
How to transfer iPad to iPad without iTunes via iOS Transfer?
Step 1. Run the software and link iPads to a computer
To start with, install and launch the program on your computer. Connect your two iPads to the computer with two USB cables.
Step 2. Select the source iPad
The utility will soon recognize your devices, and all files on iPads will be in the program interface. Next, choose your source iPad from the device list.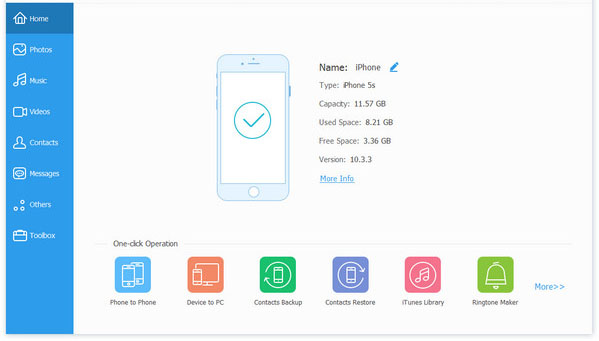 Step 3. Transfer songs from one iPad to another
Select "Music" from your iPad on the left sidebar and place a checkmark on the music files you want. Click "Export to Device" and choose the target iPad to trigger the transfer.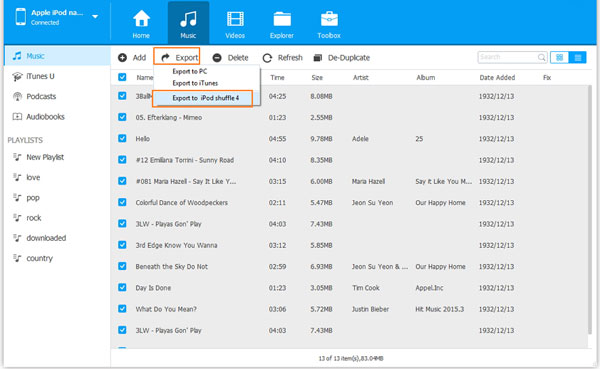 You Might Want to Know:
#2: How to Transfer Songs from One iPad to Another via AirDrop
To copy music files between iPads, you should first check AirDrop Settings. To do this, head to General > AirDrop to see Receiving Off, Contacts Only, and Everyone. Now, if the source iPad is a contact of the destination Pad, choose Contacts Only; otherwise, select Everyone. Then, place your iPads within 30 feet.
Note: You should get the Apple Music subscription before gaining access to transfer songs, albums, or playlists via AirDrop. (AirDrop won't work on iPad or iPhone?)
Can you transfer music from one iPad to another via AirDrop? OK, here are the details:
Turn on WiFi connections and Bluetooth on your iPads.

Open AirDrop on both iPads from the control center.
Run the Music application on the source iPad.
Hit Songs and choose the songs you want to transfer.
Tap AirDrop under the music and choose the other iPad as the target.

Open another iPad and tap Accept/View to receive the incoming music files.
#3: How to Transfer Music from iPad to iPad with iTunes
With the aid of iTunes, you can first transfer music from one iPad to a computer and then get the stuff onto another iOS device. This tool only plays functions on purchased items, and it doesn't work very efficiently.
How to transfer music from iPad to new iPad with iTunes?
Connect the iPad with the songs you want to transfer to the computer and launch iTunes.
Click the "File" menu and then the "iPad".
Select "Transfer Purchases from XX iPad" to copy the music from this iPad to your computer.

Now, connect another iPad to the computer and click the "Device" button.
Go to "Music" and select "Sync Music".
Choose the specific music files you'd like to transfer to the destination iPad.
Click "Apply".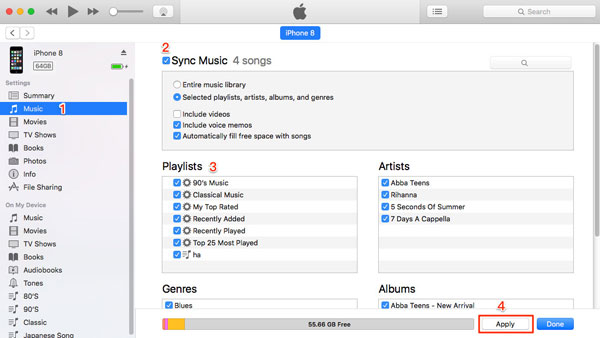 Check if You Need:
#4: How to Transfer Music from One iPad to Another iPad via iTunes Match
iTunes Match can scan all your iOS music files and then match them with iTunes. If the matching is successful, it will replace them with genuine ones. If not, it'll transcode and upload them to iCloud. After the matching, you can download it onto your new iPad easily. Before the task, please check the following requirements:
Enable iTunes Match on your iPads (go to device Settings > Music > turn on iTunes Match; now, if a warning displays, tap Enable.)
Set up iTunes Match in iTunes.
Log in to the same iCloud account on two iPads successively.
iTunes Match requires a subscription to use and is usually costly.
How to transfer songs from one iPad to another via iTunes Match?
Log in to iTunes using your Apple ID used for the old iPad and iTunes Match.
On iTunes, select File > New > Smart Playlist.
Set conditions to Match Music with Time, Is Great Than, 00:00.
Uncheck the Limit box.
Check Live Updating.
Name it All Songs and tap OK.

This list now appears on the new iPad in the Music app.
You can click the Download All cloud button.
To download a song from iTunes Match, go to the Music app and tap the cloud icon nearby the song.
#5: How to Copy Music from iPad to iPad with Home Sharing Feature
With the Home Sharing feature, you can copy music and videos from iPad to new iPad within the same home network. To start things off, please invite the iPad you want to share songs with to join your family.
How to transfer music from one iPad to another iPad via Home Sharing?
On the source iPad, click "Settings" > "Music" > "Home Sharing".
Then tap "Sign In" to sign in with your Apple ID and password.

Next, follow the steps above to enable "Home Sharing" on the other iPad.
Turn on the "Music" App on your recipient.
Click "My Music" > "Songs"/"Albums" > "Home Sharing".
After that, it will start moving songs from the old iPad to the new one.
#6: How to Transfer Music from Old iPad to New iPad via Apple Music
Being an Apple Music subscriber, you can sync music from one iPad to the sync library and then download it onto another iPad or any other iDevices tied with the same Apple account.
How to copy music from iPad to iPad 4/2/Pro/Air/mini via Apple Music?
On the old iPad that stores the Apple Music catalog, go to Settings > Music.
Move the Sync Library toggle to On/green to get music synced.
On the new iPad, open the iTunes Store app.
Sign in with the same Apple ID you use for the Apple Music subscription.
Run the Apple Music app and search for the songs you need.
Save your wanted music files onto this iPad.
Final Words
There you go! We mentioned six easy and effective ways to help transfer songs across iPads. Well, how do you transfer music from iPad to iPad? Assuming you want to copy purchased music only, you can take on the task with any of the techniques. Yet if you are a power user with advanced needs, don't hesitate to pick iOS Transfer, as it is always there at your disposal.
Related Articles:
[Top 5 Methods] How to Transfer Music from Android to iPhone In Minutes?
3 Easy Ways to Transfer Music from CD to iPhone 14/13/12/11/Xs/8/7
How to Put Music on iPad from PC/Mac? (4 Ways and Their Comparison)
5 Ultimate Ways to Transfer Music from iPad to iPhone 14/13/12/11/Xs Max?
How to Retrieve Deleted Music from iPad on PC or Mac
How to Transfer MP4 Videos to iPhone/iPad? Here's All You Need to Know