How to Mirror iPad Pro/Air/mini/4/3/2 to PC in 6 Ways [2023 Latest]
Do you want to share your PowerPoint presentations with your group members or supervisors to deploy the latest work schedule? Or would you like to remotely control your iPad from a machine with a larger screen, let's say, a Windows PC? Well, it's necessary to mirror iPad to PC before meeting your diverse needs. OK, this post will take you through several quick methods for iPad screen mirroring to PC. And let's cut to the chase now.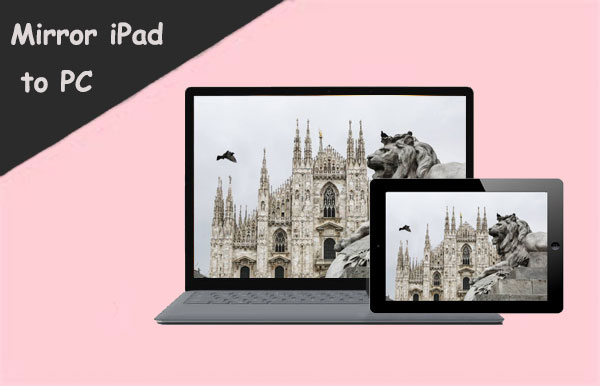 Way 1: Mirror iPad to PC with Screen Mirror
Known for its high-grade and fluent screen casting, Screen Mirror is dubbed as one of the most efficient tools for iPad/iPhone/Android to PC screen mirroring. After the virtual connection is created, users can enjoy video conferencing (HD quality) and smooth app management. Before controlling your iPad remotely from a PC with this smart product, let's first take a quick look at it.
Amazing features of Screen Mirror:
Mirror iPad/iPhone to PC without effort.
Breezily control and manage iPad/iPhone/Android on a larger screen.
Bring you a better experience when playing phone games or managing social apps.
Seamlessly stream in-app displays and audio to conferencing programs.
Effortlessly transfer files from PC to Android.
Work well with overall iOS devices, including iPad Pro, iPad Air, iPad mini, iPad 4, iPad 3, iPad 2, etc.
It won't disclose your privacy.

How to mirror iPad to PC with Screen Mirror?
Step 1. Initiatially, launch Screen Mirror after downloading and installing it on Windows. Link your iPad to the PC within the same Wi-Fi network and select "iOS" on the interface.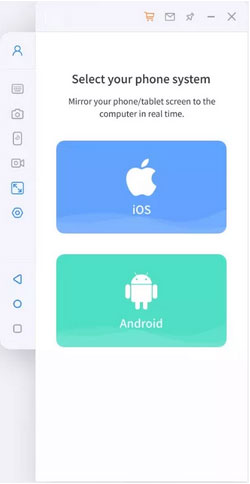 Step 2. Let the program access the domain network, private network, and public network.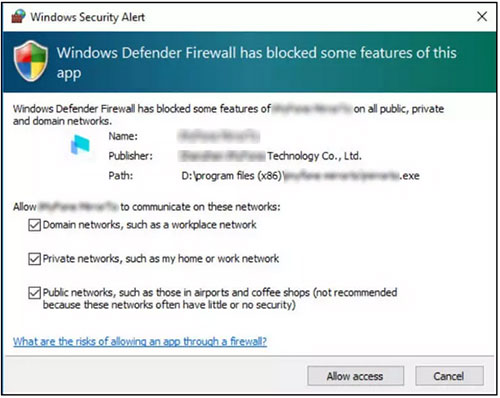 Step 3. Select iOS screen casting and head to the iPad's "Control Center" > "Screen Mirroring". Next, select the tool and start the screen projecting.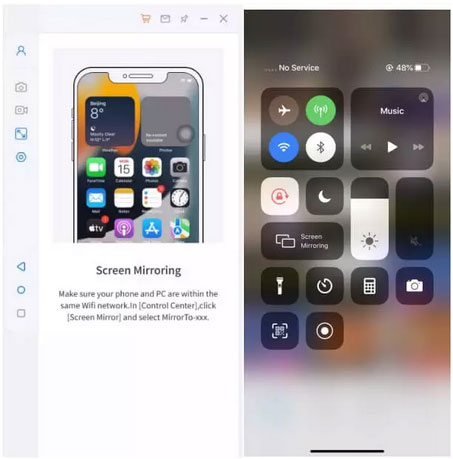 Step 4. Access your iPad's "Settings" before pairing the device and the current screen-mirroring PC via Bluetooth. Finally, you can manage your iPad on your PC fluently.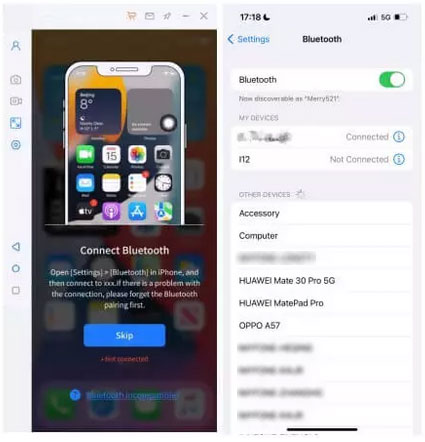 Learn More:
Way 2: Mirror iPad Screen to PC with LonelyScreen
LonelyScreen is able to trick your iPad into thinking your PC is an Apple TV. To mirror the iPad screen to PC in this way, please first make sure the two devices are within the same Wi-Fi network. Here are the easy steps for iPad screen mirroring to PC via LonelyScreen:
Get LonelyScreen on your PC and install it there.
Run the program and connect your PC to the same Wi-Fi network that your iPad is working with.
Scroll up from the bottom edge of your iPad to reach "Control Center".
Click "AirPlay" and choose "LonelyScreen" from the pop-up window.

Enable "Mirroring", and once completed, hit "Done".
Way 3: Screen Mirror iPad to PC with Reflector
As one of the stock screen mirroring apps, Reflector works as a live audio streamer, device framer, and MP4 screen recorder. Besides, its offers full-scale mode and multiple connections, starting the screen mirroring through AirPlaym, Miracast, or Google Cast.
Full guide for iPad mirroring to PC via Reflector:
Install Reflector on your iPad and PC after you download it from App Store or its official website.
Select a pricing plan to initiate your 7-day free trial.
Make sure your iPad and PC are within the same Wi-Fi connection.
Head to "Control Center" from your iPad and tap "Screen Mirroring".
Pick your PC and toggle the mirroring switch below the name of your computer.
Input the code offered on the Reflector's screen to mirror this iPad to your PC.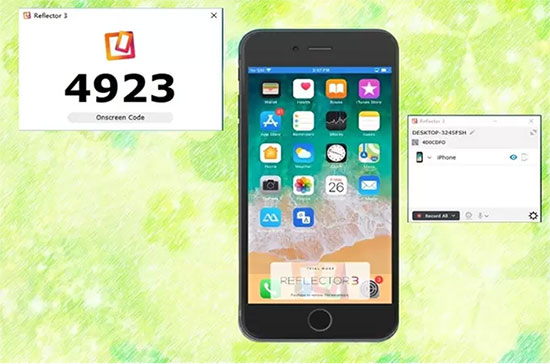 Read Also:
Way 4: Mirror iPad to PC Using LetsView
Available on multiple platforms, LetsView assists you in getting your iPad mirrored to PC wirelessly. Likewise, you have to put your devices within the same Wi-Fi network to create a virtual connection via PIN code or QR code.
Tutorial for screen mirroring iPad Pro/Air/mini/4/3/2 to PC with LetsView:
Get LetsView on both your iPad and PC before installing it.
On your Windows PC, click the code icon that turns up on the right of the interface.
You'll get the QR code and PIN code.
Enter the code shown on the screen of the PC.

Go to your iPad's Control Center and tap "Screen Mirroring" to connect.
Finally, your iPad screen will be accessed on your computer at once.
Way 5: Mirror iPad Screen to PC via AirPlay
AirPlay is available to download from Microsoft App Store. After that, you can easily access this option from your iPad's "Control Center". Yet, it will show a watermark on your device screen every minute. Learn how to screen mirror iPad to PC with AirPlay:
Install AirPlay Screen Mirroring Receiver from Microsoft App Store on your computer.

Link your iPad to the same Wi-Fi network as this PC.
Navigate to "Control Center" on your iPad and tap "Screen Mirroring".
Choose your PC's name from the list of devices to start screen mirroring.
To stop mirroring your iPad to your PC, quit the Airplay Receiver by tapping the "X" button at the top right corner of the screen. From then on, your computer won't be visible in the AirPlay settings on this iPad anymore.
Way 6: Screen Mirror iPad to PC via QuickTime
QuickTime Player, native to the Apple ecosystem, is also compatible with Windows 11/10/8/7. This app supports live screaming and serves as a basic video/MOV editor. Know how to perform iPad to PC screen mirroring with QuickTime:
Connect your iPad to your PC via a Lightning USB cable.
Download QuickTime and install it on your computer.
Launch it and click "File" from its dashboard.
Select "New Movie Recording".

Tap the down-arrow button and pick your iPad from the devices available. Then you can find and manage your iPad content from a larger screen.
FAQs on iPad Screen Mirroring
Q1: Can I Mirror iPad Screen to a PC over Bluetooth?
Of course, Bluetooth enables you to control iPhone/iPad from PC. But this feature isn't strong enough for iPad screen mirroring to PC free.
Q2: How to Mirror Mac Screen to iPad?
Head to "Control Center" on your iPad and tap "AirPlay". Then choose the Mac device you want to project and enable screen mirroring to share your Mac with the iPad.
Q3: How to Mirror iPad Screen to the TV?
Create the connection on your iPad and TV via the same source of the Internet.
Open your iPad's "Control Center" and proceed to the "Screen Mirroring" icon available on the screen.
Choose the name of the TV to start screen mirroring your iPad to it.
Final Thoughts
Overall, we just walked you through the 6 most reliable avenues to mirror iPad to PC without trouble. You can now pick any of them for video presentation, game manipulation, or app management. Here, please note that some of the tools require to work with a smooth Wi-Fi connection, except Screen Mirror and QuickTime. Furthermore, the former dominates in terms of fluency and recognition. So, just give the program a download and try it out now.

Related Articles:
6 Useful Ways to Mirror iPhone to Mac Device with USB or Wirelessly
How to Fix iPad Stuck in Headphone Mode? 13 Useful Ways You'd Better Know
6 Creative Ways to Connect iPad to Computer Instantly [2023 Latest]
7 Practical Tips to Change Weather Widget Location on iPad Air/Pro/mini/4/3/2
How to Restore iPad from iPhone Backup? 3 Worry-free Options Here
3 Easy Methods to Remove MDM from iPad with/without Computer or Password