Screen Mirroring Not Working? – Top 11 Fixes to Try!
I recently got a MacBook Pro and I am trying to connect it with my iPad to do screen mirroring but even when I connect them with a cable and bluetooth, the Airplay icon doesn't appear on my laptop and my iPad can't find my laptop on screen mirroring. I can't connect them. I have no idea what's wrong and I don't know how to fix it. It looks like I'm doing everything right but it isn't working somehow. Can anybody help me?
-- from Apple Support Communities
Screen mirroring is a popular feature that allows users to use a local connection to cast any smartphone screen to a larger display, such as a large TV or computer monitor. This feature is excellent and works well on most compatible devices. However, it's not entirely error-free. Recently a lot of people complained about screen mirroring not working, which made them very frustrated.
Why is my screen mirroring not working? This may be caused by different reasons. But the good news is that we have different solutions to fix it. Read on and learn how to get rid of screen mirroring not working issue.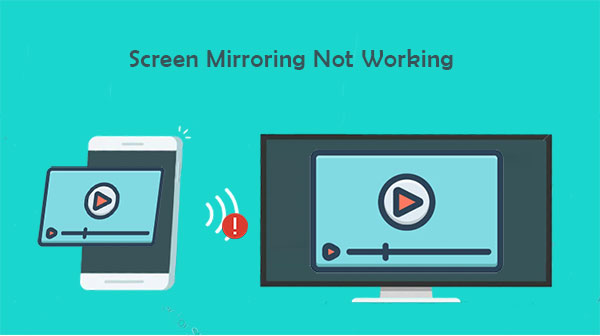 Part 1: Why is My Screen Mirroring Not Working?
Why isn't my screen mirroring working? This can be for a variety of different reasons. Let's take a look at some of them:
Part 2: Fix Screen Mirroring Not Working Issue with Quick Solutions
Solution 1: Restart Your Smartphone
Sometimes, your smartphone may have a slight software glitch that prevents you from mirroring it to your TV. When this happens, you can often resolve the issue automatically by simply restarting your phone. Please try restarting your phone and connecting it to the TV again to see if the mirroring function returns to normal.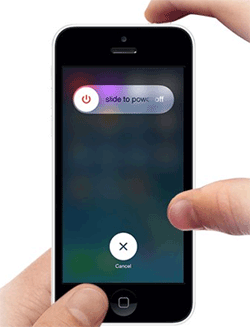 Solution 2: Restart Your TV
Why is my TV not showing up on screen mirroring? Maybe your smart TV also have some unknown glitches. You can try restarting the TV to fix these glitches. Just turn the TV off and on again.
Solution 3: Restart the WiFi Router
In some cases, the router may be the cause of iPhone screen mirroring not working. After all, screen mirroring happens over your WiFi connection. If you've exhausted all other options to no avail, then see if restarting your router fixes the problem.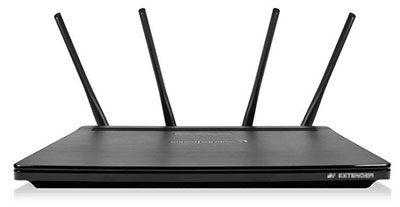 Solution 4: Use Same Wi-Fi Network
Make sure both the sender and receiver devices have WiFi enabled and are using the same network connection. Screen mirroring only works if the smartphone and TV screen have the same internet server. If not, change the network to sync your devices.
You May Like:
Solution 5: Check if the Devices Are Running on Updated Software
If screen mirroring not working on iPhone, you should check if the devices are running on the latest software. Airplay is an advanced feature that requires iOS devices running iOS 4.2 or higher. Therefore, you need to make sure the devices are running on updated software. (How to update iOS?)
Solution 6: Disable Bluetooth on the TV
Screen mirroring generally works through a WiFi connection. Bluetooth is also a wireless technology, and its activation may interfere with the work of WiFi. So you can try turning off the bluetooth on your TV and try again.
Solution 7: Verify the TV Input
You'll need to make sure your TV input option is set to screen mirroring. Because sometimes, if the TV input option is set to HDMI source, it will definitely not be able to mirror the phone screen to the TV. Usually you can go into the settings menu on the TV to change the current input.
Solution 8: Check Your AirPlay Settings
Occasionally, there may be a deviation in the settings causing iPhone/iPad screen mirroring not working on Apple TV or HomePod, you can do this by going to "Settings" > "AirPlay" and "HomeKit" > Choose "Everyone" under "Allow access".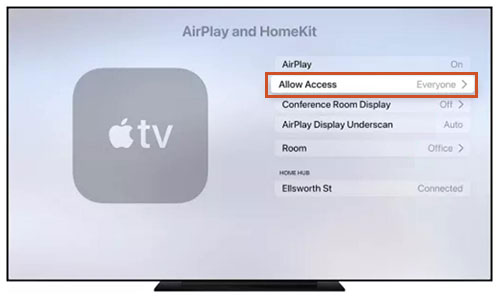 Solution 9: Check the Devices That Are Compatible with AirPlay
Can't connect iPhone to TV? You should make sure your phone supports screen mirroring technology, and check if Airplay works on your Mac. You can check it by clicking on the Apple symbol on your Macintosh, selecting "About This Mac" > "More Info". Some mirroring restrictions prevent older devices from screen mirroring. Therefore, the latest iOS software and hardware versions are recommended for Airplay.
Solution 10: Place Phone Near Your TV
Why is my device not showing up on screen mirroring? See if your phone is too far from the TV. For example, if your phone and TV are separated by several rooms, screen mirroring issues are more likely to occur.
See More:
Part 3: Use a Third-party Tool if Standard Screen Mirroring Not Working
What to do when screen mirroring doesn't work after trying all of the above? Well, mirroring your phone screen with third-party software is a good way to go to troubleshooting screen mirroring. Screen Mirror is a critically acclaimed app for casting to any Android and iOS device on your PC. Cast from your device in a few simple and intuitive steps. After that, you can use the mouse and keyboard to control your phone screen on computer, including streaming videos, playing games, taking screenshots, managing applications, and more.
Main features of Screen Mirror:

How to use Screen Mirror on an iOS device?
Step 1. Run Screen Mirror
Launch Screen Mirror after you downloaded and installed it on your PC. Connect your iPhone or iPad to the PC via the same WiFi network, and click on "iOS" on the program interface.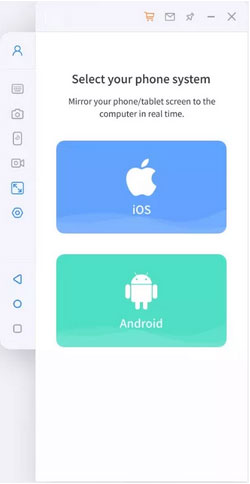 Step 2. Allow the tool to access the network
A dialog box will appear on the PC, just click "Allow access" to continue.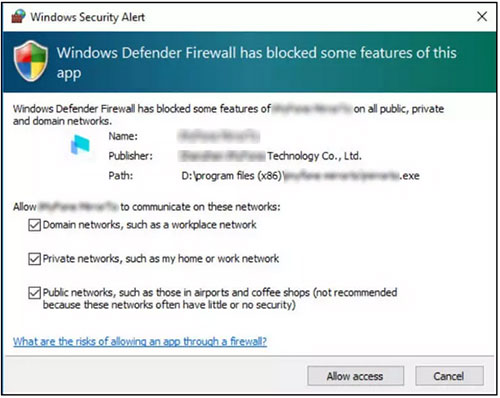 Step 3. Start screen projecting
Choose "iOS screen casting" on Screen Mirror, and then go to "Control Center" > "Screen Mirroring" > "select the tool" on your desktop.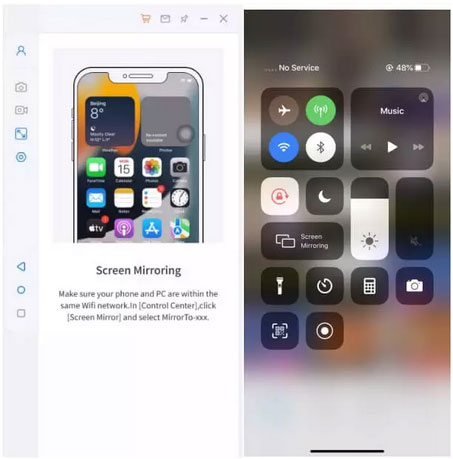 Step 4. Mirror iPhone to PC
Go to your iPhone's "Settings" and pair the iPhone with your PC via via Bluetooth. After that, you can cast your iPhone or iPad on your PC's big screen right now.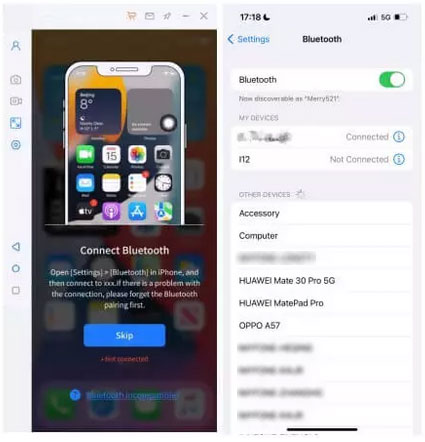 In Conclusion
So once the screen mirror stopped working, you can try the one from the above solutions that might work for you. There can be many different reasons behind the error, so it is important for you to understand each solution. If none of these solutions work, then we recommend users to get Screen Mirror, a third-party software for best results. It can easily mirror the screen of iPhone or Android device to PC, allowing you to realize keyboard control and enjoy a more perfect visual experience.

Related Articles:
How to Control iPhone with Broken Screen Effortlessly? [Ultimate Guide]
QuickTime Screen Recording Not Working on Mac? How to Fix It
How to Record iPhone Screen without Jailbreak?
[Full Guide] How to Transfer Videos from PC/Mac to iPhone?
iPhone Black Screen of Death? 9 Fixes Help You Resolve This Issue Easily