How to Change Your Location on iPhone? 6 Common Ways Offered
The location service on an iPhone is helpful for guiding maps, nearby hotels, and convenience stores. Usually, we need to change the location on the phone to make it work better for us. Yet, as there are some unfriendly location simulation programs on the market, some folks may be confused about which one to pick.
Therefore, how to change location on iPhone easily and flexibly could be necessary for further exploration. Well, just read on, for we'll detail practical content on this topic below.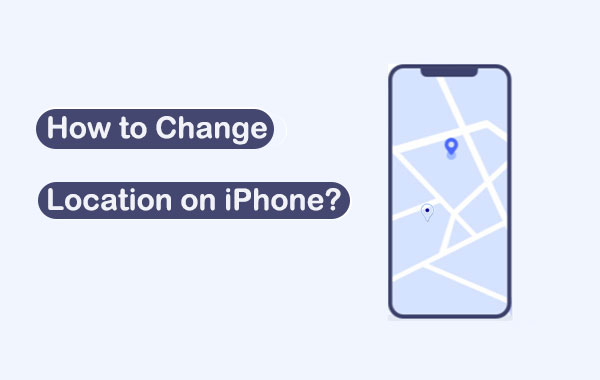 Part 1: Why Do You Want to Change Your iPhone Location
There are exactly a number of situations in which you may set up a virtual GPS location, either for fun or for other causes. And here are some of them:
You need to spoof GPS location for Pokemon GO or other geo-based games.
Pretending to be where you are when chatting on some dating apps can help you accomplish a lot of unexpected gains.
You don't want newly installed apps to know your real location.
Trick your friends into thinking you are on an extravagant vacation.
Fool your family some groups in location-sharing apps.
Read Also:
Part 2: How to Change Location on iPhone from Device Settings
By going to your iPhone Settings, you can change your device location permanently. Can you change your location on iPhone in this means? Here are the steps:
Go to "Settings" from your iPhone 13/12/11/X/XR/Xs/8/7.
Scroll down to find "iTunes and App Store".
Find a top bar and tap "Apple ID".
On the generated view-card and tap on "View Apple ID".

After that, click "Country/Region" from "Accounts".
Press "Select New Country".
After setting the new location, please confirm the changes with "Terms and Conditions".
Part 3: How to Change iPhone Location via iTunes/Music
If you want to permanently switch location on a computer, you can try it with iTunes or the Music app. Here's how to switch location on iPhone in this way:
Start the Music app or iTunes.
In the menu bar at the top of the screen, click "Account" > "View My Account".
Log in to your Apple ID and passcode. (Apple ID is disabled?)
On the "Account Information" page, click "Change Country or Region".

Select a new country or region.
Review the "Terms & Conditions" > "Agree".
Click "Agree" again to confirm.
Enter your new payment info and billing address before clicking "Continue".
Check If You Need:
Part 4: How to Change Your Location on iPhone Online
To set your iPhone location online, you can change your Apple ID back to the real location afterward, but you cannot update apps that aren't available in your region. Here's how to do it on a webpage.
Go to the Apple ID login webpage.
Sign in to your Apple ID account.
You will need to verify your identity via your Mac, iPhone, iPod touch, or iPad.
Click "Edit" under the "Account" section.
Choose your new country or region from the "Country/Region" menu.
Follow the on-screen instructions to continue.
Set your payment method and then enter its information.
Part 5: How to Change My Location on iPhone with NordVPN
It's a good idea to choose a reliable VPN like NordVPN to simulate location on an iPhone by connecting to a server in the location you want. After that, you can access content, sites, and services from any corner of the world. Else, it also serves as a security app to protect your device in doing so.
How do I change my location on my iPhone via NordVPN?
Go to the NordVPN webpage to download it on your iPhone.
Complete the installation and launch this app.
Tap the "ON" button at the bottom of the interface.
Adjust the location on the map to determine one on the iPhone.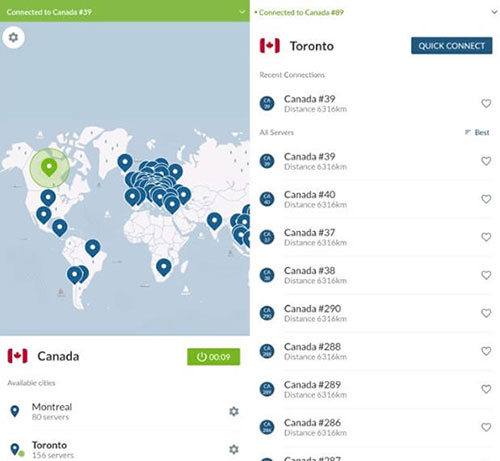 Part 6: How to Change Current Location on iPhone by Editing a PLIST File
For an iPhone with iOS 10 or older, you can try to edit a PLIST file to change your device location. To begin with, you should download a free program like iBackupBot or 3uTools. Then you're required some coding knowledge to edit the file using your iPhone backup.
How to edit location on iPhone by editing a PLIST file?
Download and install the free tool - iBackupBot.
Connect your iPhone to a computer via a USB cable.
On your computer, click "iDevice" > "Backup/Restore" > "Backup iDevice".
Once done, go back to "Backup/Restore" > "Backup Management".
Launch iBackupBot, select the latest backup files, and click "View Now".
Push "Apps" in the "Backup Viewer" window and select "Backups" > "System Files".
Scroll down to "HomeDomain".
Click on "Library" > "Preferences".

Open the "com.apple.Maps.plist" and scroll down to the bottom of the editor.
Right above the last two lines, "/dict" and "/plist", copy and paste the code below:
<key>_internal_PlaceCardLocationSimulation</key>
<true/>
Click "Save" > "Backup/Restore" > "Restore" > "Restore Data".
Choose the data you revised just now and click "Restore Now".
After that, launch the Maps app on your iPhone.
Input any location you wish to jump to and scroll down to tap "Simulate Location".
Note: Changing your iPhone's backup and modifying your current iPhone settings might change or even destroy some files on your device. Namely, you may have to take a risk using this method.
Part 7: How to Change Location on iPhone in the Safest Way
Do you want to mock location on an iPhone easily and flexibly? Simply consider taking a reputable product like Virtual Location Tool. This intelligent program lets you spoof any location on your iPhone safely without jailbreak. It is quite useful for those who want to change the location temporarily at any time. In addition to being flexible, this utility is pretty secure as well.
Key features of Virtual Location Tool:
Securely change location on iPhone/Android device with simple clicks.
Let you flexibly select or even delete the places saved on this program you've visited before.
Customize, simulate routes, or create different routes.
It also works for such apps as AR games, social platforms, etc.
Run smoothly on various iOS devices, including iPhone 14/13/13 Pro (Max)/13 mini, iPhone 12/12 Pro (Max)/12 mini, iPhone 11/11 Pro/11 Pro Max, iPhone XR/Xs/Xs Max/X, iPhone 8/8 Plus, iPhone 7/7 Plus, iPhone 6/6S/6 Plus, iPod touch, iPad, etc.
It won't let out your privacy.
How to set different locations on iPhone via Virtual Location Tool?
Step 1. Install and run this utility after the download. Tap "Get Started", and you'll see a welcome screen. Then please connect your iPhone to the computer and unlock it.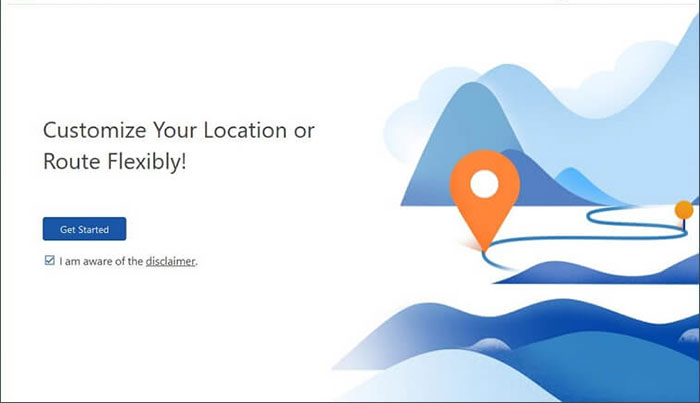 Step 2. When the map loads up, you should click on the "Teleport" section in the upper-right corner.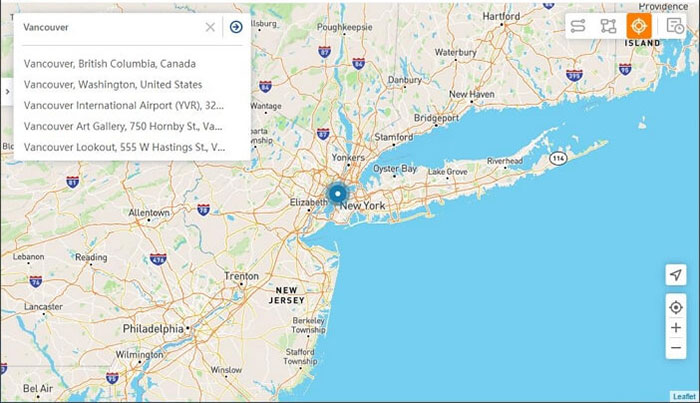 Step 3. After that, please determine where you want the iPhone location to be at the upper-left corner. Or you could select a destination by zooming in/out of the map.
Step 4. You have to find and click the "Move" button. Your iPhone's location will be where you just set it up. Finally, you can open "Apple Maps" on your iPhone to check the new location.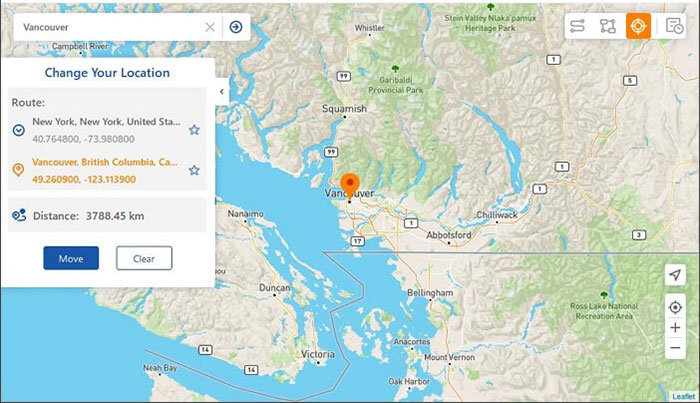 Quick Summary
It's time for us to wrap up the article. After going through this page, we can easily conclude that:
The first three methods can only permanently change your location to a new country or region.
NordVPN offers a quick connection to another country, but it is prone to occasional bugs and crashes.
By editing a PLIST file, you can change the location on an iPhone running iOS 10 or earlier. However, it's quite complicated to carry out for a green hand.
Virtual Location Tool empowers you to temporarily change your iPhone location to anywhere simply and securely.
Related Articles:
Why Is My Location Wrong on My iPhone? 10 Ways to Fix It
Where Does iTunes Store Backups & How to Change iTunes Backup Location?
How to Mock Locations on Huawei P40/P30 Lite/P20 Pro/P20 Lite, etc.?
[Easy Guide] How to Transfer Data from iPhone to iPhone without iCloud?
3 Safe Ways to Change Location on Skout for iPhone and Android