Does Samsung Smart Switch Need Wi-Fi? Here's All You Want to Know
Smart Switch helps transfer data from an iOS/Android/Windows/Blackberry phone to Samsung. Since the newer Samsung brands no longer give away original mobile phone chargers, USB data transmission is gradually used less by some people. So, here's a question - does Smart Switch need Wi-Fi? How to use the app wirelessly or over USB? Is there any alternative to it? OK, go through this passage to learn more about Samsung Smart Switch.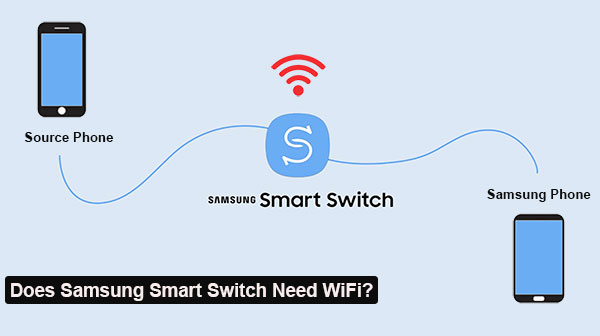 Part 1: Does Smart Switch Need Wi-Fi
Well, to begin with, does Samsung Smart Switch need/require Wi-Fi? Not necessarily! When you back up your Samsung phone to a PC or transfer data to another Samsung, you can make the connection with either Wi-Fi or USB. Local Wi-Fi can be used to establish a virtual connection between devices, while the app requires that kind of connectivity other than the network Wi-Fi. Before the "Send data" and "Receive data" is marked, the Wi-Fi feature is automatically turned on.
At present, new Samsung models do not always include a USB cable anymore. This situation may make the connection mode more unique.
You Might Need:
Part 2: How to Use Smart Switch over Wi-Fi/USB
First, what do I need to use Smart Switch? Or do I need Wi-Fi for Smart Switch? If the source phone is an iPhone, you need either your Apple iCloud ID and password or a Lightning USB cable. And for Android phones, please install the Samsung Smart Switch app on both devices. Next up is how to use Smart Switch over Wi-Fi or USB.
Requirements:
Blackberry: OS 7 or higher.
Windows Phone: Windows OS 8.1 or newer.
Android OS 4.0 or newer (Wi-Fi connection).
Android OS 4.3 or up (USB connection).
iOS 5.0 or higher.
How to use Smart Switch with Wi-Fi:
Install Samsung Smart Switch on both devices after getting it from Google Play or the App Store.
Open the app and tap "Send data" on the source phone and "Receive data" on the recipient.
Choose the "Wireless" sign to establish a connection for both devices via Wi-Fi.

After the connection is made, you'll get a screen with all transferable files displayed.
Select the file categories you want to copy and hit "Transfer" to kick-start the data migration. (Samsung Smart Switch stuck?).
Since we know the answer to "does Smart Switch work without Wi-Fi", let's move on to know how to make it with a USB cable.
How to use Smart Switch with USB:
Download and install the Smart Switch app on both of your phones.
Touch "Start" on the sending device and "Receive" on the destination.
Choose "USB Cable" on the pop-up screen.
Link the devices via a USB cable and the USB connector with Samsung. (Do it according to the on-screen prompts.)
Select "Send" on your old phone.
Choose which items you want to copy from your source phone.
Click "Transfer" and wait until the procedure is done.
Part 3: Pros and Cons of Samsung Smart Switch
Samsung Smart Switch is free of charge. As you know, no free software is impeccable. Smart Switch is no exception. Here are the main merits and demerits:
Pros:
Back up Samsung contacts, photos, app data, and other files.
Cross-platform supported.
Support unlimited data size.
Two connection modes: USB and Wi-Fi.
Free content transfer service.
Cons:
It only works for Android/iPhone to Samsung data transfer.
Uncertain data type support (Depending on your phone model).
Less efficient than most other file migration programs.
Not available on some mobile phones.
Extended Reading:
Part 4: How to Transfer Data to New Samsung without Wi-Fi
As Samsung Smart Switch has some disadvantages in compatibility, data support, and transmission efficiency, we would recommend MobiKin Transfer for Mobile (Win and Mac), a more cost-effective tool. Being one of the most popular products on the market, this program provides the convenience of transferring data on different platforms, not limited to iOS/Android to Samsung migration.
Main characteristics of MobiKin Transfer for Mobile:
Transfer data from Samsung/Android/iPhone to Samsung via USB.
Switch from Android to Android, iPhone to iPhone, Android to iPhone, and iPhone to Android.
Support transfer files like contacts, text messages, call logs, music, videos, photos, books, apps, etc.
Stable connection, quick transfer, and satisfactory results.
Apply to almost all Android and iOS devices.
It won't let out your privacy.
How to transfer data from an old phone to Samsung with Transfer for Mobile?
Step 1. Launch Transfer for Mobile on a computer
Start the program after the download and installation. Then make sure to connect both devices to the same computer via USB cables. The tool will detect your phones automatically.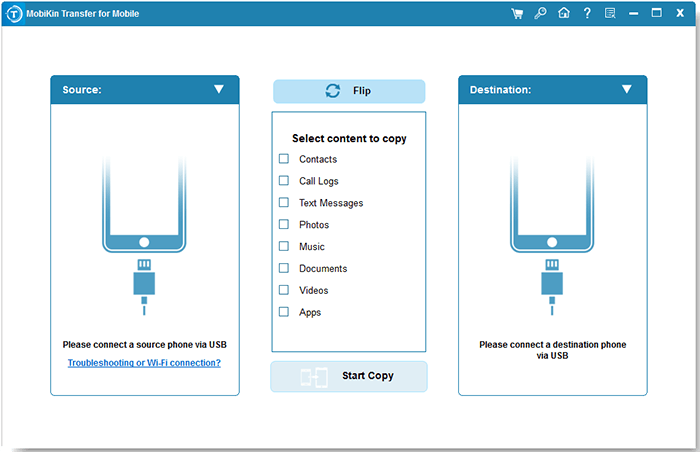 Step 2. Check the positions of the source and destination phones
After that, check if the sending device is on the left of the program screen and the destination one on the other side. If not, click "Flip" to correct their positions.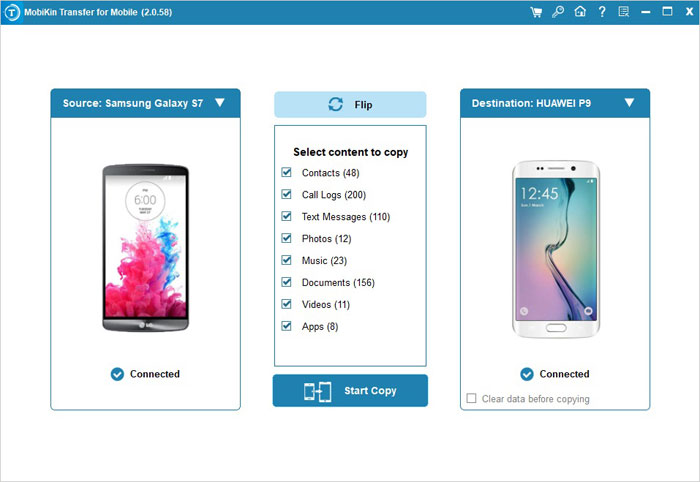 Step 3. Transfer data from old phone to Samsung
Place a checkmark on the data types you want to migrate and tap "Start Copy" to trigger the file transfer to your new Samsung from an old phone.
FAQs on Samsung Smart Switch
Q1: Do I need to keep Smart Switch open while transferring data?
No, quit Smart Switch and do whatever you want while the migration gets started. You can see the transfer progress from the notification tray.
Q2: Does Samsung Smart Switch eat a lot of data?
Indeed, with some new characteristics being rolled out, Samsung consumes a lot of mobile data and so much network power. Yet, you don't know how much data it consumes exactly.
Q3: Which types of files can I transfer via Smart Switch?
Well, it depends. This is mainly determined by your mobile phone. Generally, they are contacts, call logs, messages, WhatsApp chats, photos, videos, apps, and other stuff. (For videos and music, it applies to DRM-free only).
Q4: What can this app not transfer?
Contacts saved on the SIM card, accounts from social media & Google, some restricted e-mails, app data, appointments synced with external accounts and live wallpapers and themes.
In Conclusion
Overall, Smart Switch is connected through either Wi-Fi or USB. Different connection methods deliver diverse data transmission outcomes and user experience. However, while it provides convenience, the tool also possesses some demerits, which cannot be covered by its strengths. If you want to make the transfer with better compatibility and fewer failures, MobiKin Transfer for Mobile can be your preferred tool. So, just give the program a download and try it out now.
Related Articles:
Samsung Smart Switch Not Working? Here Are the Solutions & Alternative
How to Transfer Calendar from Samsung to Samsung in 4 Great Ways?
How to Export Samsung Calendar? 4 Methods for Samsung Calendar Export & Import
Does Smart Switch Transfer WhatsApp? Here Are the Answer & Transfer Methods
5 Methods to Transfer Data from ZTE to Samsung Galaxy S22/S21/S20/S10/Note/Tab
How to Back Up & Restore Samsung Using Samsung Kies? [Step-by-step Instructions]