[Fixed] OneDrive Won't Sync? 16 Verified Tips in 2023
OneDrive, formerly known as SkyDrive, was launched by Microsoft in 2014. It features automatic backup, online Office sharing for files and folders, etc. Ideally, it's able to offer smooth services for mobile phone users. However, OneDrive not syncing also occurs from time to time, which is also the disadvantage of most cloud storage services. Now, why are my OneDrive files not syncing at times?
Faced with OneDrive sync issues, we will list 16 solutions for you. Yet, before that, let's take a look at the causes of these phenomena.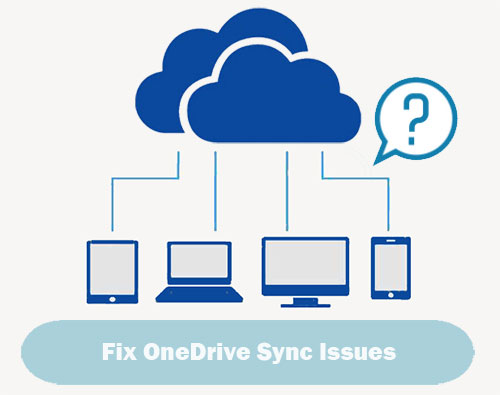 Part 1: Why Isn't OneDrive Syncing?
The causes are complex actually, as we, non-professionals, cannot and don't need to get into its deep-seated reasons. Here, we can generalize them as follows.
Why Are My OneDrive Files Not Syncing?
As one of the mainstream operating systems - Windows 10 - at present, some features of OneDrive are deeply integrated with it. But even so, it still malfunctions occasionally. If you encounter OneDrive not syncing on Windows 10, let's see how to solve it quickly. Of course, the following is also apply to computers with Win 8, Win7, etc.
Part 2: 16 Quick Solutions to Fix OneDrive Not Syncing Issue
Solution 1: Compress Folders/Files
Due to the large size of a single file, the task may fail when you back up files to OneDrive. And today, a photo or video with high definition display like HD or BD is eating more storage of a mobile phone. So, if the stuff you are to upload contains it, try compressing them at first:
Right-click the file you want to compress and choose "Add to Archive" or "Send to Compressed folder". It will pop up a window like below. From here, select the types of compression to fix OneDrive sync problems.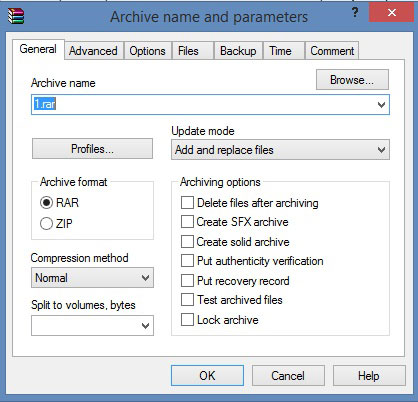 Solution 2: Select Folders for Syncing
Too many folders to upload may also cause the synchronization process to fail. To get it around, you can select folders for syncing. To fulfill this:
Click the OneDrive option from the lower right. Then go for More > Settings > Account > Choose folder > Make all files available > OK. Once done, you might be able to sync all the files and folders via File Explorer.
Read Also:
Solution 3: Check Windows for Updates
Sometimes, the culprit for the OneDrive folder not syncing may be the older Windows OS. Thus, you can update Windows to see if it works. Here's how:
On your Windows computer, head to "Settings" to find "Update & Security." From here, you can see "Windows Update", where you're allowed to check to see if the system is out of date.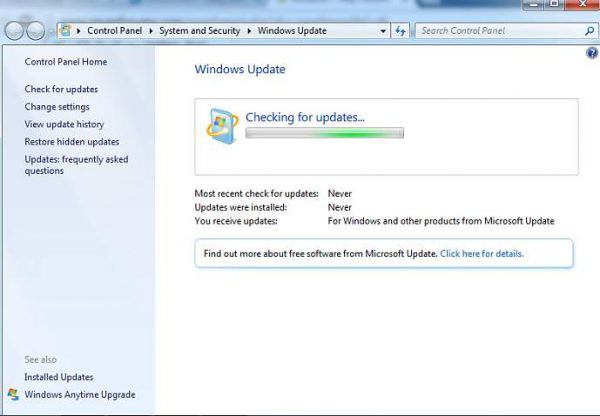 Solution 4: Ensure Windows Search Is Running
OneDrive won't sync? The Windows Search might not be activated. Now, you need to open Task Manager > tap Move to Services > find "WSearch" to check for its status. If this is the case, please right-click on "Wsearch" and go for "Restart" to get the Windows Search run.
Solution 5: Reconnect OneDrive Account to Windows
If the files related to OneDrive upload and download was previously configured on this computer, unlinking and relinking the account again might help. To do so, click the OneDrive option > More > Settings.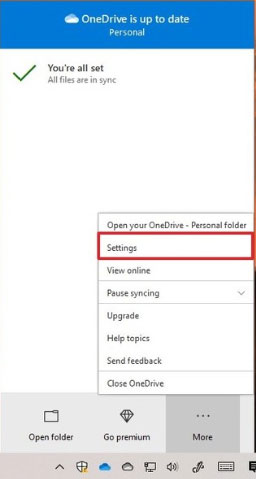 Navigate to Account > Unlink this PC > Unlink account > enter the email account linked to the OneDrive > Sign in > Next > Continue with the on-screen instruction to reconnect OneDrive account to Windows.
Solution 6: Free Up Storage Space
By and large, OneDrive tends to prompt its users when it is out of space, but sometimes it gets stuck before it sends out a pop-up message. At this time, it may be filled up with a large amount of data. You can free up space by using an external hard drive or deleting old files. Then reset OneDrive and wait for the auto-sync to start again.
Solution 7: Turn off the Office Upload
The automatic office upload option may interfere with the running Microsoft OneDrive. To toggle it off, you can head over to its "Settings" to go for "Office". Here, you can uncheck "Use Office to sync Office files that I open" and then click on "OK" to save the operation.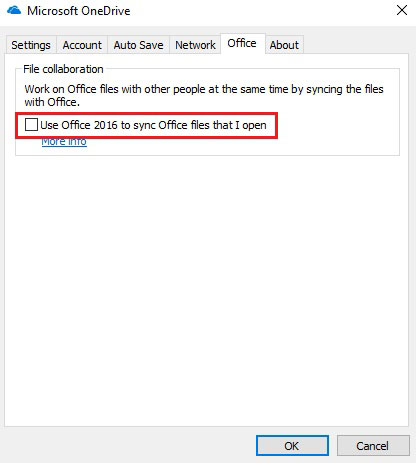 Solution 8: Keeping the Path Short
Generally, the file patch is limited to 255 characters. OneDrive sync problems might occur if you create a long pathname or have different sub-folders. Shortening the path could be one of the most efficient tips to resolve the matter. You can get into your folders stored on the OneDrive directory to rename them as shorter file paths if needed.
Solution 9: Relocate Stuck Stuff
Relocating stuck items may help fix Windows 10 OneDrive not syncing. To have it completed, visit OneDrive > More > Pause syncing > choose 2 hours. Then open the OneDrive folder using File Explorer before selecting conflicting files. Subsequently, go to OneDrive > More > Resume syncing > select the stuck files > Move to > Choose location > OneDrive > Move.

Solution 10: Switch off Throttling
Switch off throttling will disable the bandwidth limit of OneDrive. This would certainly make the best use of the Internet connection to sync your files to the OneDrive cloud. To turned if off, you can navigate to OneDrive > More > Settings > Network tab > choose "Don't limit" from "Upload rate" > OK.
Solution 11: Disable Firewall
To switch off the Firewall, simply go to Start > Settings > Update & Security > Windows Security > Firewall & network protection. From here, choose a network from "domain network, private network or public network". At last, disable "Windows Defender Firewall" from the pop-up window.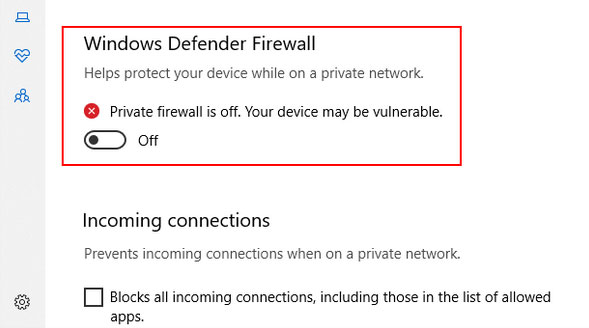 Solution 12: Disabling Windows Defender Antivirus
The built-in antivirus software on Windows sometimes mistakes OneDrive as a malicious intrusion program. You can try to turn off the feature from Windows 10 to get rid of the "misunderstanding": on your Windows 10, you need to switch off "Windows Defender" by going to Start > Settings > Update & Security > Windows Security to disable the real-time protection.
Check if You Need:
Solution 13: Reset OneDrive Manually
Here's an easy means to rest OneDrive manually:
First, open "Start" to search for "Command Prompt". Then right-click the top result to choose "Run" as the administrator option. Secondly, input: %localappdata%\Microsoft\OneDrive\onedrive.exe /reset. Press the "Enter" key. Next, open "Start" again to search for OneDrive. After the reset, OneDrive should conduct a full resynchronization accordingly.

Solution 14: Reinstall/Update/Restart OneDrive
These 3 methods are applicable to many program-related issues. You may as well try it to cope with OneDrive not working. If the reinstallation and restart still do not take effect, you can manually update it:
Right-click on the OneDrive icon from the toolbar to select "Settings". Then, find "About" and tap on the version number. This will bring you a webpage where you could download the latest version of the Drive.
Solution 15: Run OneDrive with Linux
OneDrive cannot work for Linux users directly. But you can sync files from Insync's Google Drive Linux to OneDrive 3rd-party syncing tool for Linux, for the Insync is fully compatible with the less commonly used system. To run OneDrive with Linux:
Download and install Insync on your computer. Log in to your Microsoft account. Next, choose the items you'd like to sync to the OneDrive cloud. (Your synced files are in the Base Folder on Insync.)

Solution 16: Ask for Help from Microsoft Forums
The last means is to go to Microsoft's Official Forum and ask for help by posting. Of course, you can contact the OneDrive call center or even send an email to them. Yet, we don't know if the final solution will work. Therefore, if you don't want to go back and forth, let's take a look at the best alternative to OneDrive right now.
Part 3: OneDrive Won't Sync? Try the Best OneDrive Alternative for File Sharing
Even if you are an advanced subscriber of OneDrive, you are likely to encounter OneDrive not syncing while using it. At this point, If you just want to make a smooth backup, and don't want to waste time trying the methods one by one, then MobiKin Assistant for Android (Win and Mac) can meet your pressing need.
You can avail of this program to send files to your PC/Mac as a backup or share them with others. Alongside that, it's able to help you make your Android phone management carefree, allowing you to control your Android stuff at will on your computer.
Why Do You Need MobiKin Assistant for Android?
How to Use MobiKin Assistant for Android to Sync Android Data?
- Back up the entire Android phone to a computer in batches:
Step 1. Open the software and plug your Android device into a computer via a USB cable. Enable USB debugging on your Android phone when prompted. Follow the guide on the screen to get the device recognized before you can see the main interface as below.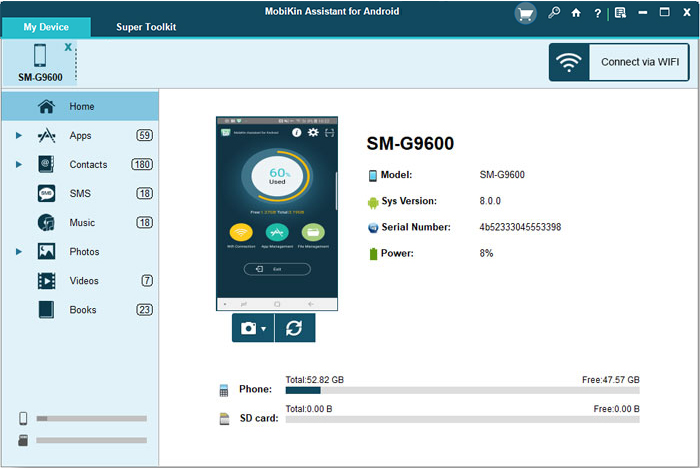 Step 2. Click on "Super Toolkit" from the top menu on the main screen to get the "Backup" and "Restore" buttons.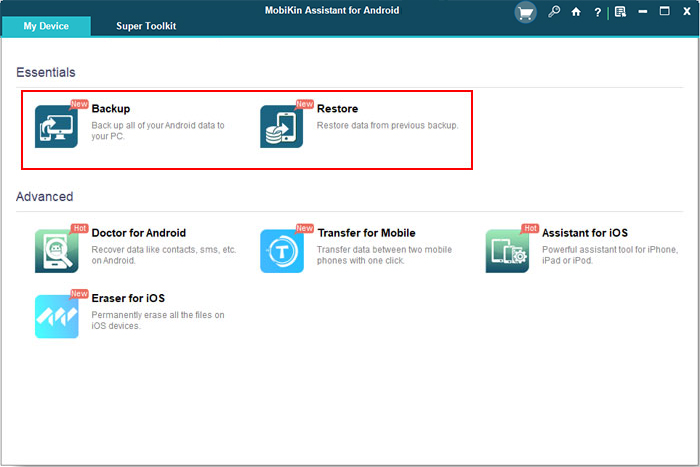 Step 3. Tap on "Backup" to check your desired data types from the incoming window. Next, choose a location on the computer to save the selected files and hit "Back Up" to put your Android files to this PC/Mac.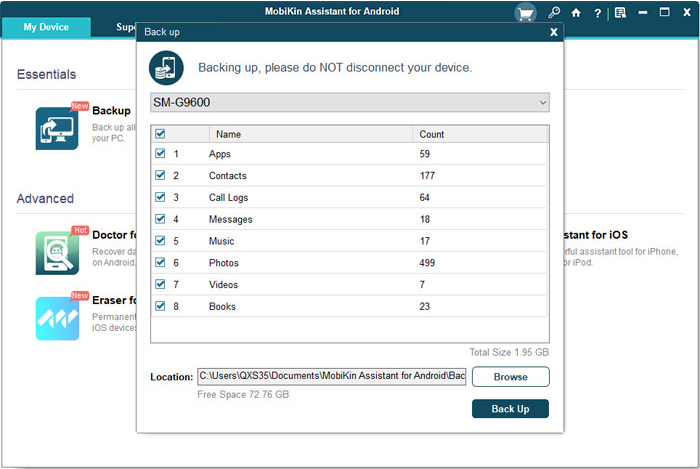 - Transfer Android data to a computer selectively:
With this smart software, you can move chosen files from Android to a computer flexibly as well. To do this, simply turn to "My Device" to select the file types from the left panel. Then, preview and opt for the wanted items. And finally, click "Export" to get the Android files to your computer as a secure backup.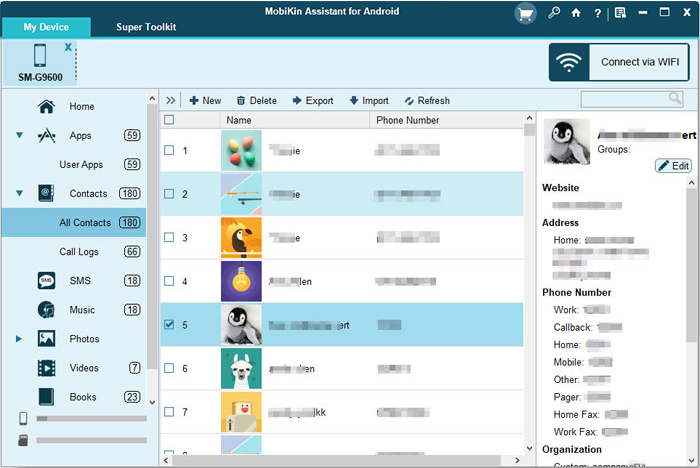 Final Thoughts
To be honest, the 16 methods above are not universally applicable. Firstly, you don't know why OneDrive stopped syncing. Secondly, if you try all those methods out, it is rather tedious and doesn't necessarily bring the effect you want.
So, MobiKin Assistant for Android is much better for you guys who want to improve their quality of life. It, the best Android manager, is almost impossible to annoy you with something unexpected. Well, just download it now and try with its free trial on your own.
Related Articles:
How to Back Up Contacts from Windows Phone to OneDrive
Complete Guide on How to Extract Data from OneDrive to iPhone
User Guide: How to Save Files from OneDrive to Android Phone
Simple Methods to Transfer Photos from Samsung to External Hard Drive
Android Backup: How to Backup Android Photos to Cloud?
Top 8 iCloud Alternatives for Backing Up iPhone, iPad & iPod