[Tips in 2023] How to Restore Deleted DCIM Folder on Android?
You must have taken a lot of photos and videos with your device to be so apprehensive about the disappearance of the DCIM folder. The DCIM folder is one of the most important folders on smartphones and tablets. How to recover deleted DCIM folder in Android is a problem that many users are eager to solve.
Well, you are lucky to find this tutorial. With the help of this article, you can recover deleted DCIM folder on Android using advanced tools like Doctor for Android, USB debugging mode on Android device, command line on computer or directly from Google Drive. Read on, please.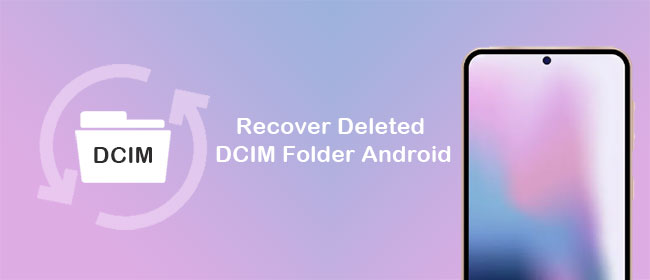 Part 1. Frequently Asked Questions About DCIM Folder on Android
What is DCIM Folder in Android?
DCIM is an acronym for Digital Camera Images, which is the technical name given to it by the developers of the Android operating system. The DCIM folder is used to store some photos and videos taken with a digital camera, Android phone or tablet. You will be able to find this folder when you connect your digital camera or smartphone to your computer. You can also change the name of this folder to your liking.
How to Find DCIM Folder on Android
Where is the DCIM Folder on Android? First, the location of the DCIM folder on an Android device depends on the storage location. If you save the photos in the phone memory, then you can go to the "Storage" folder of the Android device, open the "emmc" folder, and find the "DCIM" folder saved in the phone memory. If you save your photos on a memory card, you need to open "sdcard0" and select "DCIM".
Reasons for Loss of DCIM Folder
DCIM folder loss occurs more and more frequently in the world, and there are many reasons for DCIM folder data loss. Here are some of the most common reasons.
The DCIM folder was deleted or moved by mistake.
The memory card is damaged or formatted.
Folders are lost when the process of transferring images from the phone to other devices is incomplete.
The virus deleted the DCIM folder.
There are other programs preventing you from viewing the DCIM folder.
Your phone does not have a DCIM folder.
...
Because the loss of the DCIM folder often happens, it is recommended to back up your photos, videos and other important data regularly. Don't worry too much if you don't have backup files. Here are some effective methods on how to recover deleted DCIM folder android.
Can't Miss:
Part 2. 100% Workable Method to Recover Deleted DCIM Folder in Android
Don't worry if you accidentally delete the DCIM folder or lose files from this folder. From our experience, we found that MobiKin Doctor for Android (with its Mac version) is the most reliable tool for recovering deleted files on Android devices. It is also one of the simple and easy-to-use Android recovery programs that provides you with the easiest and most effective file recovery in just a few clicks.
The DCIM folder holds your Android phone's most valuable data, so using this software to restore that folder is obviously the best option you can make.
Why Choose MobiKin Doctor for Android?
Recover different types of files, including photos, videos, music, call logs, contacts, SMS and many more.
Retrieve deleted and lost photos and videos from DCIM folder.
Allows you to preview deleted data before starting recovery.
Provides quick scan and deep scan to resolve all data loss situations.
Works on rooted and unrooted Android devices, including Samsung, HTC, LG, Sony, Motorola, Huawei, Xiaomi, etc.
A simple UI makes it easier and faster to restore data.
Now, let's discuss the step-by-step process of recovering deleted DCIM camera folder in Android using MobiKin Doctor for Android.
Step 1. Run Doctor for Android
Free download and install this DCIM folder recovery software - Doctor for Android on your PC or Mac computer. Launch it after the installation. Then, use a proper lightning USB cable to connect your Android device to the computer.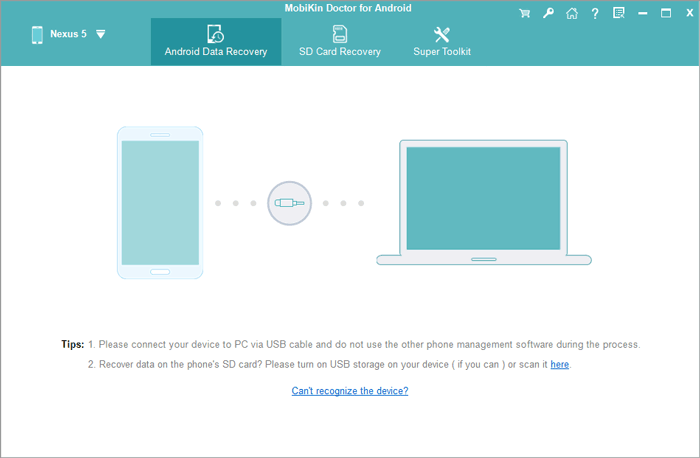 Here, please ensure you have enabled USB debugging on your Android device to make the program can get access to the device smoothly.
Step 2. Select data type to recover
Choose the data type you want to recover. To recover accidentally deleted DCIM folder, you should choose "Photos" and "Videos" options. Click "Next" and the program will start scanning for all the lost photos and videos on your device.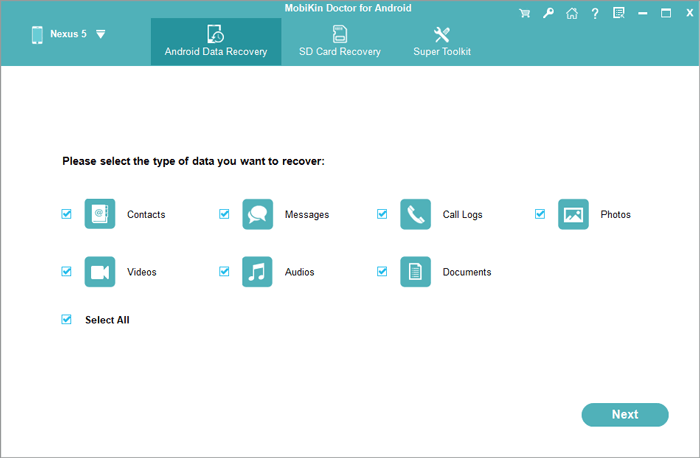 Step 3. Restore deleted DCIM folder on Android
All scanned files display in the right panel. You can preview any file to get the detailed information. Choose the items you want to recover and click "Recover" to save the data from DCIM folder to your computer.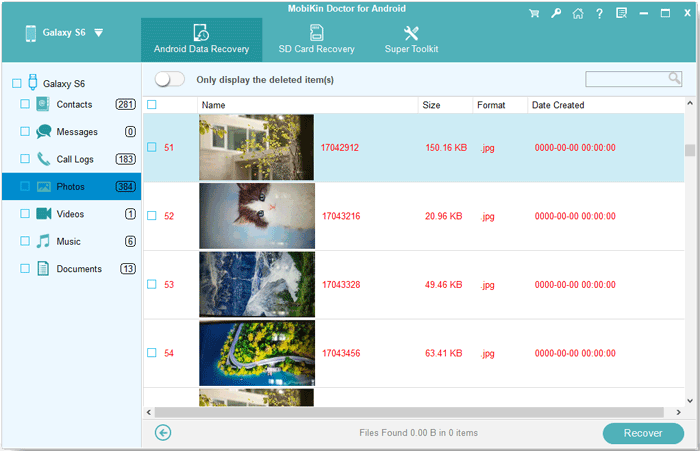 Don't want to read the text introduction? The video tutorial below can help you more intuitively.
Can't Miss:
Part 3. Other 3 Methods to Restore DCIM Folder on Android
Here are a few more tips you can try when you find that the DCIM folder is empty on Android.
Method 1: Enable USB Debugging Mode
Turn on your Android device and go to the "Settings" app.
Find the "Development" section and turn on "USB debugging" mode.
Connect Android to PC via USB cable.
Now unlock your phone and check if the contents of the DCIM folder appear.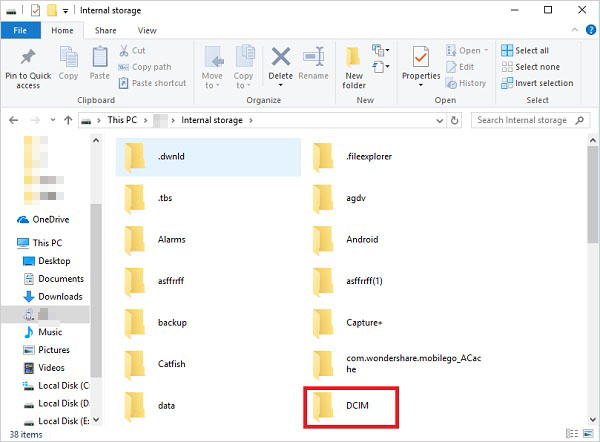 Method 2: Execute the Command Line
Connect your Android device to your computer via a USB cable and enable USB debugging.
Press the "Windows" and "R" keys at the same time to get the "Run" dialog.
Enter CMD to open a command window. Then press "Enter" on your keyboard to continue.
Next enter the following command: chkdsk [SD card drive later]/f.
Finally press "Enter" to run the command. Wait for a while until the process is over and you should see the DCIM folder with all your photos.
Method 3: Using Google Drive
If you ever backed up your Android data to your Google account, then you can also try to recover the accidentally deleted storage folder on Android via Google Drive. Please follow the steps below:
Connect your Android phone to your computer via USB.
Run the Google Drive app on your computer and log in with the Google account you use on your Android device.
Find the DCIM folder on Google Drive. If you can't find it, you can search for ".thumbnails". The DCIM folder is often in the same directory as it.
When you find the DCIM folder, you can right-click it and choose "Download".
Disconnect your phone from your computer. Now, restart your phone and the DCIM folder should now be restored.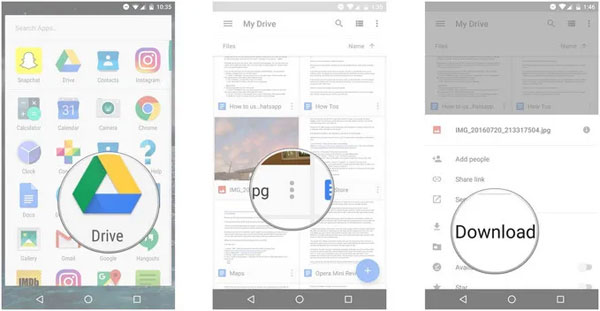 Final Thoughts
We know exactly how important things are in the DCIM folder. That's why we've tried to include all the methods that can help us get back the DCIM folder into this article. All these methods are viable options; however, the best tool to recover DCIM folder on Android is MobiKin Doctor for Android. This tool allows you to get back all data of DCIM folder from Android in the shortest time.
If you are still troubled by not being able to recover photos, videos, contacts, call logs, messages, etc. data on Android phone, and have not tried Doctor for Android, then stop wasting time on any other software or method, and download it right now.
Related Articles
Ultimate Solution to Recover Deleted Contacts from Android
[2022] Full Guide to Recover Deleted Photos in Redmi Note 8/7 Pro
Android SD Card Backup: How to Backup SD Card on Android?
How to Recover Data from Water Damaged Android Phone or Tablet?
How to Access Phone with Broken Screen with PC Easily & Safely?
How to Retrieve Deleted Photos from ZTE Phone with/without Backup?