Recover Photos/Videos/Music from Samsung Galaxy S8
Some people take lots of photos of their family and friends. In some cases, people like to take selfies to mark various kinds of occasions and events. Sometimes a selfie may be taken because the person simply looks good in a new outfit or the like. Whatever the case, many people like to save these photos permanently for their own memories. The same is true for videos since people can look back on special events like graduations, retirement parties and even celebrating a birthday with friends. So, photos and videos are great for saving on mobile phones like the Samsung Galaxy S8. But if unfortunately these precious photos and videos are lost on your Galaxy S8, what will you do to recover them back?
To recover photos and videos from Samsung Galaxy S8, you can depend on MobiKin Doctor for Android or its Mac version - Doctor for Android Mac.In addition to recovering videos, music and photos from Samsung Galaxy S8/S7/S6/S5, Note 7/6/5/4, A9/A8/A7/A6, etc., this application can restore almost anything that can be lost on an Android device.
- Recover photos, videos, music, contacts, text messages, call logs, documents, etc. from Android devices.
- Your media files can be recovered and saved in original format without any data quality loss.
- Your contacts along with embedded email addresses and personal profiles are saved in printable HTML format.
- You can preview to select the data you want to recover according to different color coding, to make the data recovery process more efficient.
Refer to the guides:
Recover Deleted SMS from Samsung Galaxy
Recover Deleted Music from Samsung Galaxy
To recover photos & videos & music from Samsung Galaxy S8, you should follow the steps provided for you below. Because this process is easy to follow, anyone with a Samsung Galaxy S8 can do it with this 3 step process.
How to Retrieve Media Files from Samsung Galaxy S8?
Step 1: Run the Doctor for Android program
The user will need to install the Doctor for Android software first and then run it on their desktop on their computers. It is an easy installation that will also create desktop short cut to make it simple to use. Connect your Galaxy S8 to the computer via USB.
Note: Ensure you have opened USB debugging mode on your Samsung phone beforehand.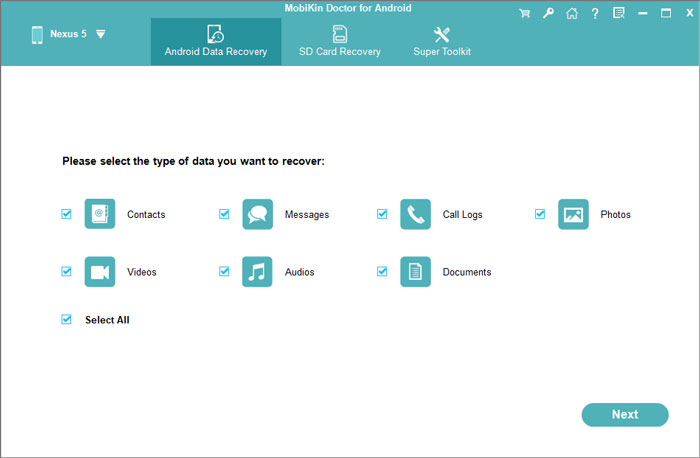 Step 2: Scan Samsung Galaxy S8 for wanted data
Doctor for Android will scan the phone to analyze the data that's stored in the phones internal memory and on the SD card. At this point, the user will be given a friendly user screen that allows them to choose photo, video and music options.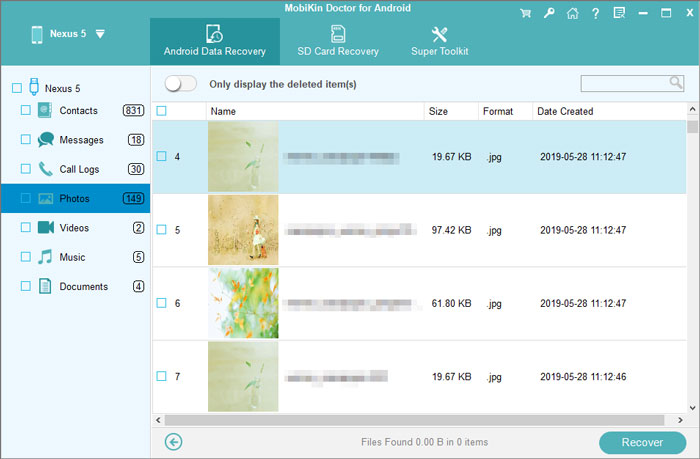 Step 3: Recover photos, videos, music from Galaxy S8
Tick off all photos, videos and music files you want. Once selected, all the user has to do is click on the "recover" button to initiate and complete the entire data recovery process for your Samsung Galaxy S8.
Related Articles
How to Recover Lost Videos from HTC Phones?
How to Recover Photos/Videos from Lenovo Phones?