Top 5 Ways to Delete Multiple Contacts on iPhone 14/13/12/11/X
Deleting contacts on iPhone can turn into a major challenge if deleting numerous of them at once is the goal. Fortunately, there are countless methods that can simplify this action. Five of these methods, in particular, have become very popular due to effectively getting the job done without causing any problems. Opting for any of them is deemed as a fast way to delete contacts on iPhone. If you were asking yourself 'how to delete multiple contacts on iPhone,' any of the following solutions is the answer.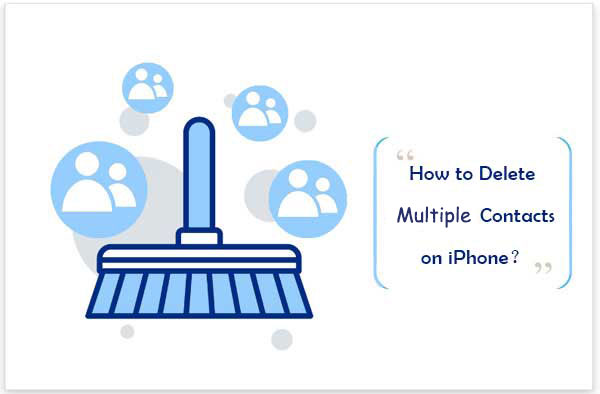 Way 1. How to Delete Multiple Contacts on iPhone from Computer
This method entails utilizing iCloud. Ever since iCloud was introduced to the public, it has not failed to become one of the favorite solutions for storage. This is a lifesaver if you ever lose your device(s). It recovers all of your important information. You can use it on either Mac or Windows. This iCloud method is very simple to implement, one that can delete your unwanted contacts easily and safely.
How to mass delete contacts on iPhone from computer:
On a Mac:
Open 'System Preferences' and then click on 'iCloud.'

Using the same Apple ID that you use on your iPhone, sign into iCloud.
Ensure checkbox next to 'Contacts' is checked.
Open 'Contacts' app on Mac.
Hold down on 'command' and click the contacts that you want to delete.
Right click and then click on 'delete.'
On a PC:
Visit icloud.com.
Utilize Apple ID that you use on iPhone to log into iCloud.

Select 'Contacts.'
Hold down on 'CTRL' and then click on the contacts that you intend to delete.
Click on the 'Delete' key present on your keyboard.
You May Also Like:
Way 2. How to Mass Delete Contacts on iPhone Using iCloud
The main reason why iCloud has become very popular is for backing contacts among other vital details present across all of your Apple devices. This really comes in handy in the case you lose your Apple device(s). You can manage your files on iCloud and make changes that your devices will automatically adjust to. Unfortunately, this is not something that can be mentioned about other apps that fall into the same category as this one. There are just some apps that cannot be better than other apps. The iCloud app continues to reign supreme. Everything indicates that this will be the case for many years to come.
How to delete contacts fast on iPhone using iCloud:
On your computer, visit icloud.com and log-in utilizing your Apple ID and password.
Select 'Contacts.'
Hold down the control key and then select the contacts you want to delete.
Click on the 'Settings' icon located at the bottom left of your screen.
Click on 'Delete' and then confirm this decision on the box that will appear short time after.
Way 3. How to Bulk Delete Contacts on iPhone from Google
Want a quick and easy way to delete iPhone contacts? Contrary to popular belief, Google can come in handy if you want to bulk delete contacts iPhone. If at an earlier time you had an Android device or have Android contacts on your Google account, you can delete your contacts there and it will be reflected on your iPhone instantly.
How to delete multiple contacts on iPad/iPhone from Google:
On your iPhone, open contacts.google.com.
Contact list will appear. Click on the boxes next to the contacts that you want to delete.
Click on the three dots above and select 'Delete' from the drop-down menu and then confirm decision on the pop-up box that appears.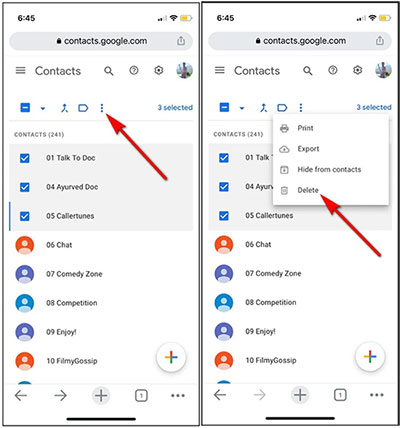 You May Also Like:
Way 4. How to Delete More Than One Contact on iPhone with Group App
One of the most downloaded apps on the Apple App Store is the 'Groups' app because it helps to manage contacts in a very easy and rapid manner. It can get rid of numerous contacts simultaneously. Due to the word 'group,' a lot of people might believe that this app will be confusing to deal with. Fortunately, that is not the case. Its structure is very simple to get down to business right away.
How to delete multiple contacts at once with Group App:
Download the 'Groups' app and launch it on your iPhone.
Allows the app access to contacts.
Click on 'All Contacts' from the groups list.
Click the circle located to the left of each contact you want to delete.
Click on 'Choose Action' and then select 'Delete.'
Confirm your deletion selection on the pop-box that will appear.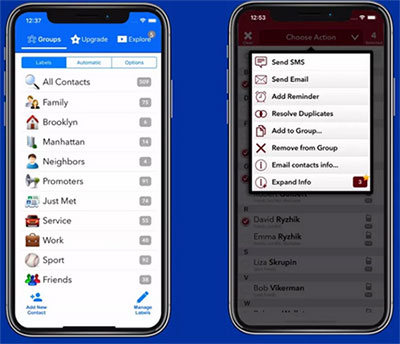 Way 5. How to Delete Multiple Contacts on iPhone with Assistant for iOS
The market is saturated with various software assistants that can help you delete multiple contacts at once. Nevertheless, they are not made equal. Some are better than others due to many factors. MobiKin Assistant for iOS is the top choice at the moment because it can delete multiple contacts on iPhone 6/6S/8/X/11/12/13/14 in a superfast manner while ensuring that the process is safe from any issue.
Assistant for iOS is one of the most talked about programs on different online platforms. It has often been praised by numerous well-known bloggers. It can be used offline as you please, never tracks your privacy, 100% free from ads, and requires no experience to use it. In addition, free knowledgeable customer support is available at all times to answer your questions in order to help you get back on track in no time.
Noteworthy Features of Assistant for iOS:
It is a multitasker that can be utilized for a variety of actions, including for the managing of Android files, moving data, and etc.
Transfer data between iDevice and iTunes/computer.
Transfer and manage various files as contacts, videos, photos, music, eBook, SMS, notes, Safari bookmarks, voice Memos, playlists, podcasts, and more.
Back up and restore iOS devices in one tap.
Work for all iPhone, iPad and iPod touch series.
It is 100% free from viruses, adware, and spyware. You will never have to worry about placing your files in jeopardy every time you opt to use it.
Its function is always rapid and smooth no matter the task you assign it to undertake.
How to bulk delete contacts on iPhone via Assistant for iOS?
Step 1. Download, install, and then launch Mobikin Assistant for iOS on your computer. Link your iPhone to your computer by using a USB cable.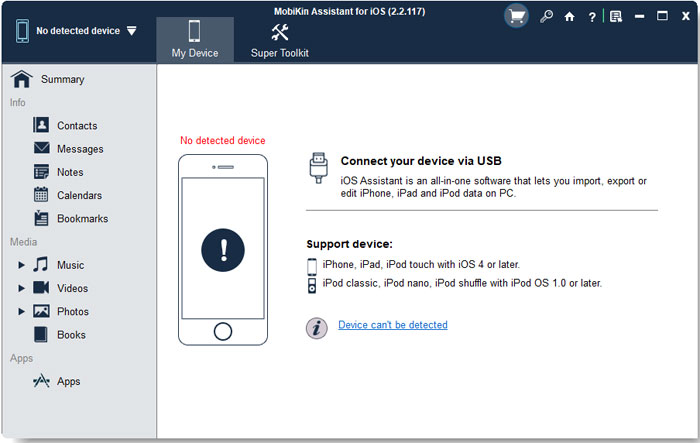 Step 2. Click on 'Trust' on your device to authorize connection and then click on 'Continue.'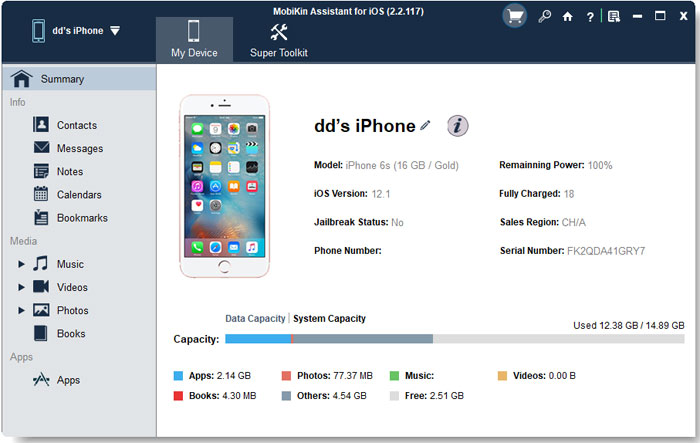 Step 3. On the left menu, click on 'Contacts.' Click on the checkboxes next to the contacts you want to delete. Click on the 'Delete' option present on the top menu.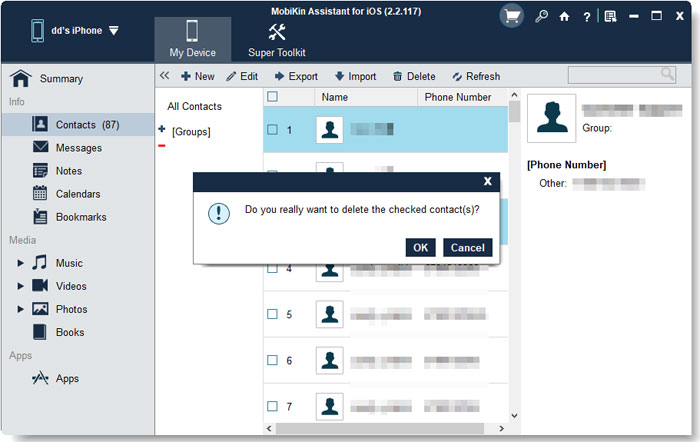 Delete Multiple Contacts in the Easiest and Safest Manner!
Is there a faster way to delete contacts on iPhone? The answer to this question is 'YES!' By choosing any of the aforementioned methods you will be well on your way to seeing firsthand how to delete multiple contacts at once in the easiest and safest manner. If you are trying to delete more than contacts, it is highly recommended that you give Assistant for iOS a try. With the help of it, you can kill more than two birds with one stone.
Finally, any other queries on how to edit or manage iPhone contacts on PC? Please tell us in the comments.
Related Articles:
How to Manage Groups on iPhone/iPad?
Ways to Edit iPhone Playlist with or without iTunes
How to Edit Contacts on Android with the Best Android Contacts Manager?
How to Delete "Others" on iPhone with 1 Click?
6 Secure Ways to Delete Apps on iPhone Permanently [2023 Latest]