LG to LG Data Transfer - Copy Files from LG to LG
Smartphones are a basic necessity for our day to day communication. For LG users, the satisfaction derived from an old version of LG phone makes it necessary to upgrade to a newer version, with expectations of even more satisfaction and ease of adaptability. One may also want to separate work contacts from Home contacts, so as to have them in different devices for ease of access and communication. Also, when one donates their old LG phone when they acquire another, they need to transfer the data, say contacts, messages, call logs, videos, photos, apps, music, email attachments and all that they will need to continue using the same phone data. It is, therefore, more and more people are concerned about how to transfer data from one LG to another LG phone.
Read similar guides: Transfer Media Files from LG Phone to iPhone
MobiKin Transfer for Mobile (Mac version available) is a tool that is used to transfer data from one phone to another, through a computer. The flexibility of the software even makes it more desirable since one can transfer data between Android and Android, iPhone and iPhone, Symbian and Symbian, Android and iPhone, Android and Symbian and even iPhone and Symbian. Newer version of smart phones come in each day and the craze and anxiety to own them makes it necessary for a tool as wonderful as this to come into the picture. For this topic, Transfer for Mobile allows you to transfer contacts, text messages, photos, videos, music, apps and more between two LG Optimus/G2/G3/G4. All what you need to do is connecting the two LG phones to the program via USB cables.
Using Transfer for Mobile to transfer data from an LG phone to another LG phone cannot be easier. In only three easy steps an LG user can transfer data from their old phone to their new LG phone accurately and comfortably. Keep on reading to learn more details.
Read More: Copy Calendar from LG to Samsung Galaxy S7/S6/Note 7
How to Transfer Data from LG G2/G3/G4 to Another LG?
Step 1. Download and set up Transfer for Mobile
The user ensures that the Transfer for Mobile program is installed on their computer. Then connects each of the two LG phone via USB cables to the computer. After that, launch the program and you will see its main interface like below.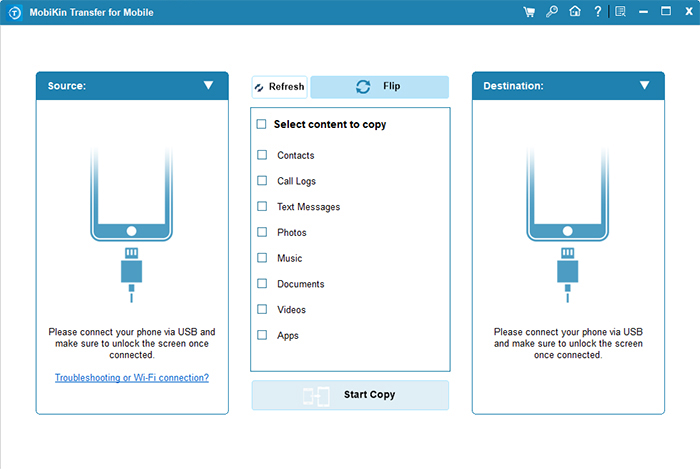 Step 2. Select the Phone to Phone Transfer mode
Of the four options provided (phone to phone, backup your phone, restore from backups, erase phone data), select phone to phone transfer.The program will detect both of them automatically and display them on the screen.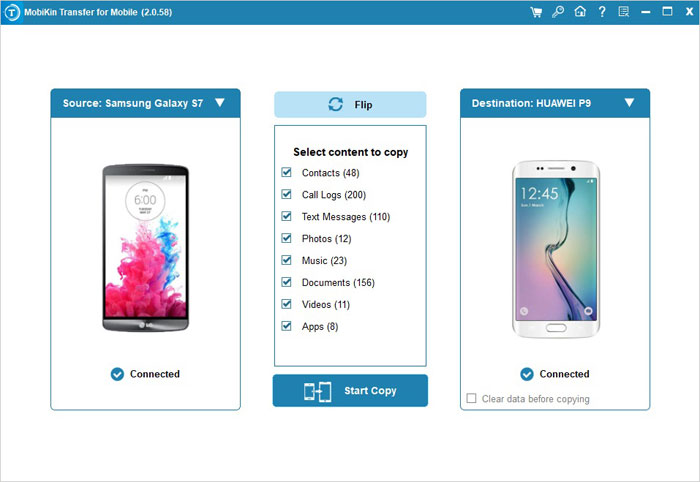 Step 3. Start the LG to LG data transfer
The new window gives a selection of the files one wants to transfer from one phone to the other. Mark the data that you need to transfer, ranging from contacts, SMS, videos, photos, etc. and choose OK once the selection is done. Your data is then transferred from your old LG phone to the new one.
Related Articles:
How to Copy SMS Messages from LG G4 to HTC One M9