Three Ways to Sync WhatsApp Messages from iPhone to iPhone
Instead of traditional messages, more and more people select WhatsApp as their communicating tool. Thus, it is essential for users to know the way to sync WhatsApp messages from iPhone to iPhone X/8/8 Plus when they switch to a new phone for the reason that many important information is saved in the application. And luckily, this is not a hard task.
See also:
How to Transfer WhatsApp Messages from iPhone to Android?
How to Transfer WhatsApp Messages from Android to iPhone X/8/8 Plus?
In order to complete this goal, users have three options:
Transfer WhatsApp Messages via WhatsAppp Chat Backup
It is known to all that WhatsApp has a Chat Backup feature which allows users to backup their conversations. Hence, users can transfer the messages by using this feature easily:
- Enable iCloud backup function on your iPhones at first.
- Go to WhatsApp on your old iPhone and click Settings> Chat settings> Chat backup.
- Tap on Back Up Now and then all the chat histories will be saved to WhatsApp's iCloud server.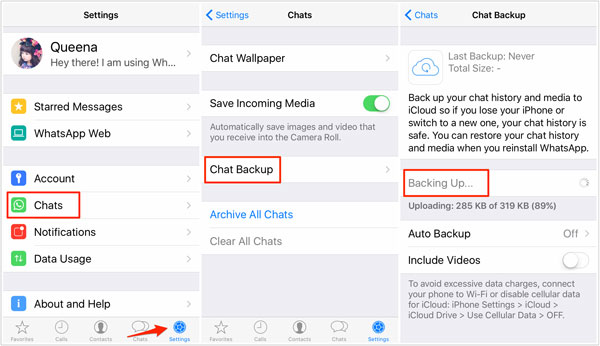 - Now you can go to download and install WhatsApp on your new iPhone and then login with your phone number.
- Next, the software will prompt you to restore your previous messages. Just click on OK to move them to your new phone.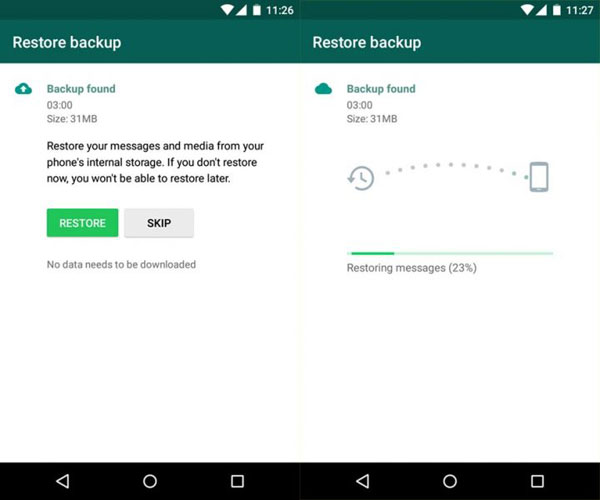 This means is easy to operate but you would face a risk- the data is overwritten. If so, you will be unable to get back the data any more.
Restore WhatsApp Chat History to A New iPhone from iCloud Backup
The second method is also to make use of an iPhone inbuilt feature- iCloud backup. This feature allows users to sync data between iDevices, including WhatsApp data, music, videos, photos and so on. Thus, it is also a recommended way to move the WhatsApp chat history.
- Connect the old iPhone to Wi-fi and go to Settings> Your Apple ID> iCloud.
- Next, tap on iCloud Backup feature to switch it on.
- At last, what you need to do is just to hit Back Up Now and wait till the process ends.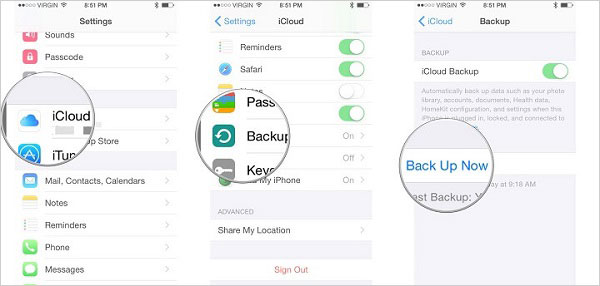 - If you want to check the synced data, you can go to Settings> iCloud> Storage> manage Storage. If not, just go to the next step directly.
- Now launch your new iPhone and set up the phone. When you are setting up the phone, you need to choose Restore from iCloud backup and then elect the one you want to restore.
- Install WhatsApp on your new device and then all the conversations will be available and installed on it.
However, iCloud backup and restore will erase all the current data on your new phone so you'd better backup the wanted data from iPhone to computer before performing the restoring process.
Sync WhatsApp Messages from iPhone to iPhone with iTunes Backup and Restore
Another suggested way is to sync the messages with iTunes backup and restore feature. This method is similar to the iCloud backup so you need to make a backup for your new iPhone as well. Then, you can go with the steps below to move the WhatsApp chats:
- Run the most recent iTunes on your computer and then connect the old iPhone to it.
- In iTunes, you will see the icon of your device at the top menu. Just tap on it and then click Backups> Back Up Now. Just wait till the backup process finishes.

- Next, link your new iPhone to iTunes and set it up. Then choose the option- Restore from iTunes Backup.
- After that, the target iPhone will be backed up with data from the old device and you can view all the old WhatsApp chats.
- Now login WhatsApp with your phone number and you will be asked whether to restore the previous chats. Just hit OK to transfer them to the new device.
Related Articles:
Methods to Backup WhatsApp Messages for Android and iPhone