How to Transfer Data from Samsung to Sony Xperia (4 Ways You Should Never Miss)
Sony made its first profit in 2021 after its mobile phone business fell year after year. This brand, once neglected by others, is now making a comeback. If you plan to replace the previous Samsung with a distinctive Xperia 5 II, your first thought may be to transfer contacts from Samsung to Sony Xperia. And maybe you want to copy other data types across as well.
Theoretically, there are many methods on how to transfer data from Samsung to Sony Xperia. Here are some of the most popular and efficient methods for you.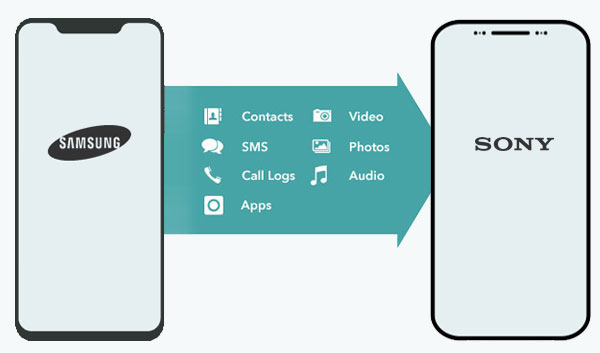 Way 1: How to Transfer Data from Samsung to Sony Xperia via Transfer for Mobile
It's much more convenient to transfer data from one phone to another in just a single click. If you want to migrate items this way, please don't miss MobiKin Transfer for Mobile (Win and Mac). This smart tool facilitates you to quickly and securely transfer almost all your Samsung files to sony after the easy end-to-end connection.
Key highlights of Transfer for Mobile:
Easily transfer data from Samsung to Sony Xperia with zero data loss.
Copy files from Android to Android, Android to iPhone, iPhone to iPhone, and iPhone to Android.
The supported data types: contacts, call logs, text messages, photos, music, documents, videos, apps, and more.
Get on well with overall Android devices, covering Samsung Galaxy S21/S20/S10/S10+/S10e/S9/S8/S7/S6, Galaxy Note 21/Note 20/Note 10/Note 9/Note 8/Note 7, Sony Xperia 1 IV/5 IV/10 IV, M5/M4, C5/C4, Xperia X10, Xperia X8, Xperia Play, Xperia Ray.
It won't let out your privacy.
How to transfer data from Samsung to Sony via Transfer for Mobile?
Step 1. Connect both Samsung and Xperia to PC
Install and launch the program. The interface will remind you to link your two devices to the computer; just do it with USB cables.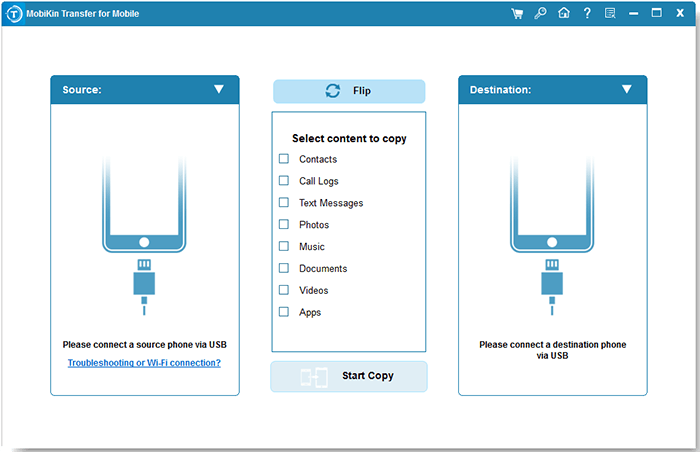 Step 2. Enable USB debugging on your devices
Once connected, you can follow the on-screen prompts to enable USB debugging on your phones to let the tool identify them. After that, make sure the Xperia is on the "Destination" section of the screen. Otherwise, tap on "Flip".
Step 3. Transfer data from Samsung to Sony Xperia
Mark the data types you desire in the middle of the panel. Finally, click "Start Copy" to trigger the Samsung to Sony Xperia data transfer.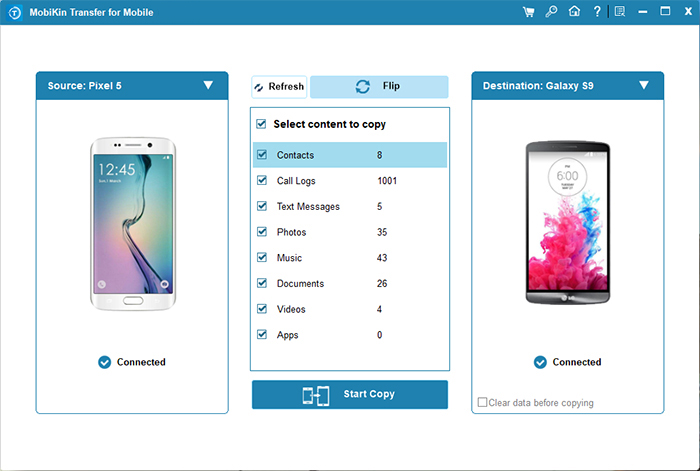 Related Passages:
Way 2: How to Transfer Data from Samsung to Sony via Xperia Transfer Mobile
As a free app developed by Sony for copying data from some mobile phones to Xperia, Xperia Transfer Mobile is pretty easy to use, processing files like contacts, messages, photos, bookmarks, etc. This tool allows you to connect devices via USB or Wi-Fi. However, you might encounter connectivity issues during use, and it may take you a lot of time to do the job.
How do I transfer data from Samsung to Sony Xperia via Xperia Transfer Mobile?
Download Xperia Transfer Mobile from Google Play.
Install the app on Samsung and Xperia. Afterward, launch it on the two devices.
On your Sony phone, please check "Android" as the other device type.
Set Sony as the receiving device and set Samsung as the sending one.

Select the connection method "Wireless" on the two smartphones.
Now you should pair the two devices. A pin code will appear on Sony; please enter the code on Samsung to link the phones.
Next, tap on "Accept" on Sony to allow the invitation to connect.
On the Sony phone screen, please go for the local files that you need to get from Samsung.
Lastly, tap "Transfer" on the bottom to move the chosen items from Samsung to Sony Xperia.
Way 3: How to Transfer Files from Samsung to Sony with Google Backup
With a Google account, you can sync data from Samsung to the Google server and restore the content to Sony Xperia without any trouble. This service lets you copy data like contacts, calendars, app data, Wi-Fi passwords, etc. Here's how to transfer files from Samsung to Sony Xperia via Google backup:
Open "Settings" on Samsung and choose the "Backup & reset" option.
Turn on "Back up my data", and all data on the Samsung phone will be synced to Google account automatically. (Want to change the email address for Google account?)

After the backup is completed, turn to the Sony Xperia phone and go to its "Settings" > "Backup & restore" > "Restore".
Log in to the Google account you used on the sending phone.
Follow the on-screen instructions to restore the backup to Sony Xperia.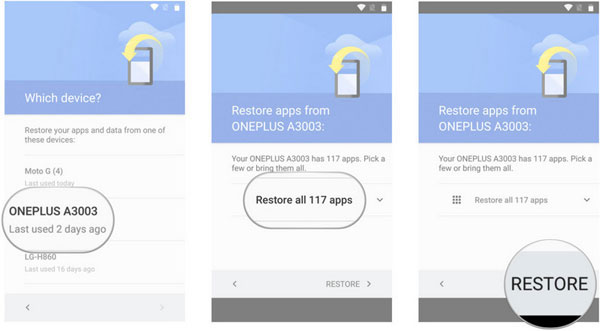 Read Also:
Way 4: How to Transfer Data from Samsung Galaxy to Sony over Bluetooth
Bluetooth used to play an important role in data transfer from one Android phone to another. Although it has been criticized by many for being unsafe and inefficient, it can still be a good choice assuming you only have a small amount of data to transfer.
How to transfer data from Samsung to Sony Xperia XZ4/XZ3/Z5/Z4 by Bluetooth?
Switch on Bluetooth on the two devices and pair them through Bluetooth Settings.
Once the connection is established, you can copy data from one device to another.
Choose photos, videos, or other files from Samsung and tap on "Bluetooth" in the "Share" options.
Select the paired Sony Xperia and tap "Send".
Accept the transfer request on Sony Xperia to kick-start the data migration from Samsung to Sony.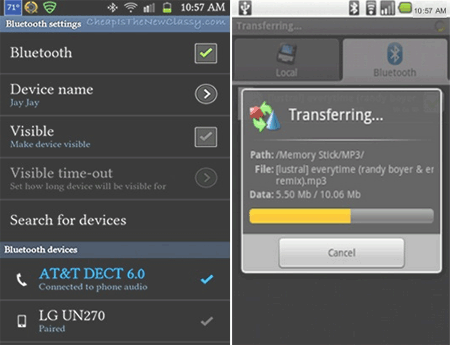 Round Off
Running through this passage, you can clearly find that MobiKin Transfer for Mobile is the most recommended tool to transfer data from Samsung to Sony. This smart product not only insulates you from the inconvenience brought by Xperia Transfer Mobile, Google Backup, and Bluetooth, but lets you transfer your private data quickly and painlessly. So, just give it a download and try it out on your own now.
Related Articles:
How to Transfer Data from Sony Xperia to Huawei P20/P30 Lite/P40, etc.?
iPhone to Sony Transfer: How to Transfer Data from iPhone to Sony?
In-depth Guide on How to Backup and Restore Sony Xperia XZ4/XZ3
How to Print Text Messages from Samsung? - Incredibly Easy
How to Recover Data from Android Phone with Broken Screen?
[Fixed!] How to Switch Android Phones without Losing A Thing?