[Solved] 8 Methods to Fix Xperia Transfer Mobile Not Working
What Is Xperia Transfer Mobile? In brief, designed to move data from an old Android/iPhone to a new Xperia phone, Xperia Transfer Mobile helps move many data types across devices with different methods (Wi-Fi Direct, Cloud, SD card). It's free and convenient for you to copy such files as contacts, SMS, notes, music, pictures, videos, apps, etc.
However, you may encounter unwanted issues like Xperia Transfer Mobile not working when making the switch. (What to do before switching phones?) In fact, it's no big deal when you read through this article. This is because we will provide you with several viable ways to get it straightened out.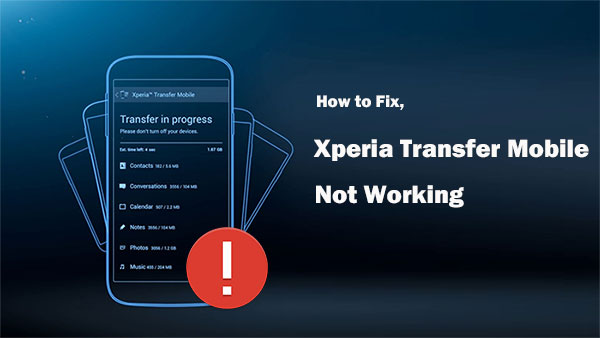 Part 1: Xperia Transfer Mobile Not Working? 7 Smart Ways to Fix It
Fix 1: Ensure You've Marked the Source Device
When running Xperia Transfer Mobile, you will be required to select the platform of the source device. Please now make sure you mark it as an Android, iOS, or Windows phone to proceed. If the sending device runs on any other platform (like Symbian), tap on the "Other" option and mark it accurately.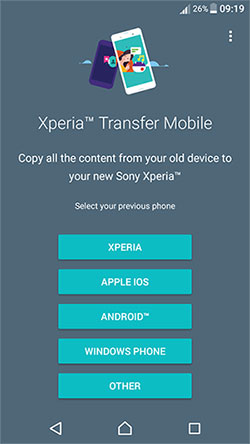 Fix 2: Reset Network Settings
At times, faulty Internet settings may be accountable for Xperia Transfer Mobile not working. To fix this, you can reset network settings as follows:
Go to Sony's Settings > Backup & Reset.
Reset and reset all settings on your Sony Xperia Z7/Z6/Z5/Z3/XZ4/XZ3.
Related Posts:
Fix 3: Run a New Cloud Backup
If you took a backup of your device with Google Drive (for Android devices) or iCloud (for iDevices) some time ago, it might yield this awkward situation. To resolve this, you can consider making a backup of your device again. For instance, you can take the backup of Xperia with the Google account settings on the phone and visit its "Backup" option. From here, you could run an immediate backup and choose what you want to include in it.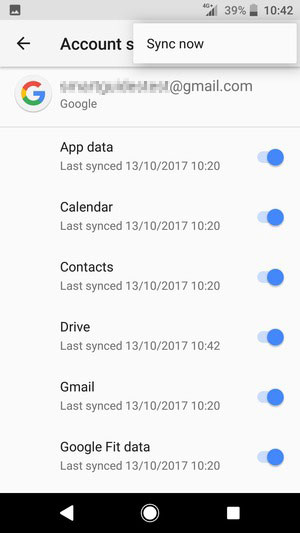 Fix 4: Use Another Transfer Mode
Xperia Transfer Mobile supports different modes to copy data. When starting its setup, you'll be asked to choose a preferred method to link devices. It is recommended to pick "Wi-Fi" direct when you encounter the Xperia Transfer not working. Before activating it, please confirm whether the WiFi is enabled on both the old phone and the new Xperia. Here, note that you have to enable the location to use the Wi-Fi Direct feature on your phone with Android 9 or later.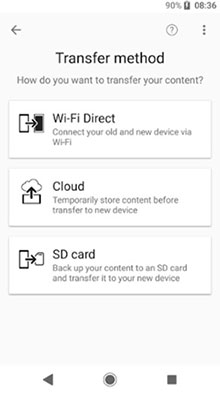 Fix 5: Reinstall Xperia Transfer Mobile
Assuming you've already set up the transfer method, but it failed to work, you are advised to reinstall the app from the Google Play library. (Or you can install Android apps from PC) Here are the instructions below:
Find and tap on Play Store.
Go to the menu button (three vertical dots) > My apps & games > Library.
Tap "INSTALL" beside the name of Xperia Transfer Mobile.
Fix 6: Hard Reboot Your Device
If "Xperia Transfer Mobile not working" persists, try to hard restart your Xperia device as below:
Press and hold down the "Home" and "Power" buttons simultaneously for around 10 seconds.
Then, release the buttons and hold down the "Power" button until the screen turns on.
Now you can try opening the Xperia Transfer Mobile; it may work just fine.
Fix 7: Perform a Factory Reset
To proceed with this method, you'll need to have a Wi-Fi connection with the Internet access for Google Drive and NFC-paired file transfer to work. Then let's see how to make the factory data reset on Xperia: (B.T.W., if you want to do the same on your iPhone device, you can factory reset iPhone without a password)
On your Sony Xperia, find and tap Settings > System > (Advanced) > Reset.
Tap on "Erase all data"/"Factory data reset".
Tap "RESET PHONE".

When the reset is over, follow the on-screen directions in the setup guide to copy apps and data.
Read Also:
Part 2: Try the Best Alternative - MobiKin Transfer for Mobile
Xperia Transfer Mobile not working arises partly because of its own drawbacks, such as the following:
From Android 9.0 and later, this app cannot be used to transfer and back up apps.
The "Sender/Receiver" options will not be available on some non-Sony devices.
The transfer will pause if your iDevice is not connected to power or the screen goes black.
Sometimes the connection or the transmission fails, and you should try again and again.
So, it's wise to try an alternative to circumvent the possible inconvenience. Well, MobiKin Transfer for Mobile (Win and Mac) could be one of the best alternatives to Xperia Transfer Mobile. Before we learn how to use it, let's first take a quick glance at this utility.
Core features of Transfer for Mobile:
Easy and smooth enough to transfer data from Android/iPhone to Xperia.
Quickly copy data from Android to Android, iPhone to Android, Android to iPhone, and iPhone to iPhone.
The supported file types: contacts, call logs, text messages, photos, music, videos, apps, calendars, notes, and more.
Work on both Windows and Mac, and its free trial is available.
Get along well with various Android and iOS devices, including Sony Xperia XZ4/XZ3/XZ2/XZ1/XA, Z7/Z6/Z5/Z4/Z3, C5/C4, Xperia X10, Xperia X8, Xperia Z5, Xperia Play/Ray, iPhones, iPads, iPod touch, etc.
It won't disclose your privacy.
Step 1. Run the software and connect your devices
After downloading the program, install and launch the program. The primary interface will let you connect your devices to the computer. Just do as the prompt indicates with two USB cables.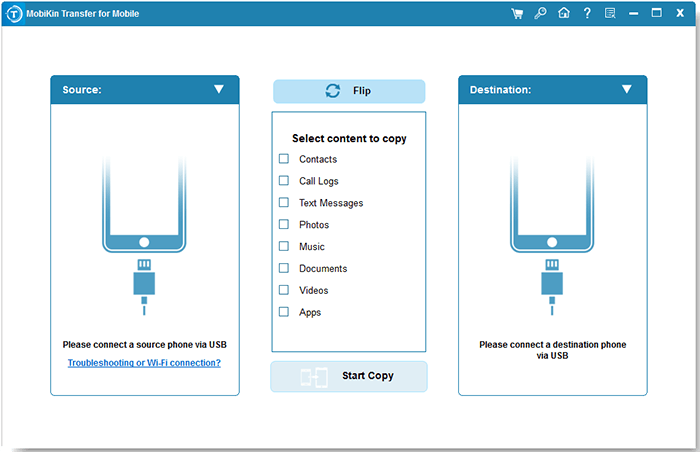 Step 2. Check the positions of the devices
Once the two devices are detected, please make sure they are in the correct positions. Namely, your old phone is the "Source", and your new Xperia is the "Destination". If not, just tap on "Flip".
Step 3. One-click to transfer data from an old device to Xperia
Mark the data type(s) you need to transfer in the middle of the screen and click "Start Copy". This will trigger the file migration at once.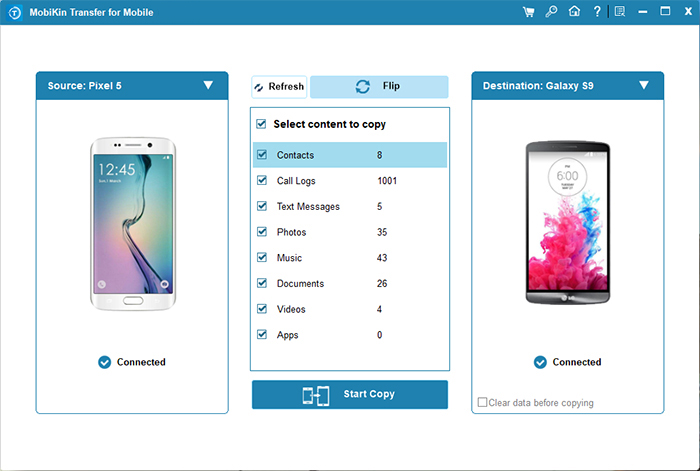 Closing Remarking
In a nutshell, there are at least eight solutions to fix Xperia Transfer Mobile not working out there. But then again, these methods are not guaranteed to work, as the reasons for this phenomenon are complex, and the app takes on some defects, as described just now. Well, if you want to make the transfer in a simple and stress-free manner, just try MobiKin Transfer for Mobile, the best replacement for Xperia Transfer Mobile.
Related Articles:
6 Best Ways to Transfer Data/Files from Android to Android Wirelessly
How to Transfer Contacts from Xperia to iPhone 14/13/12/11/Xs Max/XR/8 Plus/7?
[Fixed] How Do I Transfer Text Messages from My Sony Xperia to My Computer?
Tips to Transfer Contacts from Windows Phone to Android
What to Do if Android Internal Storage is Full? Here are 5 Solutions!