6 Ways to Transfer Data from Samsung to Vivo V27 Pro/V27/V25/V23
Despite an emerging phone brand, Vivo gradually wins a place in the mobile market with its gorgeous features. If you just got a new Vivo phone and intend to put aside your old Samsung phone, switching private data to the new phone is a hard topic to get around.
Thanks to advances in hi-tech, it's all simple and efficient to fix how to transfer data from Samsung to Vivo. Well, this page aims to introduce 6 awesome methods for you to move your desired content across. Just read on for details.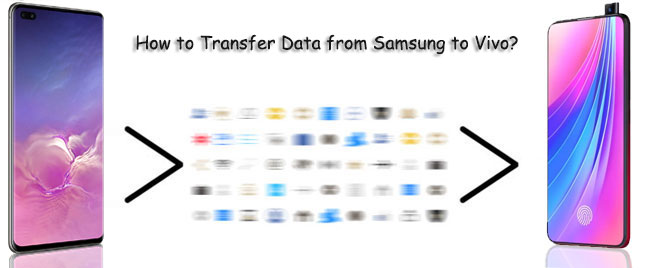 Way 1: How to Transfer Data from Samsung to Vivo with Transfer for Mobile
Whether you upgrade the current phone or share your mobile content with your friends or family, security and efficiency are probably the key factors you take into account.
As the most simple and easy-to-use tool, MobiKin Transfer for Mobile (Win and Mac) is gaining popularity among Android and iOS users regarding choosing mobile tools. You can transfer the data as you like between two phones in just one touch. Again, it is 100% secure and never leaks your data during the transfer.
Main features of MobiKin Transfer for Mobile:
1-click to transfer data from Android to Android, Android to iPhone, iPhone to Android, iPhone to iPhone.
Can process files like contacts, text messages, call logs, music, videos, photos, documents, and apps, etc.
Ads-free, no data size limit, and no file loss after the migration.
Run smoothly on various Android and iPhones/iPads/iPods, including Samsung Galaxy S21/S20/S10/S10e/S10+/S9/S8/S7/S6/S5, A51/A71/M20, Galaxy Note/Tab series, Vivo V20/V17/V9/V9 Youth/Pro/V8/V7/V6/V5, Vivo Y19/S1 Pro/X20/X20 Plus, X9/X9 Plus, Xplay 6, Y67/Y66, Xshot, NEX 3S, etc.
Available on both Win and Mac OSes.
It doesn't record any of your privacy.
How to transfer data from Samsung to Vivo via Transfer for Mobile?
Step 1. Run the program on a computer
Install and open MobiKin Transfer for Mobile on your computer. Then you'll see the primary interface of this software.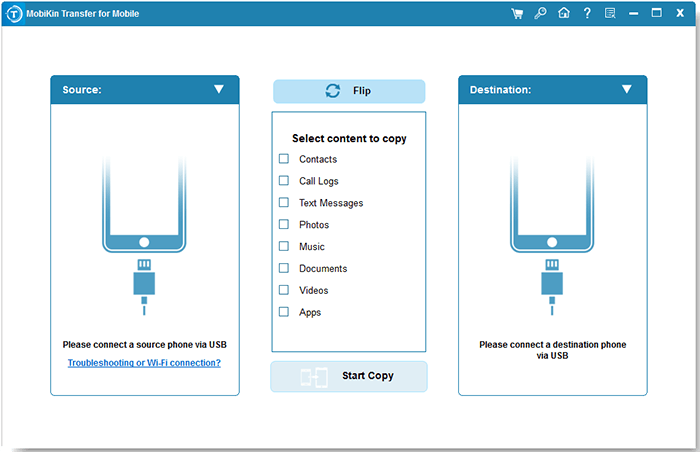 Step 2. Get both phones recognized
Use two USB cables to connect Samsung and Vivo to the computer. After the detection, you'll find them on two sides of the screen. Ensure the source phone is Samsung, and the Vivo is the destination phone. Otherwise, tap "Flip" on the interface to switch them.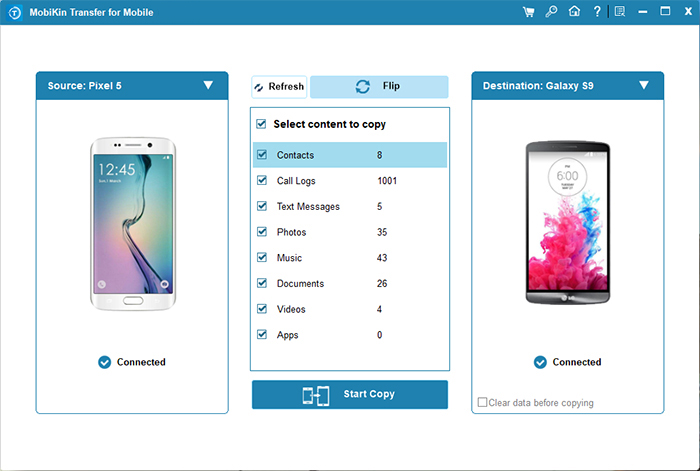 Step 3. Transfer data from Samsung to Vivo
Tick on the file types you want to transfer in the middle of the interface and click "Start Copy" to trigger the Samsung to Vivo data transfer. OK, that's it.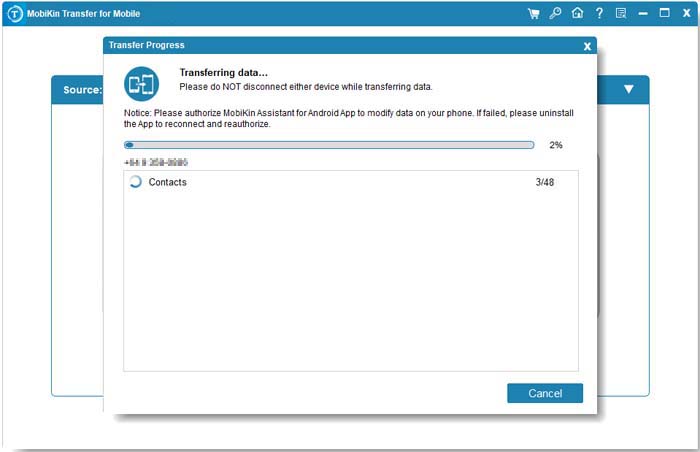 Way 2: How to Transfer All Data from Samsung to Vivo via Android Backup & Restore
The second cost-efficient solution is to use MobiKin Backup Manager for Android (Win and Mac). It's a high-performance product, tailor-made for those who need to back up and restore Android data. With this feature, you can easily copy Samsung files to PC/Mac and then move them from the computer to Vivo, thus doing the transfer indirectly.
This program allows you to establish a connection between devices through USB or WiFi.
How do I transfer data from Samsung to Vivo with Android Backup & Restore?
Step 1. After installing this tool on a computer, launch it and get Samsung plugged into the computer with a USB cord. Follow the on-screen hints to have the phone identified. Subsequently, click "Backup".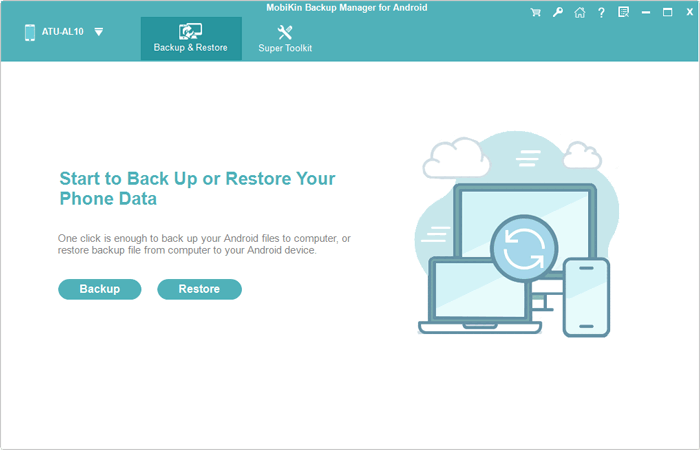 Step 2. All the supported data types will be on the next interface. Mark what you want to transfer and tap "Browse" to locate a folder on your computer to store the files.
Step 3. Tap "Back Up" to copy the selected data from Samsung to this computer. After that, disconnect the cable between Samsung and the computer.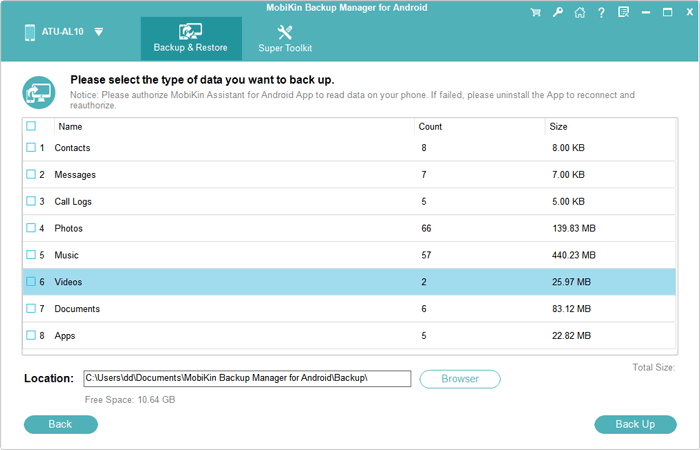 Step 4. Follow the step 1 above to get Vivo connected to the same computer. Next, hit "Restore" from the main screen, and this utility will list all the backup files on this computer. Select the backup record you need. Finally, choose your wanted files and press "Restore" to save them on Vivo.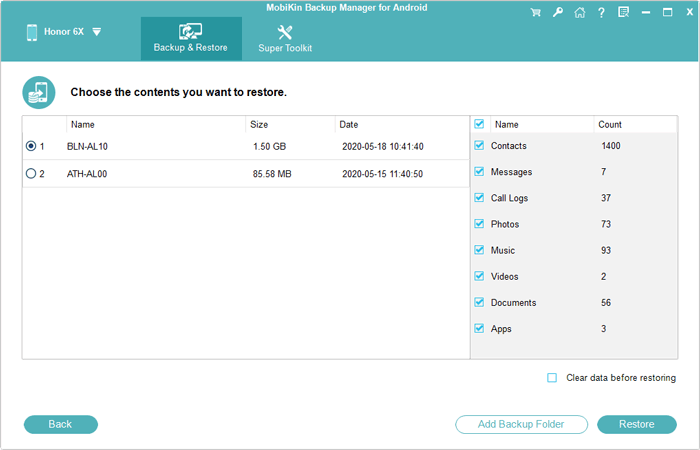 You May Also Need:
Way 3: How Do I Transfer Data from Samsung to Vivo Using Vivo EasyShare
EasyShare not only serves as a smart Samsung to Vivo data transfer app but helps copy data from iPhone to Vivo, and between two Android devices. To start things off, you should download EasyShare and install it on both phones.
How to transfer data from Samsung to Vivo via Vivo EasyShare?
Open EasyShare on Samsung and tap the 2-arrow icon.
When you get the Phone Clone screen, select "Old Phone".
Touch "Vivo Phone" as the receiver.
Follow the directions and enable "Allow modifying system settings".
After allowing permissions prompted from the app, a QR code will be generated on Samsung.
From your Vivo phone, hit "New phone" and scan the QR while the scanner starts.
Both phones will get connected shortly.
You will see the data types available for transfer on the next screen.
Select the files you want to move and press "START DEVICE SWITCH" to initiate the transfer.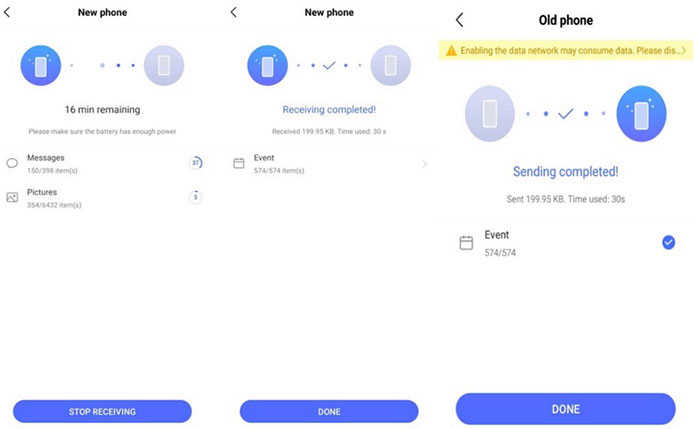 Way 4: How to Copy Data from Samsung to Vivo Phone with Google Drive
Transferring documents, photos, videos, etc., through Google Drive is another option to get this task completed. Since only 15 GB of storage is allocated for free on Google Drive, you may end up reaching the memory limit soon if you need to send large video files from Android. And you'll have to pay for additional memory.
Besides, Google Drive may take you a lot of time and cellular/WiFi data.
How to transfer data from Samsung to Vivo V17/V20/V9/Y19/S1Pro via Google Drive?
Run Google Drive on Samsung after the installation.
Tap "+" from the bottom.
Hit "Upload" to browse and load any file from Samsung to Google Drive.

Once uploaded, you can launch the app on Vivo.
Note that you should link your Vivo device to the same Google account.
Then browse the Google Drive folder and choose the file you wish to save.
Tap the 3-dot icon to get more options.
Choose to download the file onto Vivo.
Read Also:
Way 5: How to Transfer Files from Samsung to Vivo over Bluetooth
To use Bluetooth to transfer data from Samsung to Vivo, you should first enable the feature, pair the devices, and then keep them placed nearby.
Bluetooth can only transfer SMS, contacts, and a few other data types. Further, this avenue probably takes you a lot of time and effort.
Now, let's take SMS transfer as an example to figure out how to transfer messages from Samsung to Vivo by Bluetooth:
Enable Bluetooth on both your Samsung and Vivo phones.
Have them paired by following the Bluetooth settings.
After that, go to the Messaging app on Samsung and choose the messages you want to send to Vivo.
Tap the share icon and select the Bluetooth icon to send the chosen items via Bluetooth.
Touch the target device Samsung from the list of the device.
You will receive a prompt on Samsung, asking you whether to accept the incoming SMS.
Hit "Agree" to start the SMS transfer procedure.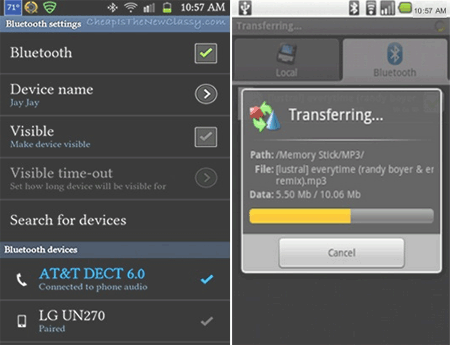 Way 6: How to Transfer Data from Samsung to Vivo via Your SIM Card (Contacts Only)
You can copy the contacts from your SIM card in Samsung and then restore them to Vivo if you plan to continue using the card in the latter. This method only works for contacts. And before proceeding with any further steps, make sure the card slots in both phones match.
The disadvantage of this means is if you have the same phone number with other names stored in contacts, it'll split up.
How do I transfer contacts from Samsung to Vivo?
On your Samsung device, open the "Contacts" app.
Tap "Settings"/the 3-line menu.
Hit "Manage contacts".
Select "Import/Export contacts".
Tap "Export contacts".
Choose to export to a SIM card.
Take off the SIM card from Samsung.
Insert the card to Vivo.
On your Vivo phone, head to find "Import/Export contacts".
Select "Import from SIM Card".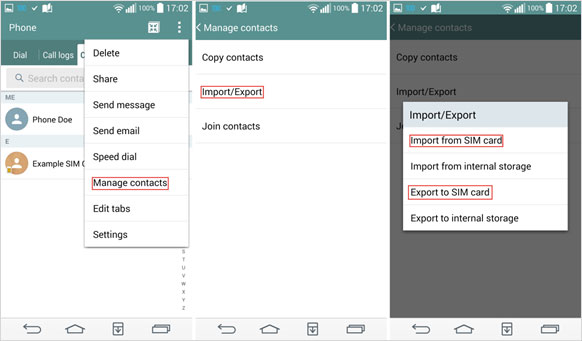 Final Thoughts
The above is all about the six methods for transferring data from Samsung to Vivo. Now, you can pick one to satisfy yourself by referring to the transferable file types, the data size, the mode for device connection, the difficulty in doing the job, etc.
Moreover, to enjoy a smooth transfer process, please ensure that the receiving device - Vivo has sufficient capacity to store content from Samsung.
Finally, if you have any queries, just leave a message below. We'll be happy to do you a favor within our reach.
Related Articles:
How to Recover Data from Samsung with A Broken Screen?
OPPO to Vivo Data Transfer: How to Copy Data from OPPO to Vivo?
[5 Ways] How Do I Back Up Contacts on Vivo V9/V9 Youth/Pro?
How to Transfer Photos from iPhone to Samsung? [9 Ways in 2023]
How to Transfer Text Messages from Samsung Phone to Computer Effectively?