Xiaomi to Samsung: How Do I Transfer Data from MI Phone to Samsung?
You must have a good reason to switch from a Xiaomi phone to a Samsung phone, but you also have to face the problem of how to transfer data from Xiaomi to Samsung. Although you can choose to manually copy the content you want to transfer one by one between the two devices, it will not only cost you a lot of time and energy, but it does not support all content. For example, when transferring some info-typed data, such as contacts, messages or applications, it is not so smooth.
Follow our steps to ensure that you transfer all the data you want from Xiaomi Redmi/Mi Note/MI to your new Samsung Galaxy S20/S10/S9 intact. Check out all possible methods and see which works best for you.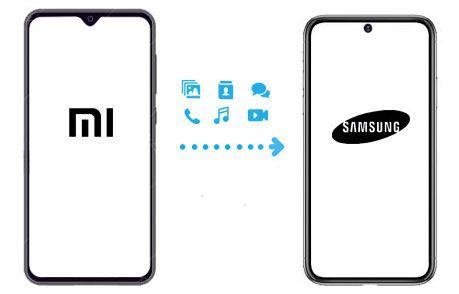 Way 1: Transfer Data from Xiaomi to Samsung via Transfer for Mobile
How do I transfer data from MI phone to Samsung with one click? We humbly recommend you to give MobiKin Transfer for Mobile a try. Not only it supports transferring all types of data from Xiaomi to Samsung, but it also helps you perform selective and flexible data transfer. Apart from Xiaomi and Samsung, Transfer for Mobile also supports cross-platform transmission, such as Android to iPhone transfer.
More highlights of MobiKin Transfer for Mobile:
> Transfer everything from Xiaomi to Samsung with simple clicks.
> Transfer various file types, including contacts, call logs, SMS, apps, music, videos, photos, documents, etc.
> Transfer data between different platforms without any hassle or data loss.
> Be compatible with practically all the phone with iOS and Android OS, including Samsung Galaxy S20/S10/S10+/S9/S9+/S8/S8+/S7/S6/S5/S4, Galaxy Note 20/Note 10/Note 9/Note 8/Note 7/Note 6/Note 5/Note 4, Galaxy M20/A51/A71, etc., and Xiaomi 10/9 Pro/9 SE/8/8 SE/Play/6X/MIX Alpha/MIX 3/Max 3, Redmi Note 8/Note 7/6, etc.
> It is easy to use while ensuring guaranteed success.
Download the trial version of this transfer program to perform your Xiaomi to Samsung transfer now.
Step 1. Connect two phones to computer
Launch Transfer for Mobile after you downloaded and installed it on your computer. Then, you can see the main interface of the software like the picture below.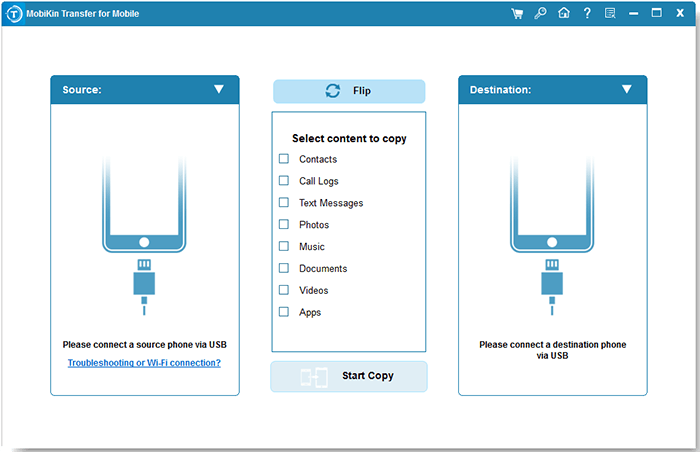 Step 2. Confirm the source and destination phone
Connect both your Xiaomi and Samsung phones to the computer via USB cords. Once they are connected, you should specify source and destination devices. You can click the "Flip" button to reverse their positions.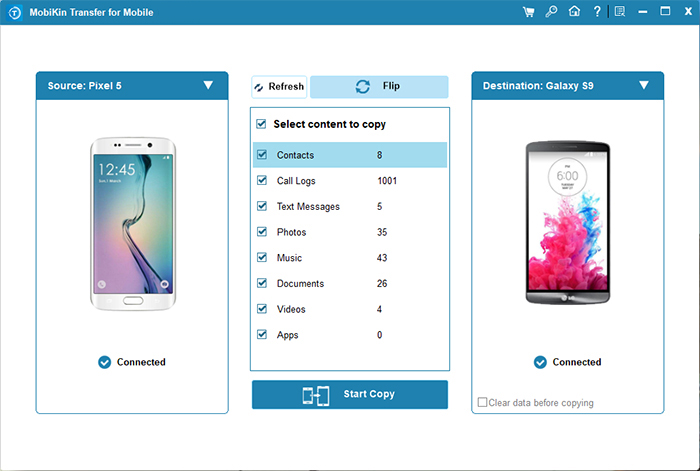 Step 3. Start to transfer data from Xiaomi to Samsung
Select the data types you would like to transfer and click the "Start Copy" button to start the data transfer from the source Xiaomi phone to the destination Samsung device.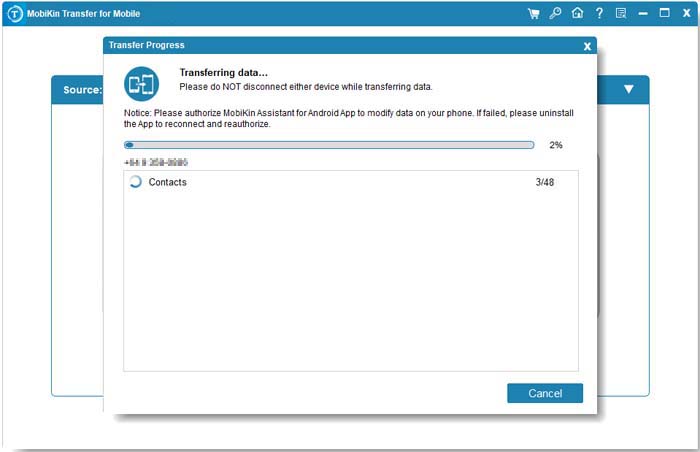 Once the transfer process finishes, you can go to your target Samsung phone and check the files you have selected for transfer.
Can't Miss:
Way 2: Transfer Data from MI Phone to Samsung via Assistant for Android
MobiKin Assistant for Android is a program that can help you in managing your Android phone data on the computer in an easy way. You can use it to transfer contacts, SMS, call logs, photos, videos, documents, apps and others to computer, and import them from computer back to your Android. You can also delete and edit Android files on PC or Mac directly. To transfer from Xiaomi to Samsung, you can apply to the 1-click Android data backup and restore function of this tool. Read on to see how this amazing tool works.
Let's see how to use this Android data manager to transfer data from Mi phone to Samsung:
Step 1. Launch Assistant for Android
Download and install Assistant for Android on your computer for free. After the installation, start the program. Connect your source Xiaomi/Red mi/Mi phone to the computer via a USB cable and enable USB debugging on Xiaomi phone as prompted.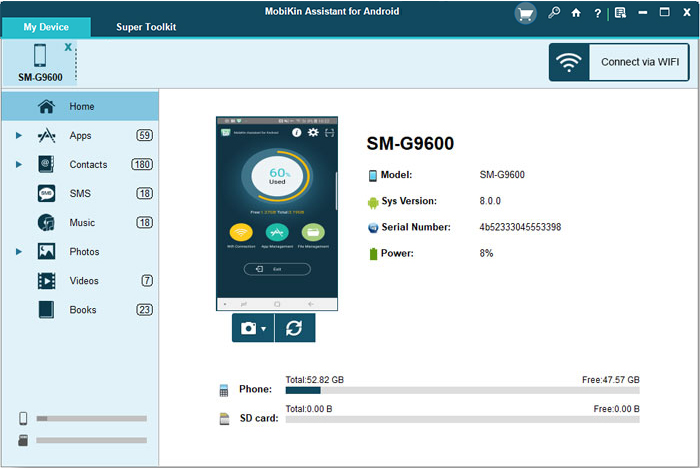 Step 2. Back up Xiaomi data to computer
Once the program detects the Xiaomi phone, you can go to the top menu to choose "Super Toolkit" > "Backup". Select the data types you need and click "Back Up" from the bottom right to transfer these files to your computer.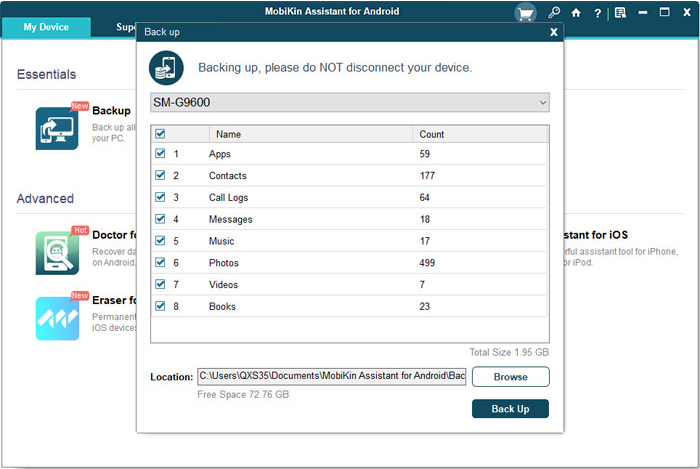 Step 3. Restore data from backup to Samsung
Once the backup process is finished, you can eject the Xiaomi phone and connect your Samsung device to the same computer. When the program detects the Samsung phone, you can turn to click "Super Toolkit" > "Restore", choose your backed-up data categories, and click the "Restore" button to get them back to your new Samsung phone.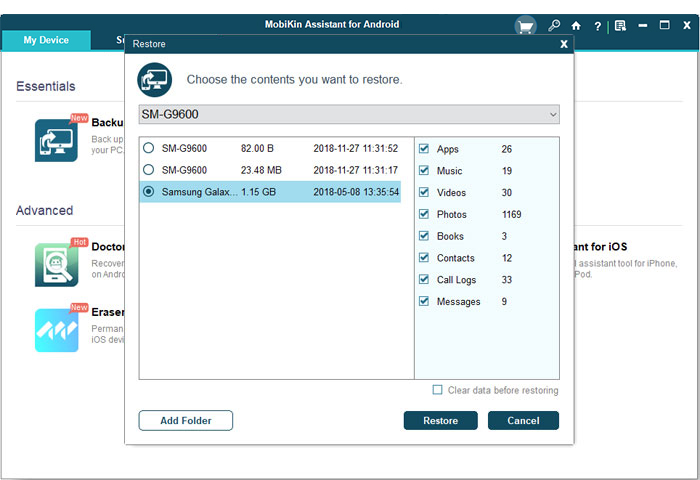 Way 3: Transfer Files from Xiaomi to Samsung Galaxy with Smart Switch
Smart Switch is Samsung's own transferring program to help you transfer data from an old phone to a new Samsung device. The source phones can be Android, Windows and iOS devices. Now, you can start the Xiaomi to Samsung data transfer by using Smart Switch.
1. Download the Samsung Smart Switch app from the Google Play store and install it on both your Xiaomi and Samsung phones. After that, open it on both phones and place the two devices close to each other.
2. On your Xiaomi phone, select "Samsung Device" as a receiving device, and then tap on "CONNECT" to establish a virtual connection between two phones.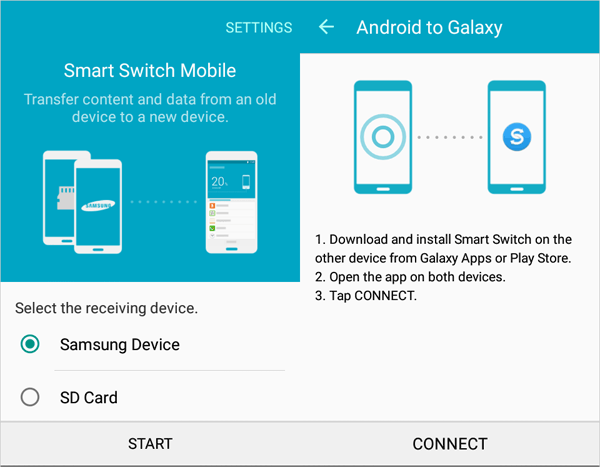 3. Once the connection the enabled, the transferable data types will be listed on the window on your Xiaomi device. Just select the data types you want to move and press the button of "Transfer".
4. Go to your Samsung phone to accept the transfer request. Then Smart Switch will initiate the data transfer process right away.
Can't Miss:
Way 4: Copy Data from Xiaomi to Samsung with Bluetooth
If you do not want to download third-party applications or software, and do not want to use a data cable, but want to use wireless transmission to complete data transfer between Xiaomi and Samsung, why not take advantage of Bluetooth. If you are interested in this transferring method, just keep on reading.
But this transmission method has some drawbacks that you need to know. On the one hand, its transferring process is slow and takes a lot of time, on the other hand, it supports limited file types. Therefore, if you only have a small amount of data to transfer from Xiaomi to Samsung, using Bluetooth is a good choice.
Go to "Settings" > "Turn on Bluetooth" on both phones. Or, you can slide down from the phone screen to find and enable the Bluetooth feature.
Keep the two devices close and wait for a while when you see the Samsung phone appears on your Xiaomi device. Select the Samsung phone and enter a unique code for pairing both the devices.
After the two phones have been paired via Bluetooth, you can now go to your Xiaomi phone to select the files you'd like to transfer to Samsung. Then, choose "Bluetooth" option and get the transferred files on your Samsung.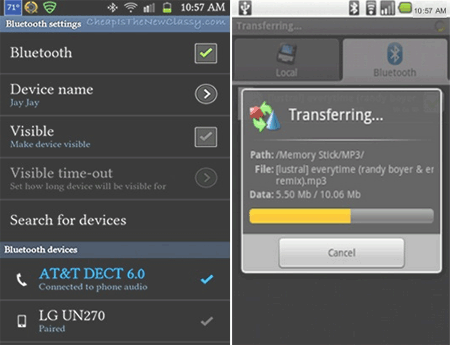 Way 5: Copy Data from Xiaomi to Samsung with CLONEit
In addition to the above methods, using CLONEit to transfer data from Xiaomi to Samsung is also very convenient. It is a free app that can help you transfer 12 types of files, including messages, call logs, pictures, videos, contacts, etc. Perform the following simple steps, you can complete your work.
Download and install CLONEit app from the Google Play Store on the two devices.
On your Xiaomi device, open the app and click "Sender". Turn to your Samsung phone, open the app and click "Receiver".
Your Samsung phone will detect the Xiaomi device, then, you can click the name of the Xiaomi to make a connection. Turn to your Xiaomi phone, click "OK" on the screen to accept the connection request.
Now, select the items you want to transfer and click on the "Start" button to initiate the transfer process.
When the transfer process ends, you can click on the "Finish" button on both of the devices.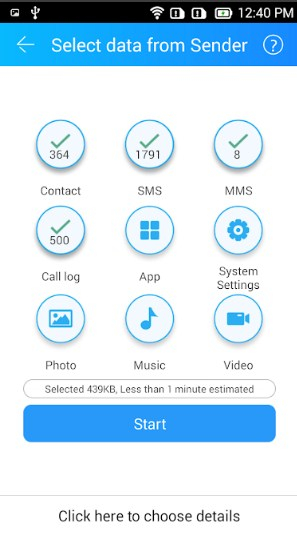 Words in the End
The above are the most common ways to transfer data from Xiaomi to Samsung. As you can see, they are all effective and can help you complete tasks. For your suitability, we strongly recommend that you choose MobiKin Transfer for Mobile, which supports both Android and iOS operating systems. Whether it is compared in terms of function or data transmission method, it is the best one.
Related Articles:
Ultimate Guide on How to Transfer Contacts from Android to Android in 2020
Top 5 Ways on How to Transfer Contacts from iPhone to Android
Top 4 Methods to Transfer Data from Samsung to Huawei
[7 Ways] How to Transfer Photos from Samsung to iPhone
5 Methods to Transfer Contacts from Samsung to Samsung
How to Transfer WhatsApp Messages from iPhone to Samsung S9 2020