5 Smart Ways to Unsync/Disconnect iPhone from iPad [2022]
"My wife's iPhone and the iPad Pro are synced together, and she doesn't want that. Does anybody know how to separate them?" -- from Apple Support Community
Two iDevices with one Apple ID enable you to share various files between them. It provides great convenience for people who switch devices but may have some adverse effects if you share content with your family or friend's iPhone/iPad. This is because your private pictures or other items are at risk of disclosure. So how do I stop my iPhone photos from syncing to my iPad? How can the same be applied to other data types?
Well, today's article will figure out how to unsync iPhone from iPad and vice versa. Now, read on to learn the five possible solutions, and they will help you turn around your embarrassment afterward.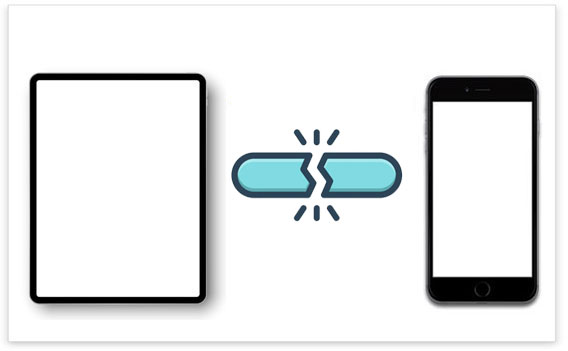 Method 1: How to Unsync iPhone from iPad via Settings
"I don't want my iPad and iPhone linked, and the device is using the same Apple ID". Given the situation, you can delete Apple ID from either of your devices by going to the Settings app. Let's now check out how to stop Apple devices from syncing with each other from Settings?
Get into your Apple device's "Settings" > [your name].
Scroll down to find the iPhone or iPad which you wish to disconnect.
Hit the iOS device and input your iCloud credentials as well as the security questions.

Finally, press "Remove from account" to separate iPhone from iPad.
You May Also Want to Know:
Method 2: How to Unsync iPad from iPhone by Disabling Handoff
The Handoff feature starts something on one Apple device and picks it up on another where you left off. It gets enabled when you log in to multiple Apple devices. You can fix how to stop data sharing between iPhone 13/12/11/X/8 and iPad by disabling this feature to disconnect the two devices as follows:
On your iDevice, run the "Settings" app.
Head to "General" > "Handoff"/"Handoff & Suggested Apps".
Swipe the "Handoff" button to the left to disable it.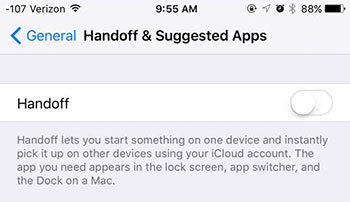 Method 3: How to Unsync iPad and iPhone Using Find My App
To stop syncing iPhone to iPad, you can turn off Find My [device] by going to your iPad "Settings" > [your name] > disable "Find My iPad". When wiping out a device using the Find My app, iCloud Activation Lock keeps protecting it. Next, here's another way to expatiate on "how do I unsync my iPad from my iPhone or vice versa":
Log in with your iCloud account after going to the iCloud website.
Press the "Find My iPhone/iPad" symbol and tap "All Devices".
Pick the iOS device you want to unsync.
Select "Erase [device]".

Tap "Erase" and enter your Apple ID and password.
Check If You Need:
Method 4: How to Unsync iPhone and iPad from the Device Itself
This method lets you find a complete list of iOS devices associated with your Apple ID, and you'll easily decouple your iPad from your iPhone shortly after. But please note that you might need to wait 90 days to link your device with another iCloud account. Next, let's go over how to unpair iPhone and iPad Pro/Air/mini/4/3/2 from the iDevice itself:
Launch your device's Settings app.
Hit your name and go to "iTunes & App Store".

Press your account at the top and then the "View Apple ID".
Enter your Apple ID password if asked. (Forget your iCloud credentials? Here are the tips to unlock Apple ID without a phone number.)
Tap "Remove This Device" to unsync your iPhone and iPad.
Method 5: How to Unconnect iPad from iPhone via iTunes
While running iTunes on your computer, you can easily remove the associated device to unsync iPhone from iPad or vice versa. Here's How to disconnect the iPad from iPhone by iTunes?
Run the latest version of iTunes on your PC/Mac.
Log in with your Apple ID if you are prompted.
Select "Account" > "View My Account" from the menu at the top of the iTunes window.

Input your passcode and tap on "Sign in" > "View Account". (Run the "Music" app on Mac instead if your computer is with macOS Catalina and later. Then try the similar drill as above to unpair the iPad from the iPhone or vice versa.)
Summary & Tips to Unsync iPhone from iPad or Vice Versa for Sharing Purposes
OK, let's finish up now. In addition to working out "how to unlink my iPad from my iPhone" with the five approaches above, we also expound on some other measures to unsync an iOS device from another one for sharing purposes finally. Here are some details of them:
Unsync iPhone from iPad via iCloud (iPhone settings > [your name] > "iCloud" > disable the button related to the app you don't want to sync between iDevices).
Toggle off iCloud to free "Photos" from syncing between iPhone and iPad.
Keep iPad from getting iPhone text messages.
Prevent apps from downloading between two Apple devices.
Get around incoming iPhone calls from ringing on your iPad.
Related Articles:
4 Simple Ways to Undo a Restore on iPhone 13/12/11/XR/Xs/X/8/7/6
[Tips and Tricks] How to Undo/Revert an iOS Update on iPhone?
How to Sync Messages from iPhone to iPad Air/Pro/mini/4/3/2? [SOLVED]
All Details about "Trust" or "Don't Trust" A Computer on iPhone/iPad
How to Recover Deleted Files from iPhone without Backup (2022 Updated)
How to Restore iPad from iPhone Backup? 3 Worry-free Options Here