How to Transfer Text Messages from LG Phone to Computer [Verified]
Q1. "How do I transfer text messages from my LG phone to my computer?"
Q2. "How to transfer text messages from Android phone to computer?"
Q3. "How do I retrieve text messages from my LG phone?"
Many people encounter various problems about phone text messages while using LG or other Android phones as above. For example, when your LG phone receives many significant verification SMS, notice or texts related to the business of the enterprise. You might need send the messages from LG V50 thinQ, LG G8/G7 or other Android phones to computer or other external devices for backup.
So, how to transfer text messages from LG phone to computer is the first issue you need to think about. Apart from 3 clear ways to solve this problem, this post will also compare these solutions to provide you with a comprehensive reference.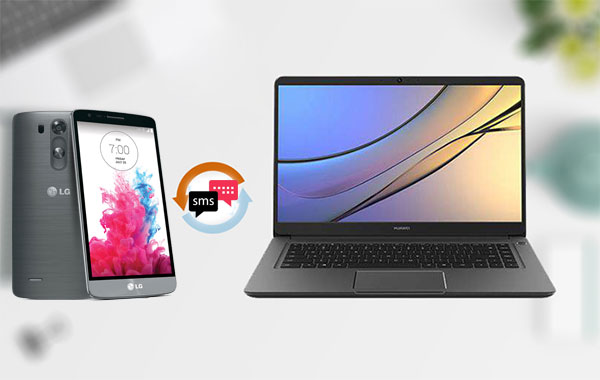 Part 1: How to Transfer Text Messages from LG Phone to Computer with MobiKin Assistant for Android
How to transfer text messages from LG phone to computer is a professional technical job. Professional affairs need specialized software to handle. Thus, Let's have a look at MobiKin Assistant for Android (with its Mac version), an amazing Android phone management expert. It can not only move text messages from LG phone to computer safely and quickly, but also manage data like contacts, call logs, in addition, photos, videos, apps and other files in your phone can also be customized in various ways.
Let's take a quick look at some properties of MobiKin Assistant for Android:
Delete text messages, move Android text messages to computer in five formats as CSV, HTML, TEXT, BAK and XML. And even send and reply text messages on your computer directly.
Transfer Android SMS, call logs, contacts, apps, music, photos, etc. from or to computer with ease.
One click to backup & restore overall LG files or other Android data.
Conduct quick transfer to maintain the original data quality and run in a standalone environment.
Be compatible with various Android phones, including LG mobile like LG LG G8/G8X/G7/G7 One/G6/G6 Pro, LG V60 ThinQ/V50 ThinQ/V40 ThinQ, LG K10/K9/K8, LG V30/V30s/V30s+, etc.
You can download the trial version of either Windows or Mac to transfer SMS from LG phone to computer on your own.
After that, as a great LG message manager, how do I transfer text messages from my LG G8/G8X/G7/G7 One to my computer with MobiKin Assistant for Android?
Step 1. Connect your LG phone to computer
After the download, install and start the software on your computer and attach your LG to the computer via a suitable USB cable. Then, enable USB debugging on LG phone to make the phone be detected as required.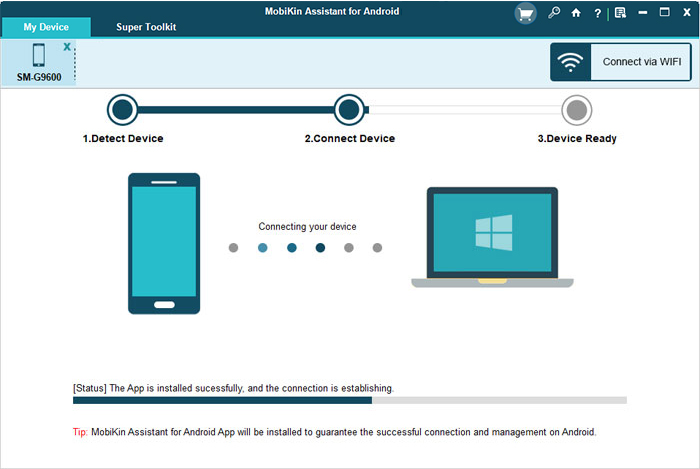 Step 2. Get to the main window of the tool
Follow the hints to get your LG mobile connected. After that, you can see the mainscreen of the tool. The left sidebar will show you all the transferable data types.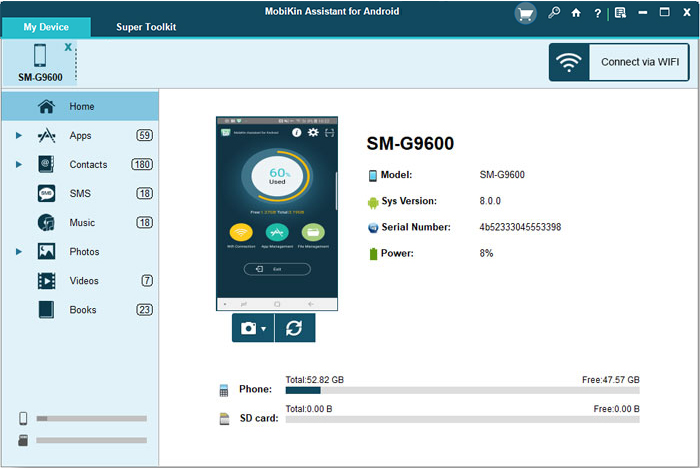 Step 3. Preview and choose text messages for transfer
Choose "SMS" from the left panel, and all the text messages on your LG handset will be displayed on the middle of the interface. You can preview and choose your desired ones by ticking the corresponding checkboxes for transfer. Then tap on "Export" to store them on your computer.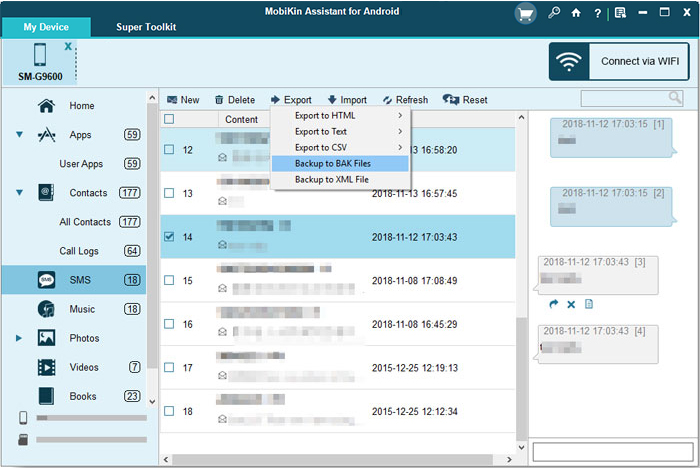 Part 2: How to Download Text Messages from LG Phone to Computer with LG PC Suite
LG PC Suite is a bespoke tool for LG smartphone. It can achieve the data management of LG mobile by establishing the connection between computer and LG device via a USB cord. (you can also connect via Bluetooth wirelessly, but its transfer speed is not as fast as that of USB connection).
In addition to sending texts, photos, movies, music, documents and other contents to computer, it can also manage contacts, calendars, memos and others from the phone on PC. Additionally, this tool offers an upgraded version called "LG Bridge", which supports the latest Android OS on LG phones.
Let's check out how to download text messages from LG V60 ThinQ/V50 ThinQ to computer with LG PC Suite today:
Step 1. Download and install the latest LG PC suite on PC and start it. Then link your LG device to PC via an applicable USB cable.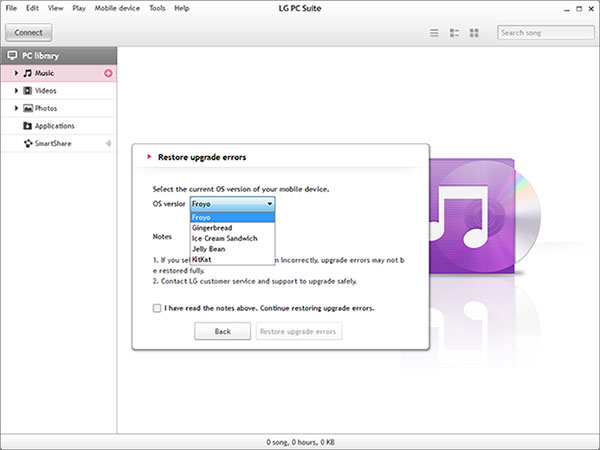 Step 2. After the detection, press the "Message" image (like an envelope) from the third icon at the top menu. Then choose the text messages you want to transfer, and then right-click the SMS to select "Transfer to PC" to save them to your computer one by one.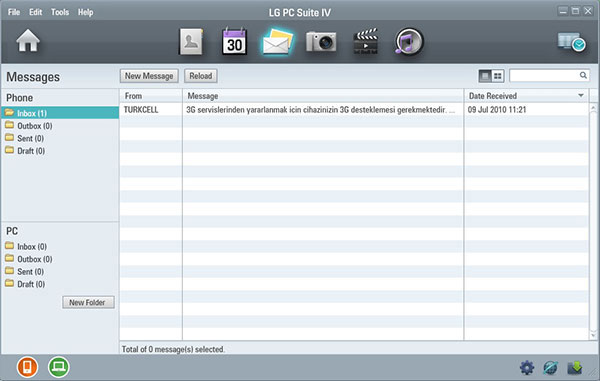 Note: Providing that you want to connect your LG to PC with Bluetooth, ensure that both your LG and PC have a built-in Bluetooth feature first. Then pair your two devices to create a connection for preparation.
You May Be Wondering:
Part 3: How Do I Transfer Text Messages from My LG Phone to My Computer via SMS Backup & Restore
You can search for a useful SMS backup app - SMS Backup & Restore, another LG SMS manager in Google Play Store . It can send the texts, MMS and conversation of LG phone to computer through backup feature(supporting automatic device backup). Of course, if you have a Gmail account, you can log in to it and send the backup info to Google Drive. Moreover, it can also be used to view, search and delete all SMS stored in your Android phone. The text messages can only be saved as .xml files, and to protect your privacy, you can set passwords for those files with this app.
How can I implement LG backup text messages to computer with SMS Backup & Restore?
Step 1. Download, install and open SMS Backup & Restore on your LG phone. Turn on LG WiFi feature and then click on "Backup" > "Create New Backup" from the mainscreen of the program.
Step 2. Tick "Text Messages" box for backup. You can edit the name of the data to be backed up below the box (the checkbox of "MMS messages" and "Emojis/Special characters" can also be selected if necessary).
Step 3. Choose "Upload to Email" under "Backup Locations" option to move LG SMS to your Email. Then tap "BACK UP" and enter your Email address to receive LG text messages. The backup process will be done after a while. Next, enter your Email account to download those text messages from LG phone to computer.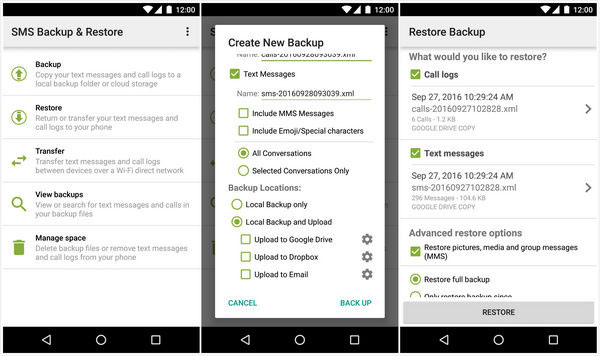 Note: If you want to restore your backups, open the app and go to Restore > Advanced restore options > Restore full backup > RESTORE to get back the backups you've made before.
Part 4: A Comparison Among the Above 3 Methods
Pros
Cons
MobiKin Assistant for Android

1. Work for almost all Android phones with the latest Android OSes.

2. Support USB or WiFi connection.

3. SMS can be exported directly from Android to the computer and saved as CSV, HTML, TEXT, BAK and XML formats.

4. Bring about fast and secure SMS transfer or backup.

1. Non-free software requires a small fee.

SMS Backup & Restore

1. English, Italian, and Spanish versions are available.

2. Can be used to set password for SMS.

3. Work on a visualized window for most Android OSes.

1. the process of SMS transfer is a bit complex.

2. Upload text messages to Email, Google Drive or Dropbox (only available on WiFi).

3. Need to log in with one of these accounts from computer, and then download them.

4. Texts can only be saved as XML format.

LG PC Suite

1. Set auto saving conditions.

2. Snc Android favorites to the mobile browser.

3. Connect to LG Air Sync to upload data (for both USB and WiFi connection).

4. Support firmware upgrade.

1. Only applicable to LG phone, not stable in the Android mobiles of higher version (Android 6.0 or up).

2. Need to upgrade it to LG Bridge but a bit slow when transferring files (text messages need to be sent to the computer one by one).

3. Some earlier LG phone models are unable to connect or unstable while using it, such as LG K500 LG KM 380, etc.
You May Be Wondering:
Extra Bonus: How Can I Read SMS.xml on My Computer
The moment that you transfer text messages from LG phone to your computer, they are saved as XML, TXT, or HTML file in most cases. Among others, the first two kinds of files can be read directly on the computer. That means they can be opened normally. Nevertheless, if you need to read the .xml files, you have to open the files with "Notepad ++" tool for free, for the code of this editor is open source. However, after opening the .xml file, to ensure the integrity of the contents, please don't make any editing or do other operations on Notepad ++.
Furthermore, if you want to print exported Android text messages for an archive or for other purpose, it is recommended that you take the first method, which provides more storage formats that facilitate reading, printing or other use on different platforms.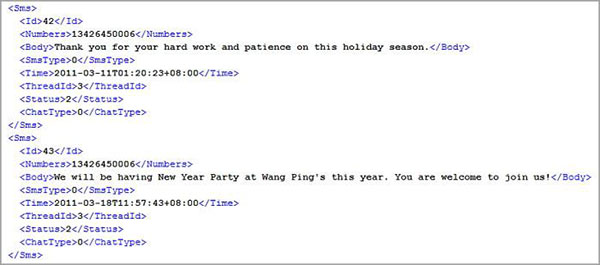 Final Thoughts
After reading this post, you may have some basic knowledge about how to transfer text messages from LG phone to computer. Through the detailed comparison of pros and cons in "Part 4" and the intro of program features in "Part 1", you might find that the first method MobiKin Assistant for Android is the optimal choice.
Therefore, at the end of the article, I'm going to de-emphasize my personal experience. In a word, if you don't want to feel helpless for the hassles that may appear, download this software and try it. Finally, please leave a message below if you have any suggestions on something about this program or its usage.
Related Articles:
How to Retrieve Deleted Text Messages on Android
Complete Guide on How to Transfer Files from PC to Android
1-Click Text Message Forwarding on Android Phones [Live Life Easier]
2 Ways to Search Particular Text Messages in Android
How to Permanently Delete Text Messages from My Android Phone?
How to Transfer Text Messages from Android to iPhone Easily & Quickly?