2 Classic Ways to Recover Contacts from Lost/Stolen Android Phone
Hey there, fellow tech enthusiasts! Imagine you're out and about, and suddenly, the unthinkable happens - you lose your precious Android phone. Panic sets in as you realize all your contacts are gone with it. But fear not! I'm here to share some simple and exciting methods on how to recover your contacts from lost Android phone. Trust me; you won't believe how straightforward it is to retrieve your valuable contacts. So, stick around and learn how recover contacts from lost Android phone.
Part 1. What to do First if Your Android Phone is Lost/Stolen?
Losing or having your Android phone stolen can be a distressing experience. Taking swift action and following specific measures can safeguard your data and enhance the likelihood of locating your device. The following steps can help you protect your information and possibly even recover the device:
1. Secure Your Accounts
The first step is to secure your accounts. These are accounts associated with your Android phone. Change social media, email, and banking passwords or PINs. This prevents unauthorized access and protects your sensitive information.
2. Use Find My Device
You can track the location of your Android phone if you already have Find My Device. You can lost and erase your phone's data remotely. Log in to your Google account on a computer or another device and access Find My Device to take necessary actions.
3. Inform Your Contacts
Call your contacts and inform them about the situation. Let them know your phone is lost or stolen. You need to alert them to be cautious about any messages or calls they may receive from your number. When your device is recovered, you can get in touch with them.
4. Change Passwords and Enable Two-Factor Authentication
Apart from changing passwords, enable two-factor authentication on your accounts wherever possible. It adds a layer of security. If you enter an incorrect password, you'll get a notification either on your phone or through email. This usually depends on how your account settings are configured.
5. Erasing Your Phone's Data
When you believe it is unlikely to recover your Android phone or when your personal information is at risk, remotely erasing your phone's data becomes a viable option. Android Device Manager lets you initiate a factory reset, permanently deleting all stored data. Remember to exercise caution when selecting this option, as it is irreversible.
6. Report the loss/theft
It is essential to report the loss/theft of your Android phone. Contact the police and inform them about the details so they have a record of it. Provide the phone's make, model, and IMEI number, which you can find on the original packaging or your Google account dashboard. This step is crucial for legal purposes and increases the likelihood of recovery.
People are reading:
Part 2. How to Recover Contacts from Lost Android Phone with Google Account
Google Backup makes it easy for Android users to recover contacts from lost or stolen devices without manually entering them. All you require is an active Google account and the ability to access that account on another device.
Here is how to recover contacts from lost Android phone with Google account:
On your phone, tap "Settings".
Tap "System", then "Backup".
Make sure Back up to Google Drive is on, and tap "Back up now".
After your contacts have been backed up, now you will have to restore them on your new or existing phone:
Head to "Google" from your phone "Settings".
Scroll down to Services and check for "Restore Contacts". Tap on it.
Now log in to the same Google account you used on your lost or stolen phone.
After logging in, you can customize the backup you want to restore. Choose the most recent backup and wait for the contacts to be restored.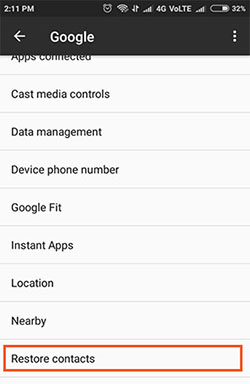 That's it! Your contacts should all be restored to your new or existing Android phone. You can now use them again as if you always have your phone. Back up your contacts regularly to ensure that you always have a recent version of them saved in case something happens to your phone. You'll always be able to recover them quickly and easily.
People are reading:
Part 3. How to Retrieve Contacts from Lost Android Phone via Gmail Account
How to recover contacts from lost Android phone without Google account? To recover contacts from a lost Android phone, use Gmail if your device is synced with your Google account. If that doesn't work, try this method to retrieve all lost contacts. Remember, you can only recover contacts deleted in the past 30 days.
The following are the steps to retrieving contacts from a lost Android phone via Gmail::
Log into your Google account on your browser.
Go to the "Contacts" tab on the top left side of your Google account page.
A list of contacts will appear.
Select "More" from the options list and click "Restore contacts". A popup window will appear.

Select the desired period from which you want to restore contacts and click "Restore".
Your contacts will be restored from the selected period.

Go back to your Contacts list and check if all your contacts have been backed.
Repeat the process if you want to recover contacts from lost phone from a different period. If you don't have your device connected to any Google account, follow the steps mentioned in the article to recover contacts.
Bonus. How to Recover Lost Contacts from Android Phone without Backup?
To recover lost contacts from an Android phone without a backup, you can use MobiKin Doctor for Android. This powerful software specializes in retrieving deleted Android data even without a backup. It is a reliable and user-friendly tool for recovering lost or deleted Android data. It supports various data types, including messages, contacts, call logs, videos, photos, documents, and more.
Key Functions of Doctor for Android:
Easily recover lost or deleted contacts from your Android phone.
Perform a thorough scan to ensure the maximum recovery of lost data.
Preview the recoverable contacts and other data before performing the recovery process.
works well for almost all Android phones, like Samsung, HTC, LG, Motorola, Sony, huawei, Xiaomi and more.
The software provides a simple and intuitive interface. This makes it easy to use.
Here is a step-by-step guide on how to utilize Doctor for Android to recover lost contacts from an Android phone:
Step 1: Download MobiKin Doctor for Android and install it on your computer. Use the cable to Connect your Android phone to the computer. Follow the on-screen instructions to enable USB debugging on your device.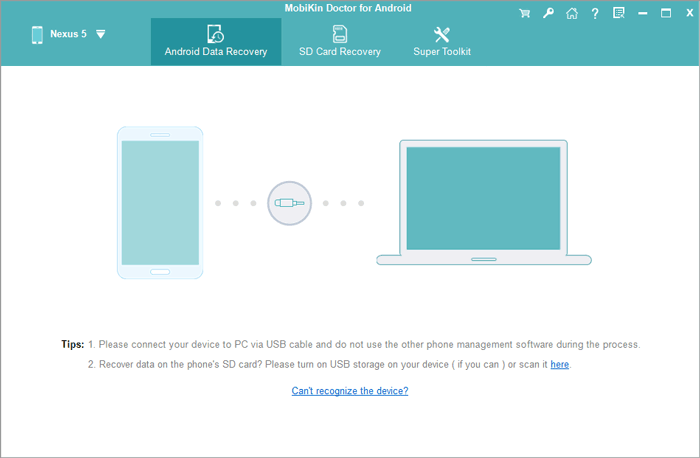 Step 2. Once your device is recognized, the software will scan it for recoverable data. After the scan, you can preview the found contacts and choose the ones you need to recover.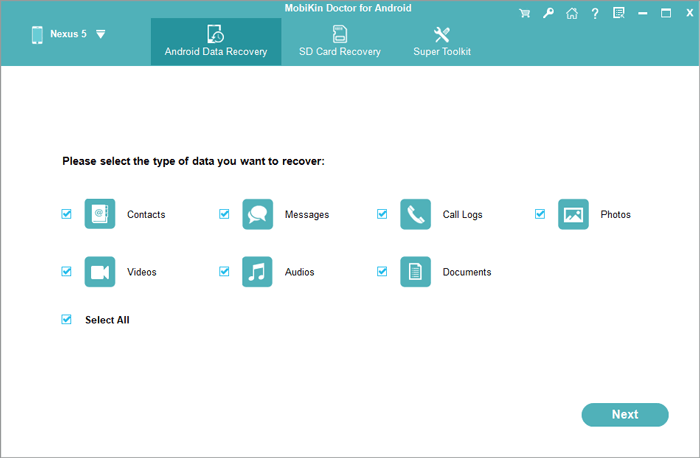 Step 3. Click the "Recover" button to start the recovery process and retrieve the lost contacts.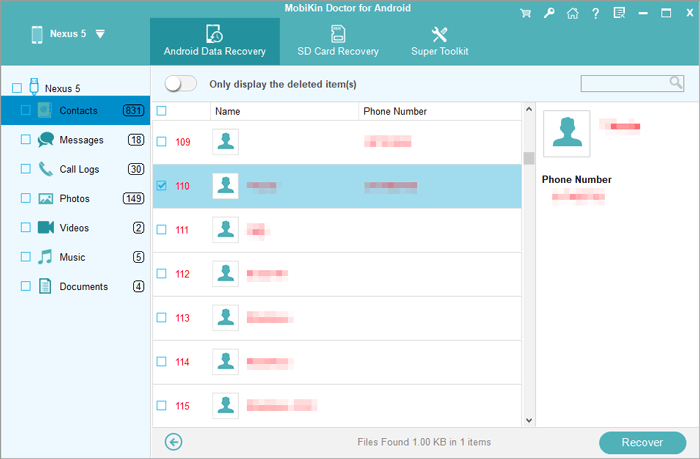 Video tutorial:
Wrap Up
And there you have it! I've uncovered some incredible simple methods you'll wonder why you haven't tried before. Remember, the key is to stay calm and confidently follow these steps. With just a few clicks and taps, you'll have your precious contacts in your digital embrace. So, go forth, my fellow Android adventurers, and reclaim your connections!
Related Articles:
Recover Data from Broken or Damaged Android Phone
How to Back up and Restore Text Messages on Android? 5 Hot Tips Here
How to Transfer, Copy Text Messages from Samsung Galaxy to PC/Mac
[SOLVED] How to Recover Deleted Photos/Pictures from Android?
Android Contacts Recovery - 2 Ways to Restore Deleted Contacts from Android
Android Call History Recovery - Recover Call Logs on Android