2 Ways to Recover Photos from Secure Folder on Samsung with/without Backup
Users with some Samsung phones may think of Samsung secure folder, especially when they want to make Samsung data recovery. (Can I recover deleted photos from Samsung recycle bin?) For instance, when they accidentally delete precious pictures in the folder or somehow put the images elsewhere they don't know, they're probably wondering if they can recover photos from this folder.
Well, if the same thing happens to you, just read this passage till the end. And we will cover how to recover photos from secure folder on Samsung with or without backup.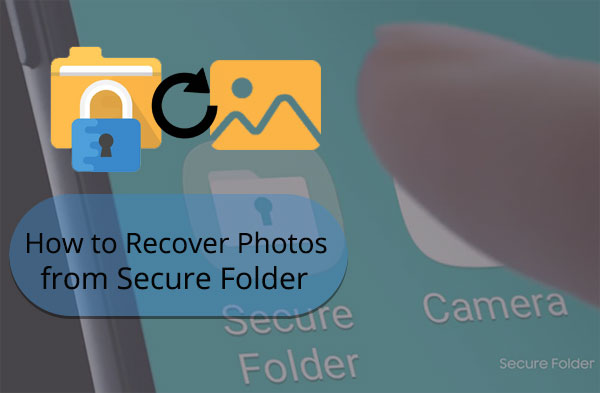 Part 1: What Is Samsung Secure Folder? Where Is It?
* What Is Samsung Secure Folder?
The secure folder, a high-end security option, enabling its users to keep sensitive data safe without worrying about unwanted access from anyone else. When you set it up, you're free to use a biometric option to control it as you like. This feature, running on the Samsung My Knox security platform, comes pre-installed with some Samsung cell phones based on Android 7.0 and above. Specifically, they are:
Samsung Galaxy S6 up to the latest S21/S20. (iPhone 12 vs. Samsung S20: which one is better?)
Samsung Galaxy Note series, starting at the Note 8 up to the latest Note 21/Note 20.
Samsung Galaxy A Series, such as the A20, A50, A70, A90, etc.
Samsung Galaxy Tab S series, starting from the Tab S3.
* Where Is the Secure Folder?
On your Samsung phone, go to its Settings > Biometrics and Security > Secure Folder. Next, if you'd like to view items in the Secure Folder, please select and hold the desired image(s) > Menu > Move to Secure Folder. Photos that are moved to the Secure Folder are not visible in the regular Gallery. Finally, you can choose Secure Folder > Gallery to view them.
In addition, assuming you wrongly deleted pictures from it, you can follow the methods below to make Samsung secure folder recovery easily.
Read Also:
Part 2: How to Retrieve Deleted Photos from Secure Folder via Samsung Account
Firstly, you can backup and restore Secure Folder data and manage it via Samsung's cloud-based service. This service lets you process files like photos, contacts, calendars, videos, music, documents, apps, and secure folder settings. The backup data in a secure gallery recovery folder is isolated from other general back content.
How to back up the secure folder on Samsung Galaxy with a Samsung account?
Firstly, open "Menu" and click on "Settings".
Then click the "Backup and Restore" option.
Here you need to choose the content you wish to back up.

Click on "BACK UP NOW" to back up photos to Samsung Cloud. (Samsung Cloud backup failed?)
Tips: You need to log into your Samsung account to use the backup and restore feature. When the auto backup is enabled, it will process the backup within 24 hours if WiFi is connected.
How to restore the secure folder with a Samsung account?
Open Samsung secure folder.
Click the three vertical dots at the top-right corner of the screen.
Go to Settings > Backup and restore > Restore.
Choose the device and select the data types you wish to retrieve.
Click "RESTORE NOW" to restore all the photos and videos in the backup.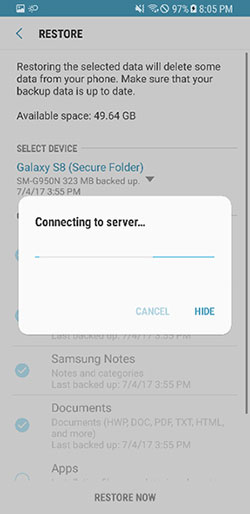 Part 3: How to Recover Photos from Secure Folder without Backup
Maybe some people think that they can't restore deleted photos from the secure folder without a backup, but that's not the case. As long as you use your Samsung phone as little as possible or stop using it after losing your treasured photos, the content is likely not to be recovered. The premise of all this is that you need a professional tool like MobiKin Doctor for Android (Win and Mac). This smart product doesn't just help complete Samsung secure folder restore.
Key highlights of MobiKin Doctor for Android:
Recover deleted photos from secure folder/internal memory/SD card without backup.
Retrieve deleted files from the secure folder, including photos, videos, movies, audio, music, text messages, call logs, contacts, and more.
Let you preview all the pictures before recovery.
Easy to operate, fast processing, and high success rate.
Get on well with overall Android devices, covering Samsung Galaxy S21/S20/S10/S10+/S10e/S9/S8/S7/S6/S5, Galaxy Note 21/Note 20/Note 10/Note 9/Note 8/Note 7/Note 6/Note 5/Note 4, Galaxy Tab/Galaxy A series, etc.
It won't divulge your privacy.
How to recover deleted photos from the secure folder on Samsung via Doctor for Android?
Step 1. Let the program recognize your Samsung phone
Download this Android data recovery software before installing and running it on a computer. Link Samsung to the computer via USB. Then, enable USB debugging on Samsung to get your device identified by the tool.
Step 2. Scan for deleted photos from the secure folder
Once recognized, please go for Photos > Next on the screen. The tool will scan your device right away. Here, you may need to root your Samsung phone to let the program scan out all images in the secure folder.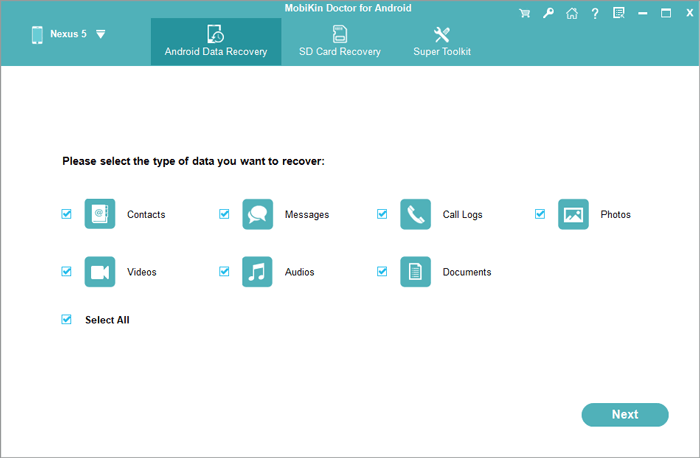 Step 3. Recover photos from secure folder
The tool will soon list all your Samsung pictures on its interface. Finally, you can preview and pick the items you need and tap "Recover" to store them on your computer.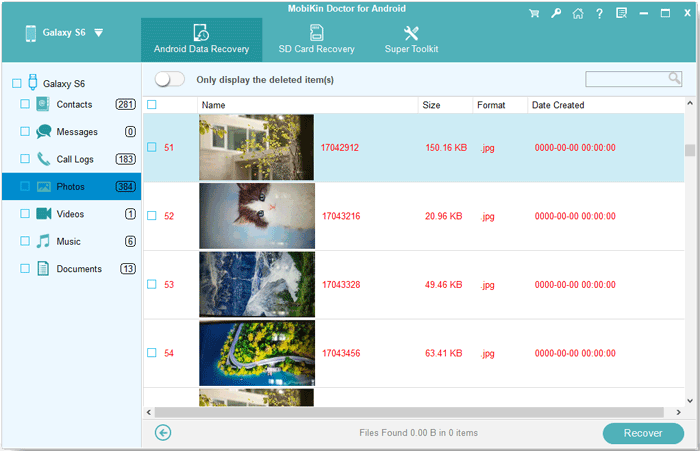 Video guide:
Check If You Need:
FAQs about Samsung Secure Folder
Q1: How to show or hide Secure Folder on Samsung Galaxy?
You can change the "Show/Hide" option by going to Samsung Settings > Lock screen and security > Secure Folder > Show Secure Folder (On or Off). (What if my Samsung phone is locked?)
Q2: How to add apps to Samsung Secure Folder?
Launch Samsung Secure Folder app on your phone.
Click the "Add Files" option.
Select the data types like images, documents, videos, audio.
Choose the files to add to "Secure Folder" > click "Done".
After that, choose if you want to move the files or copy them.
Q3: Is Samsung Secure Folder really safe?
There is no doubt that it is safe to use the secure folder, in part because it is considered a place to save personal or sensitive data locally on your Samsung.
Final Part
Well, it's time to wrap up this article mainly on the secure folder. We believe you have a certain understanding of the folder right now. In terms of how to recover photos from Samsung's secure folder, you can first consider using your Samsung account to make it if there's an eligible backup you made before. However, provided that want to perform Samsung secure folder recovery without backup, MobiKin Doctor for Android is definitely your ultimate choice.
Related Articles:
[Full Guide] How to Get Pictures off A Locked Android Phone?
A Tutorial about Recovery Mode on Android
5 Effective Methods to Recover Deleted WhatsApp Images on Samsung
6 Methods to Backup and Restore Your Samsung Galaxy S21/S20/S10/Note 21
3 Ways to Delete Photos from Samsung Galaxy Permanently in 2021