How to Fix Samsung Phone Overheating/Getting Hot? [11 Fixes Included]
Samsung is more capable than ever, but with that comes the risk of the device overheating even if you don't use it. This can result in battery drain and affect its lifespan or performance. (Want to speed up Samsung Galaxy?) If you're experiencing Samsung phone overheating frequently, it may even shut down automatically. Fret not! This post covers the 11 most effective fixes to help you out. For more information, please keep reading, and you'll surely benefit from it.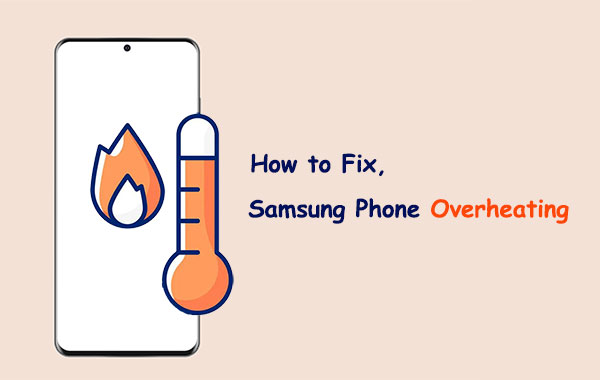 Part 1: Why Is My Samsung Phone Getting Hot?
If your Galaxy phone gets warm during use, there are several reasons this may be the case. Here, we shall gather the most conspicuous reasons for you:
Use your Samsung phone in an environment outside of normal operating conditions.
Place your phone/tablet near a heat source.
Utilize the fast charging feature.
Run multiple apps for an extended period of time.
Use an incompatible, defective, or non-Samsung-certified charger/USB cable.
Initial setup and file migration from the previous devices.
The Samsung processor is not working properly.
The software version is to be updated.
You Might Also Like:
Part 2: Fix Samsung Phone Overheating with 10 Quick Ways
Way 1: Close background apps
To close apps running in the background, swipe up from the bottom of the display to open the "Recent Apps" screen and swipe them away.
Another way to manage background consumption of specific apps is to go to "Settings", click on "Connections", select "Data Usage", and choose the app you want to manage. Then, toggle off the "Allow background data usage" option.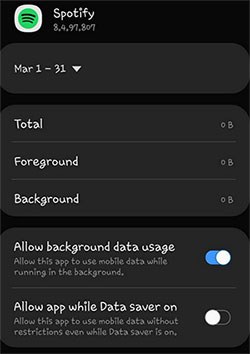 Way 2: Disable useless services
Develop the practice of disabling services that you no longer need. Even if you're not actively using an app or service, it continues to consume resources by running updates or performing other tasks. These processes can slow down your phone and raise the risk of Samsung Galaxy overheating. Therefore, it's advisable to deactivate any unused functions or services.
Way 3: Change battery settings
Go to Samsung "Settings" > "Battery and device care" > "Battery" > "More battery settings".
Turn off the "Fast charging", "Super fast charging", and "Fast wireless charging" options.
Additionally, you can optimize your phone's performance by tapping "Processing speed" now and changing it to "Optimized". Note that while the "High" and "Maximum" settings can provide a boost during processor-intensive tasks, they may also cause Samsung keeps restarting or overheating.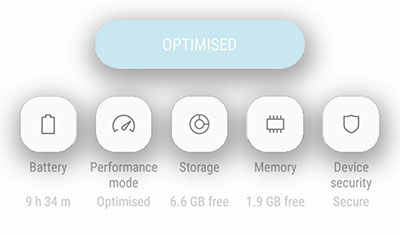 Way 4: Check battery health
It is possible that the health of your Samsung battery may have degraded to a significant extent, necessitating a replacement. Samsung is among the limited number of Android manufacturers offering a way to assess the health of the battery for Samsung overheating solution. Here's the guide:
To check your phone's battery health, access the "Samsung Members" app on your device.
Go to the "Support" section and select "View tests" > "Battery status" to view the reading.
If the battery health is labeled as "Weak", it's recommended to replace your battery to prevent potential overheating problems. If the reading displays "Good" or "Normal," the battery is functioning properly.
Know More:
Way 5: Minimize screen brightness
If you often watch streaming material or play mobile games with the brightness set to maximum, your phone can overheat even more. To minimize the risk of overheating, reduce your screen's brightness to a comfortable level.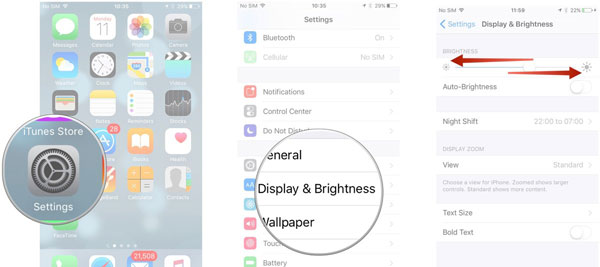 Way 6: Use safe mode
To eliminate Samsung overheating warning, turn off your device.
Press and hold the "Power" key.
When the Samsung logo appears, press and hold the "Volume Down" key.
If your device functions correctly in Safe Mode, the problem could be with a third-party application that can easily be resolved with an uninstallation.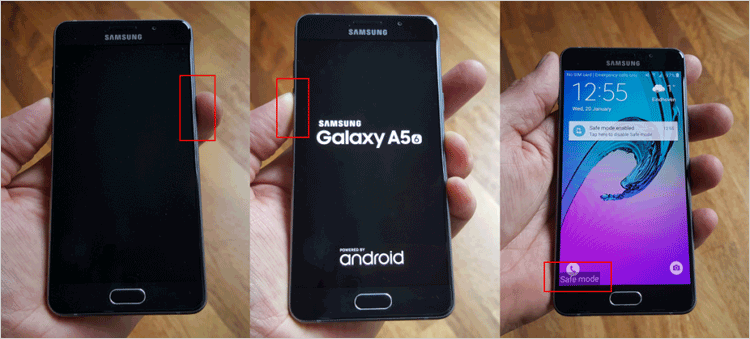 If you want to exit "Safe Mode" on your device, one way is to hold down the "Volume Down" and "Power" keys simultaneously for at least five seconds. This will force your device to reboot and exit Safe Mode. Alternatively, you can hold down the "Power" key and select "Restart" from the options that appear.
Way 7: Remove app permissions
Overheating problems could be caused by app permissions, while a bug linked to another app may keep other apps active or running in the background without your awareness. To resolve this issue, you can:
Navigate to "Settings" > "Apps" and click the three vertical dots icon in the top right corner to access the "Permission Manager".
Select app permission to view a list of apps that have permission to access it.
Choose an app from the list and select "Don't allow" to disable its permission.
Test with other apps to check if the issue persists after disabling specific app permissions.
Way 8: Update the Samsung system
In case of an overheating problem with a specific Samsung model, it is Samsung's duty to rectify it promptly. They usually address such issues through updates, so it's necessary to modify its firmware timely. Learn how to fix phone overheating:
Open the "Settings" menu and select "Software update".
Tap "Download and Install".
If new software is available, tap "Install" to install it.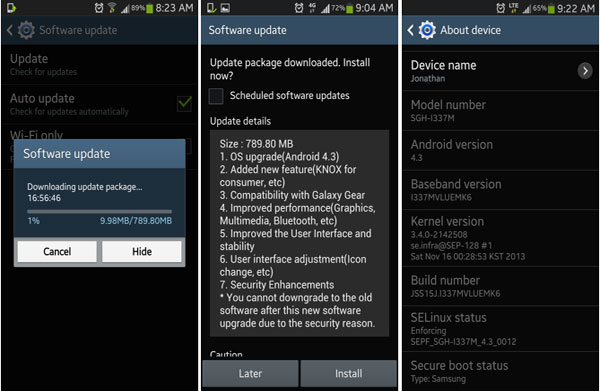 Way 9: Optimize Samsung device
By utilizing the Device care feature on One UI, you can enhance the performance of your Samsung phone. This feature can free up space on Samsung, eliminates unnecessary files, and shut down background apps. As a result, the processor's workload is decreased, and your phone can cool down faster. To use this functionality, launch the "Settings" app on your phone, go to "Battery and device care", select "Optimize now", and then click on "Done".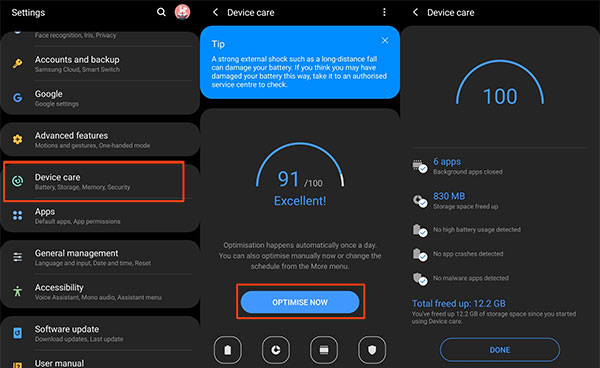 Way 10: Other quick tips to cool down Samsung phone
Try to keep Samsung out of direct sunlight.
Don't charge your Samsung phone excessively.
Take off the case to help it cool down.
Limit your gameplay.
Be mindful of how many apps you have open at once.
Keep your phone's software and apps up to date.
Only use chargers, batteries, and USB cables that have been approved for use with your phone.
Avoid exposing your phone to extreme temperatures.
Don't download large files at the same time.
If you've tried everything and your phone still isn't functioning properly, consider seeking assistance at an Apple Store.
Part 3: Use Ultimate Tool to Fix Samsung Galaxy Overheating
If you're looking for an effective way to troubleshoot overheating issues on your Samsung phone, Android Repair is a great tool to consider. This all-in-one utility can help you fix almost all Android issues with a high success rate. It offers step-by-step instruction and lets you overcome difficulties timely. With this smart tool, you can make Samsung overheating troubleshooting a lot easier.
Why choose Android Repair?
Fix Samsung phone overheating within munites.
Best Android phone repair software to fix the Android system to normal when software crash on Android, black/white screen of death, the phone keeps turning off, and more.
Support carriers like AT&T, Sprint, Verizon, Vodafone, T-Mobile, Orange, etc.
Work well with 1000+ Android models, including Samsung Galaxy S23/S22, Galaxy A9s/A8s/A6s, Galaxy A90/W2019/C7, Galaxy Note, and more.
It won't disclose your privacy.

How to cool down Samsung phone with Android Repair?
Step 1. Download and open Android Repair on your computer. Connect your Samsung phone to the computer using a USB cable. Then click on "System Repair" in the program.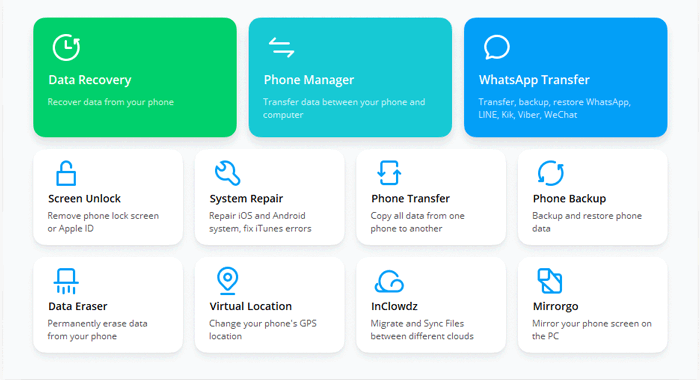 Step 2. Select "Android Repair", and the software will display a list of Android issues it can troubleshoot. Browse the list and click "Start."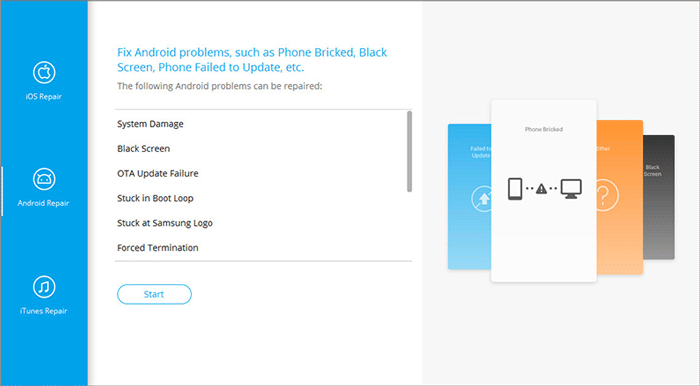 Step 3. You'll be taken to an interface where you need to enter your device information. Fill in the required details and click "Next."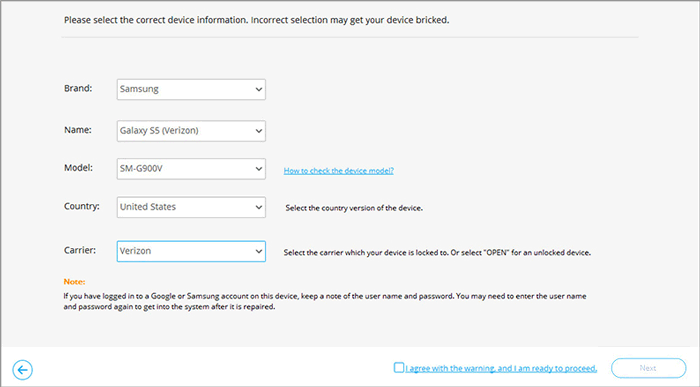 Step 4. Enter "000000" in the required fields and click "Confirm." Please note that using this tool may erase all data on your Galaxy phone.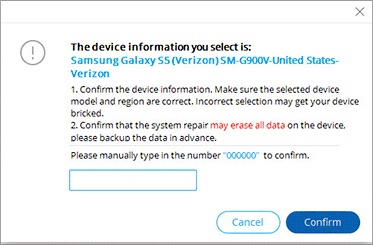 Step 5. Put your Samsung device into download mode:
If your tablet has a "Home" button, power it off and press the "Sprint, Home, Power, and Volume Down" buttons for about 10 seconds. Release all buttons and press "Volume Up".

If your phone does not have a "Home" button, power it off and press the "Power, Bixby, and Volume Down" buttons for approximately 10 seconds. Release all buttons and press "Volume Up".
Step 6. Once you're in download mode, click "Next" to download the appropriate firmware. The utility will then automatically fix the Samsung phone overheating.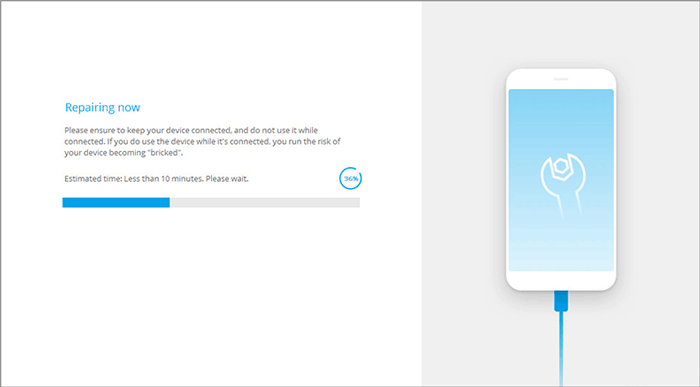 The Bottom Line
All Samsung phones/tablets have a set temperature range where they run at their best. When the device gets warm under unexpected conditions, you cannot respond properly to the scenario. Assuming you try all the quick methods, they may not be effective, and you thus waste a lot of time that you could have spent on cooler stuff. As such, it's wise to try a straightforward approach to get an immediate result by picking Android Repair.

Related Articles:
Top 7 Samsung Device Managers to Streamline Your Digital Life
Screen Mirroring Samsung: 5 Tricks to Mirror Samsung Screen to TV/PC/Mac
What If Samsung Tablet/Phone Won't Turn on? Try the 12 Solutions Here
How to Back Up & Restore Samsung Using Samsung Kies? [Step-by-step Instructions]
Top 8 Methods to Unlock Samsung Phone Pattern [Way 1 Is the Best]
How to Export Samsung Calendar? 4 Methods for Samsung Calendar Export & Import