12 Methods to Fix a Samsung Phone or Tablet That Keeps Restarting
When you are excited to play a game on your Samsung phone/tablet and are about to win the game, suddenly your device turns off without any warning. And after rebooting, it restarts automatically again. Alas, this disturbing feeling is even worse than when facing the Samsung black screen of death. Well, your Samsung phone keeps restarting; is there a way to deal with it?
OK, we shall let you know a dozen methods to get your phone back to normal. But before that, let's first talk about why this happens unexpectedly.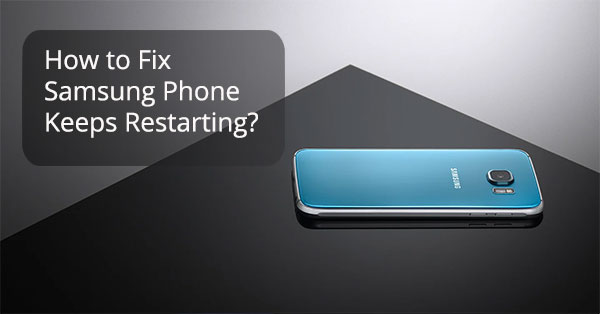 Part 1: Why Does My Samsung Phone/Tablet Keep Restarting Itself?
Whenever Samsung keeps restarting automatically, it will screw you up while you're using your phone, which can be quite annoying. So, why does my tablet/phone keep rebooting itself? Well, we cannot categorically say why, but it can generally be summarized as follows:
Incompatible third-party applications.
System apps are disabled.
Your Samsung phone is overheating. (How to cool down overheating Android phone?)
Your phone is working with a loose battery.
Cached data is stored in the device's memory.
Corrupt system software or damaged firmware.
Hardware problems like stuck button, damaged battery, broken device, etc.
You May Be Interested in:
Part 2: Samsung Phone Keeps Restarting? Try the 11 Quick Solutions
Solutions 1: Turn off "auto restart" in Samsung Settings
When Samsung tablet/phone keeps restarting, you should first check and turn off this feature by going to Samsung Settings > General Management > Reset > disable "Auto restart".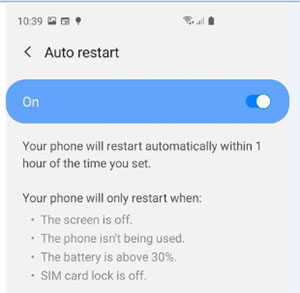 Solutions 2: Check loose battery
If an old Samsung phone restarts on its own, you can try to remove the phone's back cover and insert a small piece of paper or something thin into the back-end of the battery. This will make it sit tightly.
Solutions 3: Free up storage space on Samsung
"My phone keeps restarting over and over". If you have updated Samsung to the latest Android version, just check whether there's enough storage on it. Anything under 10% free space will warrant a cleanout. By deleting useless files and cached data, your device may work properly. Here's how to free up space on Samsung:
Open Samsung Settings and tap "Storage".
Here, you can view the available space for each category, such as apps, pictures, videos, and downloads, among others.
To clear your app cache and app data, you can select the desired app and tap Storage.
Tap "CLEAR DATA" or "CLEAR CACHE" if needed.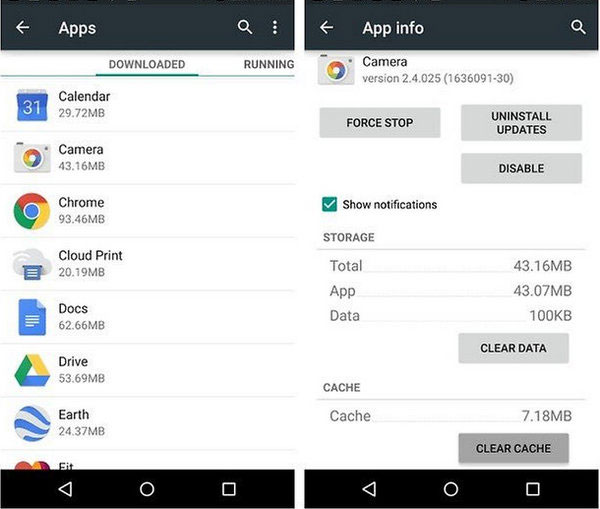 Solutions 4: Update your Galaxy phone or tablet
Samsung phone turns on and off repeatedly. An outdated OS may be responsible for this phenomenon. Here are the steps to update your Galaxy device:
Go to Samsung Settings > Software update or System update.
Tap on "Download and install" or "Check for system updates".
If an update is available, it'll begin downloading. (You may need to tap on "Download" now on some devices)
Follow the on-screen instructions to install the update when the download is over.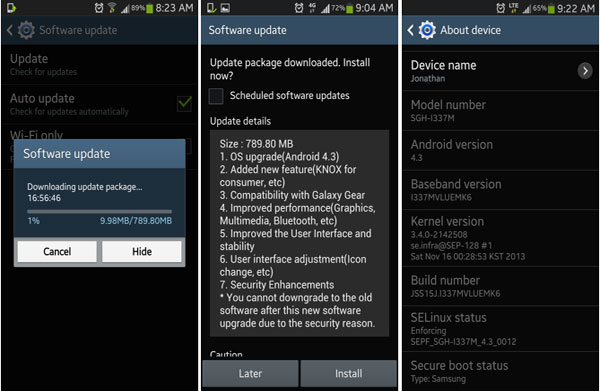 Learn More:
Solutions 5: Take out the SD card
Samsung Tab S/Galaxy S7/S8/S9/S10/S20/S21 keeps restarting. Maybe there's the brunt from your micro SD card if any. Now follow the manual to take it out:
Insert a card needle into the port of your SD card slot.
Slightly pull the SD card out.
Remove the card to check if the Samsung device still keeps rebooting.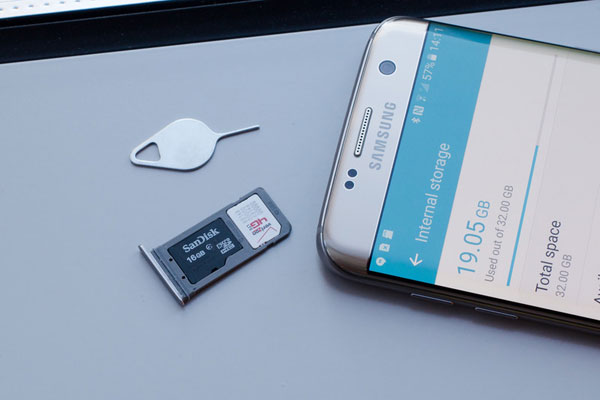 Solutions 6: Boot Samsung Into Safe Mode
Samsung tablet keeps shutting down and restarting. This might be fixed by booting Samsung into safe mode: (What is the safe mode on Android phone?)
To do so, first, press and hold the "Power" key to turn on your device.
Once the Samsung logo appears, please hold the "Volume Up" key to bring up the lock screen display.
Then select "Safe Mode".
If you can use your device in this mode, maybe the new firmware has corrupted data in its memory. If that is the case, try to disable some third-party apps in the mode.
After that, swipe the phone to show the notification bar and tap the prompt area to exit this mode.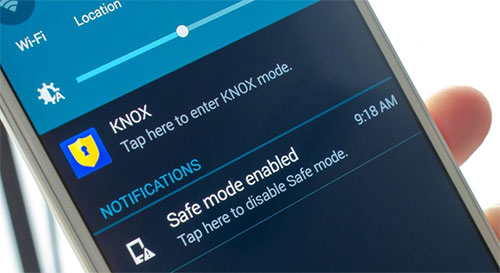 Solutions 7: Disable "Auto optimize daily"
Navigate to "Settings" followed by "Device care".
Tap on the three-dot icon at the top menu and select Advanced/Automation.
Turn off the toggle nearby "Auto optimize daily".
Check if this fixed Samsung restarting on its own.
Solutions 8: Enable system apps
After you find Samsung Galaxy randomly reboots itself. Suppose you don't know why, just try to go to Samsung Settings > Apps. Tap the three-dot icon at the top and enable "Show system apps". Assuming you don't find it there, tap the "Filter" icon and select "Show system apps".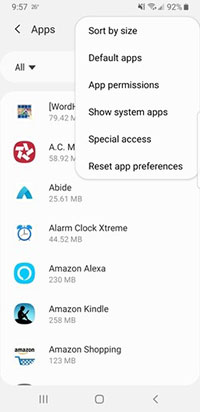 Solutions 9: Reinstall or remove apps
Some 3rd-party apps that aren't compatible can lead to "Galaxy keeps restarting over and over". You can try to reinstall these apps on your device. Moreover, the chances are that some applications are the key culprits, and you can delete apps on Samsung as well.
Solutions 10: Wipe cache partition
This can be a fix when the Samsung phone keeps turning on and off after the Android OS update. Let's check out how to do it on your phone:
Switch off your Samsung phone.
Press and hold the "Volume Up + Home + Power" buttons together.
When the phone vibrates, release the "Power" button but continue holding the "Volume Up + Home" buttons until the Android System Recovery menu occurs.
Here you need to select "wipe cache partition".

After that, select "reboot system now".
Solutions 11: Factory reset Samsung
Similarly, you can fix Samsung phone rebooting continuously by factory resetting Samsung. Yet you'll lose your Samsung data in doing so. (Want to back up Android phone before a factory reset?) Here are the steps:
First, switch off Samsung Galaxy by pressing the "Volume Up + Power + Home" buttons.
You will enter recovery mode on the phone.
Use the "Volume down" button to select the "wipe data/factory reset" option.
After that, you will get the "reboot system now" option, and you have to hit it.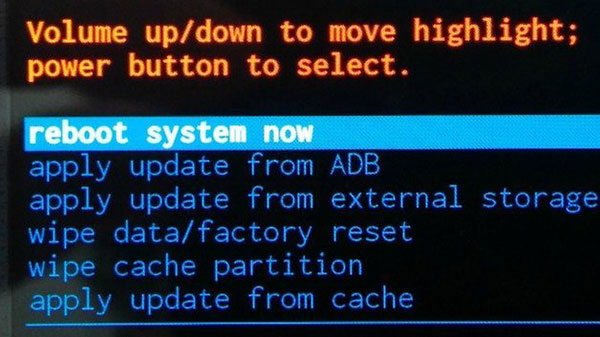 Part 3: Use An Ultimate Tool to Fix the "Samsung Galaxy Keeps Restarting" Issue
After introducing the quick methods above, you may find they are trivial and not targeted. More importantly, no one can be sure which will help resolve "Samsung phone keeps restarting". If you want to get it fixed in the simplest and most effective way, you should not miss Android Repair. This program allows you to fix various Android issues without any skills.
Core features of Android Repair:
Fix "Samsung phone keeps restarting" with odds of success.
Fix Android system to normal, working for the situations like Android phone not turning on or off, phone/tablet white screen of death, Android phone bricked, and more.
Support carriers like AT&T, Sprint, Verizon, Vodafone, T-Mobile, Orange, etc.
Work well with 1000+ Android models, covering Samsung Galaxy S21/S20/S10/S9/S8/S7/S6/S5, Galaxy Note 21/Note 20/Note 10/Note 9/Note 8/Note 7/Note 6/Note 5/Note 4, Tab S, etc.
It won't let out your privacy.

How to fix a constantly rebooting restarting Samsung phone/tablet with Android Repair?
Step 1. On your computer, install and launch this program. Then, click "System Repair" over the program window and connect your Samsung device to your computer via USB.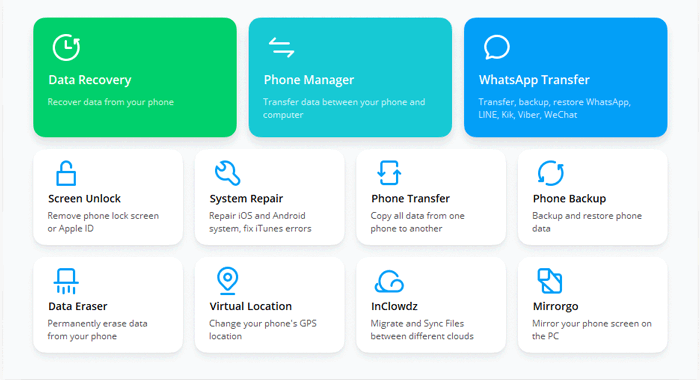 Step 2. Click on "Android Repair" from the left menu. The software will show you the Android problems it's able to fix. Just browse it and click on "Start".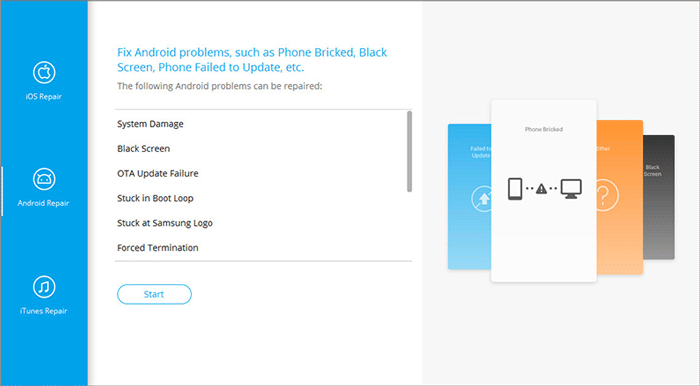 Step 3. Enter your device info in the incoming window and tap on "Next".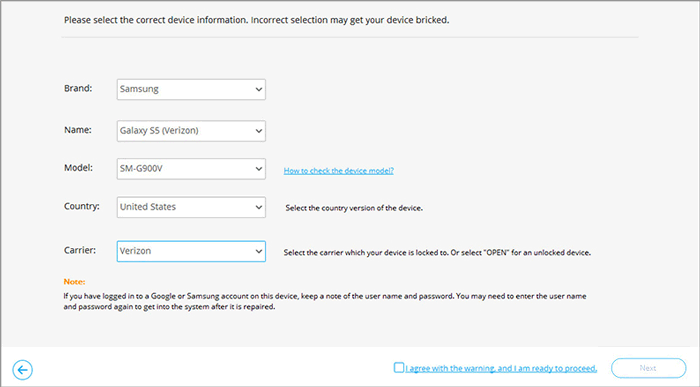 Step 4. Enter "000000" into the blank field and tap on "Confirm". (Please note that this tool may erase the data on your Samsung phone during the repair)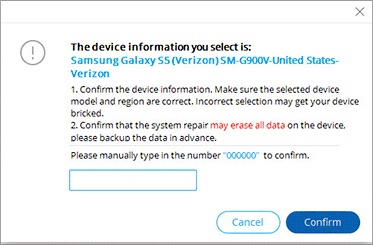 Step 5. Boot your device to the download mode:
Case 1: On Samsung with a "Home" button, power off the device, press the "Sprint, Home, Power, and Volume Down" keys for around 10 seconds. Release all and hold "Volume Up" to get into the download mode.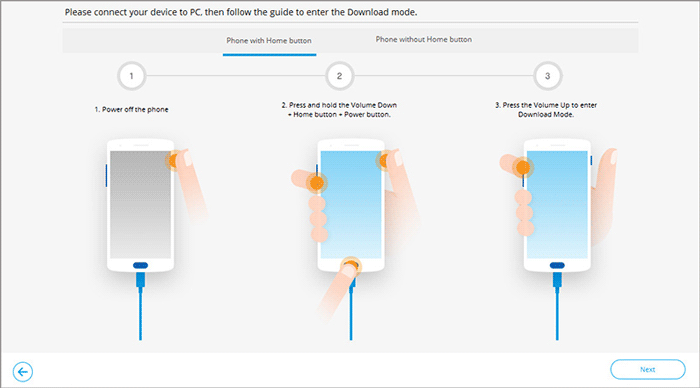 Case 2: On Samsung without a "Home" button, power off the device, press the "Power, Bixby, and Volume Down" keys for about 10s, and then release. Then, press "Volume Up".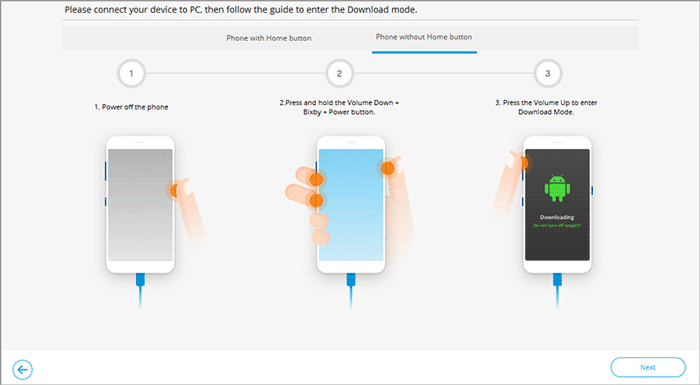 Step 6. After the phone/tablet is in the mode, click on "Next" to download firmware for it.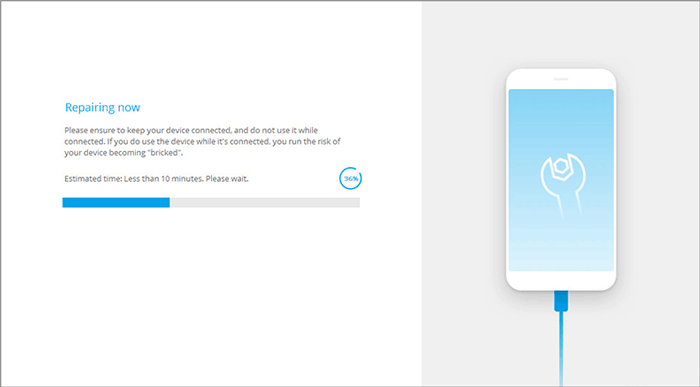 Step 7. Finally, the utility will automatically repair "Samsung phone keeps restarting".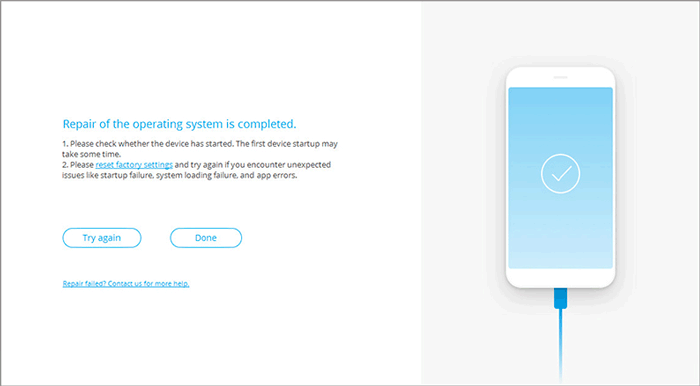 Final Part: Tips to keep Samsung Galaxy from restarting automatically
OK, that's all. You can now pick any method(s) above to fix Samsung rebooting continuously. And after the repair, you can use MobiKin Doctor for Android to recover your lost files if you lost them during the task.
Lastly, here are some warm tips that may help you protect your phone from malfunctions:
Use a protective case for your Samsung phone/tablet.
Equip with a trusted anti-virus program.
Clean cached data and app data on Samsung regularly.
Download apps and other files from websites you trust.
It is best not to install a non-original battery after the old one is drained.
Related Articles:
[Solved!] Your Android Phone Won't Turn on? 13 Ways to Fix
iPhone Keeps Turning on and off Repeatedly? Here Are the 7 Real Fixes
[Fixed] Samsung Phone Stuck on Odin Mode, How to Fix It?
Firmware Upgrade Encountered an Issue on Samsung, How to Fix It? [Fixed]
How to Recover Data from Samsung with A Broken Screen?