Can You Get iMessage on Android? Discover the 3 Little Known Ways Here
The world of instant messaging has evolved significantly, with platforms like iMessage setting the standard for seamless and feature-rich communication. But what happens when you find yourself on the Android side of the smartphone divide? The questions often arise: "Does Android have iMessage?" and "Is it possible to enjoy the perks of iMessage on Android to back up iMessage?"
Frankly, the answer is both intriguing and liberating. There are indeed ways to bring the magic of iMessage to your Android device. And in this tutorial, we shall help you out without the burden of technical hassles.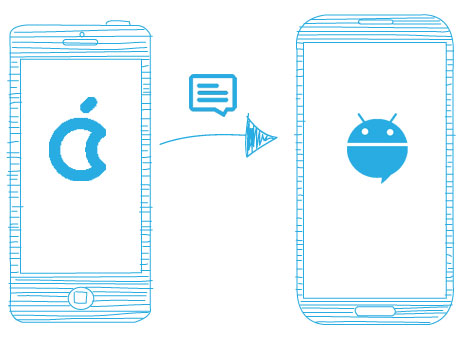 Part 1: Can You Use/Get iMessage on Android?
Indeed, it is achievable to utilize iMessage on an Android device. Several third-party applications exist to facilitate this. One such solution is the utilization of AirMessage, an app that empowers Android users to link to an established Mac computer, granting them access to their iMessage account. Another alternative is the Beeper app, which extends iMessage accessibility to Android, Windows, and Linux users, encompassing various messaging applications. To explore additional tools and get a comprehensive guide, please keep reading.
You Might Also Like:
Part 2: How to Get iMessage on Android with Beeper
Beeper is a free app that consolidates messages from various platforms like Facebook Messenger, Signal, LinkedIn, Twitter DMs, and Slack. At present, this app operates on an invitation-only basis, but you have the option to register for the waitlist on the Beeper website. Please note that you must first download the desktop version before you can access the mobile app.
How to get iPhone messages on Android using Beeper?
Get the Beeper app for your Mac from the website.
Sign up for a Beeper account using the email you used for the waitlist.
Confirm your name, email, and username per on-screen instructions.
Keep a copy of the "Recovery Code" in a safe place in case you need to recover your Beeper account.
On the Main Chat App selection screen, choose "iMessage". If needed, select more chat networks.
Ensure iMessage is selected, click "Start", and enter your Apple ID credentials before clicking "Continue".

If you have 2FA enabled, enter the verification code and click "Continue".
Enable "Text Message Forwarding" on your iPhone, forwarding to the device named "Beeper (Mac)" in iPhone Settings. (How to forward text messages on Android?)
Click "Continue" and make sure text message forwarding is enabled in the desktop Beeper app.

Install Beeper from the Google Play on Android and open Beeper. Then, enter your account email.
Input the verification code sent to your email on the Android app and verify with the desktop version of Beeper to access your chats.
Once verified, you will start receiving new iMessage on your Android device.
Part 3: How to Receive iMessage on Android via AirMessage
Can we send iMessage from Android phones or get the info on them? (Why won't my message send on my Android?) Yes, you can configure a Mac to start via iMessage on Android. This tool lets users send and receive iMessages by setting up an AirMessage server on macOS and installing the app on Android.
How to get and use iMessage on Android with AirMessage?
Download and install the AirMessage Server for macOS on your Mac.
Launch the "AirMessage Server", select "Connect an Account (Recommended)", and log in with your Google account.
In your Mac, go to "System Preferences" > "Security & Privacy" > "Privacy" > "Automation".

Lock the settings and enable "Messages for AirMessage".
Go back to "Privacy", select "Full Disk Access", lock the settings, and enable "AirMessage".

Install the AirMessage app on your Android device.
Log in with the same Google account on it and tap the "Chat" icon.
Enter the phone numbers of the iMessage recipients.
When prompted, tap "Allow" to confirm integration between your Android phone and Mac.
You should now be able to send and receive iMessages on your Android phone.
You Could Also Be Interested in:
Part 4: How to Get iPhone Messages on Android Using weMessage
As an innovative solution that bridges the gap between Apple's iMessage ecosystem and Android, weMessage lets you enjoy the benefits of iMessage, including text messaging. It also enriches group chat experiences typically exclusive to iOS devices. In short, it's a great option for those who want to stay connected with their iOS-using peers while using an Android device.
How to get iMessages on Android with weMessage?
To begin with, ensure you have Java installed on your Mac by opening Terminal and typing "java".
Then, download the weMessage program.

In the weMessage folder, run "run.command". If you encounter an error about an unidentified developer, open it via "Apple logo" > "System Preferences" > "Security & Privacy" > "General".
Enable "Accessibility" features by going to "System Preferences" > "Security & Privacy" > "Privacy" > "Accessibility".
Unlock settings with your password, click "+", and navigate to "Terminal" to open it.
Enter your iMessage email address and input the password for the device.

On your Android device, install the weMessage app from the Google Play.
Launch weMessage on Android, grant it permission to access settings, and set it as the default SMS app.
Enter your Mac's IP address in the app to establish communication.
Provide your iMessage email address and the password you set up earlier.
When the setup is done, you should now use iMessage on Android.
Extra: How to Send iMessage to Android from iPhone
In addition to sending or receiving iMessages on Android, some individuals may also desire to transfer their existing messages from iPhones to their Android devices. In such cases, we highly recommend using MobiKin Transfer for Mobile (Win and Mac) to fulfill your requirements. This software enables you to effortlessly and directly migrate messages along with other types of data without any limitations. It enjoys a strong reputation among mobile users for its error-free transfer and the assurance of preserving data integrity.
Main features of MobiKin Transfer for Mobile:
Seamlessly transfer existing iMessage onto Android from iPhone.
Share files from iPhone to Android, Android to iPhone, iPhone to iPhone, and Android to Android.
Work for such files as messages, contacts, call logs, photos, videos, music, notes, calendars, and more.
Easy to use, error-free, fast transfer, and free trial.
Compatible with almost all iOS/Android/Windows/macOS devices, including Samsung, Motorola, Google, HTC, Sony, OPPO, Huawei, LG, Xiaomi, and all iPhone models, even the latest iPhone 15 series, as well as iPad, iPod touch, among others.
It values your privacy.
Get this program for free and abide by the easy guidelines to know how to send iMessages from iPhone to Android with ease:
Initiate the installed program on your computer.
Ensure both phones are connected to the computer via USB.
The program will promptly recognize both devices.
Once detected, you will encounter its primary interface.
Make sure your iPhone is designated as the source phone and the Android device as the destination one. If not, rectify it by selecting the "Flip" option.
Next, select "Text Messages" from the list of data categories.
Press the "Start Copy" button to send iMessage from iPhone to Android.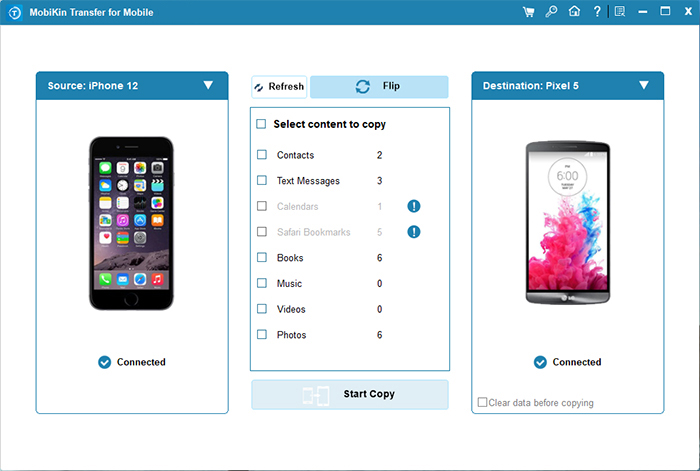 FAQs about iMessage on Android
Q1: Why didn't Apple release iMessage for Android?
Apple has not released iMessage for Android primarily due to strategic reasons and ecosystem control. iMessage keeps users within the iOS, making their products more attractive. By keeping it exclusive to iDevices, the company can offer a cohesive messaging experience that encourages its operators to stick with their products.
Q2: Can we use iMessage on Android without a Mac?
It depends. Although there are some third-party apps and workarounds that claim to enable iMessage on Android devices, these methods may not be reliable, secure, or authorized officially.
Q3: Can an Android phone join an iMessage group chat?
No, Android phones cannot join an iMessage group chat. iMessage group chats are exclusive to Apple's ecosystem and are designed to work only with Apple devices such as iPhones, iPads, and Macs.
In a Nutshell
In this post, we've walked you through three avenues for getting or using iMessage on Android. Here, it's essential to keep in mind that these approaches are not endorsed or officially supported by Apple. Each of them entails intricate setup and configuration processes, and their effectiveness can differ. Thus, prior to proceeding, it's advisable to conduct thorough research and carefully assess the particular requirements and constraints associated with each solution.
Related Articles:
How Can I Fix "My Text Messages Disappeared on My Android?"
How to Back up and Restore Text Messages on Android? 5 Hot Tips Here
How to Fix: iMessages Not Syncing Between iPhone and Mac [2023]
4 Most Dependable Ways to Send Current/Fake Location on iMessage
9 Quick Solutions to Troubleshoot Messages Didn't Transfer to New iPhone
Helpful Tips to View Text Messages on iCloud from PC/Mac/iPhone [2023]