Method to Transfer Data from ZTE to Samsung
People want to transfer all of their contact information, private messages, valuable photos, memorable videos and other more data from their old phone to their new phone after they switching from one phone to another new. Meaning instead of having to enter each file manually one by one at a time, the user can do a transfer of all their data simultaneously with an automated solution. Here in this article, we will tell you how to transfer data after switching from ZTE to Samsung with an one-click data transfer tool.
Read similar guide: Transfer Media Files from LG to iPhone
The tool we would like to introduce is the MobiKin Transfer for Mobile, as its name implied, can be described as a product that has been designed to solve a wide variety of different problems that people experience when they transfer data from one mobile phone to another. You can transfer contacts, text messages, photos, videos, music, applications and more between two different phone brands that run Android OS, such as ZTE Nubia/Adamant/Avid/Valet and Samsung Galaxy S8/S7/S6/Edge/S5. Mac version of the software is also available.
Since some problems can occur during the transfer process, this application takes all of this into account. With a 2 to 3 step easy to follow process, any user can transfer their data with ease. Read the following guide to learn the details of switching data from ZTE phone to Samsung Galaxy mobile.
How to Switch Data from ZTE to Samsung Galaxy?
Step 1. Launch Transfer for Mobile
The user will need to download and then install Transfer for Mobile on your desktop. Once the installation is complete, the user will connect their ZTE and Samsung phones to their desktop computer via 2 USB cables.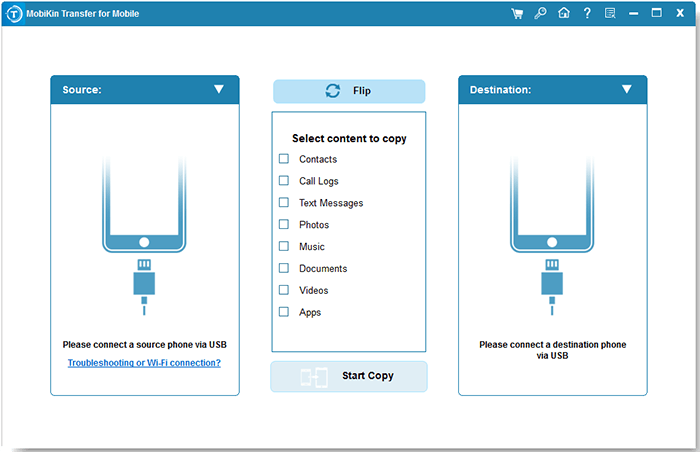 Step 2. Choose the wanted files

Now the Transfer for Mobile software will detect the two devices automatically. Both the phones are displayed side by side, with all transferable file types are listed.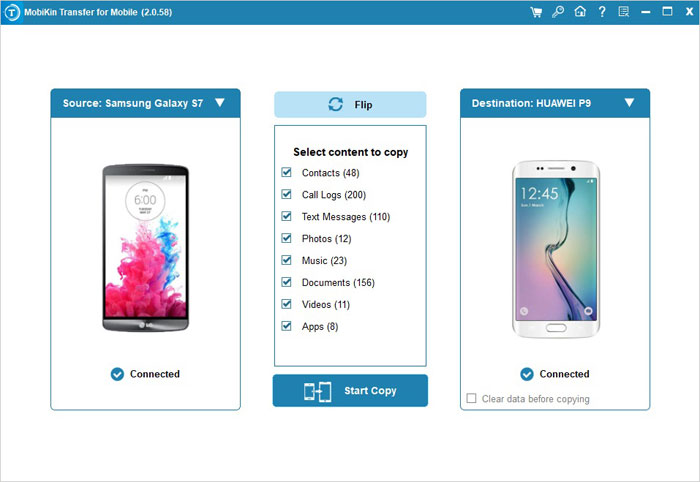 Step 3. Switch from ZTE to Samsung
To start the process of transferring the files needed from ZTE to Samsung, the user will select individual files (or all files) under the ZTE phone, and then click the Start Copy icon to export the data.
Related Articles:
How to Read HTC Calendars on iPhone