Sync Phone to Tablet: How Do I Sync My Phone to My Tablet?
"I have an Android phone and recently I bought an Android tablet. In both I have Google Music Player as my default music player. My problem is I couldn't managed to sync the playlist from my Android phone to Android tablet. My phone's Google Music Player says that 'In your other device, go to sync and click Pair a device'. But I can't find it in my tablet's sync menu. Both devices give me a code but in my tablet I don't know where to type that code."
If you use two Android devices at the same time, an Android phone and an Android tablet, how can you synchronize the two devices so that you can access the same data from any one of them? Someone answered that we can back up the data from the Android phone to the computer, and then transfer them from the computer to the Android tablet. This method works, but it takes a lot of time and effort. Today we have a better solution to let you sync phone to tablet completely and correctly with one click.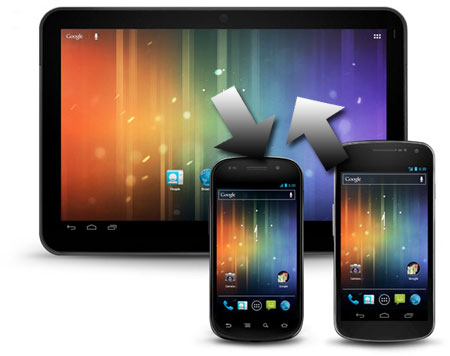 Part 1: How to Sync Phone to Tablet via USB
The first method, which is to use a USB data cable, is to back up the data from the Android phone to the computer, and then transfer it from the computer to the Android tablet. Although I said that this method is very laborious, but it is undeniable that there are still a large number of people who like to use this method, because only a computer and a data cable can be used to complete the entire transmission work. No additional software is required, and no wireless network connection is required.
The detailed steps below are about how to sync my Android tablet with my Android phone via USB.
Step 1: Connect your phone to computer with a USB cable.
Open your Android phone and connect it to your computer via a USB cable. The connected phone will be detected by the computer, you can drag down "Notifications Panel" from the top of your phone's screen and choose the option of "Media device(MTP)".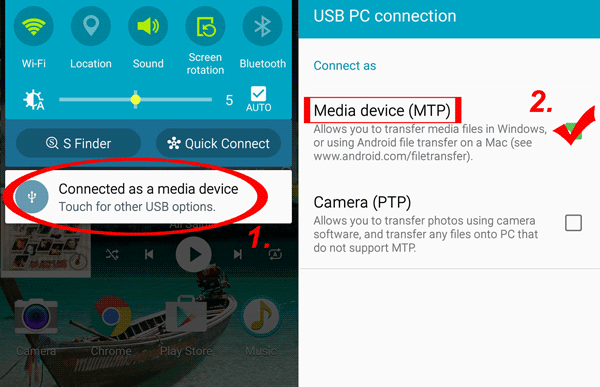 Step 2: Copy the folders and files to computer.
On your PC, double-click "My Computer" or use the shortcut - "Windows + E" to go to the interface. Then, double click on your phone's icon in the section of "Portable Devices" to display the internal storage of your Android phone. Locate the files and folders that you want to sync to your tablet. Copy and paste them on your computer.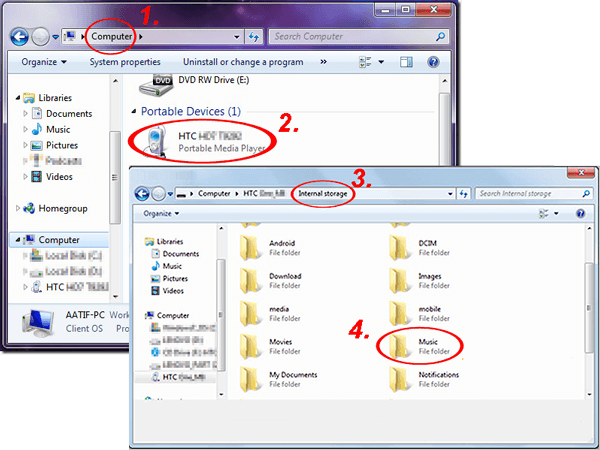 Step 3: How to sync my Android phone and tablet
Disconnect your Android phone from the computer and plug your Android tablet into the computer via USB. Now, you can drag the files and folder you have copied on step 2, and drop them to the internal storage of your Android tablet.
See Also:
Part 2: How to Sync Photos from Android Phone to Android Tablet via Bluetooth
Don't worry if you don't have a USB data cable nearby, because most Android devices are equipped with Bluetooth. We can also sync Android phone and tablet via Bluetooth.
Then, how do you sync your Android phone to your tablet via Bluetooth?
Step 1. Turn on Bluetooth on your Android phone and tablet. You can find this option in the drop-down menu on the main screen of your Android phone or you can go to Settings app to find the Bluetooth option.
Step 2. When Bluetooth is turned on, make sure the two devices have turned on the discoverability for each other and pair them up via Bluetooth.
Step 3. Once the two Android devices have successfully paired with Bluetooth, you can select all the files you want to transfer on the source Android phone, click the Share icon and select Bluetooth in the pop-up list of transmission methods.
Step 4. Select the target Android tablet from the Bluetooth device list and all selected files will be transferred from the source Android phone to this target Android tablet immediately.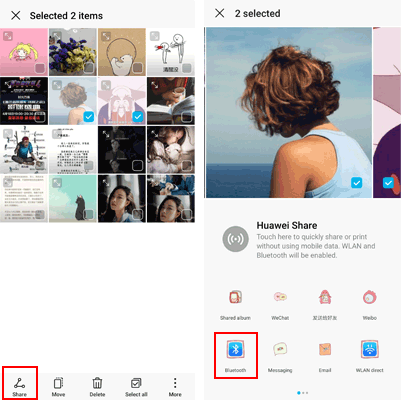 Part 3: How Do I Sync My Tablet to My Cell Phone via Google Drive
If you don't have a data cable and you also discard Bluetooth transmission is too slow and time consuming, then you can also sync your data with cloud service - Google Drive, that is, backup data from one device to Google Drive, and then sync the data from Google Drive to the other device. Here is how:
Step 1: Navigate to Settings app on the sending Android phone and choose Backup & reset option.
Step 2: Enable the Back up my data option and all data on this sending Android phone will be synced to Google account automatically.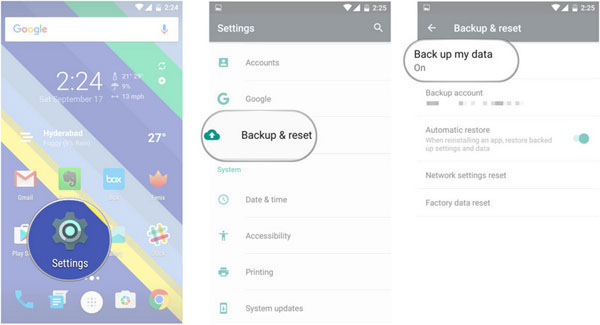 Step 3: Once the backup process is finished, you can turn to the receiving Android tablet and go to Settings > Backup & restore > Restore.
Step 4: Log in to the same Google account you signed in to on the sending Android phone. Follow the on-screen prompts to restore all the synced data back to this receiving device.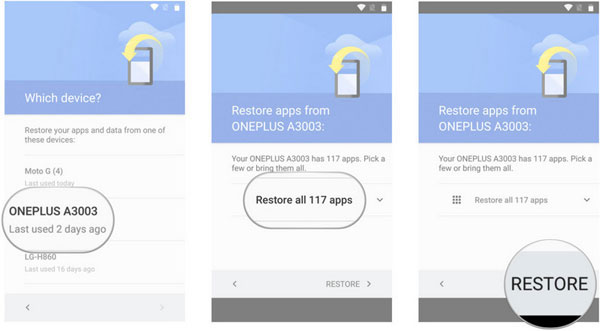 Can't Miss:
Part 4: How to Sync My Android Phone and Tablet in One Click
(Super Easy!)
Finally, top priority, we will introduce you the most direct and most efficient way to sync phone to tablet - using MobiKin Transfer for Mobile. It is a professional phone to phone transferring tool to transfer almost everything, including contacts, text messages, photos, call logs, videos, music, apps, etc. between two devices, no matter they are running Android or iOS systems. Also, Transfer for Mobile not only supports mobile phones, but also tablets like Samsung Tab, Huawei MediaPad, iPad Pro/Air/4/mini, and so on.
Transfer for Mobile comes with Windows and Mac version, you can choose the correct version to download according to your computer. The program is 100% secure and you don't need to worry about the safety of your phone data. Here is a small table of the specific compatible smart phones and the transferable data. Check it out and then follow us to the next section.
Compatible Android Devices

Transferable Data

Android: Samsung Galaxy, Sony Xperia, HTC One, LG, Google Nexus, Huawei Mate/Ascend, Motorola, Lenovo, Xiaomi, OnePlus, etc.

iOS: iPhone, iPad, iPod touch

- Contacts, Text messages, Call logs, Documents, Notes, Calendars, Bookmarks, Books

- Music, Videos, Photos, Apps.

Now, follow the steps below to see how to use Transfer for Mobile to sync my Android phone with my tablet with one click.
Step 1. Download and Run the Transfer Program
Download and install the Transfer for Mobile tool and then run it on your computer. The primary interface of the tool will pop up like the following picture shows.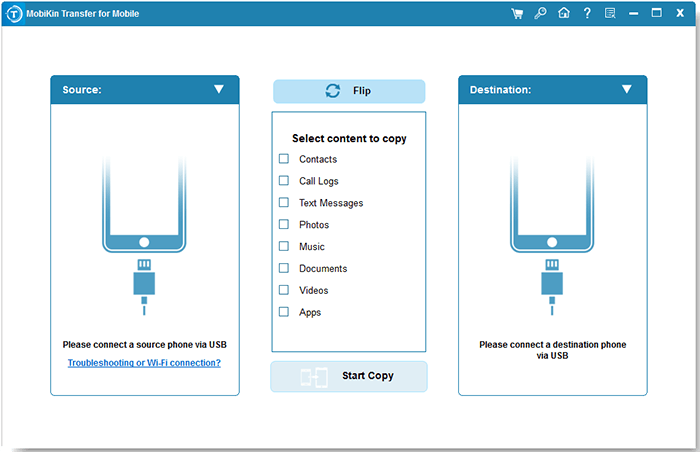 Step 2. Connect your phone and tablet to Computer
Connect your phone and tablet to the computer via USB cables and then the program will detect them and displaying them side by side. All the transferable data will be listed in the middle menu as the following window shows.
By the way, if you want to sync data from phone to tablet, you should click "Flip" button to place the phone on the left and tablet on the right.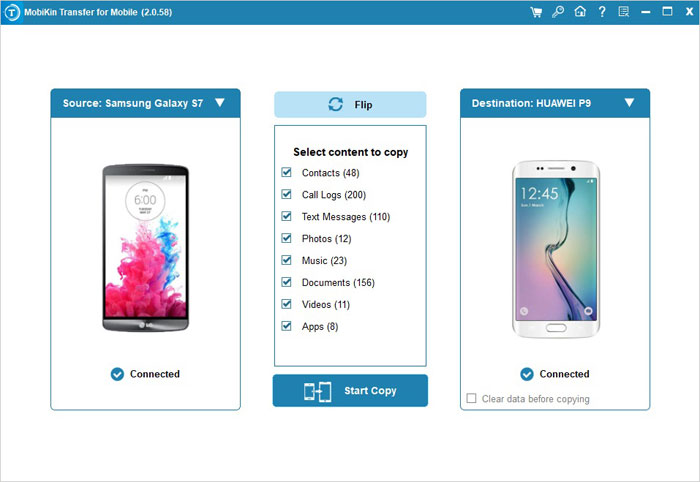 Step 3. How do I sync my phone to my tablet
Mark the data types you want to transfer and then click the "Start Copy" icon in the middle panel to start to transfer data from the source phone to target tablet. For example, how to sync apps between Android phone and tablet? You can just tick off the "Apps" option and then click "Start Copy" button to begin the apps transferring process.
Wait for a while, the transfer process will be complete and you can then disconnect the two devices and check the transferred data on your tablet.
Editor's review: Which one is the best?
The above are four different methods to transfer data from phone to tablet. We can see that each method has its own advantages and disadvantages. In my opinion, because I have tried every method, I will feel that I like the Transfer for Mobile the most, because it has the highest success rate, cost the shortest time, and it is most convenient to use. It can really do an one-click transfer. What's more, it supports both Android and Apple devices and comes with the most complete features. It can be regarded as the most ideal tool to sync phone to tablet.
Why not download it to have a try? If this tutorial helps, don't forget to share it with your friends.
Related Articles
How to Transfer Data from Nokia to Nexus 5
Tips to Transfer or Copy Data between BlackBerry and Android
How to Transfer Contacts from BlackBerry to Android
How to Transfer Music from iPhone to iPhone? [6 Proven Tips in 2023]
How to Read HTC Calendars on iPhone