[2023 Guide] Transfer Notes from iPhone to Android in 5 Easy Ways
Are you wondering how to transfer notes from iPhone to Android? Transferring notes between these two devices can be a hassle if trying to figure out the process on your own. Unfortunately, you cannot just use a USB cable to connect both phones together and transfer everything you want from one device to the other device. Perhaps in the near future this will be possible. In the meantime, an effective solution is needed to hit the nail on the head on the first try, per se. There are methods that can be implemented to transfer notes.
Unfortunately, not all the methods that you read about can transfer notes effectively. There are a lot of questionable blogs out there that get paid by developers of transferring-related apps in exchange for positive reviews. Never fall for cheap tricks. Do not waste any time! You have come to the right place to know how to transfer iPhone notes to Android, without hassles. (iPhone notes disappeared?)
Method 1. How to Transfer Notes from iPhone to Android via iCloud
Since it was launched, iCloud has revolutionized various things, which have made life easier. A lot of people consider iCloud to be one of the safest methods to transfer notes between iPhone and Android. We definitely agree! The iCloud storage comes in handy to have access to your device's information, even if you lose it. No matter what, iCloud has your back.
On iPhone, go to "Settings" > "iCloud" and turn iCloud sync with Notes.
Click on "Storage & Backup" > "Backup Now" to back up notes from iPhone.

On the computer, access iCloud account to see the notes that have been synced with iPhone. Email notes and download them on Android.
Read Also:
Method 2. How to Transfer iPhone Notes to Android via Outlook
This is a solution that you should consider if you do not have many notes to transfer. Using Apple iTunes, you can sync iPhone notes with an Outlook account.
Using a USB cable, connect iPhone to computer.
Open iTunes on computer.
Click on "Info," which can be found in the "Summary Panel."
Click on "Sync notes with" and click on "Outlook" from the menu. (How to sync Outlook with iCloud?)
Click on "Sync."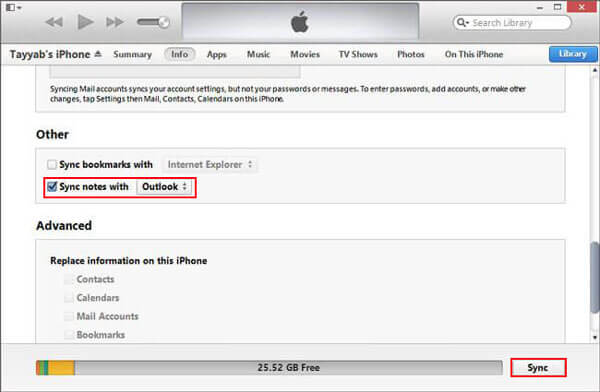 Method 3. How to Share Notes between iPhone and Android through Gmail
You can easily transfer notes from iPhone to Android using Gmail, but keep in mind that this is not a good solution if you have a lot of notes to transfer.
On iPhone, click on the "iOS Settings" app and then click on Apple ID and then go to "Mail" > "Account" > "Add Account."
On the Add Account screen, click on "Google" and then enter Gmail information.

Choose an option to view iPhone notes on Google account.
Then, you have three options to choose from to view iPhone notes:
First Option: Access Gmail site on mobile browser, log in to Gmail account, switch to PC model, and on the left-hand column, "Notes" will be visible.
Second Option: Open Gmail app and enter account to see notes synced from iPhone.
Third Option: Go to "Settings" > "Account" > "Add Account" and set up Gmail on Android. Then, open the built-in Mail app to see notes.
One option is not better than another option. It all comes down to your preference. If you opt for this solution, try the option that grasps your attention the most.
Check if You Need:
Method 4. How to Share Apple Notes to Android via Email
This solution is a quick way to access notes on Android, as it is all conducted via email. Nonetheless, there are limits that you should be aware about. Special elements, including sketches, images, and circles, are not retained.
On iPhone, open Notes app and select note to send.
Click on "Share" in the top-right corner then click on "Mail."
Enter email address in the "to" field, and send email.

Android has to be set up with the same email account to open email app and receive note.
Method 5. How to Transfer Notes from iPhone to Android with Smart Switch
This is another great method to easily transfer notes from iPhone to Android easily and rapidly. Unfortunately, it will only work on Samsung Galaxy phones. It is a great choice when you are switching from iPhone to this model. With Smart Switch, you can transfer notes in iPhone from iCloud or directly from iPhone using a USB cable.
On iPhone, click on "Settings."
Go to Apple ID and then iCloud.
Enable notes that you wish to sync to iCloud.
Download Smart Switch app on Samsung Galaxy.
Launch Smart Switch and click on "Receive Data."
Click on "iPhone/iPad" and then click on "Get data from iCloud instead."
Enter verification code provided and click on "OK."
Select data to be transferred and then click on "Import."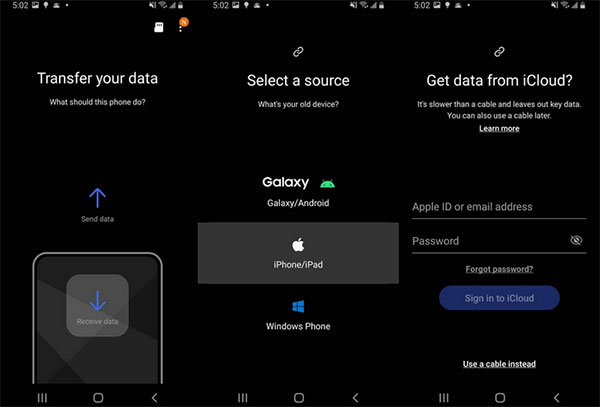 Bonus Tip. How to Transfer Data from iPhone to Android
MobiKin Transfer for Mobile gets down to business right away, transferring your notes from iPhone to Android as envisioned. It is a multitasker, so it can help you to undertake a variety of tasks in the future. It is one of the most recognized solutions on the market. It used by countless individuals around the globe. People are raving about it, and it does not seem like this is going to come to a halt anytime soon. It is a well-developed method, hence the positive reviews. It is certainly a must try!
Noteworthy Features of the MobiKin Transfer for Mobile
Can transfer more than handful of files, including apps, calendars, documents, music, videos, photos, text messages, call logs, notes, and etc.
It can transfer files from iOS to iOS, iOS to Android, Android to iOS, and Android to Android.
No professional computer knowledge required.
Compatible to every iOS device and Android device.
It is free to download.
Follow the steps to transfer data from iPhone to Android with Transfer for Mobile:
Step 1. Download and launch the MobiKin Transfer for Mobile. Connect iPhone and Android devices with USB cables to computer.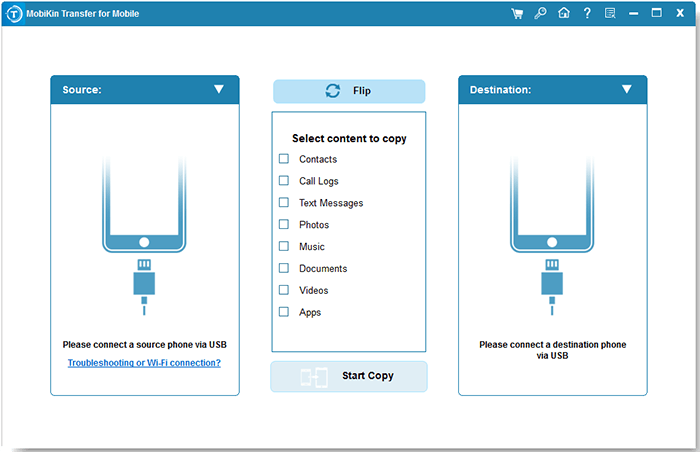 Step 2. Phones will display side by side on the computer screen. Choose files types in the middle that need to be transferred. (If destination device and source device are in the wrong places, click on "Flip.")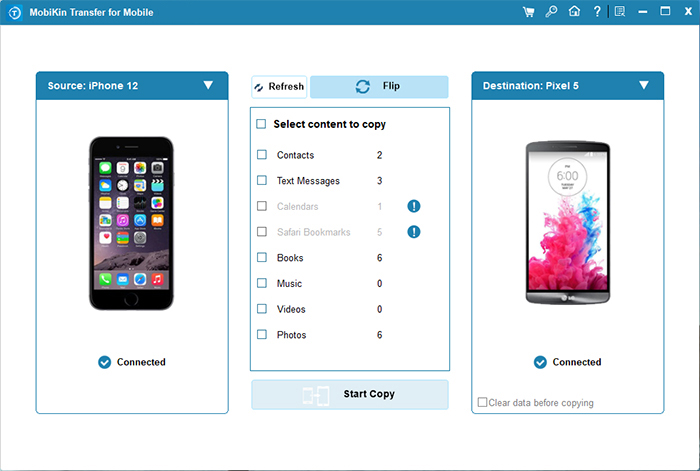 Step 3. After files have been selected, click on "Start Copy." Notification will be received once transfer is completed. Afterward, eject phones and check on Android for the transferred files.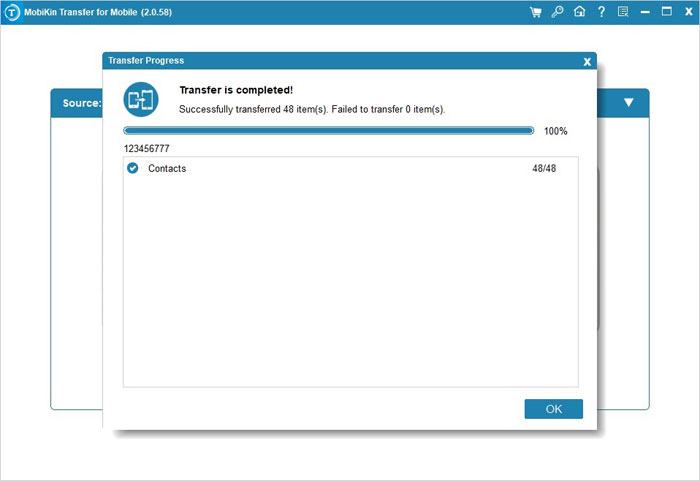 Do Not Let Any Note Get Away!
Your notes are valuable. They have information that can come in handy in the near future. So, do not let any one of them get away when you are switching from iPhone to Android. Any of the above solutions can help you. Of course, there are some that make the transferring process more simplified than others and can help you with more than notes; such is the case of the MobiKin Transfer for Mobile. Put them all to the test and select your best bet!
Related Articles:
How to Transfer Music from iPod to Samsung Galaxy
How to Transfer iTunes Music to Android (5 Proven Ways in 2023)
How to Transfer Photos from iPhone to Android? - Top 5 Ways
[Free Download] Top 7 iPhone to Android Transfer Software/Apps
Samsung to Mac Transfer: How Do I Transfer Files from Samsung to Mac?
BackupTrans Review: Is BackupTrans the Best WhatsApp Transfer Tool?