6 Advisable Ways to Bypass Google Account Verification/Lock after Reset
When you have reset your Android phone, you might be unable to access it due to the Google account verification. This can happen when you forget your Google credentials or purchase a second-hand device that is still linked to the previous owner's Google account. Well, this page provides you with a comprehensive guide on how to bypass Google account verification after reset. We understand the urgency and importance of regaining access to your device, and we're here to guide you through the task without delay.
Part 1: Can You Bypass Google Account Verification after Reset?
Yes! You can bypass Google verification after a factory reset for free using various methods, with or without a computer. These approaches work on different Android devices, including Samsung phones and tablets, and are particularly useful for Android versions 5.1 and above.
Since there are no universal codes to bypass Google accounts, our comprehensive guide provides effective strategies to tackle Factory Reset Protection, whether through email, phone, or alternative ways. Even if you've forgotten your Google account details, our tutorial empowers you to bypass Google account verification after a factory reset, ensuring seamless access restoration to your device.
You Could Potentially Like:
Part 2: How to Bypass Google Account Verification after Reset via Android Unlock
When you aim to bypass Google verification on your Android phone for security purposes, you naturally hope for a high success rate. Android Unlock can indeed be relied upon for this task. As an exceptional tool for Google lock bypass, this program swiftly eliminates Google verification on Android, even if you lack technical expertise. Additionally, it's a valuable solution for unlocking various Android lock screens.
Android Unlock can help you:
Best Samsung FRP bypass tool to bypass Google account verification after reset without prerequisites.
Maintain Android data intact after FRP removal.
Remove lock screens on Android phones without limits.
Eliminate various Android lock screens, including patterns, PINs, passwords, fingerprints, and Face IDs.
Unlock Samsung and LG phones without data loss.
Currently, it helps bypass Google locks for most models of Samsung, Xiaomi, Redmi, OPPO, Realme, and Vivo phones. Plus, it can unlock screen locks for 15 brands and 2000+ Android device models.
It won't disclose your privacy.

Next, let's take Samsung as an example to explain how to get past Google lock after reset using Android Unlock:
Step 1. After downloading Android Unlock on your computer, ensure Wi-Fi is enabled on your Samsung device. Launch the program, then choose "Screen Unlock" > "Unlock Android Screen & FRP".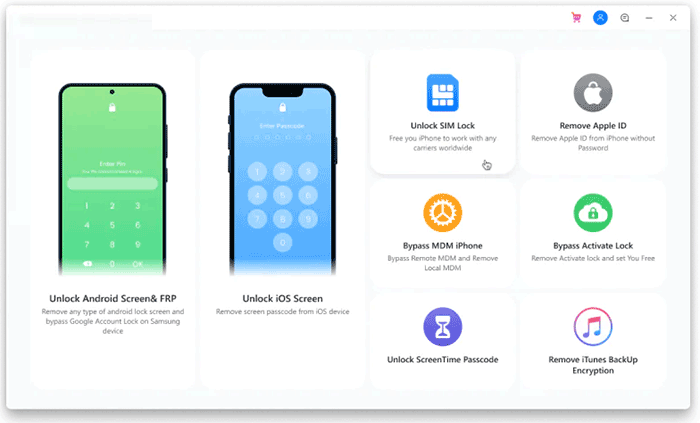 Step 2. From the next screen, select "Remove Google Account Lock (FRP)".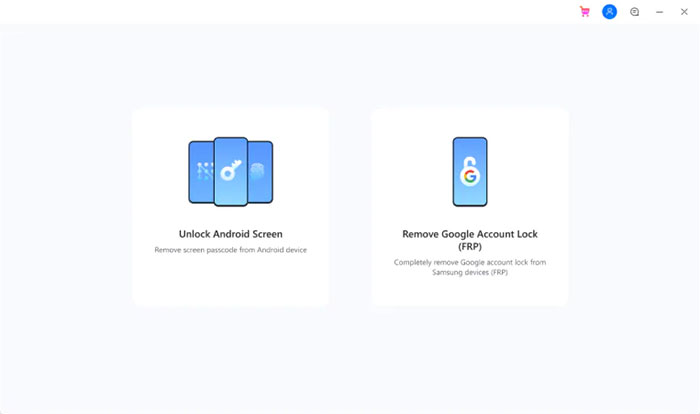 Step 3. Opt for "Remove Google FRP Lock" > "Android 6/9/10". If you're unsure about your device's OS version, select the third option.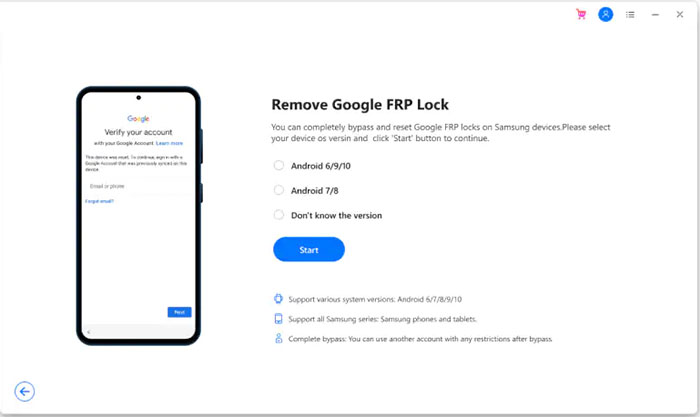 Step 4. Connect your Samsung phone to the computer via USB, and you'll see the "Sending Notification to Samsung Device" screen.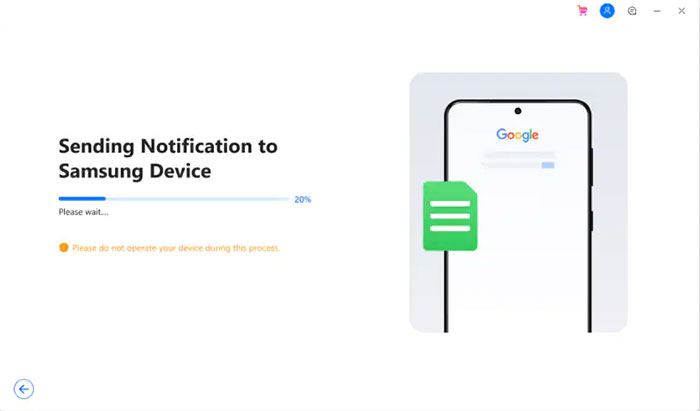 Step 5. Follow the on-screen instructions to set up your device. Tap "View" to access the Samsung App Store, then install and open the device's Internet browser. Visit drfonetoolkit.com.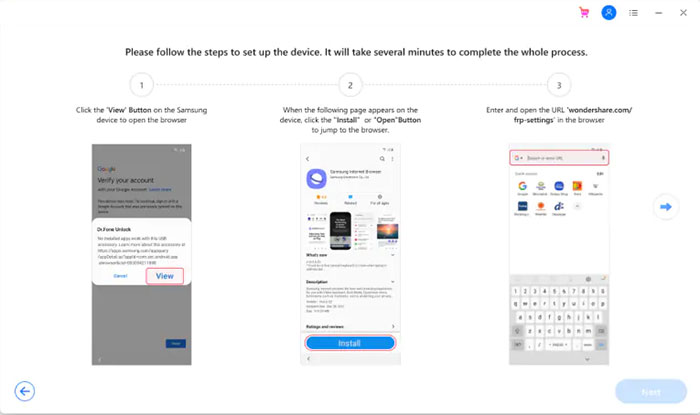 Step 6. Choose "Android 6/9/10" and tap "Open Settings". Enable "Pin" and select "Do not require" > "CONTINUE".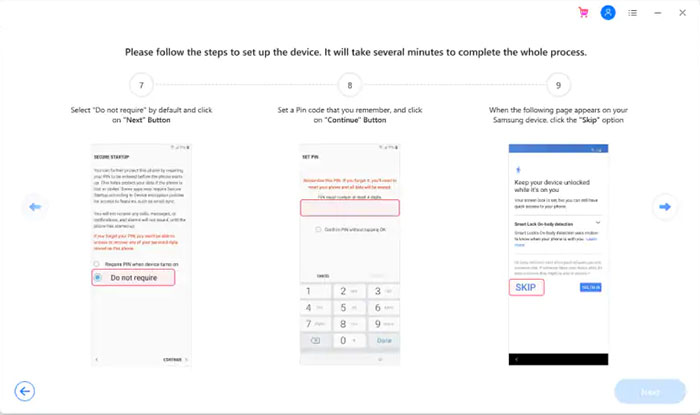 Step 7. Finally, bypass the FRP Google account lock on your smartphone by following the simple directions on the program interface.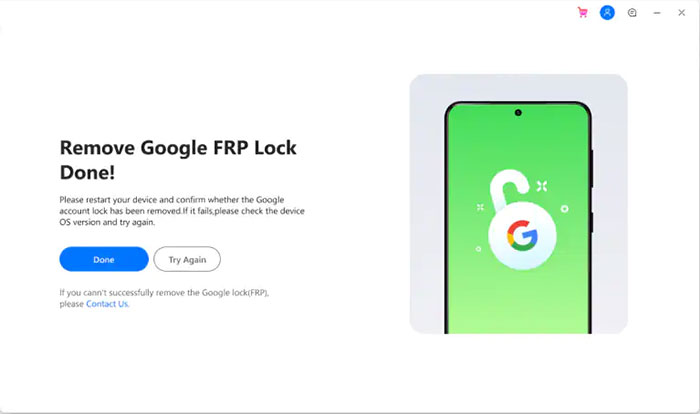 Part 3: How to Bypass Google Account Verification after Reset without PC Using SMS
This method can be risky and complex, involving unauthorized methods that may compromise your device's security. While I can outline the steps you might encounter, please proceed cautiously. Learn how to bypass Google account verification after resetting without a PC via SMS:
Connect your Android phone to the Internet.
Enter an email and choose the "via SMS" option.
Compose any message and send it to 112.
A notification will appear, indicating an error.
Tap the call button, then input #4636##, and tap the dial button.
You'll be directed to your phone's "Settings".
Perform a hard reset, and after your phone resets, you should regain access without entering your Google credentials.
See More:
Part 4: How to Bypass Google Lock after Reset via Google Keyboard (Android 6.0 and Older)
For Android OS 6 and older, Google Keyboard can help bypass Google account verification after a factory reset, allowing users to connect their own Google account to the device. Here are the steps for Gmail bypass Google account verification via Google Keyboard:
On the Google verification page, tap the field for Email or Phone to activate the keyboard.
Press and hold the "@" symbol on the keyboard.
When the Android keyboard Settings menu appears, tap it.
Tap the three dots and select "Help & Feedback".
Choose the "Using Google Keyboard" option, highlight any text on that page, and tap "Web search".
Enter "Settings" and select "About Phone".
Locate "Build Number" and tap it seven times.
Return to the previous menu and tap "Developer options".

Enable "OEM Unlocking".
Restart your device and connect to Wi-Fi, and you'll find that Google verification is bypassed.
Part 5: How to Bypass Google Verification after Reset via Google TalkBack
Uncover an alternate route to bypass Google Account Verification after factory reset Android without relying on a Google Keyboard and a PC, using the TalkBack method. If you don't have Google Keyboard installed, there's no need to be concerned. Below is how to bypass Google account verification on Android with Google TalkBack:
Power on your device and connect it to a Wi-Fi network.
Tap the "Home" button three times to activate Talkback.
Use finger gestures to draw an "L" shape anywhere on the TalkBack application screen.
From the options presented, double-tap on Talkback Settings.

While the screen is active, select the "Speak" option.
Then, draw another "L" gesture on the screen and tap "Pause Feedback".
Utilize the search function to access "Help & Feedback" > "Voice" > "Get Started with Voice Access".
Subsequently, play the video that appears and share it. This action will take you to YouTube.
On the YouTube interface, tap the icon button in the top right corner. Choose "YouTube Terms of Service" and your preferred browser.
Upon completion, the FRP will be successfully removed, allowing you to use the device as usual.
Part 6: How to Bypass Google Verification after Factory Reset via SIM Card
Looking for the simplest ways to bypass the FRP Google account without technical expertise? If you have an unused, unlocked phone and a SIM card, consider this method. Next, go over how to bypass Google account verification after reset without computer using a SIM card:
Place a SIM card into your Android device.

Dial your SIM card's number using a different phone.
Accept the incoming call on your Android device.
Click on the number and choose to add it to a new contact.
In the "Add Contact" screen, input a sequence of numbers and save the contact.
To save it, you'll need to create a new Google account.
Afterward, restart your Android device, and Google verification will be bypassed.
Part 7: How to Get Past Google Lock after Reset by Contacting the Device Manufacturer
If you can't bypass Google account verification after a reset without a computer, consider reaching out to the device manufacturer or a service center for help. How do I bypass Google verification after factory reset by contacting the device manufacturer?
Gather proof of ownership (receipt, IMEI, etc.).
Contact the manufacturer's customer support.
Explain the situation and provide proof.
Follow their instructions patiently.
Once verified, they'll guide you through unlocking the device. (Costs and procedures may vary.)
Part 8: FAQs about Google Verification Bypass
Q1: How to remove Google Account from Android before factory reset
Open "Settings" > "Cloud & Accounts" > "Accounts".
Select "Google Account" and the three dots in the top-right corner.
Choose "Remove account" and confirm to remove FRP.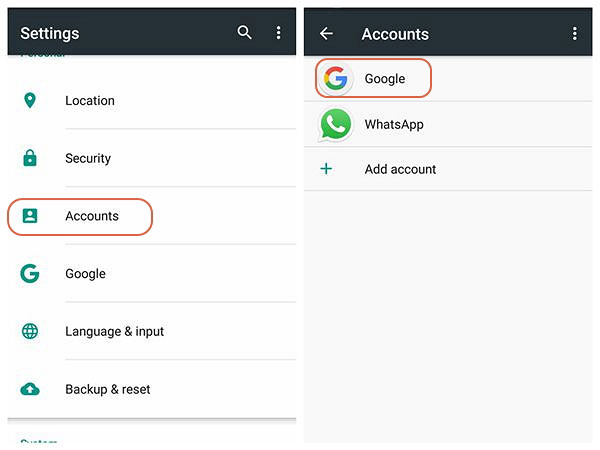 Q2: Is it risky to bypass Google Account verification after reset
Bypassing Google Account verification after a factory reset, often referred to as "FRP (Factory Reset Protection) bypass", can be risky and is generally not recommended.
Q3: Is there any free Google verification bypass tool
Most free FRP bypass options are readily available on the internet, but their reliability and security can be questionable. It is advisable to opt for a paid FRP bypass tool from a reputable provider like Android Unlock for a more dependable and secure solution.
Q4: How to enable and disable Google account verification (FRP)
To enable Factory Reset Protection, go to "Settings" > "Accounts"; ensure a Google account is linked, and you can add a second one if needed (remember the ID and password).
To disable FRP, go to "Settings" > "Accounts", select the linked Google account, go for more options, and manually remove the account.
Concluding Thoughts
Today, we just explored six effective methods to bypass Google account verification after a reset. These techniques are designed to cater to a wide range of scenarios and user preferences. Well, if you aren't tech-savvy or to avoid possible inconveniences, just take Android Unlock as your ideal pick. In addition to bypassing Google locks on most Android devices, this program can also eliminate various types of screen locks, including PIN, password, pattern, fingerprint, and face lock. Seeing is believing; just try this product after the free download and easy installation.

Related Articles:
Hot Tips to Restore Call History Backup from Google Drive [2023]
4 Techniques to Recover Photos from Old Google Account on Android [2023]
6 Simple Ways to Unlock Android Phone without Google Account
Do It Yourself - How To Reset Your Gmail Password On Android in Less Than 5 Minutes!
What to Do If I Cannot Sign in Google Account on Android?
[Specific Introduction] How to Use Google Drive on Android & PC?