Upgrading Your Phone? 16 Things to Do When You Get a New Phone
Got a shiny new smartphone? Next, you should do a number of things to get your phone up and running as per your needs. Hence, what can we do to keep us constantly reached out to the people, settings, security, or other things that matter most?
Well, this post is all about "what to do when you get a new phone". Please now scroll down to learn something indispensable before getting the best out of your new device.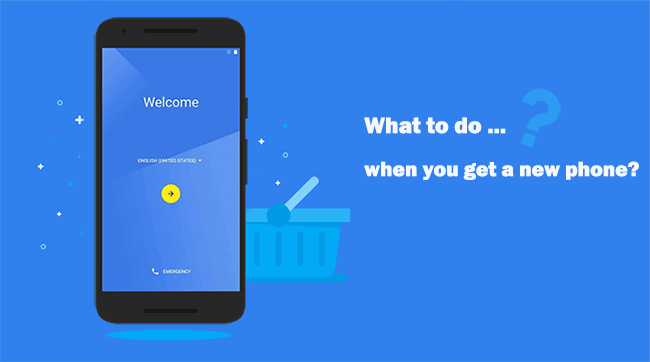 Part 1: 15 Things You Should Do When You Get a New Phone
1. Inspect the New Phone
Firstly, here are five tips for you before getting a new phone:
Check all the items that come in the phone box with it.
Go through all the ports to ensure they fit properly.
Check the battery if you can open the case.
Take out the tray of SIM and SD card if it has.
Take a close look at everything for cracks.
2. Check the Phone Sensors
What to do before getting a new phone with multiple sensors? You know, your phone might include a magnetometer, accelerometer, gyroscope, proximity, and light sensors. They work at critical times generally, so it is necessary to test them one by one before getting the device.
3. Charge the Phone for 8H
Keep your phone powered off and let it charge for eight hours. In doing so, it won't die halfway while installing an app, moving data, or updating its operating system.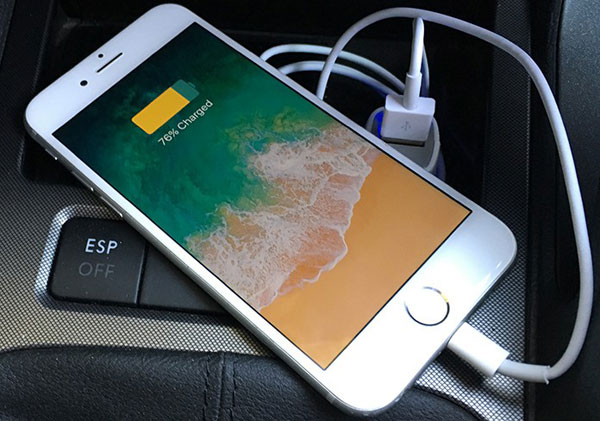 4. Connect Your WiFi
After charging it, next up is to connect the phone to a WiFi connection. (iPhone won't connect to Wi-Fi?) Your new cell phone requires some apps to install. A reliable WiFi network is a must to do it. We need the Internet connection on new devices and utilize it on a regular basis.
5. Connect Email Accounts
We would almost inevitably receive and send mail from a new smartphone via Gmail, Outlook, Yahoo, etc. The setups can vary, depending on the phones and email clients. Most Email apps often contain settings that enable you to choose how often new emails are sent to you and how you'll be notified once a new email arrives. (check how to set up Gmail on iPhone?)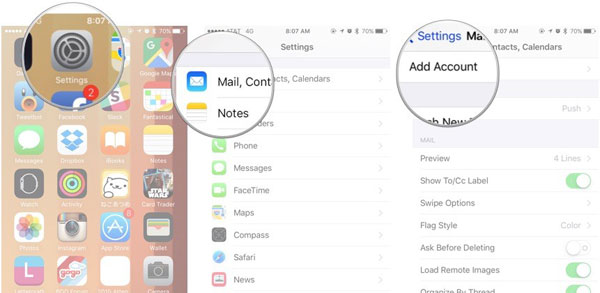 Click to Learn:
6. Disable Bloatware
You cannot remove most pre-installed applications unless you decide to root your device. They take up space and can slow down your phone. To maximize your device's capabilities, you can disable them from Settings > Applications.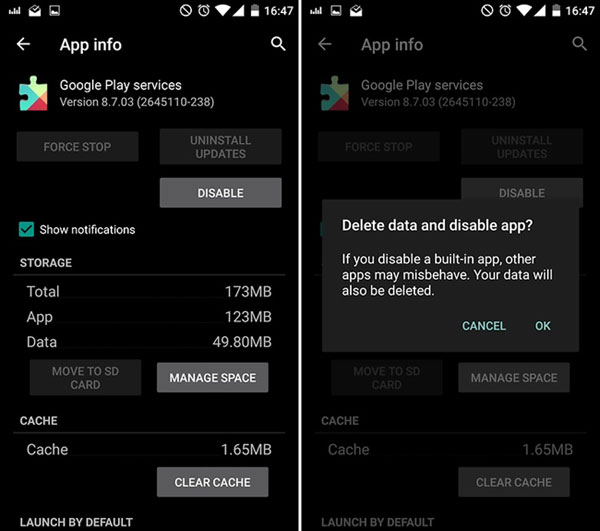 7. Remove Junk from Your Phone
Your phones may contain some unwanted services or installation packages. Some of them are built-in thus cannot be uninstalled, while some others can. So why wasting time on the junk after getting a new phone? The best thing to do is to wipe off the junk files you do not desire.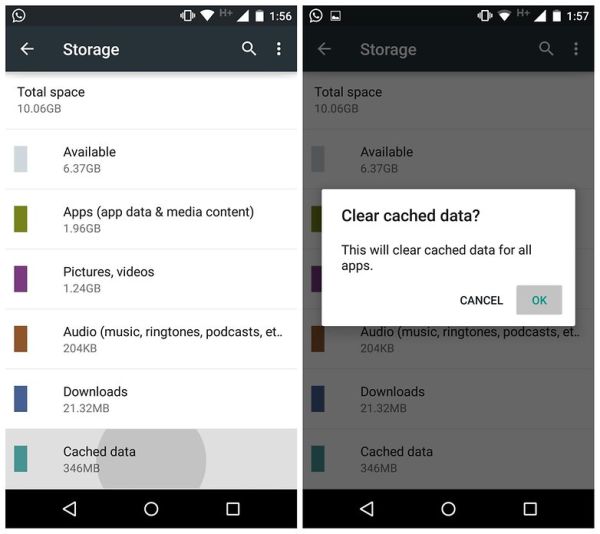 8. Protect Your Privacy
Setting a PIN, password, or pattern to lock your phone can largely keep your device from prying eyes. And it is also important to get and activate Google Find My Device to secure your privacy for fear of being lost or stolen.
9. Enable Voice Control
Voice assistants allow you to ask them questions and return instructions. They keep things that go on your phone smoothly on special occasions. So you'd better switch them on sooner rather than later. Here's how:
On an iPhone, select Siri from Settings to enable the voice assistant.

For an Android phone, head to the Google app > Settings > Voice > turn on "OK Google detection".
10. Download Apps
Downloading apps is one of the most necessary things that need to be added to the to-do list. You can search for, browse, review, purchase, and download apps by visiting App Store/Google Play on your device. (can't download apps from Google Play Store?) Or visit your phone's Interactive Simulator for further instructions on downloading apps.
11. Pair with a Bluetooth Accessory
When a Bluetooth accessory is paired with your phone, it works with your phone anytime without needing to pair them again. By the way, common manufacturers set PINs as 0000 and 1234.
To pair with a Bluetooth accessory, you can:
Enable your phone's Bluetooth from Settings.
Ensure the other Bluetooth phone is in Discover mode.
Select the suitable Bluetooth accessory from the list of devices available.
Input your PIN if requested.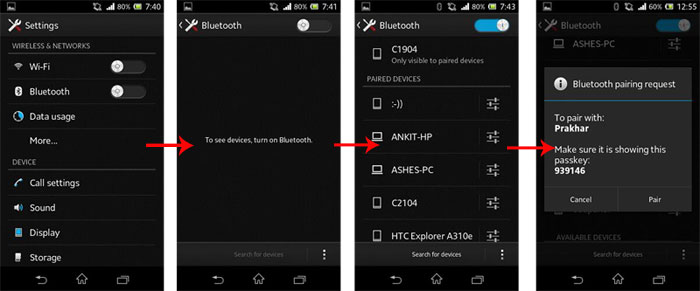 12. Check for Updates
One of the most vital things to do before upgrading an iPhone/Android is to keep a copy of your phone data on a computer as a secure backup. (see multiple ways to back up iPhone or back up Android phone)
On iPhone, open Settings > General > Software Update.
If there is an update available, it will be displayed here.
Touch Install and follow the on-screen directions.

On Android, head to Settings > About Phone > System Updates.
The phone will automatically check for any updates available.
Follow the instructions on the screen once the updates are detected.
13. Maximize Battery Life
To prolong your battery's life and extend the time interval between charges, maximizing the battery life should be among the things to put on your phone. Here are the notes:
Keep your battery cool.
Recharge your battery via the smart charger that came with your device.
Adjust the brightness on your phone screen to the lowest comfortable level.
Power off battery-draining features the moment you aren't using them. (WiFi, Bluetooth, GPS, live wallpapers, etc.
Close apps once you're not using them or keep them from running in the background.
Activate Low Power Mode on your iPhone/Android phone from Settings.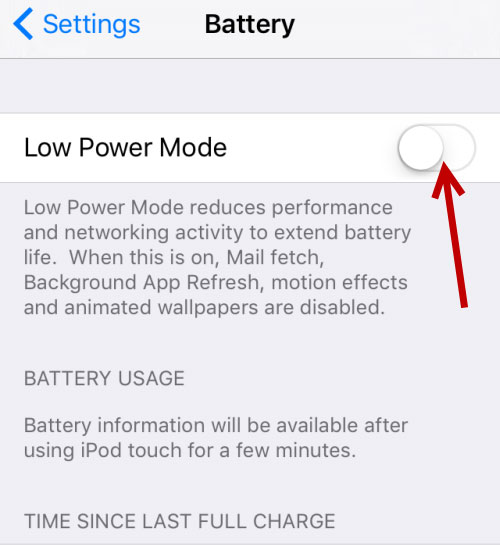 14. Understand Data Usage
Everything done on your phone may create new data usage. You'd better monitor it, assuming you don't have an unlimited data plan. Otherwise, monitor the usage with apps like My Data Manager: Data Usage. More tips to save your data usage are as follows:
Connect to WiFi for data-heavy activities like streaming songs or videos.
Enable Settings that alert you to switch to WiFi connection, if possible.
Set cellular data limit from Settings > Data usage.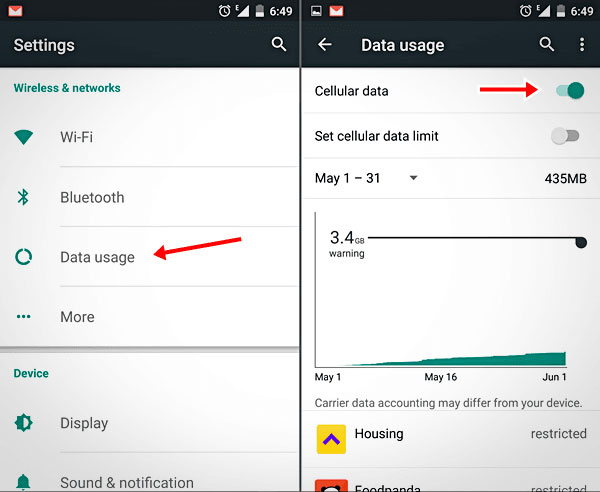 15. Protect Your Phone
What can you do with a smartphone to protect it from everyday knocks and bumps? Putting a screen protector on it can lessen the chance of the screen shattering. Most online stores offer great selections across a whole range of cell phones with low expenses.
Extended Reading:
Part 2: One Thing You Must Do on Your New Phone
Getting a new phone, you are supposed to transfer huge files from the old phone to the new phone afterward. A program like MobiKin Transfer for Mobile (Win and Mac) is exactly what you deserve. It performs multiple tasks on the go in one tap, helping copy items from Android to Android, Android to iPhone, iPhone to iPhone, and iPhone to Android.
Core features of MobiKin Transfer for Mobile:
Transfer data from an old phone to a new phone, irrespective of the OS your devices are running.
Copy such files as contacts, call logs, text messages, photos, videos, music, documents, apps, etc.
One-click copy, quick processing, lossless transfer, and 100% secure.
Run smoothly almost all smartphones, containing Samsung, Huawei, Sony, Motorola, LG, OPPO, Xiaomi, Google, DELL, all generations of iPhones, iPads, and iPod touch.
It won't reveal your privacy.
Step 1. Connect your old and new phones to a computer
Launch the program after the download and installation. Next, connect the two phones to the computer via USB cables and follow the on-screen prompts to let the software identify the devices.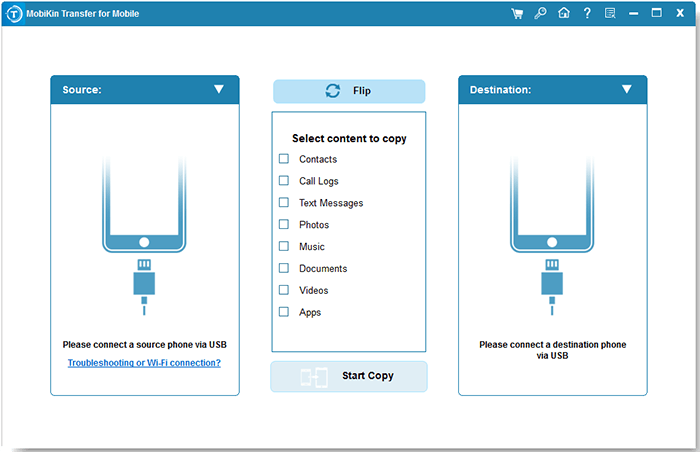 Step 2. Check the positions of the devices
After the recognition, you should ensure the source phone is the one for sending files and the other one, the recipient. If not, tap "Flip" to correct their positions.
Step 3. Transfer data to the new phone from the old one
Mark the data types in the middle of the panel before clicking "Start Copy". Then the data transfer from the old to the new phone will commence immediately.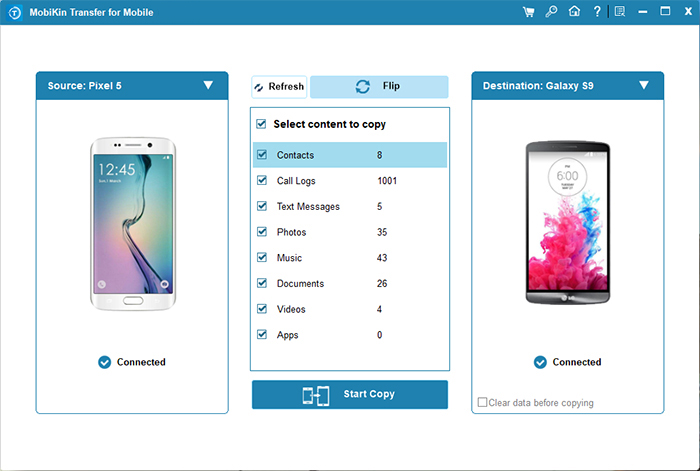 Summing Up
Here's all that you need to know about what to do when you get a new phone. Generally, Methods 4, 5, 7, 8, 9, 10, 11 can largely let you get a better user experience on the new phone, while the rest are more about optimizing the performance of your device to preserve its hardware and software.
Finally, you can utilize MobiKin Transfer for Mobile to copy files across if you have many contacts, SMS, photos, videos, etc., on your old phone.
Related Articles:
How to Transfer Data from Android to iPhone after Setup?
How to Install APK on Android Devices
Top 10 iPhone Security Apps to Protect Your Device Well
How to Disable Android OS Update Notification?
[Up to Date] How to Wipe Android Phone Completely before Selling?