Back Up Text Messages on Android without Apps: Practical Tips for Easy Transfer
While there are numerous applications available for text message backups, there may be situations where you prefer not to rely on additional apps. Perhaps the Android internal storage is full, or you would like to try a more streamlined approach. OK, this page is here to address those circumstances and provide you with practical tips for how to back up text messages on Android without apps, ensuring a smooth and hassle-free transfer of your texts.
Part 1: How to Back Up Text Messages on Android without App via Google SMS Backup
Primarily, you can quickly and effortlessly back up your Android messages without apps using Google service. By doing so, all the data from your Android device, such as text messages, videos, audio files, and more, will be securely stored on Google Drive for future use.
How to save text messages on Android with Google SMS Backup?
Click to See:
Part 2: How to Back Up Messages on Android to Computer in One Click
MobiKin Backup Manager for Android (Win and Mac), known as Android Backup & Restore, is your trusted solution for backing up your Android phone to your PC easily and effectively without data loss. It lets you choose which data to back up and conveniently restore lost data. You can connect your Android phone via USB or WiFi, and it supports various Android devices and OS versions for flexibility.
What makes MobiKin Android Backup & Restore exceptional?
How to back up SMS from Android to PC/Mac with MobiKin Android Backup & Restore?
Step 1. Run the software and connect Android to your computer
Download and install the software on your computer. Launch it and connect your Android phone to the computer using a USB cable. If required, enable USB debugging on your Android device to get it recognized.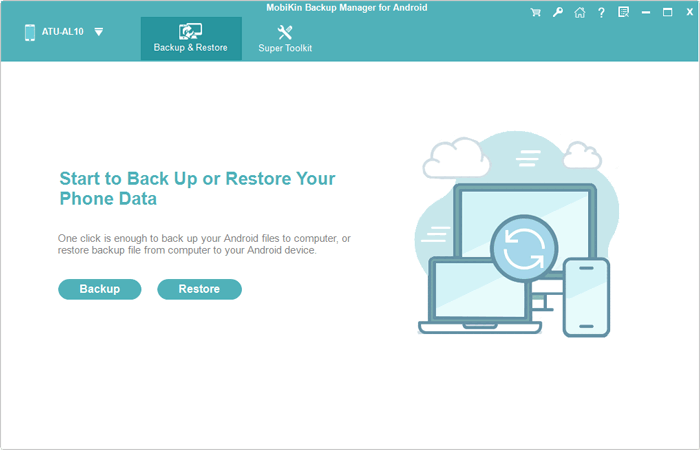 Step 2. Choose Messages and specify a location to save them
Once the software is launched, you will see the options "Backup" and "Restore" on the interface. Click on "Backup" to proceed. You will be presented with a list of file types that can be backed up. Simply select "Messages" and click the "Browser" button to choose a location to save the backup data.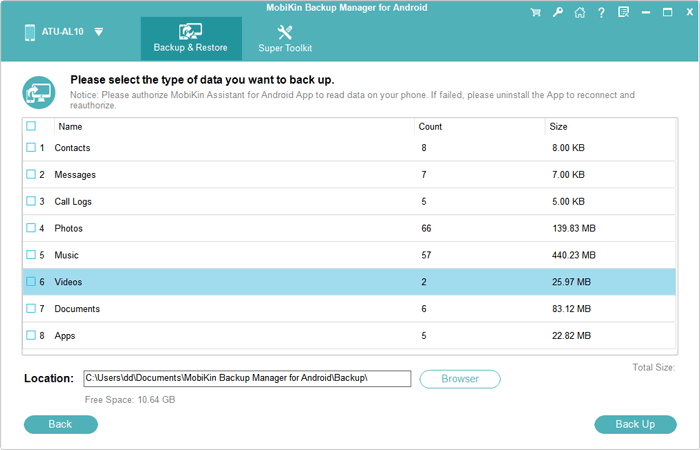 Step 3. Back up text messages on Android instantly
After making the necessary settings, click the "Back Up" button to start the backup from your Android device to your computer. The progress bar on the software will indicate the status and completion of the backup task.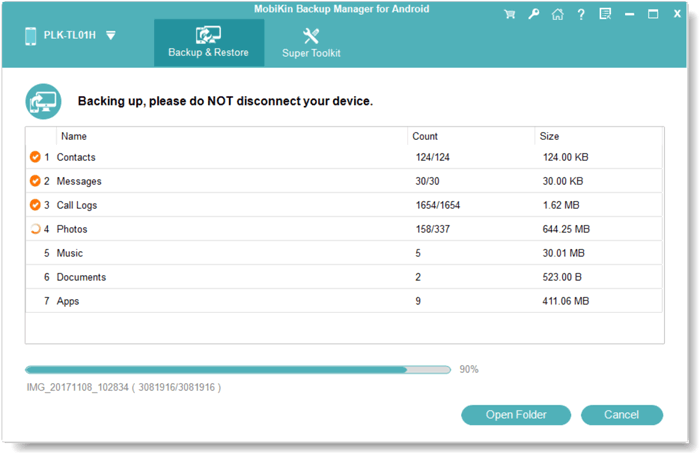 Know More:
Part 3: How to Save Text Messages on Android with Apps
3.1 Using SMS Backup & Restore
SMS Backup & Restore is a qualified app that enables you to effortlessly back up and restore your SMS messages, MMS attachments, call logs, and system settings. It offers customization options, scheduling automatic backups, and saving backups to cloud storage services. With its intuitive interface, the app simplifies the process of safeguarding and recovering your SMS data.
How do I back up all text messages on Android with SMS Backup & Restore?
3.2 Using SMS Backup+
SMS Backup+ is a powerful app that securely backs up and restores your SMS messages, MMS attachments, and call logs. It seamlessly integrates with Gmail, making it easy to store and transfer your backups. With this app, you can manage your SMS data with confidence and ensure your conversations are always accessible.
How to back up text messages on Android with SMS Backup+?
FAQs on Android Text Message Backup
Q1: Where Are Text Messages Stored on Android
Text messages on Android smartphones are typically saved in the default text message app. Additionally, you have the option to store them in Google Drive if you have enabled Google Backup. (For more details about this query, check out the page - where are texts stored on Android?)
Q2: How to Back Up Deleted Android Messages to PC
MobiKin Doctor for Android is a PC-based tool that enables the recovery of deleted text messages. By downloading and using this software on your PC, you can easily retrieve and restore your deleted text messages for your convenience.
Q3: How to Back Up Text Messages to a New Android Phone
If you have a new phone, you might consider porting your mobile number for better services and exploring attractive plans offered by other operators. With a simple click on the "Start Copy" button, programs like MobiKin Transfer for Mobile take care of the data transfer across your devices, allowing you to relax.
Final Words
If you are looking for a reliable and efficient solution that simplifies the process even further, we highly recommend using MobiKin Backup Manager for Android. This powerful software offers a seamless way to back up your messages to your computer without the need for any additional apps. With its beginner-friendly interface and comprehensive features, it provides a convenient way for preserving text messages on a secure and separate storage.
Related Articles:
Why Won't My Text Messages Send on My Android? [12 Reasons & 16 Solutions]
How to Read Text Messages Online? 9 Ways You Wish You'd Known Earlier
How to Print out Text Messages from Android Phone? (Best 4 Ways)
[Solved!] How to Save WhatsApp Messages from Android to PC?
How to Retrieve Text Messages from a Broken Android Phone in 2023
13 Ways to Fix Text Messages from One Person Disappeared on iPhone 14/13/12/11/X/8