[One-stop Tutorial] How to Back Up WeChat Chat History to PC?
WeChat app was initially born as a messaging and social media platform, but now, its functions are getting better and better, and it has developed into a mature bill payment platform. This one-stop platform for communicating, paying bills, and completing online orders has touched most of our lives. We also naturally store a lot of important information on WeChat, such as bills, fond memories with relatives, and meaningful conversations with customers. WeChat backup to PC is imperative.
We all know that backup is the most effective way to ensure data security. After all, there are too many uncontrollable factors that can cause us to delete or lose important information on our phones. In this article, we will introduce how to back up WeChat on PC in four simple and effective ways.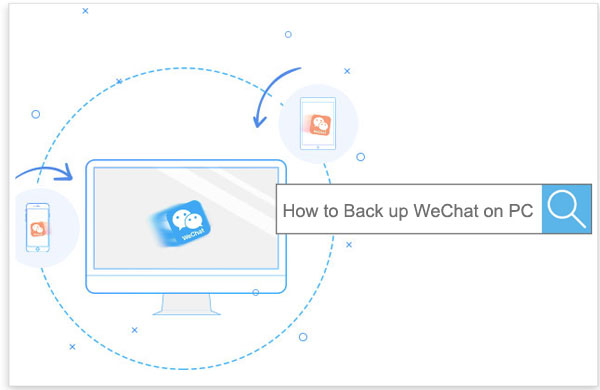 Part 1: Why Take WeChat Chat History Backups?
People often have a blank face after losing WeChat data and don't know how it was lost. In this section, we will list all the scenarios that may cause the loss of WeChat chat history.
Media data expires after a specific time: Although WeChat provides us with a platform to view and share media files, we can also view them without downloading them. However, after a specific time, these files will expire, and you will not be able to view them anymore.
Accidental deletion: This is the most common cause of loss of WeChat messages. We need to clear the cache in WeChat regularly to avoid occupying too much phone memory. However, once you perform this operation, the media data that has not been downloaded will be regarded as junk files and permanently cleared along with the cached data.
Virus and malware attack: If your device is attacked by malware or virus, it will also cause damage and loss of WeChat data.
Firmware upgrade failed: There is another situation that may also cause WeChat data loss. It is during or after you install an unstable firmware update. Because the firmware is not installed correctly or the update is unstable, you will lose everything.
In summary, backing up WeChat from your iPhone and Android to PC is imminent.
Part 2: How to Back Up WeChat on PC with WeChat Transfer
If you want to back up WeChat history to PC with one click, then you can use WeChat Transfer, a powerful tool that allows you to easily back up WeChat messages, pictures, videos, and audio data to PC. In addition to WeChat, it also supports multiple social applications, such as WhatsApp, Line, Kik, Viber, etc. It also has many other functions worthy of your exploration. Now, let's summarize a series of advantages of WeChat Transfer.
Advantages of Performing WeChat Backup with WeChat Transfer:
One-tap to back up WeChat contacts/chat history from iOS devices to computers.
Back up other social apps on iOS devices, such as WhatsApp, Line, Viber, Kik, etc.
You can carry out the backup process offline with the help of a USB cable.
Run smoothly on a full range of iDevices, including iPhone 12/12 Pro (Max)/12 mini, iPhone 11/11 Pro/11 Pro Max, iPhone X/XR/Xs/Xs Max, iPhone 8/8 Plus, iPhone 7/7 Plus, iPhone 6/6S/6 Plus, iPod, iPad, etc.
Easy to operate, many times faster than other backup methods.
Guide: How to back up WeChat to PC via WeChat Transfer?
Step 1. Get the WeChat Transfer program downloaded and installed on your computer. Launch it and click "WeChat" from the left panel. Then, plug your iPhone/iPad into the computer via a USB cable.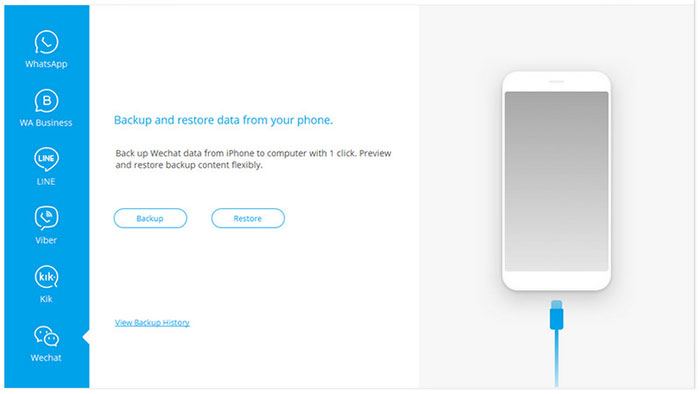 Step 2. Tap on the "Backup" option from the main interface to initiate the WeChat backup process. The utility will now analyze your device and back up all WeChat messages and all media data content.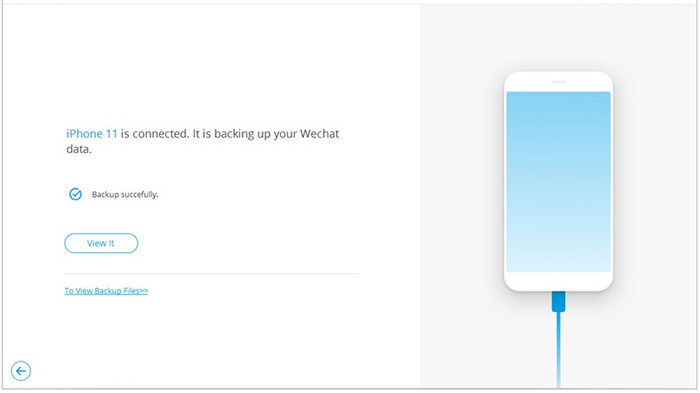 Step 3. Once done, a new screen will appear, where you can click the "View it" button to preview the backed-up WeChat data on your computer.
People Also Like:
Part 3: How to Back Up WeChat History to PC via WeChat Backup & Restore
Users who do not know the PC version of WeChat may be unfamiliar with this method. We can use the WeChat client of Windows and Mac computers to mirror the WeChat of our mobile phone, and then back up the WeChat data from the iPhone/Android phone to the computer. But before we start, we have to make sure that the device and the computer are connected to the same WiFi network, and the efficiency of the backup depends on the stability of the WiFi network.
How to back up WeChat messages to PC using WeChat Backup & Restore?
Download and install WeChat client software on your Windows or Mac (Here, set Windows PC as an example).
Launch it and log in to your account (Can't Log in to WeChat?).
Tap "Menu" on the bottom-left of the WeChat client's screen and choose "Backup and Restore."
On the next window, you should choose whether to "Back up on PC" or "Restore on Phone".

Choose "Back up on PC", and it will display all the conversations you have on your WeChat.
Select any of the conversations you want to back up and hit "OK".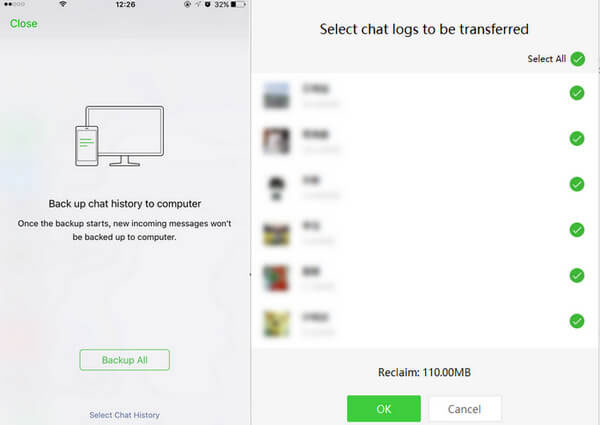 What you need to do later is to wait patiently for the backup to complete. Please note that during the backup process, the network connection must not be interrupted, otherwise, you will have to restart the entire backup process.
Part 4: How to Back Up WeChat Chat History to PC via Web WeChat
Using the Web WeChat to back up WeChat data to a PC is a very old-school approach. You need to first send the content from the WeChat mobile client to the PC client, and then download it from the PC client to the computer. Let us now understand the specific approach.
How to download WeChat chat history to PC via Web WeChat:
Head to the WeChat for Web page on your computer.
Use your phone to Scan the QR Code popping up on the computer desktop to access your WeChat account on your computer.

Open the chat you want to back up the files from, press and hold on the photos or videos, and tap on "More" so that you can mark multiple attachments at one time.
After file selection, hit the "File Transfer" icon and forward those attachments to yourself. (Details: how to back up WeChat media files on Web WeChat?)

Go to the web WeChat on your computer, and you will see the pictures and videos you have sent.
Download the attachments to your computer now. And you need to download them now:
To download photos: you can right-click on the image and select the "Download" option.

To save the videos: you need to open the video and right-click on it to select "Save video as".
People Also Like:
Part 5: How to Sync WeChat Messages to PC with iTunes
Finally, we discussed how to use iTunes to back up WeChat messages to PC. This method is also straightforward to perform, but it should be noted that iTunes does not allow you to back up WeChat to your computer selectively. It can only back up the entire iPhone to the PC at one time, including your WeChat chat history and attachments. Besides, you need to update your iTunes to the latest version to prevent accidental data loss or WeChat backup delays.
How to transfer WeChat data to computer via iTunes?
Connect your iPhone to your PC using a lightning cable and then open iTunes.
On the iTunes interface, tap on your iPhone icon on the left column, and then click "Summary".
Tap on the "This Computer" option in the "Backups" section.
At last, hit the "Back Up Now" button to initiate the WeChat backup process on your PC.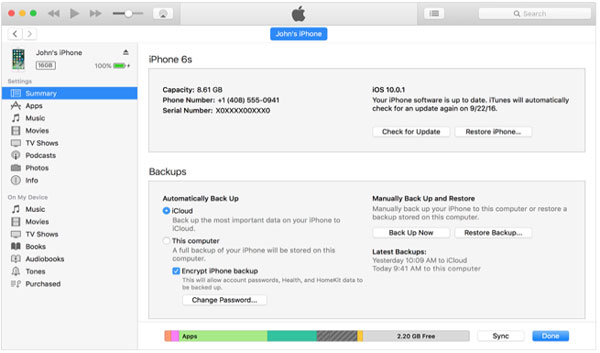 Closing Remarks
To implement WeChat backup to PC, you often only need a computer and a mobile phone. Besides, suppose you want to back up WeChat data selectively and want to restore the backed up WeChat messages to your phone. In that case, you need to use WeChat Transfer, which supports data backup, restoration, and transfer of all social apps on the iPhone. Download WeChat Transfer for free now to experience the wonderful features of this software.
Related Articles:
How to Recover Viber Messages from iPhone on Windows or Mac?
Guide on How to Block or Unblock People on Android Viber
How to Delete Viber Messages on iPhone 12/11/Xs/XR/8/7
How to Backup and Restore Viber Messages on Android
[2021 Updated] How to Transfer Data from OPPO to iPhone?
[2021] Full Guide to Recover Deleted Photos in Redmi Note 8/7 Pro