How to Recover Deleted Phone Numbers from Android? 6 Methods You'd Better Know
Contacts play a vital role in keeping us connected. Losing valuable phone numbers can be displeasing, whether due to accidental deletion, software issues, or failed Android updates. (How to disable Android OS update notification?) If you have ever wondered, "Can you retrieve deleted phone numbers on Android?" you've come to the right place.
Well, this comprehensive guide will illustrate six effective methods to recover deleted phone numbers on Android. We aim to help you regain access to those significant phone numbers, ensuring you never lose touch with your important contacts.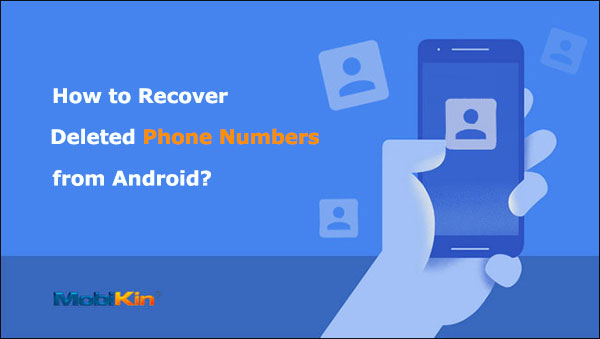 Way 1: Retrieve Deleted Phone Numbers on Android By Checking for Hidden Contacts
If you can't find some lost phone numbers on your Android phone and don't remember deleting them, they might be hidden. Contacts can be saved in different locations like SIM cards, device storage, or Google account; if not selected, they may not appear.
How to retrieve deleted phone numbers on Android by checking for hidden contacts?
Tap on the Contacts app to open it.
Locate the "menu" icon at the top-right corner of your screen. (This icon can either be a hamburger symbol or three vertical dots.)
Next, choose "Contacts to display" to view your phone numbers.
Lastly, select the "All contacts" option to display all the contacts from your SIM card, phone storage, Google accounts, etc.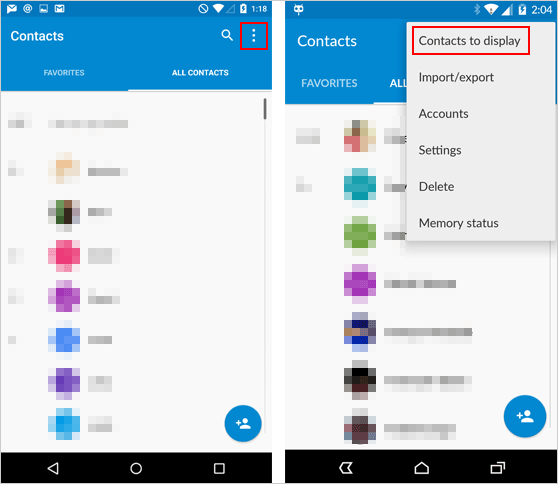 Similar Recommendations:
Way 2: Restore Deleted Phone Numbers from Android Contacts App
To recover the deleted contacts on Android, try to find them in the recycle bin if they are not hidden. Most Android models have a built-in "Recycle Bin" (Similar to that of a PC) to hold recently deleted phone numbers, where deleted contacts are stored for 30 days.
How to find a number you deleted on Android's Contacts app?
Launch the Contacts app on your Android phone.
Go to the "hamburger" tab.
Locate and press the "Trash" feature.

Check if the deleted phone numbers are present.
Restore any phone numbers, if necessary.
Way 3: Recover Deleted Phone Numbers on Android Professionally [High Success Rate]
With the increasing occurrence of Android crashes, accidental deletion, improper memory card insertion, and other factors, the need for data recovery, including valuable Android phone numbers, has become more prevalent.
When it comes to how to find deleted phone numbers from Android directly, MobiKin Doctor for Android (Win and Mac) stands as the leading choice. This software enjoys "Android Data Recovery" and "SD Card Recovery" modes, allowing you to effortlessly recover deleted or lost Android data from different sources.
Why select MobiKin Doctor for Android?
Achieve a high success rate when you recover deleted phone numbers from Android directly.
Effortlessly restore data from both the internal memory and SD card of your Android device.
Support the retrieval of deleted contacts, call logs, SMS, photos, music, videos, audio, documents, etc.
Enable previewing of recoverable data before initiating the recovery process.
Work well with practically all Android devices, including Samsung, Huawei, Sony Xperia, Motorola, HTC, Xiaomi, LG, DELL, Google Pixel, Vivo, OPPO, etc.
It won't let out your privacy.
How to get deleted phone numbers back on Android via Doctor for Android?
Step 1. To recover deleted phone numbers stored in your internal storage or SIM card, first, please root your Android device to grant the necessary access for the recovery tool. Then, install and launch the program on your computer. Connect your Android device to the computer using a USB cable.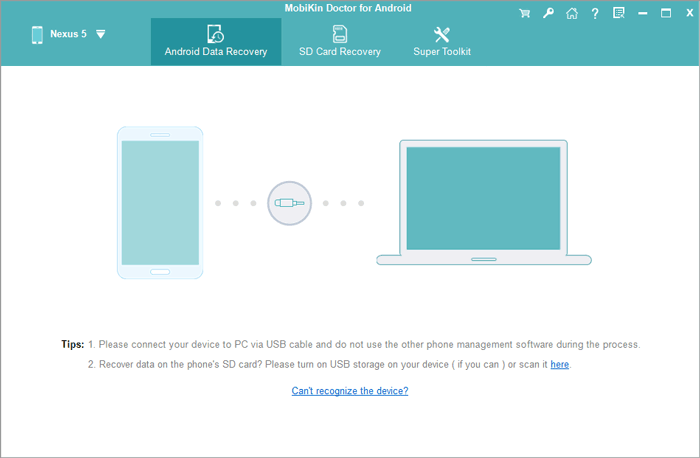 Step 2. Get the phone recognized by the program by following the on-screen prompts. Subsequently, you will see the main interface. Please tick the "Contacts" tab and tap "Next" to scan your phone.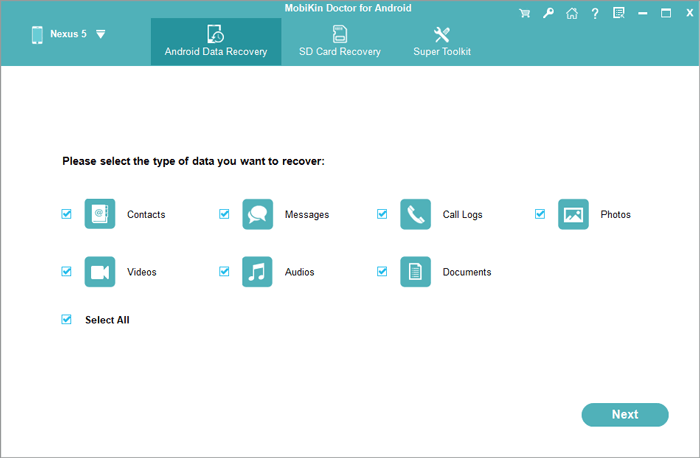 Step 3. After that, you can preview all the deleted phone numbers and related info on the right window. Choose the items you need and tap the "Recover" button to retrieve deleted phone numbers from Android.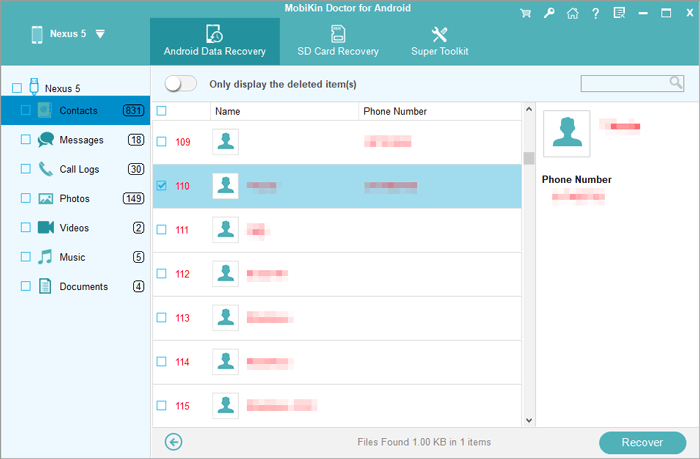 Additional References:
Way 4: Retrieve Numbers Deleted on Android from Google Account
If Google account sync had been enabled on your Android phone before you lost your contacts, they would have been automatically backed up to your Google account. You can try to restore your Android phone numbers and other info from this backup. Let's check out how to recover a deleted phone number on Android from your Google account:
Access Google Contacts on your computer.
Sign in using the Google account associated with your Android phone.
Navigate to the top right corner of the page and choose "Contacts" > "More" > "Restore Contacts..." from the dropdown menu.

In the ensuing window, select the desired backup based on the time range.
Click the "Confirm" button to sync contacts from Gmail to Android.
You can also recover lost phone numbers from the "Trash" folder on Google Contacts. But it only holds the items for 30 days before they're deleted permanently.
Way 5: Restore Deleted Phone Numbers from Android Using Undo Changes
Occasionally, deleted phone numbers may not be visible in the "Trash" section. Fortunately, you have the option to recover them by undoing recent changes. Google provides the ability to revert all modifications made to your contacts within the last 30 days.
How to get back deleted phone numbers on Android via Undo Changes?
Launch the Google Contacts app.
On the home page, locate and tap the "Fix & Manage" button at the bottom.
Choose "Settings" and scroll down within the settings page.
Select "Undo changes" and pick a time frame from the provided options or set a custom time frame.
Tap "Confirm" and click "OK" to restore the changes. (It may take a few minutes for the restored phone numbers to appear in your contacts list.)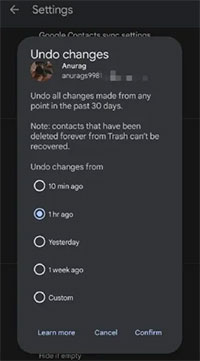 Way 6: Recover Deleted Phone Number on Android by Importing Them from SIM Card
If you accidentally delete phone numbers on your Android phone, try to locate and import contacts to Android from your SIM card, if any. This is because the card has the capacity to store a limited number of contacts or phone numbers. See how to undelete a phone number on Android by importing them from a SIM card:
Launch the Phone/Dialer app on your Android phone and swipe to access your contacts.
Tap the three-dot icon in the top-right corner of the app.
Select the "Import/Export" option.
Look for and tap the "Import from SIM card" option.

Choose the desired location to import and synchronize these phone numbers.
On the following page, you will see a list of contact numbers stored on your SIM card.
Tap and select your wanted contacts.
Press the "Import" button at the bottom to import them to your Android phone.
Closing Thoughts
As you can see from the above, there are multiple ways to retrieve on your Android device, from utilizing built-in features and cloud storage to relying on specialized recovery software. Now, let's summarize them briefly:
Verifying hidden phone numbers or recovering them from the Contacts app on Android is generally straightforward. But things sometimes backfire.
If you synced your Android phone numbers with Google, you could recover them accordingly.
The premise of restoring phone numbers from Android through the "Undo Changes" feature is based on the ability to revert recent modifications made to your contacts.
When you lose phone numbers that also happen to be in the SIM card, it's efficient to import them directly from the card to your device.
MobiKin Doctor for Android is pretty much a universal tool because even if you didn't back up your numbers before deleting the items, there's a decent chance that you can use it to recover them swiftly.
Related Articles:
6 Proven Methods to Retrieve Text Messages from Old Phone Numbers [Android & iPhone]
[Beginners Guide] How to Fix Contacts Not Syncing to Mac in 13 Hot Tips?
4 Reliable Methods to Unlock Apple ID without Phone Number
Ultimate Guide on How to Transfer Contacts from Android to Android in 2023
4 Useful Ways to Transfer Contacts to SIM Cards (Android & iPhone)
How to Import Contacts from Outlook to Android Phone? [Make Tech Easier]