iPhone vs. Android: Compare iPhone and Android in a Dozen Factors
Both mainstream and non-mainstream cell phones are equipped with either Android or iOS systems. Since smartphones have become a sort of "spiritual support" in our hectic modern lives, upgrading them helps us to get a better user experience. (How to speed up an Android phone?) Now, if you are also curious about "iPhone vs. Android: which one is better", go over this scientific guide. Here we will collect the most comprehensive list of factors that can affect the overall performance of your new phone.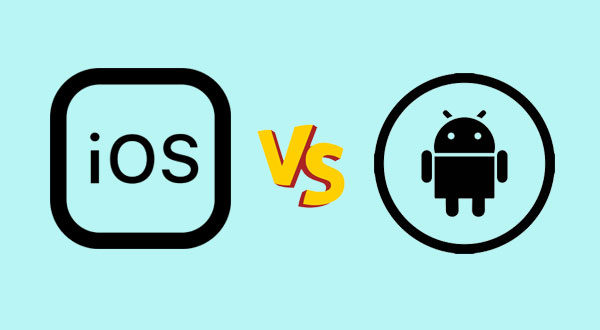 Part 1: iPhone vs. Android: Pricing
On the whole, Apple iPhones are a bit costlier than comparable Android phones. For instance, iPhone 14 Pro starts at $999 for 128GB of storage, while the iPhone 14 Pro Max is $1,099. And additional storage is available for a higher price. The Samsung Galaxy S21 FE starts at $699, while the base model of the Google Pixel 7 starts from $599, and the Pixel 7 Pro is $899.
You Might Also Want to Know:
Part 2: Android vs. iPhone: Design, Display, & Camera
Design:
The latest high-end mobiles for both iPhone and Android often feature a full-face touchscreen and no accessories. For example, the iPhone SE (2022) delivers a "home" button, while the Galaxy S22 Ultra is shipped with a built-in stylus. Further, Apple comes with a multitude of continuity, allowing you to carry over work and data from one device to another to save you time. On the contrary, only a handful of Android device makers have hardware ecosystems that approach Apple.
Display:
The Super Retina and Super Retina XDR displays utilize organic light-emitting diode technology. They include further advancements over traditional OLED displays.
It is said that Android phones like Galaxy S22, Pixel 7, and OnePlus 11 come packed with the most advanced displays. They feature new Corning, Gorilla, and Glass Victus and are equipped with tough glasses. The iPhone is generally larger, but Android phones have more options in this regard.
Camera:
After putting all three of the top most recent phone cameras to the test, we found the Galaxy S22 Ultra Camera exceeds both the Pixel 7 Pro and the iPhone 14 Pro.
In a nutshell, Android is better or iPhone? The answer is fairly obvious to everybody in terms of the design, display, and camera.
Part 3: Android versus iPhone: Processor, Battery Life, & Charging
| | | |
| --- | --- | --- |
| | Android | iPhone |
| Processor | The Snapdragon chip that Qualcomm makes is the 8+ Gen 1 with the fastest performance. | The most recent processor is an A15 Bionic microchip that is in the latest iPhone models. |
| | With mobiles like Samsung, Google, and Motorola, you don't have to charge the battery as often as most iPhones. | Apple can squeeze decent battery life through hardware and software optimizations. |
While Apple is on par with Android in terms of processors, many of the latest Android phones are already quietly ahead of Apple in terms of battery life, although the latter can assist in optimizing the phone's hardware and software to get better use of batteries. (Is the iPhone battery draining faster after iOS update?)
Part 4: Apple vs. Android: Connectivity & Authentication
| | | |
| --- | --- | --- |
| | Apple | Android |
| Connectivity | The latest iPhone models use the proprietary Lightning connecting ports and cables to charge and sync devices. But users cannot use Bluetooth for data migration. | Android phones/tablets prioritize more interchangeable and universal connectivity, for they use USB-C cables for charging and for connecting wired USB-C headphones. |
| Authentication | Touch ID is available on iPhone 5S or later and iPad Air 2 or later, excluding iPhone X or later. Face ID is available on iPhone X and later. | Fingerprint and Face Authentication are available depending on the manufacturer's hardware. |
Is Android better than iPhone when it comes to connectivity and authentication? Judging from the table below, the former does have some advantages over the latter to some extent.
Further Reading:
Part 5: Android vs. Apple: Operating System & Security
| | | |
| --- | --- | --- |
| | Android | Apple |
| Operating System | Google Android: Linux-based and partly open source - more PC-like than iOS. | Apple iOS: Classified as a closed ecosystem, and it restricts what a user can access. |
| Security | Google is laxer than Apple about what apps it allows in App Store. The best way to keep malware away from Android is to get apps from Google Play. Further, Google argues that 0.16% of all applications contain malware. | iPhones are inherently more secure in all respects, although Apple recently confessed that the most recent iOS 16 recorded some users' Siri conversations in some cases. |
We have to admit that Apple really leads Android by several grades in system configuration and security, represented by the closeness of its system and its strict user privacy protection agreements. (How to implement iOS 16 update?)
Part 6: Apple or Android: File Storage & Migration
| | | |
| --- | --- | --- |
| | Apple | Android |
| File Storage | 128 GB, 256 GB, 512 GB, 1TB, and more. | 128 GB, 256 GB, 512 GB, 1 TB, expandable storage, and more. |
| File Migration | Typically, iTunes or Finder can officially help you transfer purchased media files. | Use USB ports and Android File Transfer apps for Mac/PC. Operators can also copy photos and other media files via USB only. |
Generally, Apple is very similar to Android in fixed memory, but the latter also supports extended memory. In addition, Android has fewer restrictions on data migration than iOS devices.
Part 7: Android or Apple: Apps & Customization
| | | |
| --- | --- | --- |
| | Apple | Android |
| Apps | Apple adds rigorous procedures for submitting apps to App Store, leading to a greater number of high-performing apps. | Android invites a broader range of independently-minded app options, notably on Google Play. |
| Customization | New widget and phone arrangement options are available on iOS 14 or later. | More customizations regarding how to organize phone apps and widgets and the overall interface. |
What is better - iPhone or Android, considering apps and customization? The third-party apps on Android are just in terms of quantity but lower in quality. Although Apple limited customization options for the home screens, it has made advanced customization options since its iOS 14 release.
Part 8: Compare iPhone and Android: Voice Assistant & Support
| | | |
| --- | --- | --- |
| | Apple | Android |
| Voice Assistant | Siri | Google Assistant/Google Now |
| Support | Apple Stores | Depending on the various handset manufacturers |
Apple has better retail support. Specifically, AppleCare might be expensive in some cases, but claims for iPhone/iPad/iPod touch are often a breeze. On the contrary, each Android phone manufacturer has its own after-sales support with different levels.
Which is better, Android or iPhone, when it comes to customer support? Siri has been the first to market Apple devices, yet it is still quite basic. Google Assistant is more than an outstanding voice interface for Google search.
Part 9: iPhone or Android: Cloud Integration
| | | |
| --- | --- | --- |
| | iPhone | Android |
| Cloud Integration | iCloud. (Compatible with Google, Amazon, Dropbox, Flickr, Microsoft, etc.) | Google Drive/Google Photos. (Compatible with OneDrive, Amazon, Dropbox, etc.) |
Google Drive, with 15 GB of cloud storage at no charge, acts as safe storage to back up and access your Android files, while Google Photos lets you make an unlimited backup of photos at a compressed quality.
iCloud offers 5GB of free storage, securely storing your photos, videos, documents, backups, etc., and keeps them updated across all your Apple devices automatically.
Part 10: Android or iPhone: Software Updates
When the latest version of iOS debuts, all Apple devices will get it indiscriminatingly. But Android phones/tablets often get fewer updates than the former. (Can I disable the Android OS update notification?) The number of updates an Android phone sees over the use of its lifetime depends on many factors. When they do, they happen less frequently and are often delayed. All in all, updating software is one of the things Apple iOS does better than Android.
Summary - Android or iPhone: Which Is Better?
After going through these detailed descriptions, you might wonder, "which is better - Apple or Android". By and large, it cannot be generalized, as looking at this comparison from different perspectives will yield diverse results. However, the charts above might give you a quick answer, and corresponding unbiased reviews may do you a big favor.
Bonus Tip: How to Transfer Files Between iPhone and Android
Changing cell phones is a common occurrence for almost everyone. Whether you decide to use the latest and trendy Android or iPhone, data migration is always inevitable. At the end of this article, we shall share with you a smart product - MobiKin Transfer for Mobile (Win and Mac) that can assist you in switching your phone's content between the same or different OSes easily and quickly. Now, let's cover this by explaining its functions and user guide briefly.
Main features:
Transfer files between iPhone and Android with just one single click.
Copy data from iPhone to iPhone and Android to Android.
Work for such items as contacts, call logs, text messages, photos, videos, music, documents, apps, books, calendars, and more.
Play functions on almost all iOS devices, covering iPhone 14/14 Plus/14 Pro (Max), iPhone 13/13 Pro (Max)/13 mini/12/12 Pro (Max)/12 mini, iPhone 11/11 Pro/11 Pro Max, iPhone X/XR/Xs/Xs Max, iPhone 8/8 Plus, iPhone 7/7 Plus, iPhone 6/6S/6 Plus, iPod touch, iPad, etc.
It won't interfere with your privacy.
User Guide:
Install the tool on your computer after the free download.
Use a USB cable to connect your iPhone and Android phone to the computer.
Then, let the program recognize both of your phones following the on-screen prompts.
Once detected, ensure the device on the left of the window is the one you want to transfer data from and the other one is the recipient.
If they are wrongly placed, click the "Flip" button.
Next, select the data types you desire for transfer.

Click "Start Copy" to transfer data between iPhone and Android at once.
Related Articles:
10 Best iOS File Managers for iPhone/iPad/iPod - A Complete List in 2023
How to Fix Unable to Activate iPhone 14/13/12/11/X/8/7 [13 Hot Tips]
How to Fix Restore from iCloud Paused in 12 Reliable Ways? [SOLVED]
How to Free Up Space on iPhone/iPad without Deleting Apps? Try These Ways!
Best 10 Android Desktop Managers to Manage Your Android Devices on PC/Mac in 2023
Top 7 Ways to Transfer Files from Android to Android (Ultimate Guide)