[Easy Guide] How to Transfer SIM Card to New iPhone 14/13/12/11/X/8
Are you facing the exciting task of moving your SIM card to a new iPhone? Whether you've upgraded to a newer model, replaced a lost or damaged device, or simply need to switch service providers, understanding how to transfer SIM card to new iPhone is essential. OK, we will walk you through the step-by-step process to switch SIM card to a new iPhone. (Can you transfer from SD card to iPhone?) And you'll surely maintain uninterrupted communication and network access afterward.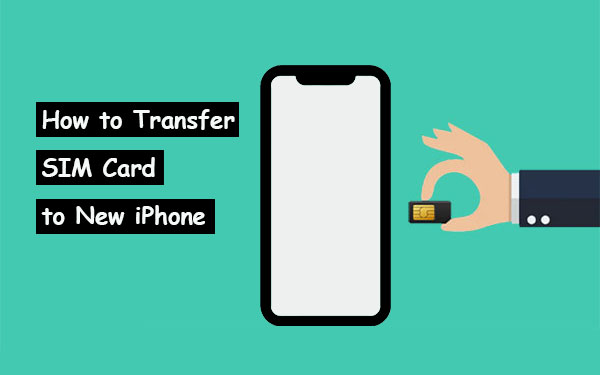 Part 1: Tips to Note before Transferring SIM Card to New iPhone
1. Verify SIM size
Do you need to transfer SIM card to new iPhone without a glitch? To start with, please inspect your SIM card. As you might know, Apple iOS devices exclusively support nano SIM cards. Therefore, if the SIM card you intend to use is not a nano-SIM, it will not be compatible with your iPhone. To ensure compatibility, we recommend verifying the SIM card type before making a purchase.
2. Unlock your iPhone's carrier
Before moving SIM card to new iPhone, it's vital to ensure that your carrier or network is unlocked. Some iOS devices are tied to specific providers, preventing using SIM cards from other networks on the new device. To check if your network is unlocked, follow these steps:
Open the "Settings" app on your iPhone.
Tap on "General" and select "About".
Scroll down to find the "Network Provider Lock" or similar option.
Verify if your network is unlocked.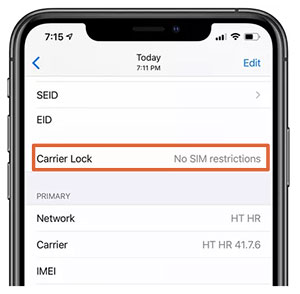 If your network is locked, you have to unlock your SIM card on your iPhone or contact your carrier to request an unlock before transferring the card to the new iPhone. This will enable you to use your new device's SIM card from a different network.
3. Unpair Apple Watch if any
When transferring to a new iPhone while also owning an Apple Watch, please unpair the Apple Watch from the old iPhone before setting up the new one. Rest assured that doing this would automatically create a backup, ensuring the safety of your data.
You May Want to Explore:
Part 2: How to Transfer SIM Card to New iPhone Directly
To transfer your SIM card, remove it from your old iPhone and insert it into the new one. The SIM tray is usually on the left side, regardless of the model. You can use a SIM ejector provided or a paper clip to open the tray. Take out the SIM card from the old iPhone, place it in the new iPhone's tray, and insert the tray back into the device. Here are the guidelines for transferring a SIM card to a new iPhone directly:
Locate the small hole beside the SIM tray. (From there, you can also find the IEMI number on your iPhone.)
Insert the SIM-eject tool or a paper clip into it.
Apply gentle pressure, but avoid using excessive force.
Carefully pull out the tray from the device.
Remove the SIM card from the tray.

Insert the tray back into the device.
Eject the SIM tray using the same method described above.
Place the card into the tray, aligning the notch on the card with the corresponding slot on the tray.
Insert the tray back into the device.
The device will automatically detect the SIM card, and the network will be displayed on the top of the screen.
Part 3: How to Move SIM Card to New iPhone with eSIM Quick Transfer (iPhone 14 or Newer)
For iPhone 14 models in the U.S. that do not have a physical SIM slot, you can transfer your SIM card to an eSIM if you are a customer of AT&T, T-Mobile, Verizon, C Spire, or U.S. Cellular. Specifically, you could do this using eSIM Quick Transfer in a matter of seconds during the setup without needing to contact your carrier. (Want to activate your iPhone without a SIM card?)
Here's the tutorial for switching SIM card to new iPhone with eSIM Quick Transfer:
Swipe up from the welcome screen on your new iPhone to initiate the setup.
Follow the setup steps until you reach the "Set up eSIM" screen.

Tap "Transfer from another iPhone".
If you have multiple lines configured, choose the specific line you wish to transfer during the initial setup. (You can transfer additional lines later through the "Settings" app.)
When prompted, click "Transfer number" on your new iPhone.
On your old iPhone, select "Transfer SIM" from the message that appears.

You may also see a six-digit verification code on your new iPhone, which you should enter on your old iPhone as required.
Confirm the transfer by double-clicking your old device's "Side" button.
Your new iPhone will display a status message indicating that it's activating your eSIM and connecting to the cellular network.
Finally, tap "Continue" on your new iPhone to proceed with the remaining setup steps.
Click to See:
Part 4: What Happens after Switching SIM Card to New iPhone
Some users may have concerns about putting old SIM card in new iPhone and whether it will result in data loss or restrict access to certain services. However, doing so does not affect your Apple ID, WhatsApp, iMessage, Facebook, or other services, as long as the new iPhone supports the SIM card.
Apple prefers storing data directly on devices rather than removable storage that can be easily misplaced. In short, you cannot save your iPhone contacts to the SIM card on your old device and import them to the new one. Instead, you're allowed to do this by following these steps: Go to "Settings", select "Contacts", choose "Import SIM Contacts", and decide where you wish to import your contacts to.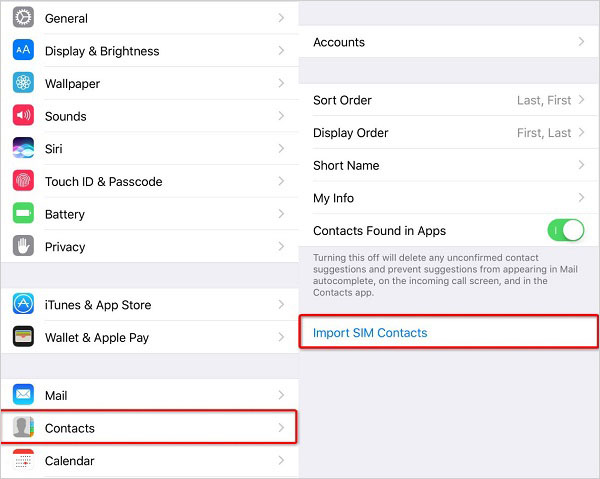 Bonus: How to Transfer Contacts to New iPhone Quickly
Do you need to switch SIM cards when changing iPhones to avoid any loss of contacts? Experience the convenience of using MobiKin Transfer for Mobile (Win and Mac) to transfer your contacts to the new iPhone with just one tap after moving SIM cards. This smart tool offers a seamless solution within its intuitive interface, enabling you to swiftly transfer all contact information, including phone numbers, names, emails, addresses, and more.
What makes MobiKin Assistant for iOS stand out?
Effortlessly transfer contacts to your new iPhone without delay.
Smoothly transfer data between iPhones, from iPhone to Android, Android to Android, and Android to iPhone.
The supported data types encompass contacts, notes, calendars, eBooks, call history, text messages, music, photos, videos, documents, apps, and more.
Simple connectivity, fast transfers, and preservation of data quality throughout the process.
Apply to almost all iOS devices, including iPhone 14/14 Plus/14 Pro (Max), iPhone 13/13 Pro (Max)/13 mini/12/12 Pro (Max)/12 mini, iPhone 11/11 Pro/11 Pro Max, iPhone X/XR/Xs/Xs Max, iPhone 8/8 Plus, iPhone 7/7 Plus, iPhone 6/6S/6 Plus, iPod touch, iPad, etc.
It values your privacy.
After the free download and installation, please adhere to the drill below to learn how to transfer contacts to new iPhone via Transfer for Mobile:
Launch the software and connect your iPhones to the PC/Mac using the appropriate USB cables.
If prompted, follow the on-screen guide to create a trusted connection between your iDevices and the computer.
Once the program recognizes your iPhones, ensure that the iPhone containing the contacts you want to transfer is designated as the source device, and the new iPhone is selected as the destination.
If the positions are wrong, click the "Flip" option to correct them.
Next, check the box next to "Contacts" in the file list and click the "Start Copy" button. (It's important to keep both devices connected to the computer until the migration completes.)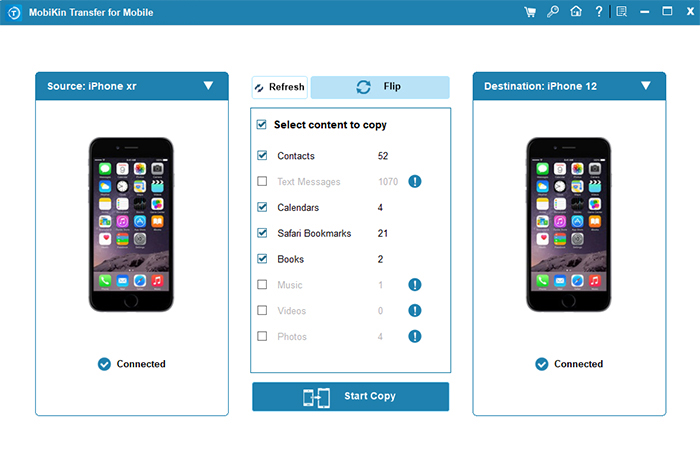 Frequently Asked Questions on SIM Card Transfer
Q1: How to set up a new iPhone from scratch
Power on your new iPhone.
Choose your language and region.
Set up Touch ID or Face ID. (Your password is required to enable Face ID?)
Restore from a backup (optional).
Sign in with your Apple ID.
Enable or disable services like Siri, Location Services, and Analytics.
Set up Apple Pay (optional).
Customize display settings.
Set up iCloud Keychain (optional).
Explore the App Store to download apps that interest you.
Configure other settings according to your preferences.
Q2: How to activate eSIM with carrier activation
To start setting up your new iPhone, swipe up from the welcome screen.
Next, select a Wi-Fi network from the options and enter the password, if required.
Wait for the activation process of your iPhone to complete.
When you see the "Cellular Setup Complete" message, tap "Continue" to proceed.
Q3: Can I just transfer my SIM card to my new iPhone?
Yes! But by simply transferring the SIM card, your new iPhone will now have the cellular network connectivity associated with the SIM card. Further, it will not transfer any other data or settings from one iPhone to another.
In a Nutshell
In closing, understanding how to transfer your SIM card to a new iPhone is a fundamental skill for most iPhone users. From ensuring your SIM is compatible with your new iPhone model to safeguarding your iOS data after the transfer, we've all got you covered in this post. With the right knowledge and guidance, this task becomes simple and stress-free. Finally, please share this post on social media if you find it rewarding.
Related Articles:
Change SIM Card on iPhone: Here's Everything You Want to Know.
How to Clone/Duplicate SIM Card? [4 Options Few People Know]
4 Ways to Unlock iPhone 14/13/12/11/X/8/7/6 without SIM Card [2023]
How to Tell If iPhone Is Unlocked without SIM Card? 4 Methods in 2023
How to Transfer Contacts from SIM Card to iPhone 14/13/12/11/XS/XR/X/8?
The Best SIM Card Data Recovery Tool to Help Recovering Lost Data from SIM Card