Viber Transfer: 4 Amazing Ways to Transfer Viber to New Phone
So many people around us share messages, pictures, videos calls, and audio through instant messengers on a regular basis. And Viber is among the most popular and convenient ones. Yet, while activating the app's account on a new phone, all program's data from the source device will disappear automatically. This makes changing devices that extra little bit complicated, for we don't want to lose some chat logs.
Want to transfer data from one phone to another? How to transfer Viber to new phone? Indeed, we cannot use Viber to transfer messages to a new phone directly. Thankfully, there are still several feasible ways to make this a reality. Let's go into more details now.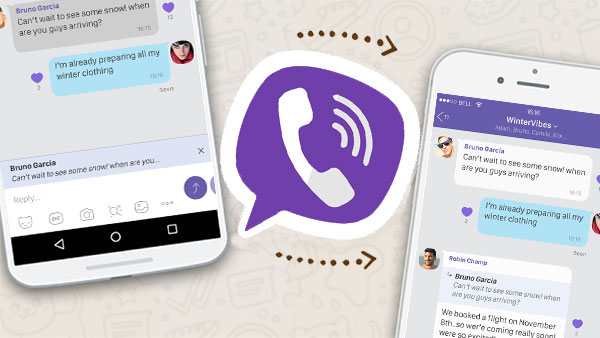 Method 1: How to Transfer Viber to New Phone with Viber Transfer
* This method facilitates you to transfer Viber messages from iPhone to iPhone.
How do I transfer Viber data to my new iPhone selectively and quickly? That's easy. Just give Viber Transfer a try. The best part of this method is the fact that this software can back up all your Viber messages, call history, images, videos, and other attachments from one iPhone before restoring them to another one.
Viber Transfer is remarkable because it can:
Transfer Viber to a new phone (iPhone) in simple clicks.
Back up iPhone Viber chats to PC/Mac.
Restore all Viber app data, including messages, photos, videos, and more.
Enable you to preview and select Viber conversations before the restore.
Copy chats on other social apps, covering Viber, Kik, LINE, Wechat, WhatsApp, WA Business. (how to transfer WhatsApp data from iPhone to iPhone?)
Get along well with a whole range of iDevices, such as iPhone 12/12 Pro (Max)/12 mini, iPhone 11/11 Pro/11 Pro Max, iPhone X/XR/Xs/Xs Max, iPhone 8/8 Plus, iPhone 7/7 Plus, iPhone 6/6S/6 Plus, iPod touch, iPad, etc.
It won't let out your privacy.
How to get old Viber messages on a new phone with Viber Transfer?
Step 1. Launch Viber Transfer
Install and launch Viber Transfer on your computer. Then click "WhatsApp Transfer".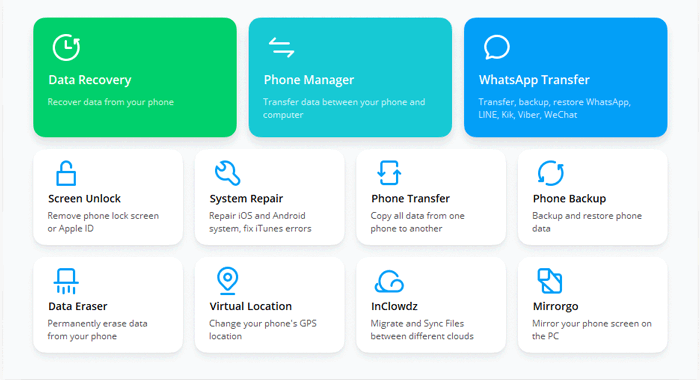 Step 2. Connect iPhone to computer and run a backup
Select "Viber" from the left of the screen. After that, please link your iDevice to the computer via a USB cable. Once the devices are detected, click "Backup" to transfer Viber history to this computer.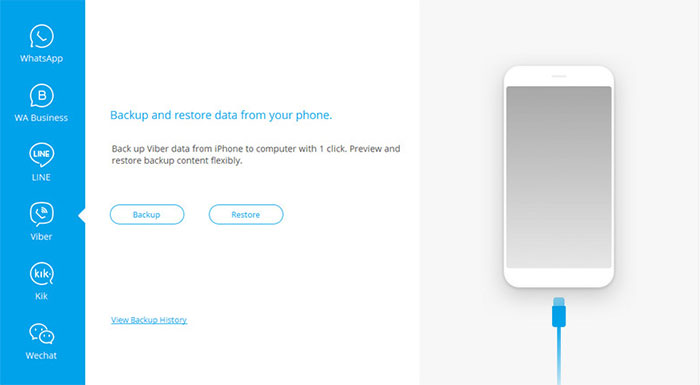 After a short while, the Viber backup will be over. Next, unplug this iPhone from the computer.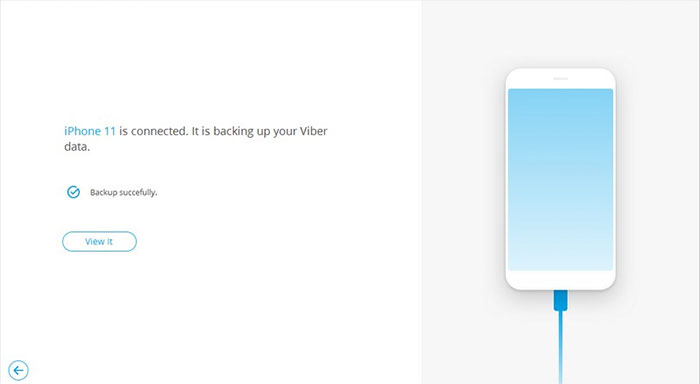 Step 3. Select Viber chats to restore
You will see all the Viber backup data. You can click "View" to check them. Then, connect the target iPhone to the computer for automatic detection.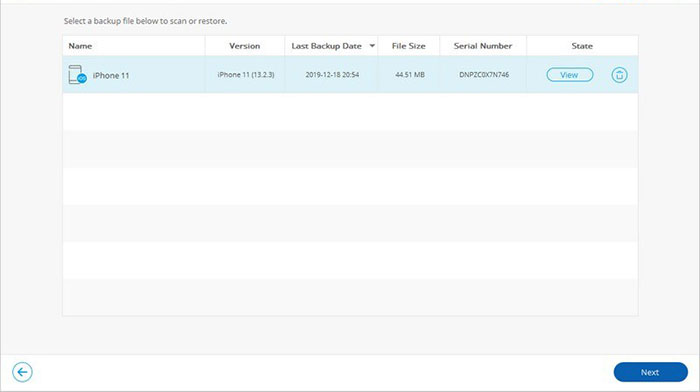 Step 4. Transfer Viber data to new iPhone
You can now preview all the Viber messages in the backup file. Subsequently, check any items you want and click "Restore to Device" to get old Viber messages on the new phone.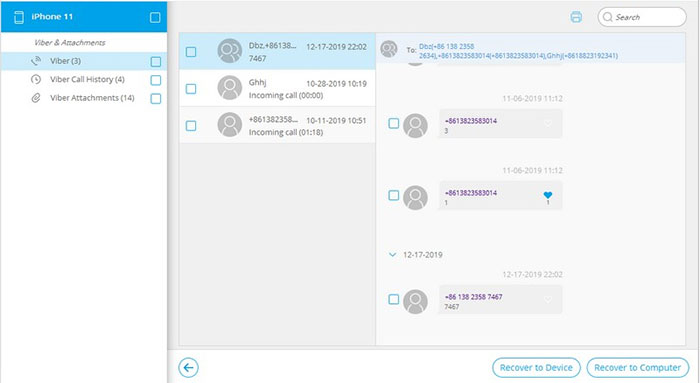 Click to Learn:
Method 2: How to Transfer Viber Account to New Phone via Google Drive
* This method lets you transfer Viber messages from Android to Android.
As you may know, Google Drive makes it easy to back up and restore Android phones, through which you could transfer Viber chats across devices. Before the task, you should have your own Google account. To restore Viber messages on a new phone, you ought to log in with the same account.
How to transfer Viber history from Android to Android with Google Drive?
Launch Viber on your cellphone.
Tap the gear icon on the top left.
Scroll down the list to find and click "Settings".
Next, tap on the "Viber Backup" option.
Click Back up.

Choose the Google account you wish to back up Viber history to.
You will receive a notification once the Viber Backup is completed. (Google Drive not working on Android?)
After that, run Viber on your new phone and go to the settings option.
Find and tap "Viber Backup" to proceed further.
Click Restore > Restore Now.
Method 3: How to Transfer Viber to Another Phone by Email
* This method supports making Viber transfer from iPhone to Android, Android to Android, Android to iPhone, iPhone to iPhone.
Here are the requirements you should meet to store the info from Viber:
Have either Android or iPhone devices.
Use the program's version 6.1 or later.
You can only store the Viber data to a phone with the same phone number.
It is easy to set up and transfer Viber messages via Email. Nevertheless, you cannot restore the mailed data to your Viber account on the new phone but only view the messages (attachments excluded) in CSV format. Please note that it is different from the way you Email photos or videos on iPhone/Android.
Now, let's take Android iPhone Viber transfer as an example to discuss how to transfer Viber messages from Android to a new iPhone over Email:
Launch Viber on your phone and log in to your account.
Tap the three-bar icon and go to Settings > Calls and messages.

Click Email message history > Email > select Microsoft Exchange or Other email apps as you like.

Enter your email address and password and click Next.
When your account is set up, please tap Done.

On the next screen, type in the email address again.
Next, hit the arrow icon at the top right corner to get out your Viber messages.
To restore Viber backup from Android to iPhone, sign in to the email account (on the target phone) you used to back up the messages.
Find the letter, and there should be an attachment named "Viber messages.zip".
Click the Download icon.

Open the CSV file that is named according to the contact's name.
Know More:
Method 4: How to Transfer Viber from One Phone to Another with iCloud
* This method can be used to transfer Viber messages from iPhone to iPhone.
Primarily, you need to sign up for an iCloud account if you don't have one yet. Then please back up Viber data (messages only) to the Cloud and put the old Viber messages on a new phone by restoring from the backup file.
How to get Viber messages from Another phone via iCloud?
On your source iPhone, open Viber > go to the more option.
Click the "Viber Backup" button after getting into the Settings tab.
After that, click "Backup Now" to initiate the backup.
The Viber will connect itself to your iCloud account, and your Viber data will be copied onto your iCloud account.

To move Viber messages to the new phone, log in to your iCloud account on your new device and run Viber on it.
Viber will automatically offer you the option to restore Viber content. Just click "Restore now".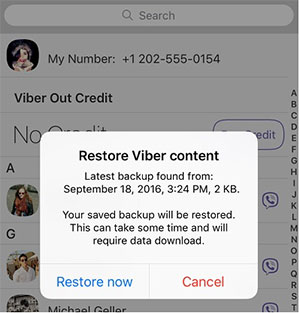 Closing Remarks
Today, we expatiated on how to transfer Viber messages to another phone. Here's a conclusion about the methods we just illustrated:
Viber Transfer is an ideal tool to transfer all your Viber data to a new iPhone on a selective basis.
Google Drive offers you an option to transfer Viber messages from Android to Android wirelessly.
It could be the easiest way to move Viber messages to a new phone via Email. But this tool cannot restore the messages to your device directly but present them in CSV format for viewing.
Likewise, iCloud only lets you transfer Viber texts from one iPhone to another. Further, the data saved to the Cloud is no longer protected by Viber encryption.
Related Articles:
[Fixed!] How to Switch Android Phones without Losing A Thing?
How to Delete Viber Messages on iPhone 12/11/Xs/XR/SE/8/7
Guide on How to Block or Unblock People on Android Viber
How to Recover Deleted Viber Messages on iPhone with/without Backup?
Different Ways to Add Contacts to Viber on Android
Step-by-step Guide to Back Up Viber Messages on PC from iPhone/Android