How to Transfer Apps from Old to New iPad [Step-by-Step Guide 2023]
"I bought a new iPad Pro to replace my old iPad 3. I synced the old apps to iTunes and restored them to the new device. It turns out that none of the apps are available in iTunes Store anymore. Does anyone have any idea how to manually put these apps onto my new iPad?" -- from Apple Support Community
Since you got the new iPad, setting both devices up identically may be inevitable. While transferring data like contact and photos, you may also want to perform the same for applications to reduce the additional workload of repeated downloads. OK, do you have no idea how to transfer apps from old to new iPad? Or are you having trouble copying those apps, as said above? Just read on for the solutions.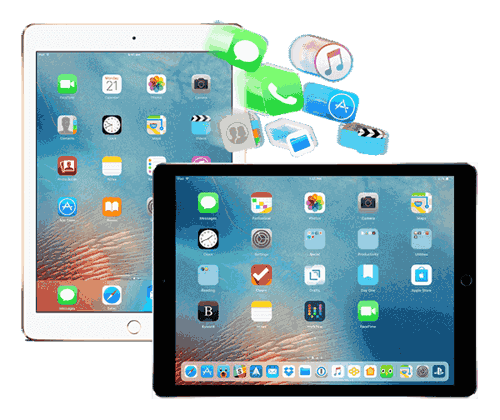 Option 1: How to Transfer Apps from Old to New iPad via App Store
Apple Store lets you get the exact apps on your old iPad to the new one by re-downloading them. Please make sure to enter the same iCloud account when required. (What to do when App Store keeps asking for a password?)
How to transfer games/apps from an old iPad to a new iPad with App Store?
Input the same Apple ID and passcode on both your iPads.
Launch App Store on your new device.
Go to its "Update" and tap the iCloud account's bio-picture.
Choose the "Purchased" icon from the account's interface.

Go to the "Not on this iPad" tab and scroll down to locate the application you want to migrate.
Finally, press the "download" icon to start storing apps onto the new iPad.
You May Be Interested in:
Option 2: How to Transfer Apps from Old iPad to New iPad with Quick Start
Please check the following information before taking the quick steps:
Pick a time to set up your new iPad when you don't want to use it.
Your old iPad has a working camera.
Keep two iPad near together.
Your iPads are working iPadOS 13.4 or newer.
Enable Bluetooth on both iDevices.
It may take you a long time when the automatic transfer starts.
Now, let's see how to transfer apps from old to new iPad with Quick Start:
Keep your two iPad devices close to each other.
Select the Apple ID to copy apps from before going for "Continue".
Authenticate the setup, and you will find your new Pad will pop up animation.
Please take a photo of it with the old iPad using the camera. (Choose "Authenticate Manually" if the current device's camera isn't responding.)

Finish the setup on your new iPad and input your password for the current device.
Set up your Face ID or Touch ID as prompted.
A screen that says Transfer Data from (Device) will turn up.
Click "Continue" to initiate the app migration from the old iPad to the new one. (Is iPhone migration not working?)
What if apps are not transferring to the new iPad with Quick Start? Try the next method.
Option 3: How to Transfer Apps from One iPad to Another by AirDrop
Also, there are some requirements for using this method:
Turn on WLAN/Wi-Fi, Bluetooth, and AirDrop on both iPads.
Keep your devices close to each other (10 meters or 30 feet).
Your iPads are running iPadOS 8.0 or later.
Next, let's check out how to move apps from iPad to iPad with AirDrop:
On your destination iPad, head to its "Settings" > "General" > "Option" > "Everyone".

Choose your source iPad's apps that you want to transfer.
Click on "Share" > "AirDrop" to get the applications out.
Hit "Accept" on your new iPad to kick-start the app transfer from sending device to the recipient.
Check If You Need:
Option 4: How to Get Apps from One iPad to Another Using iTunes
If you want to transfer apps purchased using your Apple ID, iTunes, an official iOS manager, may do you a big favor. This tool completes the transfer by backing up and restoring your iOS content. And after the restore, just check if all applications you want are copied over.
To copy apps to the new iPad with iTunes, you can:
Use a USB cable to connect your source iPad to a PC or Mac.
Run iTunes on the computer and choose the "device" button when your iPad is recognized.
Go to "Summary" and tap "Back Up Now" on the "backups" section.

All your device's apps and other data will soon be uploaded onto iTunes.
Plug out your sending iPad and get the new device connected to this computer.
Run iTunes and select the "device" icon from the interface.
Next, choose "Restore Backup" instead.
Opt for the latest backup for restoration.

Hit "Restore" to let iTunes restore your old iPad's backup, including the apps, to the new Pad tablet. (iPad won't restore on iTunes?)
Option 5: How to Sync Apps from iPad to iPad via iCloud
iCloud allows you to copy applications across iPads with the same Apple ID. As it is an online service, please make sure to have a smooth Wi-Fi network connected with your devices. Here's how to transfer apps from iPad to iPad using iCloud:
Firstly, please back up your old iPad using iCloud by going to its "Settings" > [your name] > "iCloud" > enable "iCloud Backup" > "Back Up Now".

iCloud will start to back up your device; wait for the process to complete. (iCloud backup failed?)
There's an existing iCloud backup? In this case, just sign in to your iCloud account credentials on your old iPad.
In the iCloud "Settings", move the sliders nearby each app you want to migrate.
Do the same on your new iPad to trigger the data syncing.
Bonus Tip: Transfer Other Data from Old to New iPad Easily & Quickly
Compared with several tools or services that have been covered, third-party software is more direct, stable, and fast in performing data copies between mobile phones. If you need to do the same for other data types after completing the app migration, just try MobiKin Transfer for Mobile (Win and Mac), an impeccable mobile phone transfer tool in all respects.
Remarkable features about MobiKin Transfer for Mobile:
Directly transfer data from old to new iPad with one click.
Copy files from iOS to iOS, Android to iOS, iOS to Android, and Android to Android.
Able to process such data categories as contacts, text messages, call records, pictures, videos, calendars, music, notes, bookmarks, etc.
Work for various smartphones, covering iPhone 14 Pro/14/13/13 Pro (Max)/13 mini/12/12 Pro (Max)/12 mini, iPhone 11/11 Pro/11 Pro Max, iPhone X/XR/Xs/Xs Max, iPhone 8/8 Plus, iPhone 7/7 Plus, iPhone 6/6S/6 Plus, iPod touch, iPad, Samsung, Xiaomi, OnePlus, Sony, Motorola, LG, OPPO, etc.
It won't divulge your privacy.
How to transfer data from old to new iPad with Transfer for Mobile?
Download and install Transfer for Mobile on your computer.
Run the utility and connect your iPads to the computer via USB.
Once identified, the software will display the two devices as "Source iPad" and "Destination iPad".
Tap the "Flip" button if you wrongly placed them.

Mark any data types you'd like to transfer from the sender to the receiver.
Finally, click on "Start Copy" to commence.
Final Words
To sum up, you have at least five ways to transfer apps from old to new iPad, but they are not equally effective or smooth. If you want to get the purchased apps onto your brand new iPad, App Store and iTunes are your top pick to regain them. Still, iCloud and Quick Start could be your decent choice if you don't care about transmission efficiency. Lastly, welcome to share this article with those around you, for it may help them whenever they are in need.
Related Articles:
Top 6 iPhone Contacts Backup Apps to Back Up Contacts on iPhone
7 iPhone Photo Recovery Apps Help Restore Pictures Easily [iOS 15 Supported]
How to Transfer WhatsApp Data from iPhone to iPhone? [Updated in 2023]
How Can I Transfer Phone Number to New iPhone? [5 Methods You'd Better Know]
How to Transfer Photos from iPhone to iPad Easily (iPad Pro/Air/mini Included)
iPhone Stuck on Loading Screen? 7 Tested Ways to Fix It [2023 Latest]