AT&T Mobile Transfer Not Working? Overview, Fixes, & Alternative
"I have for hours tried to transfer my contacts from my Nokia to HTC Desire. I got the AT&T Mobile Transfer app on both, and they are on the same WiFi. What troubles me is after I scan the QR code from Nokia and wait, nothing happens." - from AT&T Community Forums
AT&T is a great carrier with extensive coverage even in remote areas like Hawaii. Some AT&T users may know something about AT&T Mobile Transfer. This tool might come in handy when you switch to a new Android phone/iPhone. Yet, at times, just as you're waiting for the data transfer to happen after the WiFi connection, AT&T Mobile Transfer not working/stuck somehow bothers you so much.
Well, have no idea of what AT&T Mobile Transfer is? Any tips for tackling AT&T Mobile Transfer problems? Here are the answers for you.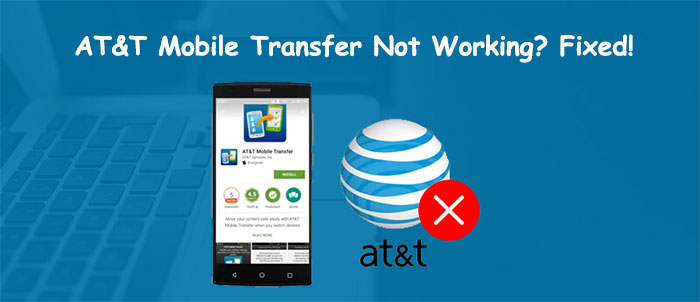 Part 1: What Is AT&T Mobile Transfer & How to Set It Up?
* What Is AT&T Mobile Transfer?
AT&T Mobile Transfer (also known as AT&T Mobility) is an app from the AT&T cellular company. This platform allows its users to transfer files from one phone to another, covering photos, videos, music, messages, contacts, and documents, etc., assuming the devices came from the AT&T provider. It was launched in 2014. And since then, it boasts over 50,00,000+ downloads.
How Long Does AT&T Mobile Transfer Take When Transferring Data?
The time to transfer content from one phone to another varies, depending upon the connection speed, download speed, and data size. The estimated time will be displayed on the screen, and it'll keep updating the duration at the time when it continues working.
* How to Setup AT&T Mobile Transfer?
Download AT&T Mobile Transfer from Google Play Store for Android and Apple Play Store for iPhones.
After installing, connect your old phone and the new one to the same WiFi network.
Run the AT&T Phone Transfer app on both devices.
Open the app from your source phone.
You will get an option "From this Phone" popping up on the screen and follow it up with a QR code.
Now, scan the code on your old phone from a code reader that you will get in the new phone to establish a connection.
After that, you can use it to transfer data between mobile phones.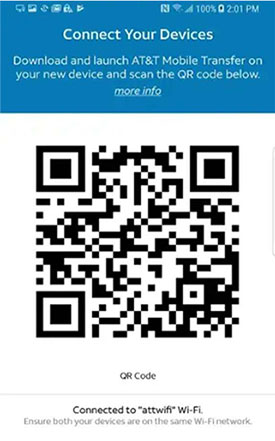 However, just like any other apps, this tool can also have some issues when using it. That is why we are going to show you multiple AT&T Mobile Transfer app troubleshooting tips.
Related:
Part 2: How to Fix AT&T Mobile Transfer Not Working
Fix 1: Check the Phones' System Version(s)
To deal with AT&T Mobile Transfer connection errors, you should first check if your devices are currently running the latest version of OS. AT&T Mobile Transfer requires to work with:
Android Devices: OS 5.0 or later.
iOS Devices: iOS 8.0 or higher.
Fix 2: Check AT&T Account
Next, make sure you are using the right AT&T account on both phones. Provided that you didn't have the same account signed in on your devices, you will be getting any sort of AT&T Mobile Transfer connection issues.
Fix 3: Ensure WiFi Connection Is Stable
After the QR Code is scanned, the new phone tries to process for dozens of minutes and then might fail due to a lost connection. So, how to fix the AT&T Mobile Transfer QR code not working? Check if you are connected to stable and fast WiFi (iPhone cannot connect to WiFi?). If unsure, you are required to disconnect your phone from the network and re-connect after a few seconds.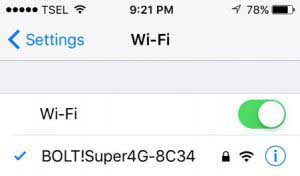 Fix 4: Transfer a Small Amount of Data at a Time
If you are to transfer a couple of Gigabytes at once, you may encounter AT&T Mobile Transfer taking forever. So, please transfer a small number of files in one go (limited within 1 GB or 2 GB of items). Instead, you can try transferring the same data a couple of times.
Fix 5: Clear Cache of AT&T Mobile Transfer (Android Only)
Clearing the cache and data of the app helps to fix AT&T Mobile Transfer stuck and other small glitches on Android phones. Here are the steps:
Go to your phone's Settings.
Open Manage Apps to get the list of apps installed on your device.
Find and tap AT&T Mobile Transfer from the list.
Select "Clear data" > "Clear cache".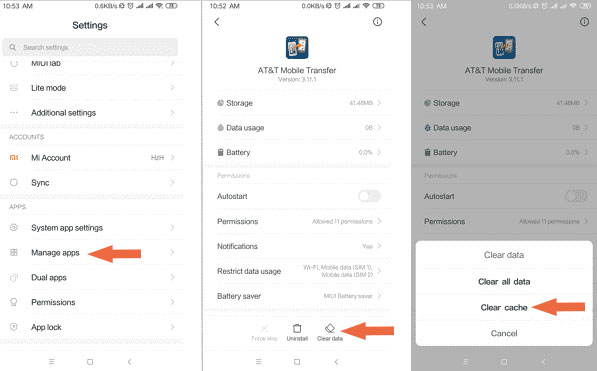 Fix 6: Uninstall and Reinstall AT&T Mobile Transfer
AT&T Mobile Transfer doesn't work after the successful connection; maybe it is caused by the application itself. Now, you can quit and uninstall it. Then try to reinstall the latest version of AT&T Mobile Transfer from Google Play, Apple Store, iTunes, or Microsoft Store.
Fix 7: Restart Your Devices
AT&T Mobile Transfer has stopped since all attempts were made? It's time to fix this by rebooting your device. This method sounds pretty simple and seems impossible to resolve the issue, but it does work in some cases. After the restart, all apps that were running will also reboot, and some glitches in AT&T should disappear.
Learn More:
Part 3: Pros and Cons of AT&T Mobile Transfer
Being a free data transfer app, AT&T Mobile Transfer has some admirable advantages. And, of course, there are some AT&T Mobile Transfer problems during the connection and transfer. Here are some merits and demerits of this tool.
Advantages
The transfer between phones is straightforward.
Offer options to skip transfer.
Excellent customer service.
Great data privacy options.
Disadvantages
You must take AT&T as your service provider.
Issues may occur when copying contacts and calendar appointments.
SMS and ringtones cannot be transferred.
Support the transfer of contacts, pictures, and videos between iDevices.
Take long to transfer content.
It doesn't work at times.
Part 4: Best Alternative to AT&T Mobile Transfer - Transfer for Mobile
When using AT&T Mobile Transfer, you may bump into connection or transmission problems. But neither of them happens to the dedicated software - MobiKin Transfer for Mobile (Win and Mac). It could be the best replacement for AT&T Mobile Transfer. Well, what makes this product so captivating? Let's get to know it now.
Core highlights of Transfer for Mobile:
One-click to copy data between phones/tablets/pads smoothly.
Support the transfer from Android to Android, Android to iPhone, iPhone to Android, and iPhone to iPhone.
Transfer such files as contacts, text messages, call history, music, videos, photos, apps, documents, etc.
Easy connection, quick transfer, and keeping original data quality.
Apply to almost all Android and iOS devices, including Samsung, Huawei, HTC, Google, Motorola, Xiaomi, Vivo, LG, Sony, OnePlus, iPhone 12/11/XR/Xs Max/X/SE/8/7/6, iPad Air/Pro/mini, iPod touch, etc.
Its free trial is available.
It won't disclose your privacy.
Here are three easy steps to transfer data from one phone to another with Transfer for Mobile:
Step 1. Run the program and connect devices to a computer
Launch the program after the download and installation. Its initial screen will prompt you to connect devices to the computer; just do this with USB cables.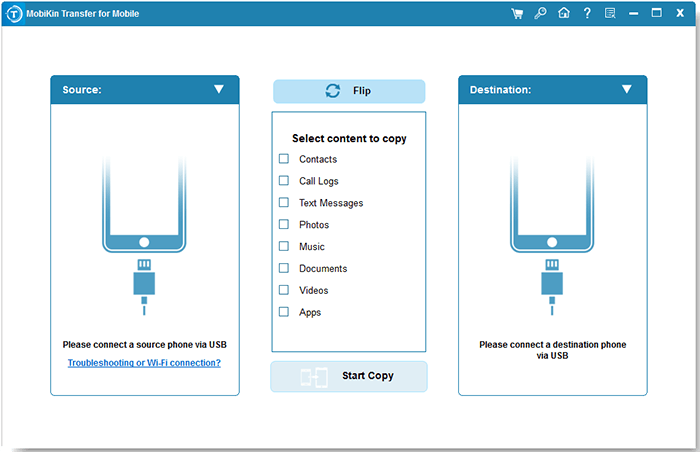 Step 2. Check the positions of both phones
Follow the on-screen instruction to have the devices recognized. Then ensure your source phone is on the left of the panel (the target one, on the right). If not, please tap on "Flip".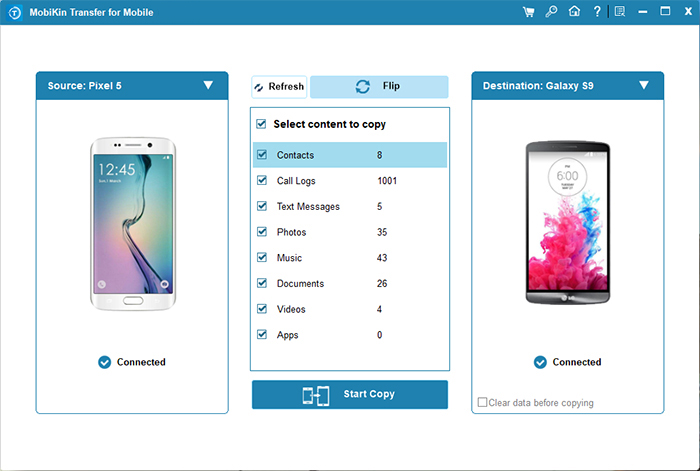 Step 3. Transfer data from one phone to another
Mark your desired files types and then click "Start Copy" to transfer what you want from the source phone to the destination.
In Conclusion
We gathered seven solutions to help you fix AT&T Mobile Transfer not working. These troubleshooting tips are not difficult to put into practice, but they can be time-consuming. If you feel it is too boresome to follow the tips that don't necessarily work, simply pick MobiKin Transfer for Mobile, the great alternative to AT&T Mobile Transfer.
Related Articles:
Huawei Phone Clone Troubleshooting: Scenes, Solutions & an Alternative
Move to iOS Not Working? Here's the Full Solution!
9 Quick & Safe Ways to Fix Android File Transfer Not Working on Mac
How to Transfer iTunes Music to Android (5 Proven Ways in 2023)
How to Transfer Data from iPhone to Android? It's a Piece of Cake
[Up to Date] How to Wipe Android Phone Completely before Selling?