How to Backup ZTE Phone on Computer?
The ZTE phone is going to be transferred from one user to another. Which means, the present user would like to keep all of the data that they have collected without having to any of their messages, pictures, videos or other data that is on their phone. Therefore, they may need to transfer the data to their personal computer instead of a new mobile device to protect the information that they have previously stored away. However, some of the more notable involves data failures due to a power outage, files being transferred from the ZTE to the computer being out of sync and the like. Many of which will need to be addressed by someone who is familiar with how to transfer all of the data correctly without the hassles of encountering certain problems that will need to be fixed. And we are going to tell you how!
As previously stated, the user can encounter various kinds of transfer problems when they are transfer their data from the ZTE phone to the computer. So, it is very important that the owner of the device knows how to successfully complete the process. The MobiKin Assistant for Android or Assistant for Android (Mac Version) is a professional Android managing software for Android devices which enables users to manage such as photos, videos, SMS, contacts, app and many more from Android device on computer. This Android manager tool has all the functions one may require to manage an Android device. Apart from backing ZTE photos, videos, music, contacts, SMS, apps and contacts on computer, it also greatly helps in group texting and saves one the struggle of adding members into a group one by one.
Assistant for Android works for all ZTE mobile phone series, including ZTE Adamant/Avid/Valet/Z221/F102/C79 and many more. It is also an easy program to use to avoid the notion that backing up ZTE phone is cumbersome. If you are using other types of Android phones, you can turn to how to backup and restore Android data and even copy Android data to an SD card directly.
Tutorial on Transferring ZTE Data to Computer for Backup
Steps of backing up ZTE phone data on computer with the help of MobiKin Assistant for Android are shown as below:
Step 1. Set up your ZTE mobile phone
Download, install and launch Assistant for Android on the computer. We can use a USB cable to connect the ZTE phone to the computer. But you should ensure that you have opened USB debugging mode on you ZTE mobile phone.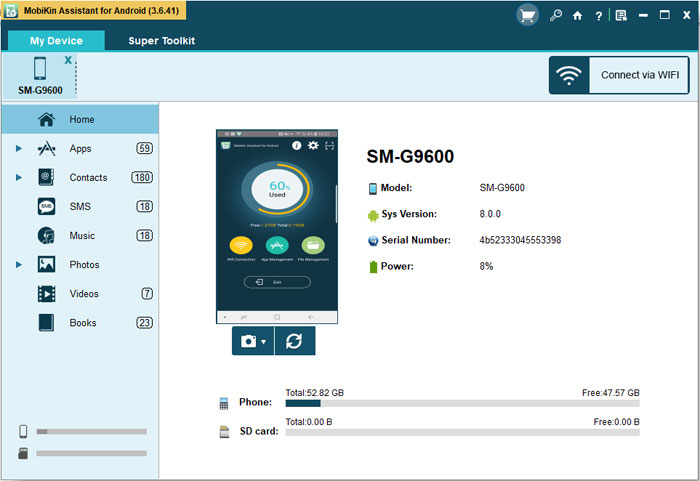 Step 2. Select the file types you want to transfer
The program detects the connected ZTE phone automatically. Then, all the transferable file types will be displayed on left and you will be able to preview the files that will need to be transferred.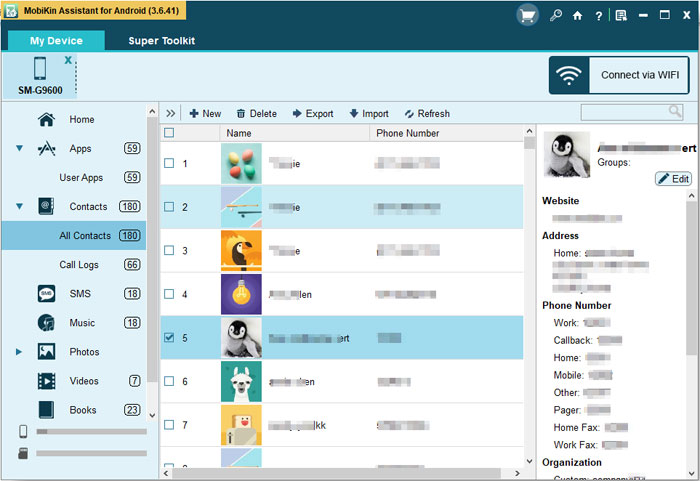 Step 3. Backup ZTE on computer
Preview and select the file types (i.e. text messages, contacts, photos, videos, apps, music files, etc.) that you want to backup on computer. Then, click on the "Export" button to backup them on your computer.
Related Articles
Transfer Apps from Android Phone to Computer
How to Export Android Phone Contacts to Excel