7 Best WhatsApp Transfer Software/Apps to Transfer WhatsApp Chats Smoothly
Many mobile phone owners would like to use WhatsApp for personal or professional communication. Files on the app include some valuable info, making it vital to copy them to a new device when you switch phones. Usually, you may find it's hard to do this, especially when doing it on different platforms. Well, this brings us to today's topic - what's the best WhatsApp transfer software/apps?
OK, go through this passage to learn the top 7 WhatsApp transfer tools. And you will surely find the one that rewards you the most.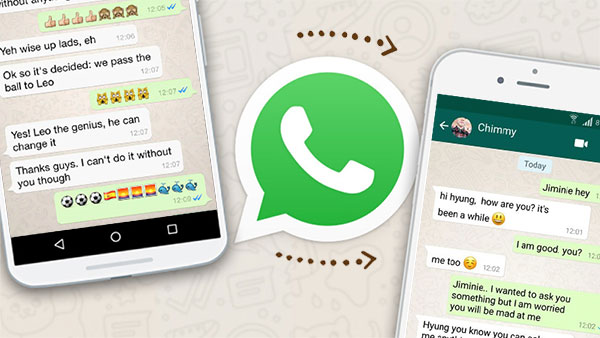 Part 1: The Best WhatsApp Transfer Software
In this section, you will come to know the best WhatsApp transfer software. It is undoubtedly WhatsApp Transfer. This top-notch program can back up, restore, and transfer WhatsApp data, apart from processing data on other social apps. Again, it is well compatible with various Android and iOS devices. And you can run it on both Windows and Mac computers.
Main features of WhatsApp Transfer:
Transfer WhatsApp from Android to Android, Android to iPhone, iPhone to iPhone, iPhone to Android.
Back up & restore WhatsApp/WhatsApp business easily. (How to restore deleted WhatsApp data without backup?)
Help back up LINE/Viber/Kik/WeChat chat history.
Enable you to preview and pick details before backup.
Work for various mobile phones, including iPhone 13/13 Pro (Max)/13 mini/12/12 Pro (Max)/12 mini, iPhone 11/11 Pro/11 Pro Max, iPhone X/XR/Xs/Xs Max, iPhone 8/8 Plus, iPhone 7/7 Plus, iPhone 6/6S/6 Plus, iPod touch, iPad, Samsung, Xiaomi, LG, Motorola, LG, Google, HTC, Huawei, OPPO, etc.
It can well protect your privacy.
Sound great? Download WhatsApp Transfer for free below:
How to transfer WhatsApp data from one phone to another with WhatsApp Transfer?
Step 1. Download and install the software on your computer. Launch it and choose "WhatsApp Transfer" from the home screen.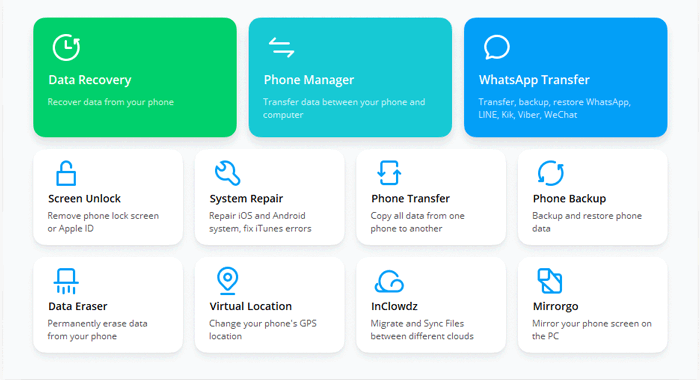 Step 2. Choose "WhatsApp" from the left sidebar and select "Transfer WhatsApp messages" from the incoming window.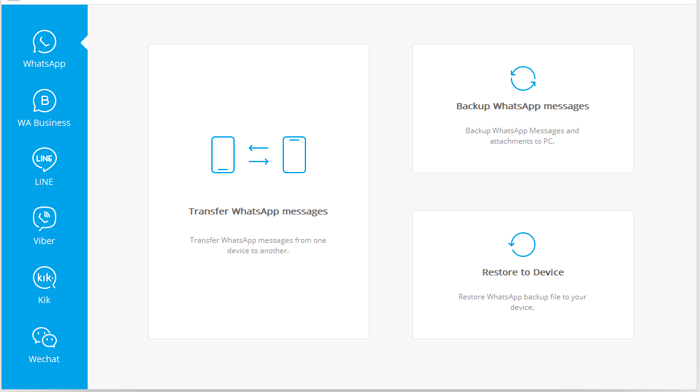 Step 3. Connect both mobile phones to the computer and wait until the utility detects them. Make sure they are in the right positions. Otherwise, you need to click "Flip" in the middle of the window.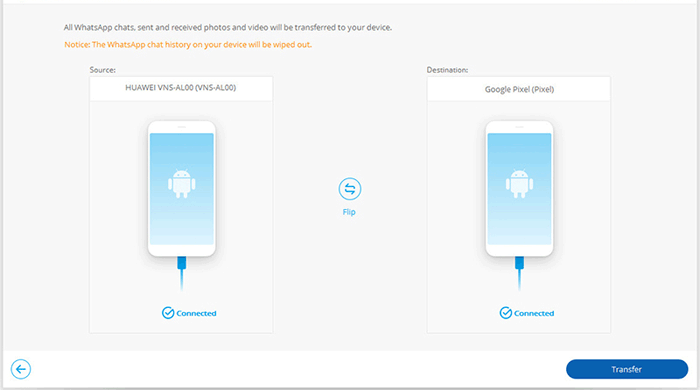 Step 4. Click "Transfer" to kick off the migration from your old phone to the new one. You can check the transfer progress bar in the following.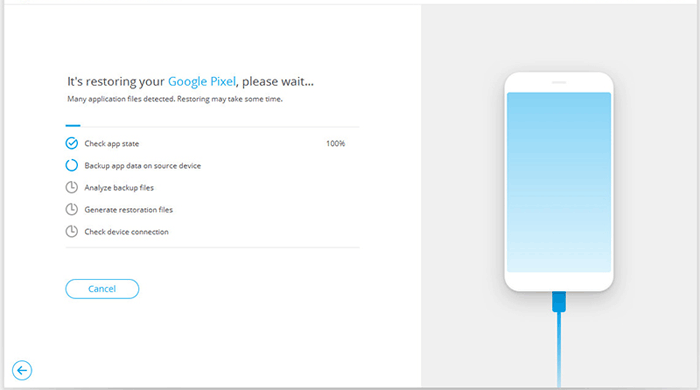 Step 5. After the transfer, you can remove the phones from the computer and restart WhatsApp on your destination phone. If you find the following interface, just tap "Restore" on your device.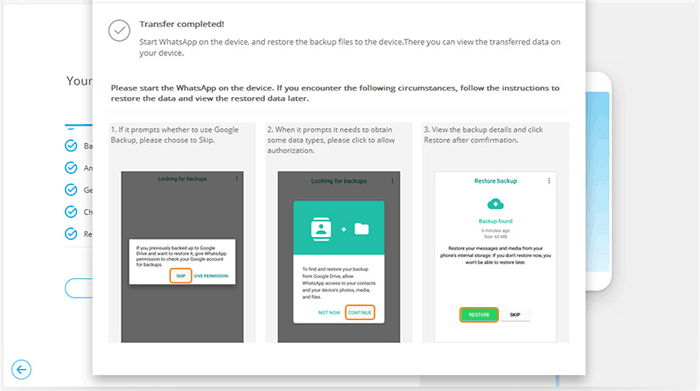 Advantages:
Keep completeness of WhatsApp.
Guarantees a 100% success rate in transfer.
Quick migration.
Additional functions.
High-cost performance.
Absolutely secure.
Disadvantages:
Related Pages:
Part 2: Other 6 WhatsApp Transfer Tools
1. Move to iOS
Move to iOS can transfer data like WhatsApp, calendar, bookmarks, contacts, and even messages from Android to iOS. When you choose to migrate your files, your new iPhone or iPad will create a private WiFi network and find your nearby Android phone running Move to iOS. After entering a security code, it will trigger the transfer immediately. (Move to iOS doesn't work?)
Advantages:
Transfer content between devices directly.
Compatible with Android devices running Android 4.0 and above.
A WhatsApp transfer tool for free.
Disadvantages:
Only works when setting a device up for the first time.
No option to switch back to Android.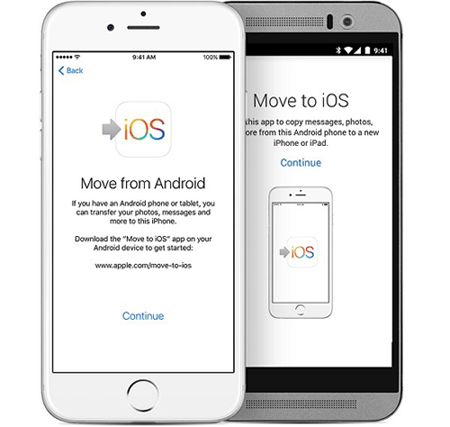 2. WazzapMigrator
As a useful tool for WhatsApp transfer from iPhone to Android, WazzapMigrator can migrate both messages and media files as well as other types of data to your device. Furthermore, it also lets you find and move your WhatsApp archives from Dropbox and Google backup seamlessly.
Advantages:
Clear usage wizard.
Work for both Win and Mac.
It has a companion Android app.
Disadvantages:
It might not work for all devices or versions of WhatsApp.
Some messages sent using WazzapMigrator don't arrive at the destination device.
There's no iOS companion app.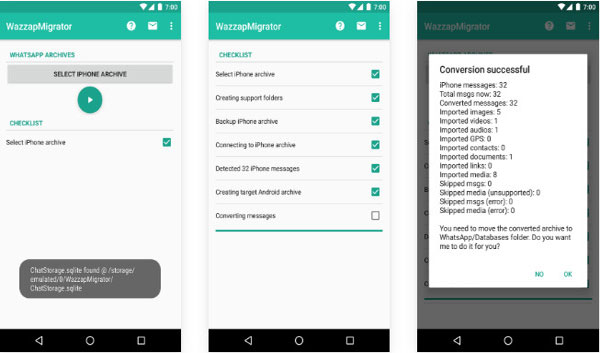 3. BackupTrans
BackupTrans, one of the best software for WhatsApp transfer from Android to iPhone. Yet, it is not only Android to iPhone WhatsApp transfer software but also a program to back up WhatsApp messages. Plus, it makes it easy for you to print WhatsApp chat messages in conversations.
Advantages:
Allow you to preview the messages beforehand.
Export WhatsApp Messages to document files (Txt, Csv, Doc, Html, PDF).
Restores old messages.
Disadvantages:
Not available for Mac.
Not compatible with some iPhones or iPads.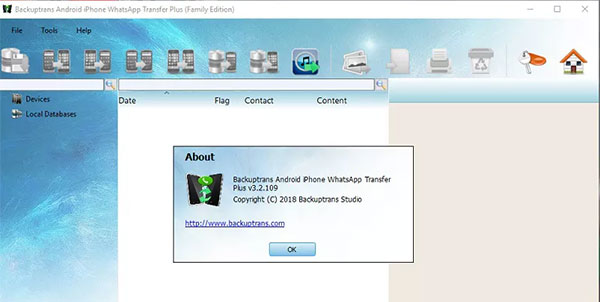 You May Also Like:
4. iTransor for WhatsApp
With iTransor for WhatsApp, available in the desktop version, you're allowed to back up WhatsApp data in HTML and CSV/XLS. This program also makes it pretty easy to transfer, restore, and export data. Moreover, it can keep your files safe because it stores them locally on your computer.
Advantages:
Disadvantages: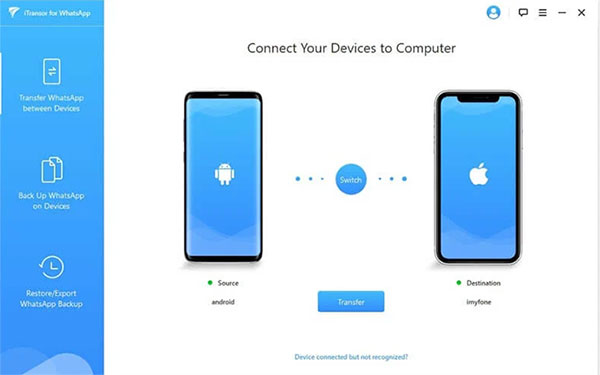 5. MoboPlay for PC
MoboPlay for PC Suite is a very handy utility that'll get you saving time by transferring all of your Android WhatsApp content across devices. With this tool, it's super easy to make security copies, move your desired data types, and restore your device comfortably both on Android and iOS, according to WhatsApp transfer software reviews.
Advantages:
Offer an all-in-one download and installer option.
Make backups of the files on devices and can also sync them across multiple devices.
Disadvantages: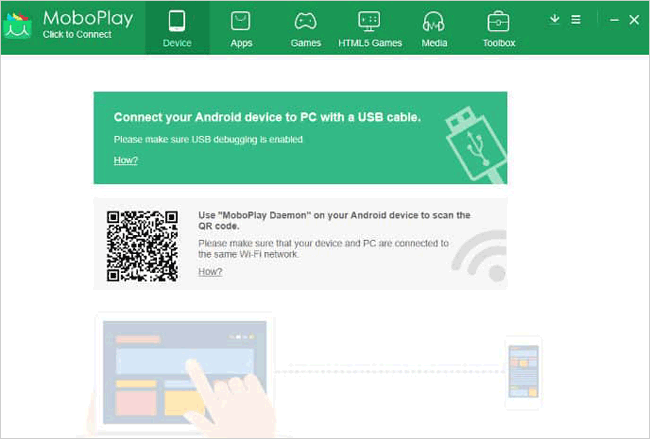 6. WutsApper
WutsApper, the last WhatsApp transfer software we mentioned here, assists in the transition that required going from iPhone to iOS and vice versa. It can move data directly, including messages, emojis, images, videos, files, and attachments. Before the transfer, ensure that WhatsApp is downloaded on the destination phone and the Wutsapper app is installed on the source one.
Advantages:
Transfer WhatsApp data without a computer.
Fast transmission speed during WhatsApp transfer.
Convert some file formats automatically.
Disadvantages:
You have to first link your devices via a lightning to USB-C cable, a USB Type B, or an OTG USB connector, depending on your phones.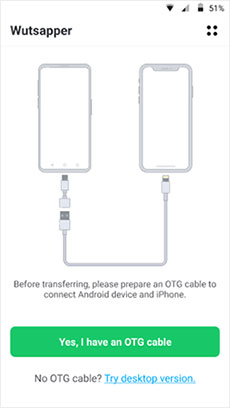 In a Nutshell
We covered the 7 best WhatsApp transfer software in this article. And WhatsApp Transfer is what you deserve most. Upon first glance at this program, you will be attracted by its design, and then its features will make you applaud.
Of all the high-quality tools, WhatsApp Transfer could be the cheapest WhatsApp transfer software. Honestly, there's no totally free WhatsApp transfer software softstore. Any product that claims to be completely free probably proves to be a trial only or puts your privacy at risk.
Related Articles:
Methods to Back up WhatsApp Messages for Android and iPhone
Ultimate Guide to Back Up WhatsApp Photos/Videos on Android & iPhone
Detailed Guide to Transfer WhatsApp from Android to iPhone
[Solved!] How to Transfer Text Messages from iPhone to Android?
How to Recover 1 Year Old WhatsApp Messages without Backup? (iOS & Android)
5 Ways to Print WhatsApp Messages from iPhone/Android Phones