Best Alternatives to Clean Master for Android
Android device is running slower and slower and it keeps getting overheated all the time? Now, you possibly need to get an all-in-one data cleaner for your Android device. More than 40 million users around the world have turned to Clean Master for help, which indeed is a professional software allowing you to delete unnecessary items, caches, records, clogs and many other junk files.
With this application, you can easily get rid of unwanted junk files from your device and free up enough space on your device. Well, Clean Master is an all-in-one solution for you to clean up Android device and speed up the device, but it is not the only way. If you want to have a try of some other applications, just continue your reading.
Noted: If you are an iPhone/iPad user, you can read this passage to get top-notch Clean Master alternatives for iPhone.
Top-notch Clean Master Alternatives for Android
1. MobiKin Cleaner for Android (Windows/Mac)
This is a professional desktop application, which allows you to clean up all unwanted junk files from your Android device. With this software, all junk files could be easily detected and displayed on the main interface including app caches, app crash logs, download temp files, user storage files, photo caches and many more. You can preview all files and selectively clean up unwanted files as needed and wanted. Moreover, this software has two different versions targeted at PC users and Mac users. And as long as your device is running Android operating system, this software can always be your best data cleaner, so as to free as much space on your device and optimize it to the best. This is surely the best alternative to Clean Master for your Android device.

You Might Want to Read:
Best Android Optimizer You Can't Miss

And this software has a simple user interface, allowing you to clean up unwanted files within 1-2-3 steps:
- Open the installed software on the computer and link your Android device to the computer.
- Choose the right erasing level to continue the process.
- Enter the file folder to preview more detailed file information. Choose the wanted files and hit the Erase option to begin the file cleaning process. Then wait patiently for the process to get completed within a little while.
2. Advanced Task Killer for Android
With this application, you can delete unnecessary applications and other files so as to clean up your phone's memory. Here, you should know that services and front apps cannot be killed directly, you have to ignore or "force stop" them. And also, if your device is working on Android Gingerbread and above, it will fail to work since these devices offer option to monitor apps using apps manager.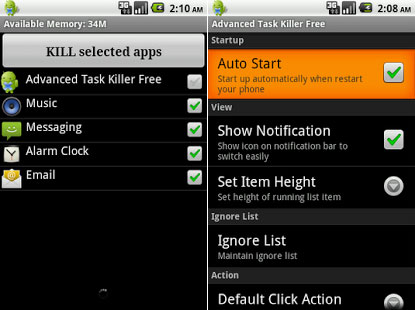 3. App Cache Cleaner
As it is suggested from the name, this application is mainly used to clean up cache on your device so as to create additional space. With this application, you will have a clear picture of the used and unused storage space on your device. And you can easily clean up useless caches files form your device. But in using this application, you need to be informed there is no Auto Delete feature within this app. You need to manually remove useless files from your device when you see an alert saying cache files reach up to a certain limit.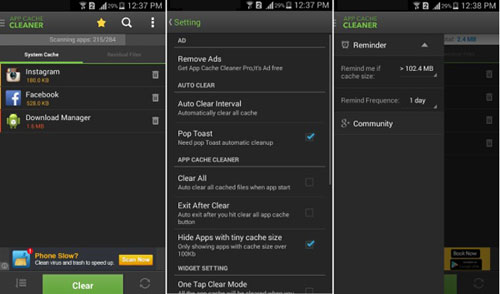 4. DU Speed Booster Cache Cleaner
This app allows you to clean up junk files and cache files from your device within simple steps. And it is claimed by the developers that it can increase your phone's speed by up to 60%. Compared with the two other apps mentioned in the above, this one is generally warmly accepted by most Android users.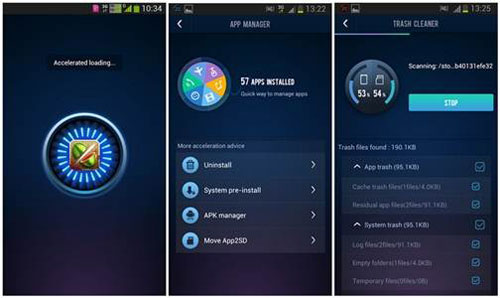 No doubt, you can find numerous Clean Master alternatives for your Android phone, and here we've just listed several widely-applauded apps for your inference.
Related Articles:
How to Erase Android App Crash Logs
Clean up Junk Files from HTC Phones