Best Apps to Print Text Messages from iPhone/Android (2019)
Nowadays, the demand for the Apps to print text messages is very huge since users often need to print out some messages from Android or iPhone for court or other purposes. Then which application is the most ideal one among thousands of options? Just read on! This post will show the best or free Apps for printing text messages.
By clicking this article, you must also be interested in:
Now let's learn what these applications are and what they can do.
Top 3 Apps to Print Text Messages from iPhone
To print out text messages from iPhone with ease, you can ask a professional application for help. The followings are 3 best Apps to print messages from iPhone for your reference. (If needed, you can also click to learn how to print contacts from iPhone>>)
#1 Print Utility Lite
Print Utility Lite is an application that enables users to view, print and share documents on iPhone. It provides users with two versions – free and paid version. It allows users to print messages, maps, contacts and photos for free. But if you want to enjoy more features, such as store and share files, read and print documents, clipboard, web pages and more, you need to purchase the full version.
#2 Xerox Print Portal
Another high-rated App for printing text messages from iPhone is Xerox Print Portal. By using this tool, you are able to connect your iOS device to different network printers like HP, Ricoh, Epson, etc. easily and securely. After building a connection, you can print out text, MS Office, Adobe Acrobat, email, Open Office and images from your iDevice without hassles.
#3 To Print
The third option you can choose is To Print. From its name, you can know that this application is specialized in printing. Also, this application has two versions – free version and full version. With the free version, you are capable of printing text messages, photos and contacts on AirPrint-enabled printers. But if you wish to view, manage and print documents from iWorks, MS Office, email, Web pages or more, you need to purchase the full version to unlock all features.
Better Option – MobiKin Assistant for iOS
For the users who have a computer connected to a printer, you have a better option to print iPhone messages – using MobiKin Assistant for iOS. This is a powerful iOS messages transfer tool that allows you to copy different kinds of files from iPhone/iPad/iPod to computer with simple clicks, including messages, contacts, notes, calendars, bookmarks, music, videos, photos, books and so on.
With the help of this iOS manager software, you can easily transfer your iPhone SMS to computer and save them as HTML, Text or CSV files as you like. After that, you can find and view your iPhone messages on computer and simply print the wanted texts out. Thus, if you have a computer and have connected it to a printer, using MobiKin Assistant for iOS would be a better choice.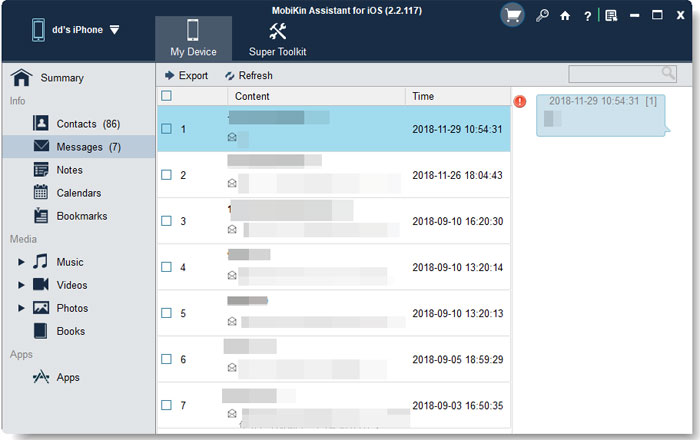 Want to get this helpful program? Just clicking the icon below to download and install it for free! (You just need to share it with your friends via Facebook, Twitter or Google Plus and then you can get it freely.)
Maybe you also want to know:
Best 3 Apps to Print Text Messages from Android
As for Android users, you have another 3 options:
Can't-Miss :
How to Print out Text Messages from Android Phone? (Best 4 Ways)
#1 SMS Backup & Print
As its name suggests, SMS Backup & Print is good at backing up, printing and sharing SMS and MMS on Android devices. To print Android messages with this App, you first need to back up the messages you want and then send the backup to email. After that, you can print the sent SMS out easily. In addition, it also supports to convert your messages to different formats, such as PDF, CSV, HTML or JPG and export these conversations to files or device storage.
#2 Mobile Print – PrintShare
Do not want to connect your Android device to PC/Mac and wish to print out your messages directly from mobile phone or tablet? Then Mobile Print – PrintShare is what you need. This application makes the printing process much easier and it empowers you to print various types of files from Android, such as messages, web pages, emails, photos, documents, bills, invoices and more.
#3 PrintHand Mobile Print
PrintHand Mobile Print is a wonderful tool that enables you to directly print from your Android device without a computer. By using it, you can select to print via Wi-Fi, Bluetooth or USB cable freely. Besides, its supported file types are diverse, such as SMS & MMS, contacts, call logs, Office documents, text files, web pages, emails, photos, events, files from Dropbox, Box, OneDrive and many more.
Best Choice – MobiKin Assistant for Android
The best choice to print Android SMS and MMS is to ask MobiKin Assistant for Android for help. This is a useful Android file manager tool. It enables you to manage your Android data on Windows or Mac computer without hassles. With the help of this program, you are able to transfer text messages from Android to computer with simple clicks and then print them out with ease.
And certainly, this is not the only function of the tool. You can also use it to backup all your phone data and restore them with one click. What's more, you are able to export, import, edit, add, delete and manage different kinds of files on Android without restrictions, including text messages, contacts, call logs, photos, videos, music, etc.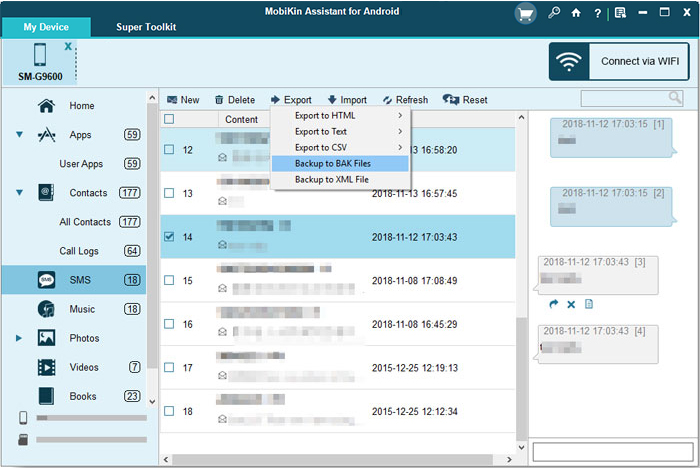 If you have a computer connected to a printer, Assistant for Android would be the best option to print off your Android SMS. So what are you waiting for? Just download and install the powerful program right now by clicking the icon below.
It is possible that you also want to know:
Write in the End
These are the applications that can help you print text messages from iPhone or Android more conveniently and easily. It is inevitable that every App has its own pros and cons so you need to first know them and choose the best one for your need. After choosing the suitable application, you can start to print your text messages in no time.